It was well publicized that Cincinnati Bengals quarterback Joe Burrow faced plenty of pressure from defenses this season, getting sacked seven times in the Super Bowl and 19 times in the playoffs, both the most in NFL history. Counting the regular season and playoffs, Burrow was sacked 70 times, which equates to once every 10.8 dropbacks, the highest rate in the NFL for a quarterback with at least 450 dropbacks. 
This was an outcome we should have seen coming, knowing that Burrow had dealt with poor protection all season, and he led the NFL in sack rate before injuring his knee as a rookie. If the Bengals are going to improve their passing offense and keep their quarterback upright, they'll need to do a better job helping him avoid sacks.
---
Click here for more PFF tools:
Rankings & Projections | WR/CB Matchup Chart | NFL & NCAA Betting Dashboards | NFL Player Props Tool | NFL & NCAA Power Rankings
Best Bets Tool
---
The Under-the-Radar Offense Killer
When discussing the results of a game, we'll often focus on explosive plays and turnovers as the key determinants. While interceptions get the headlines and attention in the box score, sacks actually have a larger negative impact on scoring. 
In 2021, the average NFL team lost 4.5 expected points on sacks per game and 3.8 expected points on interceptions — or nearly 20% more value was lost on sacks than interceptions. An individual sack is less of a value drain than an interception (-1.8 EPA vs. -4.2), but NFL passing offenses have evolved over the years to limit interceptions, and the higher volume of sacks is what makes them so harmful.
Now, let's turn to Burrow and the outsized effect of sacks on his value production. Using expected points added per play as the value metric, I divided Burrow's and other top young quarterbacks' production per play into their main components: passing attempts excluding interceptions, interceptions, sacks and scrambles/designed runs.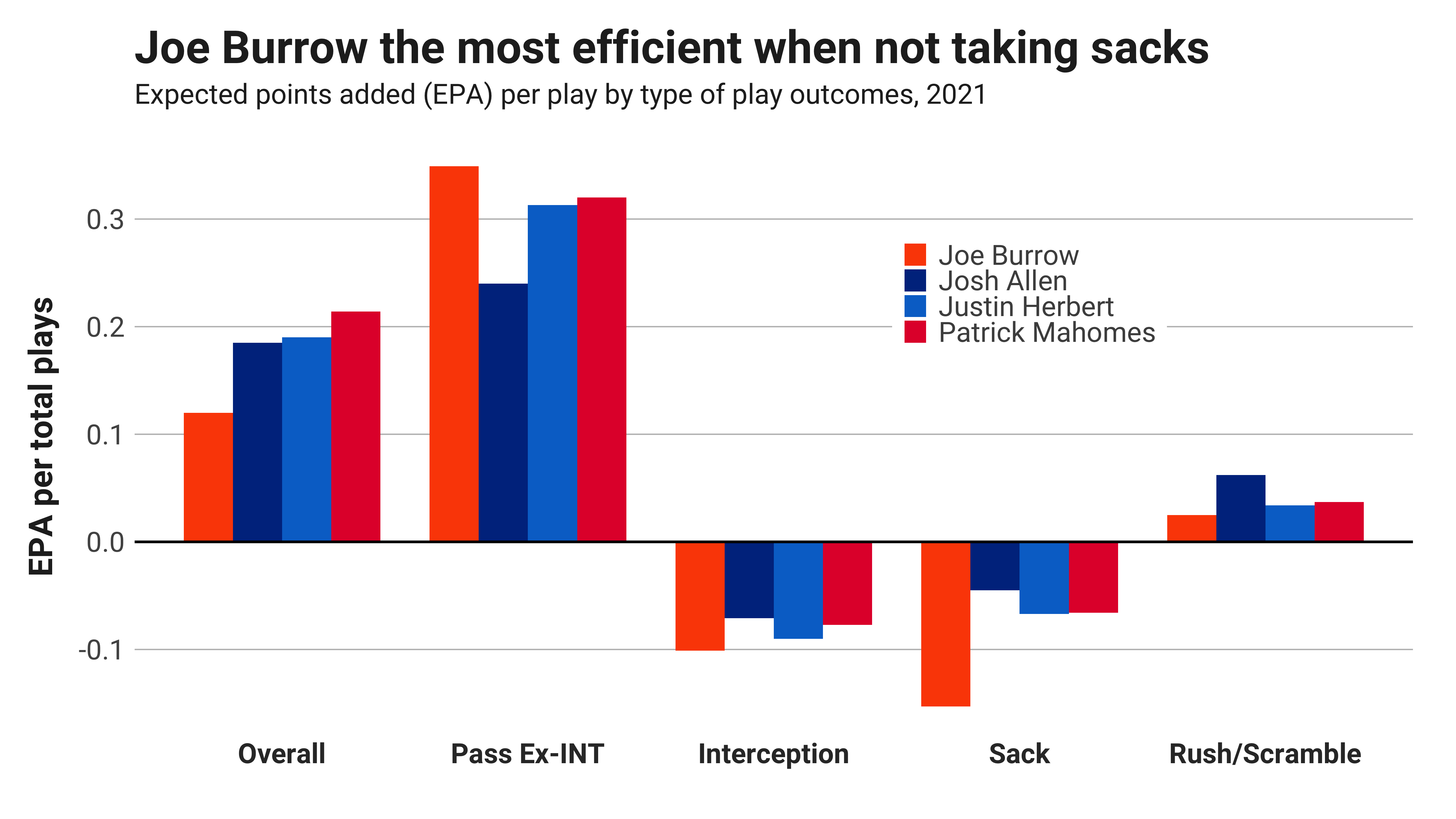 Burrow has the lowest overall EPA per play, roughly 0.1 EPA per play less than the leader of the group, Patrick Mahomes. He's also substantially lower than Josh Allen and Justin Herbert. When only accounting for pass attempts that didn't result in an interception, Burrow is actually the most efficient of the quarterbacks, and materially so. Even considering his somewhat higher loss of EPA to interceptions, a disproportionate amount of which were on tipped and dropped passes, Burrow was the most efficient thrower of the football.
Subscribe to PFF Edge to continue reading
Already have a subscription? Sign In