It's time to find out what the Indianapolis Colts have in Jacob Eason, with starting quarterback Carson Wentz expected to miss 5-to-12 weeks after undergoing surgery to excise a bone from his foot.
Eason, a 2020 fourth-round pick out of Washington, has taken first-team quarterback reps for the Colts since Friday when Wentz first missed practice with pain in his foot.
Colts head coach Frank Reich told Eason this week that, "It's your show."
The Colts took two major risks in their attempt to replace retired quarterback Philip Rivers this offseason, and the position is already in upheaval with Wentz, their prospective starter, uncertain to start the season.
Indianapolis, which otherwise is built to win with a young, talented roster, traded a 2021 third-round pick and a 2022 conditional second-round draft pick to the Philadelphia Eagles for Wentz, who's oft-injured and was one of the NFL's worst quarterbacks last season. They also let veteran backup Jacoby Brissett walk in free agency to the Miami Dolphins, allowing Eason to move up the depth chart into the backup role without an experienced reserve in competition.
If Wentz's injury lingers and forces him to miss time in the regular season and Indianapolis doesn't trade for a veteran quarterback, then Eason suddenly ascends as the favorite to start, competing with current Colts quarterbacks Sam Ehlinger, a rookie, Jalen Morton, a 2020 undrafted free agent and Brett Hundley, who was signed Saturday, for the Week 1 job.
Eason has never taken an NFL snap and even had his rookie preseason canceled due to the COVID-19 pandemic. The five-star high school recruit started as a true freshman at Georgia in 2016 but suffered an injury as a sophomore and lost the job to current Buffalo Bills third-stringer Jake Fromm. Eason transferred to Washington, started one season and declared early for the 2020 NFL Draft.
The 6-foot-6, 231-pound pocket passer not only lacks NFL experience, but he also attempted just 782 passes over three college seasons.
But as PFF's Sam Monson tweeted Friday, Eason is the type of "toolsy" quarterback that recently has found success in the NFL.
Btw Eason is in that intriguing 'toolsy QB' bucket that has produced a lot of success stories lately.

Didn't get a preseason last year.

If nothing else I'm intrigued to see how he does getting training camp reps with the 1s while Wentz is out.

— Sam Monson (@PFF_Sam) July 30, 2021
So, what do the Colts have in Eason?
"What I would tell you, from a very simplistic point of view, is that he can make every throw," Jake Heaps, one of Eason's longtime throwing coaches at Russell Wilson QB Academy, told PFF in a phone interview Friday. "He can make throws in conflict. He can make throws under duress. He could be great in the short-to-intermediate game, and this isn't just hyping him up and saying everything about his game is great, but he's one of those guys that if you can put him in the right system — and that's why I was excited he was in Indy, because I think that they do have the right system for his strengths — he could be a guy that could be not just a success story, he could be somebody that blows up and becomes one of the top-tier quarterbacks in the league. He has that potential in him, and it's gonna be really up to Frank Reich and that staff to highlight the strengths that he has. He can make every throw from every angle.
"He's not going to be the guy that's gonna get outside the pocket and wow you with that ability, but from the pocket he can be very crafty, and he can find completions in ways that most guys can't."
Because of his stature, big arm and Georgia pedigree, Eason has been compared to Los Angeles Rams quarterback Matthew Stafford since high school. But Heaps also saw glimmers of Josh Allen as Eason made strides with his accuracy this offseason. Colts teammates have also expressed confidence in the young quarterback.
"He's always been a guy that's had a big arm, and some of the mechanical things — because he's been kind of a gunslinger in his career, all the way from high school to Washington — is just having that consistent mechanics to where he can deliver on every throw to the best of his ability," Heaps said. "And you saw that to the likeness of Josh Allen. Right? You saw Josh Allen really improve his mechanics from this past year, and what that allowed him to do.
"I think that's what really has really stood out to me in terms of physically from his game going into Year 2. But [also] the jump cerebrally. You look at what he's been able to do from an offensive standpoint, how much more comfortable and confident he is within the scheme and the system has really grown, and that's great to see, and obviously that's going to get put to the test here as he's really getting thrown into the fire here in training camp and preseason and as they get prepped for the season."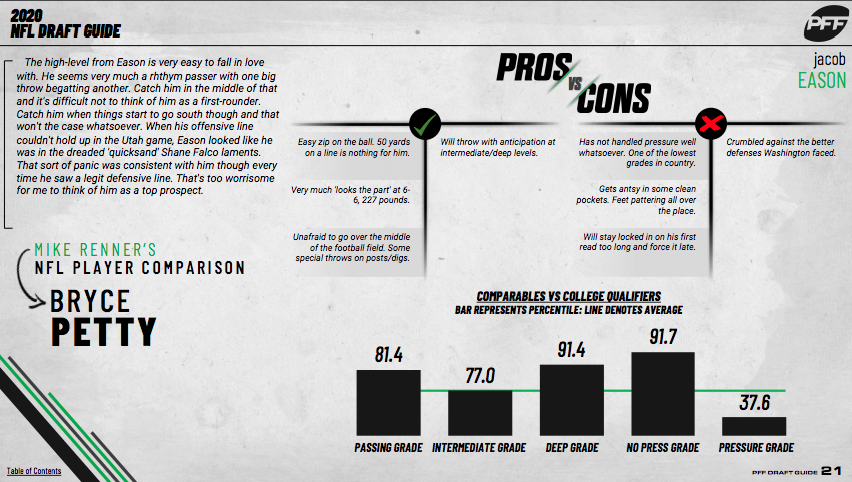 Eason ranked 28th out of 179 qualified college signal-callers in PFF grade as a junior with the Huskies in 2019. He ranked 19th in adjusted completion percentage, 25th in turnover-worthy play rate, 43rd in big-time throws and 84th in average depth of target.
Eason's rawness was one reason he fell to the fourth round of the 2020 NFL Draft. And despite the improvements that Heaps saw this offseason, that inexperience still puts Eason — and the Colts — in a difficult position if the second-year pro is forced to start regular-season games for Indianapolis.
Still, the Colts must have had some degree of confidence in Eason to make him one injury — or many ill-advised decisions from Wentz — away from being the starter.
"The expectations or the belief in Jacob Eason are high," Heaps said. "It hasn't been a talent concern or question whatsoever. It's been how can he grasp the system? How can he continue to keep improving as a pro? What I mean by that is being reliable in terms of building everything that this offense requires him to know. And that's really the name of the game at the quarterback position, obviously, but especially if you're a backup as you're trying to become a starter: Taking that next step so that they don't feel like they have to just manage this playbook and shrink it down for Jacob Eason, so they feel like they can call anything in the system and that he can run with it."
If Wentz is expected to miss more time, or if the Colts want to put a more experienced quarterback at the helm while he's out, then they could potentially trade for San Francisco 49ers quarterback Jimmy Garoppolo, Chicago Bears quarterback Nick Foles, Las Vegas Raiders backup Marcus Mariota or Jacksonville Jaguars reserve Gardner Minshew.
If Carson Wentz is sidelined for a significant amount of time…

Who should the Colts make a move for? pic.twitter.com/LPWWuLGXPT

— PFF (@PFF) July 30, 2021
Indianapolis already used a high draft pick to acquire Wentz this offseason, so the team could be hesitant to dish out more draft capital to find his replacement, especially if it winds up being a short-term dilemma.