The Los Angeles Chargers committed highway robbery. At least, that was the popular sentiment following their swap of Russell Okung for Trai Turner. After all, Turner has been recognized as one of the best guards in football in each of the past five seasons, earning nominations to the Pro Bowl in 2015, 2016, 2017, 2018 and 2019. Okung, on the other hand, has made just two Pro Bowls in his 10-year career, prompting the question of why the Panthers would make the deal for the lesser and older player straight up. 
Turner has been the better player, both by PFF grade and wins above replacement, since entering the league in 2014. But despite what the five Pro Bowl selections in six seasons would suggest, he has not been one of the truly elite guards in the NFL. Turner is the type of player who demonstrates that Pro Bowl appearances is not a valid metric when evaluating player performance. 
Last season showed again that reputation is more important than performance on the field
What is a Pro Bowl nod actually worth if seasons like the one Xavier Rhodes produced last year earn a bid? Not only was he not one of the best cornerbacks in the league, but he was legitimately one of the worst players at the position. His overall grade of 47.9 ranked 112th out of 118 qualifying cornerbacks, and he allowed a league-high 84.3% of the passes into his coverage to be completed. There was a target on his back, and teams were hitting the mark consistently. 
Getting past the fact that almost every other NFC cornerback would have been a better selection, Rhodes' selection robbed players such as Quinton Dunbar and Shaquill Griffin — both of whom were top-10-graded cornerbacks on the season — of receiving their first nominations. 
Rhodes wasn't the only head-scratcher, though. There is a tendency, particularly for offensive linemen, to string together Pro Bowls based on reputation even if their current play isn't backing it up. A year after signing a four-year, $66 million contract with the Raiders, Trent Brown was named to the Pro Bowl with a 69.1 overall grade that ranked 17th among AFC tackles in 2019. Meanwhile, Mitchell Schwartz has graded above 72.0 in all eight of his NFL seasons, reaching grades of 85.0 or higher in each of the past two years, and he doesn't have any Pro Bowl berths to show for it. 
Maurkice Pouncey is another case where reputation has come before on-field performance. Pouncey has been one of the better centers in the AFC for stretches of his career, but that certainly wasn't the case in 2019. He struggled through a number of poor snaps that led to turnovers or forced the quarterback to make difficult catches, and both his pass blocking and run blocking on the interior of the Pittsburgh Steelers' offensive line was not up to the standard he has set throughout his career. 
| | | | |
| --- | --- | --- | --- |
| Season | Overall Grade  | Pass-blocking grade | Run-blocking grade |
| 2014 | 76.1 (7 / 39) | 85.4 (4 / 39) | 71.7 (11 / 39) |
| 2015 | N/A | N/A | N/A |
| 2016 | 78.1 (10 / 37) | 79.1 (18 / 37) | 74.8 (10 / 37) |
| 2017 | 72.3 (10 / 36) | 82.3 (5 / 36) | 68.0 (11 / 36) |
| 2018 | 69.4 (15 / 39) | 78.1 (14 / 39) | 60.8 (18 / 39) |
| 2019 | 51.5 (37 / 37) | 57.7 (29 / 37) | 50.3 (36 / 37) |
Despite ending the season as the lowest-graded center in the league, Pouncey was selected to his eighth Pro Bowl in 2019. PFF grade is by no means a perfect catch-all metric. The top-graded players at each position aren't always going to get selected to participate. However, when there is this large of a discrepancy between performance and recognition, the accolades are clearly not telling the entire story. 
The gap between Trai Turner and Russell Okung isn't as big as you think
That brings us to Turner. Outside of his rookie season — his only non-Pro Bowl season to date — he has graded out among the top half of right guards in the NFL. It's safe to say he is a quality NFL starter. 
It is also worth noting that Turner has never finished a season ranked higher than seventh among qualifying right guards in PFF grade, reaching that rank in both 2015 and 2017. The only time he finished the season as a top-three or top-four guard in the NFC (roughly the number of guards who make the Pro Bowl) was the 2015 Super Bowl season for the Carolina Panthers. The talk around this trade would be much different if we were discussing Turner with only a single Pro Bowl appearance that came all the way back in 2015 compared to a player coming off five consecutive appearances.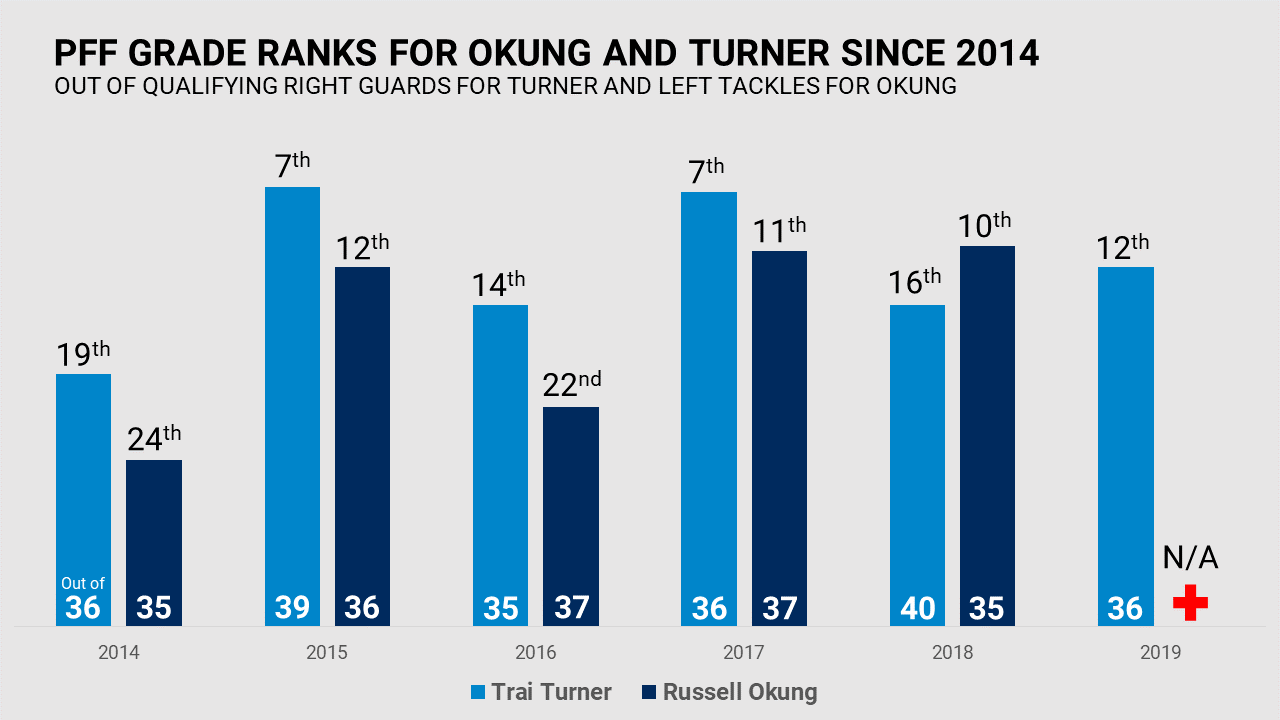 That's not to say Okung is the better player. Turner has finished four of the past five seasons (excluding 2019) ranked higher among right guards than Okung ranked among left tackles in overall grade. The gap is not as large as some have made it appear, though. Okung has been a borderline top-10 left tackle in three of his past four full seasons; he missed much of this past year after suffering a pulmonary embolism caused by blood clots in the offseason. 
Tackles of this caliber aren't easy to find. The Panthers finished the 2019 season with the 29th-ranked left tackle group as a team — a group that was split between Dennis Daley, Greg Little and Daryl Williams — so Okung fills a need and figures to be an immediate upgrade across from Taylor Moton. 
Yes, from an age and health standpoint, the Panthers got worse. Turner is the surer bet as a starter in the coming years, but recent play would indicate that there is a reasonable chance Okung plays just as well if not better than Turner in 2020 at his respective position. 
Additionally, the Panthers opened up some future flexibility. As they hurtle towards a seemingly inevitable rebuild under new head coach Matt Rhule, there's a strong chance that giving Turner another long-term extension following the 2021 season wasn't in their plans. Given his award shelf, that extension is surely going to be costly. In that case, getting his contract off the books in 2021 (over $10 million in savings) is likely a key motivation behind the deal.
Paying top dollar for a guard who is not one of the consistently elite players at the position is not a great way to go about building a team, and despite what his resume would suggest, Turner has not been one of the consistently elite guards in the NFL.