The title of best interior defender in the NFL isn't a competition. Aaron Donald has locked up that spot for the past five years. The other 31 slots feature plenty of interesting names, though. The position, ranging from nose tackles to base 3-4 defensive ends, has a nice mix of established veterans and ascending young talent. 
Using PFF's play-by-play grading and advanced data that pertains to these players both as run defenders and pass rushers, here are PFF's 32 best interior defenders heading into the 2021 season. 
No one matches up with Donald statistically since he entered the league in 2014. Over those seven seasons, Donald ranks first in the league in pass-rush grade (96.3), total pressures (579) and pass-rush wins without pressure (206). He's never earned a run-defense grade below 87.5 in a single season over that span, either. And much of that production has come with him lining up on the interior against double teams. Donald is in his own tier.  
Jones has comfortably been the second-best interior pass rusher in the league behind Donald over the past three seasons. He's earned 90.0-plus pass-rushing grades in every year since 2018, and his 92.8 pass-rushing grade last season placed him second among all defenders. Jones also ranks second in the NFL in both sacks (32.0) and quarterback hits (49) since 2018. His interior push has helped carry a pass-rushing unit that is still looking for additional consistent contributors following the addition of Frank Clark two offseasons ago.  
Heyward's play has only improved with age. He has logged 3,416 defensive snaps over the last four seasons (fourth at the position), and his 91.9 PFF grade falls short of just Aaron Donald, Chris Jones and Fletcher Cox over that span. It's difficult to find many faults in his overall game, with him posting both run-defense and pass-rush grades above 89.0 since 2017. Heyward, along with two other Steelers on this list, gives Pittsburgh one of the most formidable defensive fronts in the NFL. 
Jarrett has played on some porous Atlanta defenses over the past few years, but that has been through no fault of his own. He is coming off four straight seasons with PFF grades of 80.0 or higher, more than capable of winning his matchups both in the run game and as a pass-rusher. Jarrett's 57 pressures this past season with the Falcons were the most of his career in a season. 
Buckner was exactly what the Colts were hoping to get when they traded for him prior to the 2020 season, if not more. His 89.6 overall grade this past season was a career-high, ranking fifth among qualifiers on the interior. Buckner ranks third at the position in both sacks (38.0) and quarterback hits (66) since entering the league in 2016. He'll likely have to shoulder much of the load in 2021 due to a young and unproven edge rotation in Indianapolis.    
Cox finds himself at No. 6 following a down 2020 season by his lofty standards, but he has been Aaron Donald's biggest competition for the No. 1 spot on this list in most seasons since 2014. Cox ranks second among all interior defenders in total pressures over the past five seasons (302). That number is buoyed by a monstrous 95-pressure year in 2018 — the lone season to keep Donald from sweeping the top five single-season marks since 2016.   
Vea is the rare nose tackle who can get after the quarterback in addition to eating blocks and securing his gaps in the run game. He is one of just three players with a pass-rush win rate above 15.0% when lined up over or shading the center since 2019. The Buccaneers remained mostly healthy last season on their Super Bowl run, but Vea being out for most of the campaign was not an insignificant hurdle to overcome en route to the Lombardi Trophy.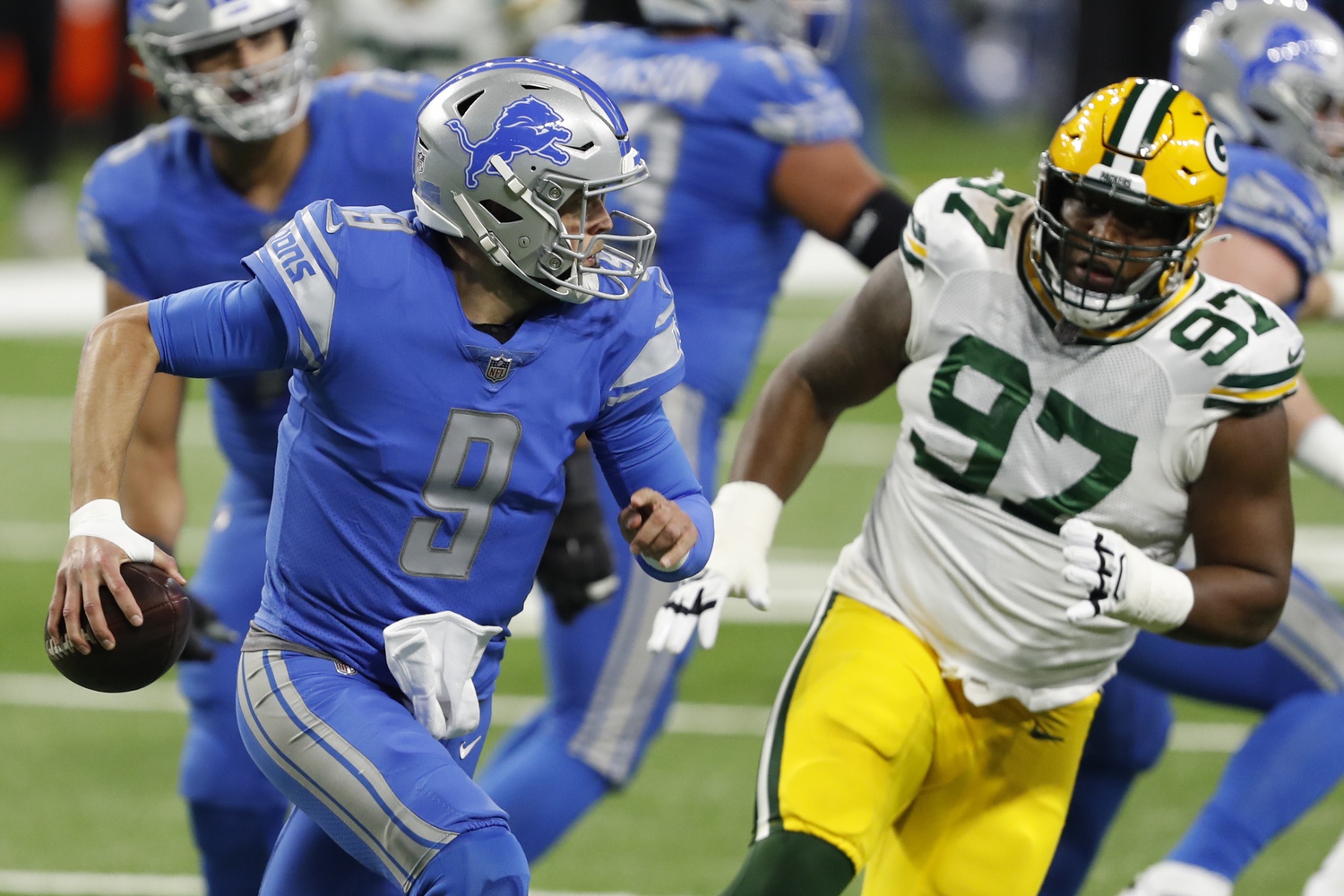 Clark is really the only nose tackle who can be discussed in the same vein as Vita Vea when it comes to putting pressure on the quarterback. His 65 pressures when lined up as a 0- or 1-technique since entering the league in 2016 are over 10 more than any other player. Green Bay now just needs to find consistent contributors alongside him on the defensive line, which has been a problem area in recent years. 
Williams turned a career 2020 year with the Giants into a three-year, $63 million contract this offseason. His reliability and durability over the course of his career provide at least some level of assurance that the Giants will continue to get strong production moving forward. Williams is one of just four interior defenders with at least 3,000 regular-season defensive snaps since he entered the league in 2015, and he's been the fourth-most valuable player at the position over that span, per PFF WAR.
The only reason Williams doesn't land higher on the list is that he hasn't shown much of a ceiling as a pass-rusher. Despite putting up 62 pressures in 2020, he finished with just a 69.9 pass-rushing grade.  
Campbell missed some time with a calf injury in 2020 and wasn't the same elite player when on the field that he was in Jacksonville, snapping a streak of four consecutive seasons with 90.0-plus PFF grades. But there is little reason to believe he won't continue to look like one of the more well-rounded defensive linemen in the league next season for the Ravens at 35 years old. 
Few have been able to match his contributions in the run game over the past five seasons. His 61 tackles for loss or no gain against the run over that span rank third among defensive linemen, behind only Brandon Graham and Jadeveon Clowney. 
Tuitt is the second Steelers player to find his way into the top 12, coming off another strong showing in 2020. His 71 pressures last season ranked second at the position, behind only Aaron Donald. It was a continuation of the hot start he got off to in 2019 before an injury prematurely ended his season. He should continue to be a disruptive force for the Steelers in 2021 as offensive lines try to contend with Cameron Heyward and T.J. Watt. 
You can make the argument that Allen was the best defensive lineman on one of the NFL's best defensive lines in 2020. The only two interior defenders to record a higher pass-rush grade on true pass sets than Allen last season were Aaron Donald and Chris Jones. It was a prove-it year of sorts for Allen following several seasons of middling play in 2018 and 2019. A similar year in 2021 on a fifth-year option should lead to a sizable payday next offseason.  
Simmons is one of the top ascending interior defenders in the league after posting an 83.9 PFF grade in 2020 that ranked 11th at the position. He showed signs of that kind of play as a rookie in 2019, but a debut that didn't come until Week 7 limited his impact during that campaign. Now, Simmons is in good shape to continue his upward path in 2021 on a defensive front that added Bud Dupree and Denico Autry this offseason.  
Williams always seemed likely to pan out coming out of college. A 67.4 overall grade as a rookie in 2019 was disappointing given that context, but there was a clear second-year leap this past season. The Alabama product improved his PFF grade to 81.4 in 2020, recording the highest run-stop percentage of any qualifying interior defender in the NFL. He'll be a key piece of first-year head coach Robert Saleh's defense.
We're now two years removed from dominance for the 31-year-old Hicks following injury in 2019 and a 65.2 PFF grade in his 2020 return. This past season with Chicago was one of Hicks' most productive years as a pass-rusher, though. His 10.6% pressure rate in 2020 was a career-high, and his marks in pass-rushing grade (74.1) and pass-rush win rate (14.4%) rank below only his 2018 season.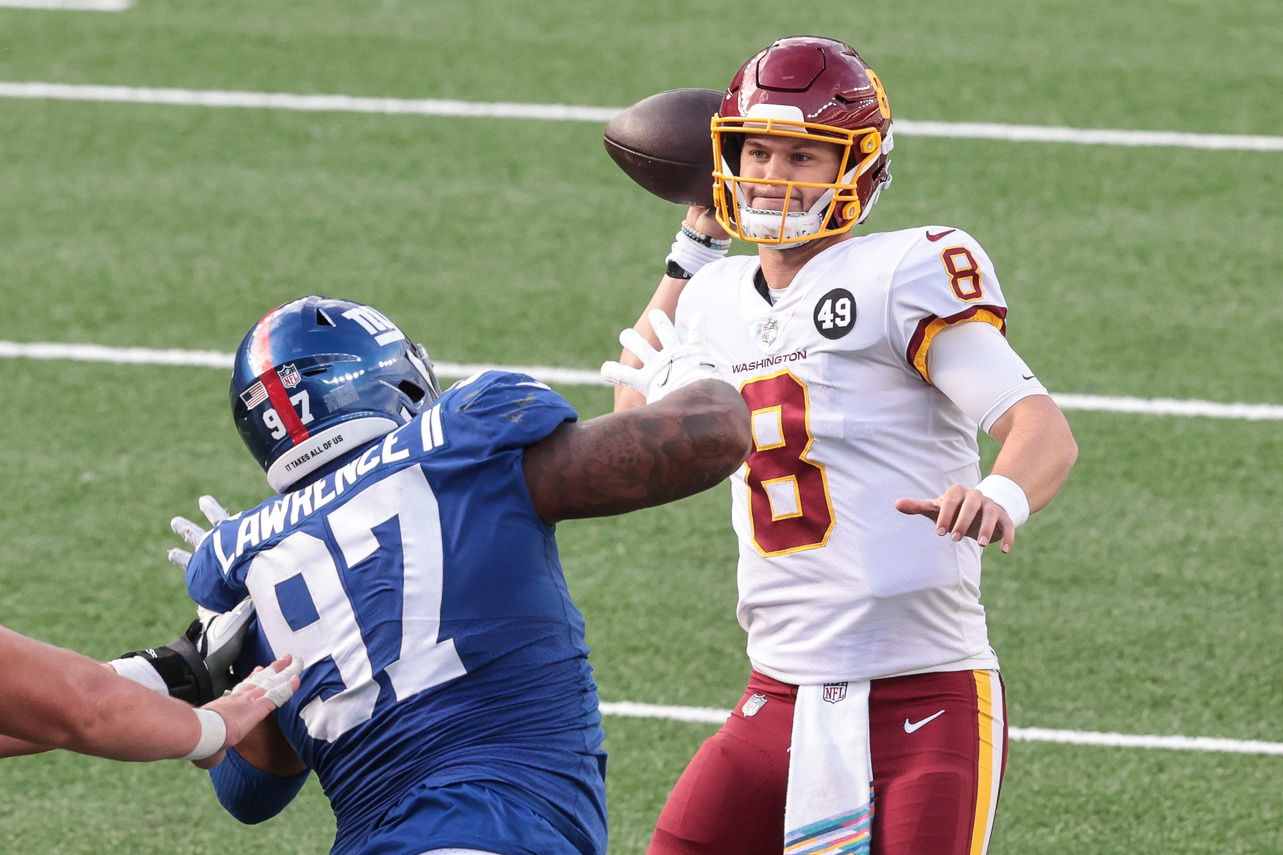 The Giants' interior defensive line is loaded with talent, even following the loss of Dalvin Tomlinson in free agency. Lawrence found ways to improve in 2020 (79.7 overall grade) off a strong rookie debut in 2019 (76.2 overall grade). That was especially true on pass plays, as he bumped his pass-rush grade from 64.5 as a rookie to 73.2 last season. You'll take that kind of impact from a defensive tackle listed at over 340 pounds without hesitation. 
Michael Pierce's absence last season highlighted that Minnesota had a clear need on the interior, and they addressed it by signing Tomlinson in free agency. Tomlinson isn't quite the penetrating 3-technique that made sense for the Vikings on paper next to Pierce, but he is a very good football player. He ranks in the 83rd percentile in PFF run-defense grade since 2017 and showed some ability to get after the quarterback as a pass-rusher from nose tackle alignments in 2020.  
Harris is one of the more underrated interior defensive linemen in the NFL. He hasn't played more than 636 defensive snaps in a season during his NFL career, but he's been very effective when on the field over the past four seasons. Harris has graded out at 76.0 or higher every year since 2017 while batting a league-high 21 passes over that stretch. The next closest player (Chris Jones) has just 15.    
Ford has already far exceeded expectations for a former undrafted free agent. The Texas product burst onto the scene with an 88.2 overall grade on just over 250 defensive snaps as a rookie in 2018, and his role in Seattle's defense has only grown since then. Ford is coming off a 2020 season in which he played over 700 snaps and earned a 79.8 PFF grade. His run-defense grade ranks in the 85th percentile at the position over the past three years. 
Hargrave left the Steelers after two consecutive overall grades of 80.0 or higher as the team's starting nose tackle. His move to Philadelphia came with a career-high 83.9 pass-rush grade but just a 48.1 run-defense grade. There is reason to expect him to regain his form in run defense in 2021 given what he showed in that area in Pittsburgh. Even if Hargrave fails to do so, his 14.7% pass-rush win rate since 2018 — a top-10 mark at the position — will still bring value to the Eagles' defensive line.   
Reader was one of two high-profile free agent signings in Cincinnati who didn't make a big impact in his first year with the team due to injury, joining Trae Waynes in that regard. There was a reason he was 35th in PFF's Free Agent Rankings last offseason. Reader was coming off a career-high 85.4 PFF grade in 2019 with Houston. He can be relied on for strong play against the run and was beginning to develop as a realistic pass-rushing threat inside. The Bengals will be hoping to see more of that in 2021.    
The Saints bet on Onyemata last offseason to the tune of a three-year, $27 million contract. The early returns indicate that bet paid off for the team. Onyemata bounced back from a down 2019 season (55.3 overall grade) to post an 88.8 grade in 2020. He was the 12th-most valuable interior defender in the league, according to PFF WAR. The Saints will need returning players, such as Onyemata, Cameron Jordan and Marcus Davenport, to continue to step up following the loss of several key players along the defensive line in free agency. 
Payne is the least exciting of Washington's quartet of first-round draft picks on the defensive line, but he has steadily improved in each of his first three NFL seasons. He has been particularly impressive against the run across the past two years. Payne ranks above the 80th percentile at the position in both run-defense grade and run-stop percentage since 2019.  
Casey is still looking for his next NFL team. He projects as a player who will provide quality play wherever he lands. 
He signed with the Broncos last season after spending the first nine years of his NFL career in Tennessee. He got off to a strong start, earning a 74.4 PFF grade through the first three games of the season on over 150 snaps, but a torn biceps ended his year. It was the first time since Casey's 2011 rookie campaign that he played fewer than 700 snaps in a season.
Suh has been an iron man since entering the league in 2010. He has never played fewer than 800 snaps in a season in his 11-year NFL career and is coming off nearly 1,000 snaps played with Tampa Bay in 2020 at 33 years old. That durability is a big reason why he was one of the 10 most valuable interior defenders in the NFL last season despite his quality of play tailing off slightly these past two years in Tampa Bay.  
Pierce's role as a run-stuffer is well defined, and there are few better than him in that role. The undrafted free agent out of Samford earned a 91.1 run-defense grade across the first four seasons of his career in Baltimore, ranking fifth among all qualifying players at the position. Minnesota missed that ability from Pierce after he opted out last season, stumbling to a 30th-place finish in expected points added allowed per run play.
Fatukasi's first significant role on the defensive line came in 2019, and he increased his snaps to over 500 in 2020. Across those two seasons, he has been one of the highest-graded run defenders in the league. The only qualifying interior defenders to grade higher than Fatukasi as a run defender on a per-snap basis since 2019 are Calais Campbell, Aaron Donald and Mike Purcell.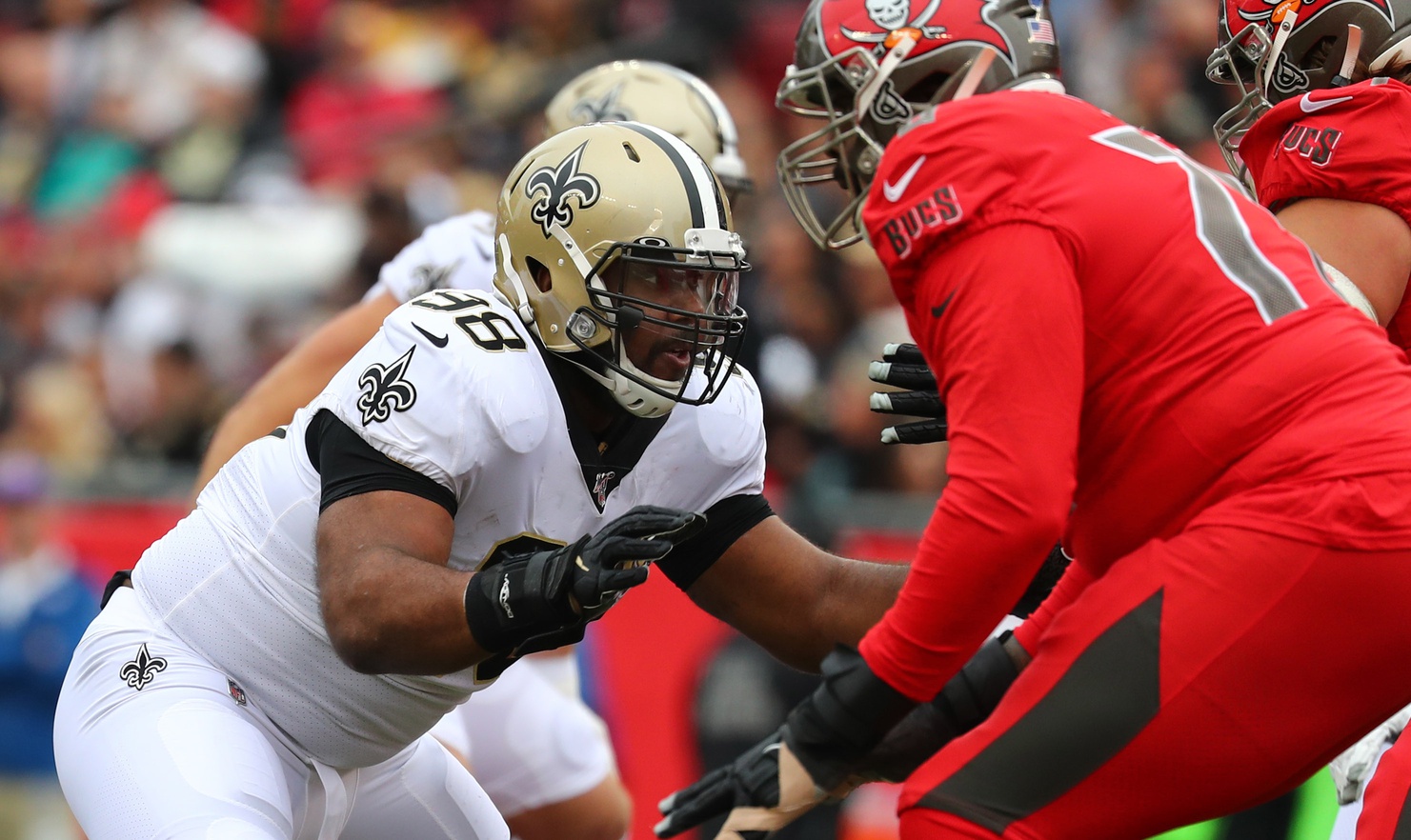 Rankins' spot on this list involves some projection because the former first-round pick out of Louisville has not been a top-32 interior defender over the past two seasons. Multiple injuries have played a role in those results. He talked this offseason about how he finally feels as healthy as he did during the 2018 season, when he recorded a career-high 78.8 PFF grade. The Jets are hoping that health brings back that level of play after adding Rankins to a group that already has plenty of talent. 
Alualu has solidified his position as Pittsburgh's nose tackle these past two seasons after stepping into that role when Javon Hargrave left the team. From 2010 through 2016, Alualu never recorded a PFF grade higher than 62.0 with Jacksonville. He has graded higher than that in each of the past four seasons with the Steelers, including overall grades of at least 80.0 in each of 2019 and 2020. Despite turning 34 in May, Alualu is on the upswing.  
After primarily playing on the edge with the Rams in 2018, Franklin-Myers saw more time on the interior with New York this past season. The results were impressive, particularly when rushing the passer. The only interior defenders with a higher pass-rush win rate than Franklin-Myers in 2020 (17.5%) were Aaron Donald, Chris Jones and Javon Hargrave. What he brings as a pass-rusher who can line up across the defensive line is just one reason to be excited about this Jets' unit heading into next season.
Richardson is one of the notable veteran defensive tackles still on the market following his release from Cleveland. It takes little projection to see him making an immediate impact as a starter. Richardson has played at least 600 defensive snaps and recorded a PFF grade of at least 68.0 in every season since joining the league in 2013. PFF WAR ranks him as the eighth-most valuable interior defender in the league across those seven years. He should generate interest in the post-draft free agent market leading up to the 2021 season. 
There were plenty of positives to take away from Brown's pass-rush game during his rookie season. His 72.5 pass-rushing grade was nearly 20 points higher than his run-defense grade. And that was Brown's perceived weakness coming out of Auburn. If his run defense comes around like it's expected to, he could be a big riser on this list come next offseason.