The amount of first-round talent available on Day 2 of the 2020 NFL Draft is quite astonishing. Of our top 32 prospects on the PFF Draft Board, there are 13 left. In other words, several teams will be getting incredible value on Day 2.
Let's take a look at all 32 NFL teams' Day 2 picks and remaining team needs and pick out their top target for the second and third rounds of the 2020 NFL Draft.
[Editor's note: Check out PFF's 2020 Mock Draft Hub, NFL Draft Big Board and NFL Mock Draft Simulator. PFF Elite subscribers can also download the 1,250-page 2020 NFL Draft Guide. For extensive coverage of the 2020 NFL Draft, check out all of PFF's 2020 NFL Draft coverage in one place.]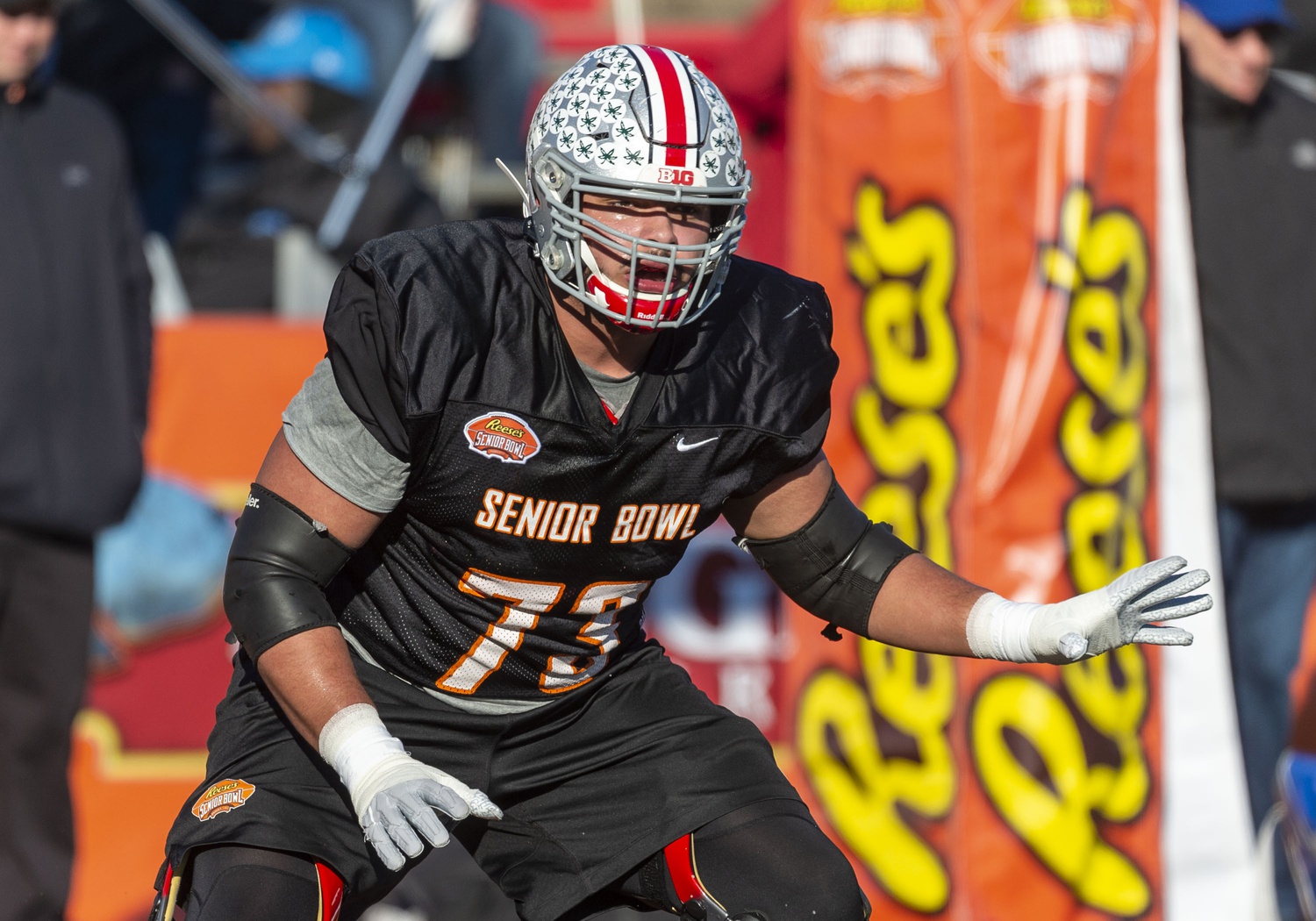 First-round pick: (8) LB/S Isaiah Simmons
Day 2 picks: 72
Team needs: OL, DI, EDGE
Kyler Murray needs more protection all over the line, so getting a plus interior offensive lineman at the 72nd overall pick would be a good move in our eyes. Not many outlets are as high on Jackson as we are,  so let me explain why the Cardinals' ideal target would be Jonah Jackson. One reason is how quickly he gets on interior defenders — PFF's Mike Renner even gave Jackson the award of best pass sets in the draft class — and another is that Jackson has lined up all across the interior for Ohio State and Rutgers and performed exceptionally well, earning a grade on true pass sets since 2017 that is well above the 90th percentile.
First-round pick: (16) CB A.J. Terrell
Day 2 picks: 47, 78
Team needs: CB, LB, LG
Yes, I know the Falcons took a cornerback in the first round, but their secondary is legitimately that bad. Johnson's instincts are just rare to see. Because of his sharp ability to read and react to the quarterback and receiver, Johnson was near impossible to beat for an open target downfield. On targets of 10 or more yards downfield the past two seasons, Johnson allowed just 14 catches on 58 targets with 16 plays made on the ball. And on those 58 targets, Johnson forced tight coverage on 48 — forming the second-highest rate in college football. It'd be a surprise if Johnson fell to No. 47, but as we found out last night, stranger things have happened.
First-round pick: (28) LB Patrick Queen
Day 2 picks: 55, 60, 92, 106
Team needs: iOL, EDGE, WR
Baltimore needs guard help, and getting PFF's No. 1 interior offensive lineman on Day 2 would be a dream scenario for the Ravens' rushing attack. Muti legitimately feasted as a run-blocker a season ago, serving up pancakes left and right with his unreal strength and power. The Fresno State product posted a solid 81.4 run-blocking grade throughout his career — I'm sure Lamar Jackson & Co. would enjoy having that kind of ability on their team.
Netane Muti – @PFF's number one interior offensive lineman in the 2020 Draft: pic.twitter.com/jUTteib6TP

— Anthony Treash (@PFF_Anthony) April 20, 2020
BUFFALO BILLS – CB Cameron Dantzler, Mississippi State
First-round pick: None
Day 2 picks: 54, 86
Team needs: RG, CB, RB
Buffalo fans, before you go losing your mind about this, just know this is a great depth add. Dantzler may have relatively poor speed and length, but he shut down SEC receivers in press coverage. Dantzler logged 278 press snaps in his career and allowed just a 23.9% catch rate (11 of 46) with more forced incompletions (13) than first downs given up (seven). Reminder, he did this against the SEC. Cornerback is the most valuable position on the field, and considering how solid the Bills' roster already is, they should continue to build depth at the positions that matter.
CAROLINA PANTHERS – LB Willie Gay Jr., Mississippi State
First-round pick: (7) DI Derrick Brown
Day 2 picks: 38, 69
Team needs: LB, CB, TE
Well, we would have preferred Carolina picking Isaiah Simmons to fill their void at off-ball linebacker instead of opting for interior defender Derrick Brown, but Willie Gay Jr. is not a bad consolation prize. Even with his off-field issues, Gay is a fringe first-round prospect in PFF's eyes. This is mostly because his coverage ability is incredible and exactly what you want at the position — he logged only 294 coverage snaps in his three-year career and posted a 93.9 coverage grade on those reps, allowing only nine first downs with seven plays made on the ball. His testing at the 2020 NFL Scouting Combine — he posted a 39.5-inch vertical, an 11-foot-4 broad jump, a 4.46 40-yard dash and a 1.5 10-yard split — is just the cherry on top.
CHICAGO BEARS – S Antoine Winfield Jr., Minnesota
First-round pick: None
Day 2 picks: 43, 50
Team needs: CB, S, RG
Not a single safety was selected in the first round last night, so one of them is bound to fall right in the lap of the Bears — a team that is in need at the position after the departure of Ha Ha Clinton-Dix. The absolute best-case scenario for the Bears would be Antoine Winfield Jr. Winfield has instincts and tackling ability reminiscent of his father and was a playmaker in coverage this past year. He intercepted a whopping seven passes and forced two incompletions while allowing only nine first downs on his 379 coverage snaps. Mike Renner paired Winfield and the Bears on his perfect prospect-team fits in the 2020 NFL Draft, mentioning how diverse the Bears' coverages are and how they need instinctive safeties like Eddie Jackson and Winfield.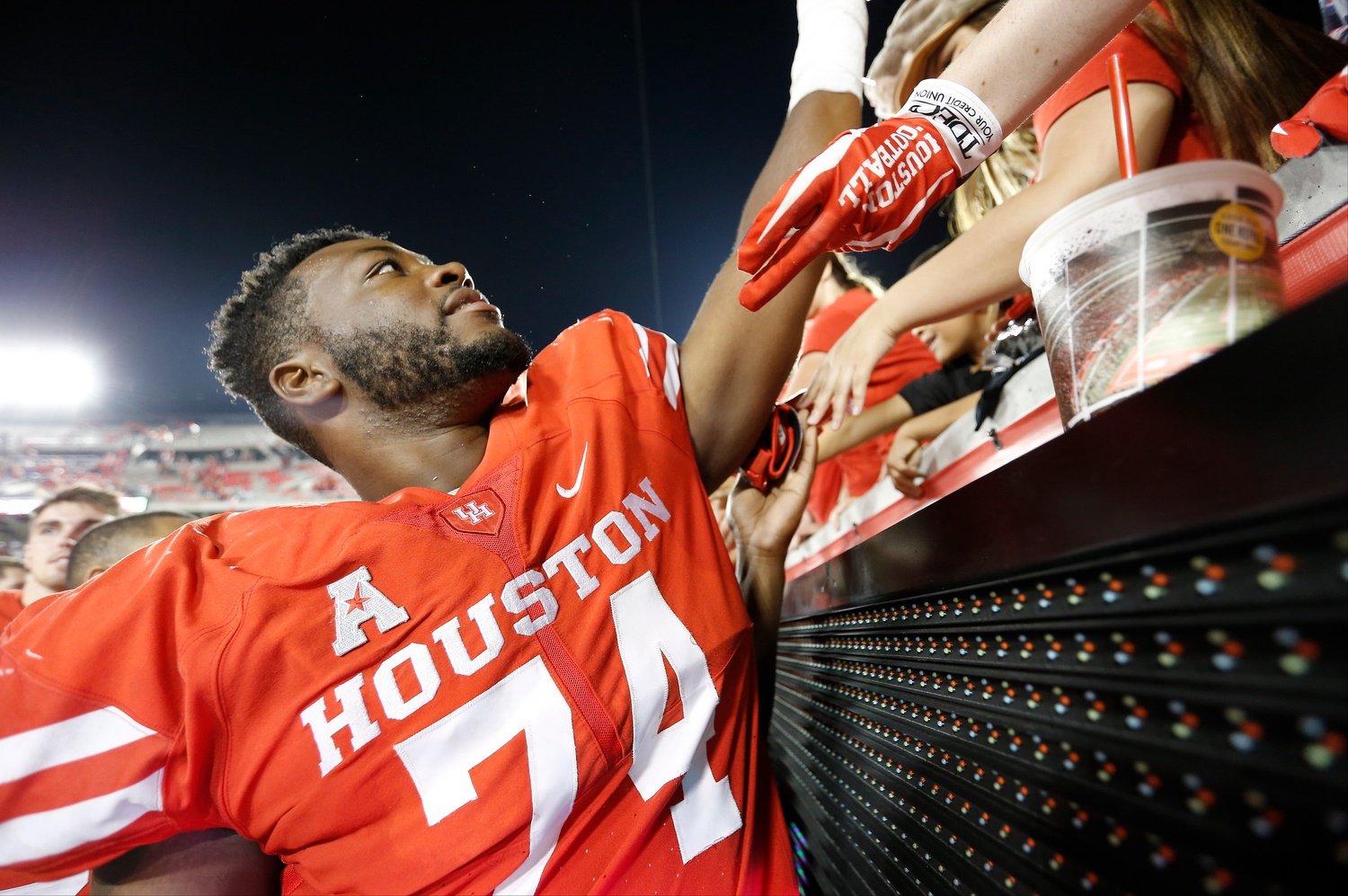 First-round pick: (1) QB Joe Burrow
Day 2 picks: 33, 65
Team needs: LB, RT, iOL
The fact Josh Jones didn't go in the first round is a bit of a surprise. But hey, the Bengals certainly shouldn't be mad. Cincinnati's offensive line will get an added boost with 2019 first-round pick Jonah Williams returning from a redshirt injury year, but they still are in dire need of help. Jones is coming off a year in which he posted the highest grade we have ever given to a Group of 5 tackle (93.4), and he didn't allow a single sack or hit and allowed just two hurries on 325 pass-block reps. And the best part about Jones is that he did this with rather subpar technique. If Cincinnati can get his technique polished up, Jones could really be something special.
First-round pick: (10) T Jedrick Wills Jr.
Day 2 picks: 41, 74, 97
Team needs: LB, S, WR
If the Browns get Geno Stone at the 97th overall pick, consider it one of the biggest steals of the draft. Stone's instincts are top-notch — he is so damn quick to make plays. Over the past two seasons, the Iowa safety produced the third-best PFF coverage in the FBS. He's been responsible for minimal big plays downfield; he made more plays on the ball (11) than first downs allowed (9) while also allowing the lowest yards per coverage snap average among safeties (0.25).
DALLAS COWBOYS – CB Troy Pride Jr., Notre Dame
First-round pick: (17) WR CeeDee Lamb
Day 2 picks: 51, 82
Team needs: CB, TE, DL
Getting CeeDee Lamb at the 17th overall pick was a huge steal for Dallas, and getting Troy Pride Jr. on Day 2 would make their draft even better. Pride has the kind of elite speed that prevents any open downfield throw. In his career, Pride saw 38 deep targets of 20-plus yards and he allowed only six catches. He's a bit of a project due to his inability to play the catch point, but his athleticism and man-to-man ability are worth investing in.
First-round pick: (15) WR Jerry Jeudy
Day 2 picks: 46, 77, 83, 95
Team needs: CB, LB, WR
Denver's secondary is already pretty solid with A.J. Bouye, Justin Simmons and Bryce Callahan, but adding Trevon Diggs to man the outside opposite to Bouye could take it to even greater heights. Diggs would thrive in a press-zone role with the Broncos. Diggs earned the highest press-coverage grade of any Power 5 cornerback in the draft class, and he allowed only nine catches on 33 targets on those reps, with three interceptions and seven forced incompletions mixed in.
First-round pick: (3) CB Jeff Okudah
Day 2 picks: 35, 67, 85
Team needs: DI, EDGE
Even after trading away Darius Slay, Detroit's secondary is looking pretty hot after adding Desmond Trufant, Duron Harmon and now Jeff Okudah. Their pass-rush, however, is not. Iowa's A.J. Epenesa — who was our 20th-best prospect in the draft — can help that. Epenesa isn't the most athletic guy, but his production, physical tools and versatility are too good to pass up. He has incredible power behind his hands and could even play on the interior if the team needed him to.
First-round pick: (26) QB Jordan Love
Day 2 picks: 62, 94
Team needs: WR, LB, DI
Aaron Rodgers has a reliable target in Davante Adams, who has produced top-10 PFF grades in each of the last two years, but outside of him … yikes. I'm sure Rodgers would have loved his team to draft him another weapon instead of a quarterback that wasn't quite worth taking in the first round, but we won't get into that here. Luckily, there is still a plethora of receiving talent available for the Packers, and one is bound to fall to them at pick No. 62. One, in particular, is Denzel Mims, who is a freak athlete for his size. The 6-foot-3 receiver posted marks above the 90th percentile in the 10-yard split, 40-yard dash, three-cone and broad jump. He also posted the second-highest grade against tight coverage since 2018.
First-round pick: None
Day 2 picks: 40, 90
Team needs: DI, TE, CB
How Kristian Fulton — who sits at 13th on the PFF Draft Board — fell this far in the draft is beyond me. He owns the highest PFF coverage grade in the country over the past two seasons, and he produced the nation's highest forced incompletion rate (30.5%) when lined up on the outside. His ability to stick with his man, consistently force tight coverage and win at the catch point is as good as anyones. Houston's need at corner is an obvious one, and with the teams slated to pick ahead of them, there's a real chance Fulton gets to them at 40.
First-round pick: None
Day 2 picks: 34, 44, 75
Team needs: WR, RB, QB
Philip Rivers sure could us another weapon in his first season in Indianapolis, and Pittman is the perfect fit. The 6-foot-4 receiver's ball skills are near-perfect — he dropped just 2.8% of his career catchable targets, possesses an insane catch radius and can adjust to any off-target throw to snag what would typically be an incomplete pass. His route running is impressive for his size, too.
First-round pick: (9) CB C.J. Henderson, (20) EDGE K'Lavon Chaisson
Day 2 picks: 42, 73
Team needs: DI, CB, S
Isaiah Simmons is practically the versatility king at this point, but he's not the only Swiss Army knife in the class. There have been only five safeties to play over 450 snaps in the box, slot and at free safety over the past two years, and only one of those five produced 70.0-plus grades at all three of those alignments — Xavier McKinney. Regardless of alignment or role, McKinney performed at a high level in each of the past two seasons, producing grades above 79.0 against the run, as a pass-rusher and in coverage.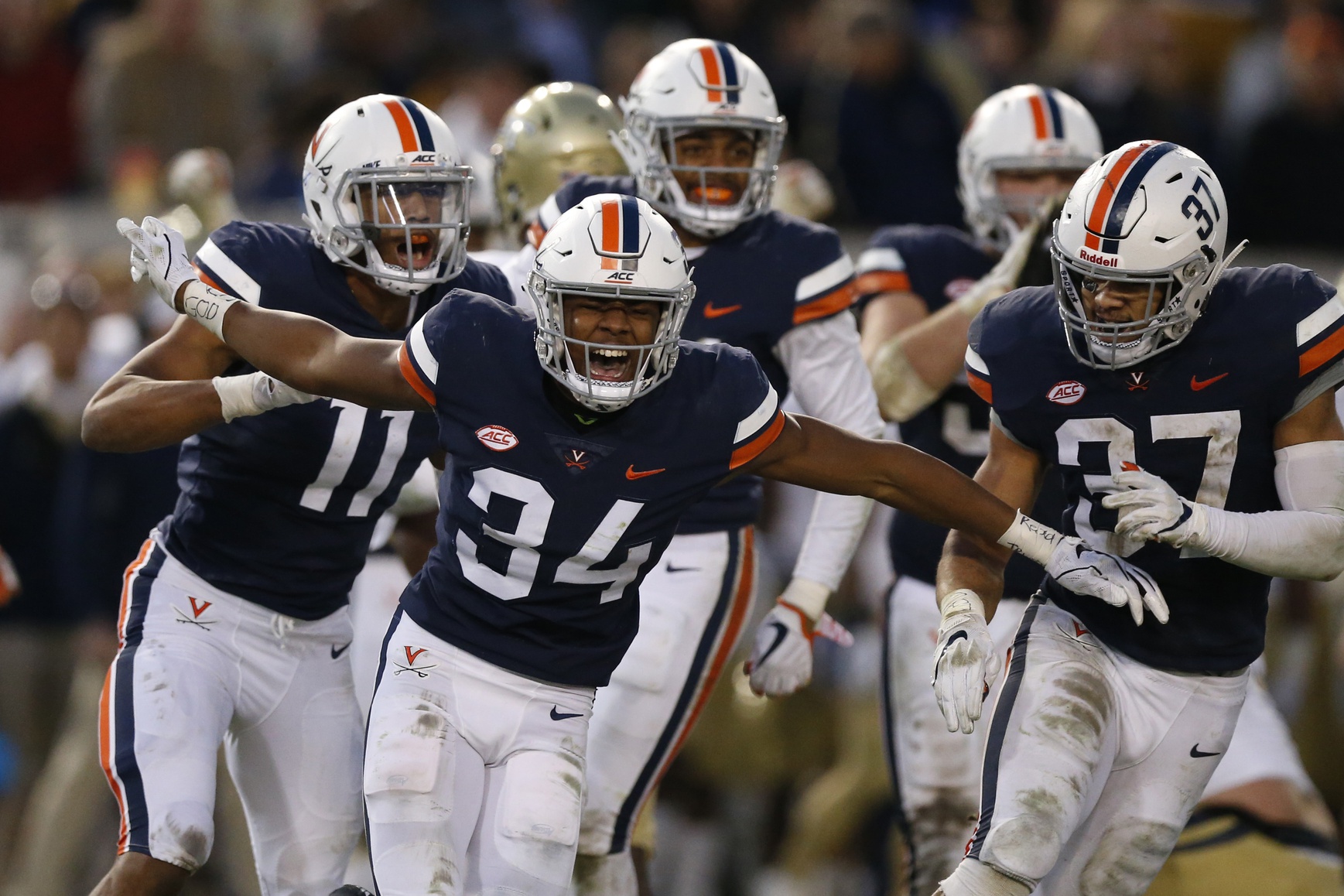 First-round pick: (32) RB Clyde Edwards-Helaire
Day 2 picks: 63, 96
Team needs: CB, iOL, LB
Kansas City plays a lot of press-zone, and Bryce Hall and his 78.5-inch wingspan could bring a lot of value to the Chiefs' secondary. Hall's ball skills have been excellent throughout his career with the Cavaliers. Over the past three seasons, he has forced an incompletion on 24.8% of his targets, which is tied for fourth among cornerbacks to see 100 targets in coverage. He has a knack for the ball and rarely lost on the bevy of contested targets he forced. Of his 44 contested targets since 2017, Hall has allowed just 18.2% to be caught (first) and forced an incompletion on 70.5% (first by nearly five percentage points). If it weren't for an injury he suffered while covering a punt earlier in the 2019 season, there's a real chance that he would have been snagged in the first round — he has "steal" written all over him.
First-round picks: (12) WR Henry Ruggs III, (19) CB Damon Arnette
Day 2 picks: 80, 81, 91
Team needs: WR, CB, OL
The Raiders' secondary is still in need of help after they took Damon Arnette in Round 1, especially at slot corner. Lamarcus Joyner manned the slot last year in his first season with the Raiders and was a poor performer, producing a coverage grade that ranked second to last among cornerbacks who played at least 200 slot coverage snaps. The 5-foot-9 Amik Robertson is one to target for that role. Robertson was a physical player for LA Tech and had insane ball production for his size, with 51 combined interceptions and pass breakups during his three seasons. As a matter of fact, there wasn't a higher-graded cornerback on contested balls than Robertson the last two seasons — he allowed only nine catches on 38 targets with 24 forced incompletions.
First-round picks: (6) QB Justin Herbert, (23) LB Kenneth Murray
Day 2 picks: None
Team needs: OT
The Chargers left themselves without a Day 2 pick as a result of trading up for Kenneth Murray, so this one is solely if they were to trade into the back-end of the third-round. In that case, it ought to be offensive tackle Ben Bartch of D-III St. John's, Minnesota. Bartch wrecked his weak competition for a 97.3 pass-blocking grade and allowed only four pressures on 541 pass-block snaps. You should take those numbers lightly considering the level of competition, but Bartch dominated the Senior Bowl as he did at St. John's by posting one of the highest win rates in one-on-ones of anyone in attendance.
First-round pick: None
Day 2 picks: 52, 57, 84, 104
Team needs: iOL, EDGE, LB
Cesar Ruiz would have been an absolute dream scenario for the Rams, but of course, he was snatched way earlier than we all thought. Instead, they'll have to settle with Tyler Biadasz, who will be of great value with one of their third-round picks. Biadasz had great production in his three years starting for Wisconsin, posting top-five overall grades at the position in each season. The big concerns with Biadasz, though, are the ugly losses that we saw in pass protection in 2019 that we didn't see in years prior and the fact that he never played outside of center.
MIAMI DOLPHINS — S Ashtyn Davis, California
First-round picks: (5) QB Tua Tagovailoa, (18) T Austin Jackson, (30) CB Noah Igbinoghene
Day 2 picks: 39, 56, 70
Team needs: OL, S, WR
Miami has needs at practically every position aside from cornerback and quarterback at this point, and one they should fill without question with the 39th overall pick is safety. They'll have a variety of options, but Ashtyn Davis would be a great fit for Miami's single-high defense. As a matter of fact, Davis was named the best single-high safety in the 2020 Draft class in the PFF Draft Guide. He was great in that role at Cal, posting the fifth-best coverage grade over the past two seasons on those reps and gathering up a couple of interceptions and pass breakups in the process.
First-round picks: (22) WR Justin Jefferson, (31) CB Jeff Gladney
Day 2 picks: 58, 89, 105
Team needs: CB, WR, DI
The Vikings were one of the biggest winners of the first round by snagging Justin Jefferson and Jeff Gladney. They still have to add another cornerback, and Jaylon Johnson is one to watch, but they could use another 3-tech after the fact. Missouri's Jordan Elliott would be a great value at the end of Day 2 if available. There wasn't a better interior defensive lineman in the pass-rush last year than Elliott. He posted an elite 91.1 pass-rush grade that ranked first in the FBS and an impressive 18.3% win rate that slotted in at third. And he did it all in the SEC — the most difficult conference in college football. Elliott came in at 23rd in the final PFF Draft Board and is one of the best available remaining prospects on Day 2.
First-round pick: None
Day 2 picks: 37, 71, 87, 98, 100
Team needs: QB, LB, TE, WR
At PFF, we are all for the Patriots tanking for Trevor Lawrence/Justin Fields in 2021, so they should now be dedicated to getting young weapons for when one of them gets to Foxborough. This tight end class is one of the weaker groups in the draft, but the Patriots would love the route-running and versatility of Adam Trautman. Against FCS competition in 2019, Trautman had a 94.3 receiving grade and finished his season with 27 explosive plays of 15-plus yards, which led all college football tight ends regardless of school classification. His straight-line speed isn't impressive, but he wins you over in just about every other area.
NEW ORLEANS SAINTS — LB Akeem Davis-Gaither, Appalachian State
First-round pick: (24) iOL Cesar Ruiz
Day 2 picks: 88
Team needs: LB, WR, QB
We all thought the Saints were going to take LSU's Patrick Queen with the 24th overall pick, considering off-ball linebacker was their only huge void, but then they shocked us all by selecting interior offensive lineman Cesar Ruiz. Now, the Saints almost have to address it with their 88th overall pick, and Davis-Gaither is a best-case scenario. He is a tremendous athlete who has great instincts in coverage, is a legit weapon as a blitzer and possesses strong skills as run-defender. He's a bit undersized, but you're not really going to find a perfect prospect at No. 88.
NEW YORK GIANTS — EDGE Curtis Weaver, Boise State
First-round pick: (4) T Andrew Thomas
Day 2 picks: 36, 99
Team needs: LB, EDGE
The Giants' edge unit needs a fresh face, and Weaver would provide an immediate impact. His production was off the charts the past two seasons, posting pass-rush grades above 92.0 in both years to form a two-year grade ranking behind only Chase Young. His pass-rush win rate was actually over three percentage points higher than any other edge defender.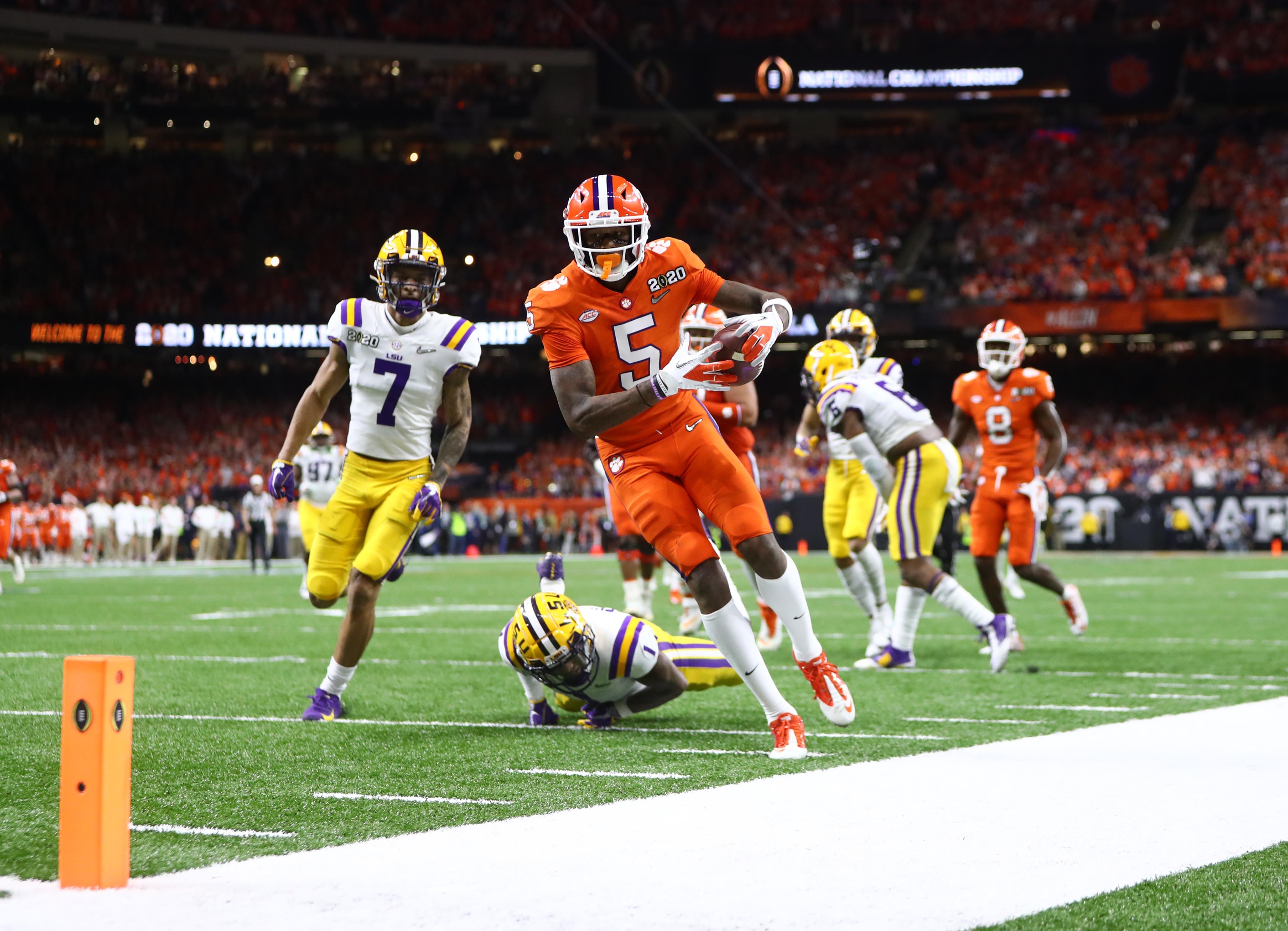 First-round pick: (11) T Mekhi Becton
Day 2 picks: 48, 68, 79
Team needs: WR, CB
Passing over Jerry Jeudy, Henry Ruggs III and CeeDee Lamb for Mekhi Becton was a stretch move to make, but the Jets can partly redeem themselves by picking up a wide receiver with their first pick on Day 2. Sam Darnold could certainly use the surefire hands and massive catch radius of the 6-foot-4 Tee Higgins to his advantage. Over the past two years on targets of 10 or more yards, Higgins hauled in 88.2% of catchable passes, dropped only 2.6% of them, and reeled in over half of the contested throws that came his way. He didn't need open separation to win deep — he'd dominate any corner in tight coverage with his size. Higgins produced the best grade against tight coverage since 2018.
First-round pick: (21) WR Jalen Reagor
Day 2 picks: 55, 103
Team needs: LB, WR, CB
Troy Dye has been a key player on Oregon's defense over the past four years and has been consistently solid in coverage by posting coverage grades above 70.0 each season. Dye isn't an elite athlete, but he has the coverage skills of and size of a modern-day NFL linebacker — something Philly needs.
First-round pick: None
Day 2 picks: 49, 102
Team needs: iOL, QB
There really is no pressing need for the Steelers, assuming they are confident Ben Roethlisberger can get back to his top-10 level and play a whole season, so adding depth and preparing for life after Bud Dupree's tag with a guy like Josh Uche isn't a bad move. Uche played fewer than 200 snaps in his career prior to his 2019 season, when he played 470. In his larger role this past year, he proved to be an elite collegiate pass-rusher by posting a 91.4 pass-rush grade and a whopping 46 pressures on 206 pass-rushes. He is very undersized for the position, but his bull-rush and hands make you think he might be able to hold his ground at the next level.
First-round picks: (14) DI Javon Kinlaw, (25) WR Brandon Aiyuk
Day 2 picks: None
Team needs: CB, RG
Right guard and corner are really the only two positions the 49ers can realistically improve at. And without a Day 2 pick, they are likely set with what they have. There is, however, an interesting likely tackle-to-guard convert who could be available late on Day 2 and add some value to their offensive line if they wanted to trade up: Robert Hunt. PFF Lead Draft Analyst Mike Renner went as far as saying that Hunt has the size and power to be a future Pro Bowl guard. At right tackle in 2019, Hunt was a nasty run-blocker and posted an 86.0 run-blocking grade in that facet of play.
SEATTLE SEAHAWKS — EDGE Julian Okwara, Notre Dame
First-round pick: (27) LB Jordyn Brooks
Day 2 picks: 59, 64, 101
Team needs: EDGE, RT, WR
Jadeveon Clowney's asking price is still reportedly a bit too high for Seattle's comfort, and it might be a good idea to pursue a player like Julian Okwara to replace him rather than overpaying. Okwara was en route to one of the best seasons by an edge defender this past year by owning an elite 90.4 pass-rush grade before getting hurt in Week 11. His explosiveness off the line, overall athleticism and long arms are what you want in a pass-rusher off the edge.
First-round pick: (13) T Tristan Wirfs
Day 2 picks: 45, 76
Team needs: WR, S
Getting Delpit at the 45th overall pick along with Wirfs in the first round would make the Buccaneers one of the draft's biggest winners. Delpit was the highest-ranked safety on the PFF Draft Board and the 15th-best prospect overall, mostly because he has NFL-ready coverage ability. Delpit combined for 27 interceptions and forced incompletions in his three years with LSU, which tied for the most in the FBS. He doesn't have the high-end speed, but he sure as heck has the short-area quickness you need from a safety in coverage. Whether he's in the box, manning the slot or playing deep, Delpit has unmatched coverage ability. Sure, the tackling is ugly, but with a guy like Delpit, you can live with that.
First-round pick: (29) OL Isaiah Wilson
Day 2 picks: 61, 93
Team needs: CB, DI
There's really not a whole lot of reliable depth — or starters, for that matter — in Tennessee's secondary. Adding Terrell Burgess, who can play multiple positions within your secondary, is a smart decision. Burgess produced top-five coverage grades when in the slot and in the box this past year and has the man skills you want in a modern-day safety. If Amani Hooker doesn't work out in the slot, Burgess can fill that void. If Hooker does work out in the slot, Burgess can play either safety position.
First-round pick: (2) EDGE Chase Young
Day 2 picks: 66
Team needs: WR, LT, S
We all knew Laviska Shenault would slide in the draft because of his injuries, but we still viewed him as the 18th-best prospect in this entire draft class. Shenault is lethal with the ball in his hands and looks like a running back after the catch. In fact, PFF Lead Draft Analyst Mike Renner gave him a player comp to Saquon Barkley in the PFF Draft Guide. He has broken an FBS-high 44 tackles since 2018 and averaged an impressive 7.4 yards after the catch per reception in that span. He's not the most refined route-runner yet, but he's proven to be one of the most dangerous receivers you'll see on screens and sweeps — where he has broken nine more tackles than any other receiver over the past two years and averaged 10.8 yards after the catch per reception.