• Dominant despite inexperience: In just his second NFL season, Dallas Cowboys edge defender Micah Parsons has already become one of the NFL's most impactful defenders, ranking top-four in wins above replacement (PFF WAR) at his position in both of his NFL seasons.
• Still room for improvement: The thing that should scare opposing teams is that Parsons is dominating despite still having a ton of room for improvement — from his overall pass-rush plan to 5 for a his initial get-off and his hand technique.
• Historically great: While he's already on track to be one of the decade's best talents, a couple of improvements could enable him to be one of the best defenders in the history of football.
Estimated reading time: 12 minutes

---
If you could only have one NFL defender for the next 10 years, the best pick would probably be Dallas Cowboys edge defender Micah Parsons. Despite less than two years of NFL experience, the 23-year-old is already one of the most dominant edge defenders in a league hell-bent on applying pressure to opposing quarterbacks.
While it wouldn't be wise to discount the Harrisburg native's ability to defend the run, Parsons' biggest contributions, especially this season, have come in the pass-rush department. The foundation of his pass-rush dominance is his rare athletic gifts, as he is blessed with excellent speed, explosiveness and change-of-direction ability for a 240-plus-pound athlete. He has the explosiveness to beat offensive tackles upfield, the flexibility to lower his center of gravity and turn corners at acute angles and the overall speed to chase down quarterbacks like a lion hunting a helpless gazelle.
He pairs that speed rush ability with a well-developed hesitation approach, spamming opposing tackles with stutter steps aimed at forcing offensive tackles to make a mistake. If the offensive tackles get too deep or wide with his pass set in anticipation of Parsons' soul-snatching speed rush, then he will take the path of least resistance and counter with an explosive inside move. If the blockers stop their feet or underset to defend the inside, then Parsons will just use his speed to outside.
So simple, but it forces offensive tackles to be almost perfect with their pass set points if they even want a chance to succeed, giving them little-to-no room for error for the 25-45 pass-protection snaps per game.
The fact that Parsons is dominating despite his relative inexperience in both the NFL and at the edge defender position might be the most impressive part of his dominance, as he ranks second in wins above replacement at his position (behind only the Las Vegas Raiders' Maxx Crosby) since entering the NFL in 2021. Prior to entering the NFL, the last time Parsons primarily played on the edge was in high school, plying his trade as an off-ball linebacker as a Nittany Lion. And after splitting time between off-ball linebacker and edge defender as a rookie in 2021 (540 snaps off-ball vs. 390 on the line of scrimmage), Parsons has moved to a near full-time edge defender role in 2022 (170 snaps off-ball vs. 693 on the line of scrimmage).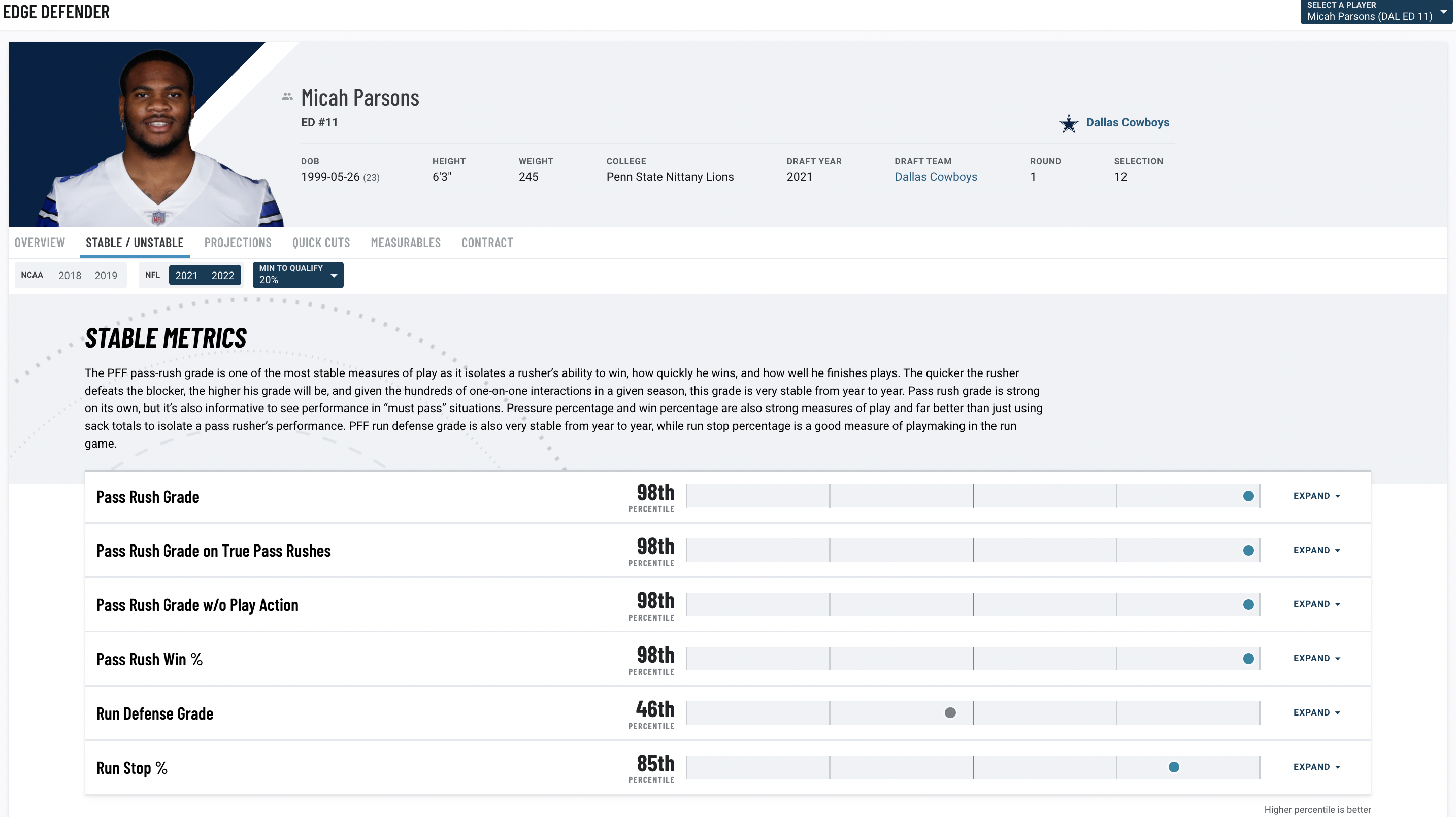 Fortunately for Parsons, in his second NFL season, not many offensive tackles have been able to consistently slow him down, as he currently ranks first in total pressures (90; one more than the San Francisco 49ers' Nick Bosa's 89), fourth in pass-rush grade (92.1) and fifth in pass-rush win rate (22.9%) among NFL defenders (min. 150 pass-rush snaps).
Moreover, when isolating his rushes against true pass sets, Parsons' rate-based metrics increase across the board, culminating in a 92.1 pass-rush grade (third) and 29.8% pass-rush win rate (sixth).
Therefore, it shouldn't surprise anyone that Parsons is one of the favorites to win the NFL's Defensive Player of the Year Award for the 2022-23 season after taking home the NFL's Defensive Rookie of the Year and being named a first-team All-Pro in the 2021-22 season.
While Parsons' current play already places him among the NFL's most impactful defenders on a snap-by-snap basis, the scary part for opposing teams and fans is that his skill set still has room to grow.
Now, if Parsons stayed the exact same player and didn't improve throughout the rest of his NFL career, he'd still be one of the best defenders in the NFL, as evidenced by his immediate and emphatic dominance to begin his NFL career; however, a few technical adjustments and improvements could boost one of the NFL's best defenders currently to one of, if not, the NFL's best defender(s) of all time.
---
Fix the false step
— Jim Jeff (@CowboysGifs) January 4, 2023
At its core, rushing the passer is just a race to the opposing quarterback. And just like in any race, every step and fraction of a second counts, which is why it's important for Parsons to eliminate the false step out of his two-point stance to maximize his take-off speed and timing as a pass-rusher. This isn't unique to Parsons, as it plagues even some of the NFL's best pass-rushers (heck, even Buffalo Bills edge defender Von Miller does it at times).
Now, for those who don't know the finer details of rushing the passer, typically a false step occurs when an edge defender is rushing from a two-point stance (standing up rather than with one hand on the ground), Parsons' primary stance (only seven snaps this season from a three-point stance). Instead of moving forward his initial movement, coming from when he rolls off his front foot to explode forward, he picks up the front foot and either steps in the same place or slightly behind where it was initially located. Here's an example:
This Micah Parsons sack is *chef's kiss*. The little nuances enable success here. Notice how Parsons first attacks 68's inside shoulder, forcing him to step inside, which provides MP access to the outside edge. Also, MP's outside hand placement on 68's tricep to defeat the hands. pic.twitter.com/Luhe41zqbx

— John Owning (@JohnOwning) October 25, 2022
It obviously didn't negatively affect him here, as his rush resulted in a sack, but note Parsons' front foot when the ball is snapped, as he false steps before exploding forward.
Parsons' rare speed and explosiveness enable him to still consistently find success even with a delayed get-off due to his false step. Having said that, imagine how much stress he could put offensive tackles under if he didn't give them that extra tenth of a second to get to their spot in pass protection.
Offensive tackles whose pass sets are stressed are even more prone to mistakes, whether it's leaning with their strikes or not getting to their correct set points, which makes the pass-rusher's job much easier.
Furthermore, it's interesting to note that Parsons leads the NFL in hurries (57) this season even with a delayed get-off due to a false step, and after studying each one, it's completely reasonable to believe that a handful of those could have been QB hits or even sacks without that extra tenth of a second tacked on to his get-off.
While breaking bad habits is exceedingly difficult, fixing the false step out of his two-point stance is a relatively simple technical fix that would provide immediate benefits, enabling him to be an even more productive pass-rusher without any other drastic changes that could have ill knock-on effects down the road. Already one of the fastest edge rushers in the NFL due to his 4.3 speed, fixing his false step would be like adding NOS to Lewis Hamilton's Formula 1 car, the competition would have no chance.
---
Take OTs to deep water
While Parsons' athletic ability makes him one of the NFL's most unique pass-rushers, the aforementioned Miller is one of the two or three edge defenders who can match the Penn State product's rare gifts.

Therefore, given that Miller may be one of the five best pass-rushers to ever live, it'd be wise for Parsons to steal aspects of Miller's skills and approach in an effect to maximize his own level of play.
One of the tools that Parsons should steal from Miller is the former Denver Broncos' ability to pull offensive tackles into "deep water," meaning he uses his initial approach to pull offensive tackles away from their help and onto an island, providing himself a two-way go that makes it's difficult for the opposing tackle to receive help. Nonetheless, don't take my word for it, let Miller explain it himself:
— Jim Jeff (@CowboysGifs) January 3, 2023
While Miller is specifically talking about using this approach to set up his ferocious inside spin move, it's also applicable for any inside move, as the act of drawing an offensive tackle out into space moves him further away from his help, making it easier to win inside. Here's an in-game example of Miller using this approach to create success (aligned outside the right tackle):
Von Miller's still got it. What a vicious spin move. pic.twitter.com/acqn8W8Svw

— Sosa Kremenjas (@QBsMVP) November 16, 2021
Note that Miller begins the snap aligned on the left hash mark and that his left foot is still on the hash mark once he begins his spin move and compare that to these images of a typical inside move from Parsons:
— Jim Jeff (@CowboysGifs) January 3, 2023
Note that while Parsons also aligns on the hash mark, he's actually located almost a full yard inside the hash mark once he begins his inside move. Essentially, Parsons condensed the space he had to work with, which enables the offensive guard to easily provide help to the tackle once Parsons made his inside move.
Compare that to Miller, who didn't have to deal with a helping guard due to pulling the offensive tackle onto an island. Once Miller hits his spin move, the right guard isn't in a position to provide help, enabling Miller to generate quick pressure and force an errant throw.
Now, this isn't to say that Parsons never utilizes this approach, but it's rare, and while Miller notes that he wants all his body language to be "toward to goal posts," Parsons will often have a heavy tilt inside, which tips off the offensive tackles to his intentions.
Some skeptics will note that the quickest way to get from Point A to Point B is a straight line, so forcing a pass-rusher to essentially elongate his path to the quarterback may seem unwise. And while it is true that drawing an offensive tackle out to an island does elongate the pass-rusher's track to the QB, it does so with the understanding that it will take away that tackle's help. Therefore, even if the path is longer, the pass-rusher will have fewer potential obstacles in his path, thus he can win cleaner and get to the quarterback quicker.
Now, implementing this into his game won't be easy — and will likely take an offseason or two to properly implement — mainly because Parsons will also have to develop an outside move to go with any inside ones he uses with this initial approach. If Parsons only went inside every time he tried to draw an offensive tackle out into space, the opposing tackles would eventually pick up on that tendency and nullify it. For Miller, his go-to is his otherworldly "ghost" move — a move Parsons has already proven capable of thus far.
Even with Murray drifting back, I loved this rush from Micah Parsons, as he kind of combines a swipe & ghost to beat 79 & generate a pressure that should have resulted in an INT.

After swatting away the 79's initial strike, Parsons slips the 2nd strike & accelerates to the QB. pic.twitter.com/S8vdb4gq3X

— John Owning (@JohnOwning) January 3, 2022
---
Diminish his strike zone
There are generally three basic parts of a successful pass rush: the approach phase (a pass-rusher's initial couple of steps after the ball is snapped), the contact phase (when the pass-rusher is within arm's reach of the offensive tackle) and the finishing phase (when the pass-rusher is closing on the QB after beating his block).
After focusing on the initial phase with the first two proposed "adjustments," we now focus on the second, or "contact," phase of rushing the passer — the phase where he appears to currently be the least developed. In fact, Parsons recently admitted when asked how many pass-rush moves are in his arsenal, "Man, I don't know. I just be making them up as I go." And honestly, it shows.
When Parsons is stymied by the opposing blocker on a given pass-rush snap, it's typically because he cedes first contact and — due to being at a 50-plus-pound weight disadvantage at times — is either knocked off his pass-rush line or unable to dislodge the blocker's grip on his pads.
The reason this tends to happen to the former first-rounder is that he lacks discipline in the way he carries his hands during the contact phase, as his hands often get too wide, which A) force his hands to travel a greater distance before landing on its intended target, often causing his hands to land just a tick late, and B) provides offensive tackles with a giant strike zone and easy access to control his chest. These two images provide a great illustration:
— Jim Jeff (@CowboysGifs) January 3, 2023
In the first image, Parsons' hands are so wide that it almost appears as though he's greeting Philadelphia Eagles tackle Jordan Mailata with a hug. And in the second image, Parsons' wide hands enabled Eagles guard Landon Dickerson to make the first meaningful contact and ultimately stop Parsons in his tracks (on this particular play, at least).
In this video of Bosa and 49ers teammate Fred Warner, the former details his approach to rushing the passer, noting that it's important for pass-rushers to protect their chest by carrying their hands high and tight once they reach the contact phase.
Breakdown of Nick Bosa demonstrating to Fred Warner how he sets up his #passrush & executes his side scissors (swipe) move during #49ers training camp.

Credit: @JackHammer_NFL pic.twitter.com/1kwRxNiGHP

— DLineVids (@dlinevids1) December 30, 2022
By taking this tool from a fellow dominant pass-rusher's toolbox, Parsons' pass-rush ability would be optimized by making it exceedingly more difficult for opposing offensive tackles to A) make first meaningful contact and B) latch onto Parsons' frame to stymie his progress to the quarterback.
If an offensive tackle can't reliably latch onto Parsons' frame once he enters the contact phase, then the only thing preventing the Cowboys edge defender from a sack would be a quick-passing game that gets the ball out before Parsons can arrive.
---
Conclusion
Even though Parsons still has aspects of his game to work on, it's important to remember that he is only in his second NFL season while playing a new position, but he's already one of the NFL's best at it. In fact, Parsons' first two seasons as a pass-rusher compare favorably against other elite edge rushers' first two seasons.
Parsons' production over first two seasons compared to top NFL pass-rushers
| | | | | | | | | |
| --- | --- | --- | --- | --- | --- | --- | --- | --- |
| Player | First two seasons | Total pass-rush snaps | Pass-rush grade | Total pressures | Pressure rate | Pass-rush win rate | Sacks | WAR |
| Micah Parsons | 2021-22 | 787 | 93.4 | 165 | 20.44% | 25.40% | 28 | 1.11 |
| Nick Bosa | 2019-20 | 638 | 85.6 | 114 | 17.87% | 18.50% | 15 | 0.39 |
| Joey Bosa | 2016-17 | 890 | 91.1 | 147 | 16.52% | 21.90% | 24 | 0.73 |
| Myles Garrett | 2017-18 | 899 | 88.0 | 115 | 12.79% | 18.40% | 22 | 0.58 |
| Von Miller | 2011-12 | 965 | 92.6 | 173 | 17.93% | 16.70% | 34 | 1.20 |
| Khalil Mack | 2014-15 | 1,060 | 86.3 | 154 | 14.53% | 16.80% | 21 | 1.29 |
| T.J. Watt | 2017-18 | 772 | 78.5 | 97 | 12.56% | 15.70% | 21 | 0.36 |
| J.J. Watt | 2011-12 | 1,247 | 85.6 | 144 | 11.55% | 10.50% | 34 | 1.28 |
Parsons is already way ahead of the curve in terms of his development as a pass-rusher over his first two seasons despite his inexperience and areas of improvement.
And if Parsons can make those improvements, then Los Angeles Rams defensive tackle Aaron Donald's status as the best defender of his generation may have an earlier expiration date than initially thought.