NFL Week 5 has come and gone, and a handful of rookies are absolutely dominating their competition. Using PFF's unique grades and advanced database, we give you the NFL's 10 highest-graded rookies through Week 5, in descending order — featuring a new entrant in the race who went from unranked to second on the board.

The former Oklahoma Sooner and now Baltimore Raven, Marquise "Hollywood" Brown has been far and away quarterback Lamar Jackson's go-to wide receiver, seeing 19 more targets than any other Ravens wideout (35 total, Willie Snead IV is second with 15). We haven't seen him be able to top his inane Week 1 debut, but his six broken tackles after the catch are the third most and his 2.23 yards per route run are the 13th most.
Fourth-round pick Khari Willis has been a tackling machine for Indianapolis, recording a tackle on 10.7% of his defensive snaps (second highest among safeties). In Week 5, Willis played more snaps in the box than any other position (played more snaps at free safety in the previous four weeks). His 80.8 run-defense grade in the box is currently the fourth best among safeties. Nonetheless, Willis has been trending up ever since his 86.9 graded performance in Week 2, thus earning him a spot on the NFL's top rookies list.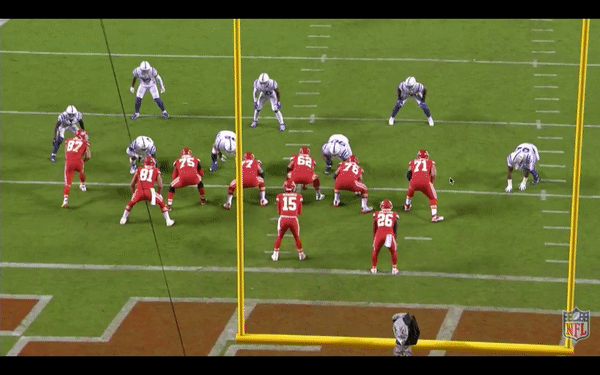 Even after his elite performance in Week 2, A.J. Brown is still not getting the recognition and opportunities he deserves with just two targets on his 23 routes ran in Week 5. Despite this, Brown still ranks eighth in yards per route run (2.38), seventh in passer rating when targeted (141.9) and third in yards after catch per reception (9.5). With Tennessee going up against a top-10 secondary by PFF grade in the Denver Broncos this week, Mariota and offensive coordinator Arthur Smith must look the way of their number one wide receiver: A.J. Brown.
The only positive on Miami's offense thus far in 2019 has been undrafted rookie Preston Williams, who is responsible for over 25% of Miami's first downs/touchdowns receiving. Williams doesn't get a lot of separation, but that's okay since he's the fifth highest-graded wide receiver with tight separation, sitting at 83.2. With six explosive plays receiving, Williams possesses what every team wants: big playmaking ability. If Miami can just get an accurate quarterback, Williams' name will be heard far more than it is now.
First-round edge rusher Brian Burns continued his impact playmaking with a scoop and score fumble return in Week 5. Along with that, Burns tacked on a couple pressures, bringing his pressure total to 18 for the season. If Burns gets the opportunity to face off against Tampa's left tackle Donovan Smith, who ranks 26th of 32 in PFF pass-block grade, during their London matchup Sunday, we should all expect a big day from the rookie.
While it wasn't his best performance as a whole, everyone's favorite quarterback Gardner Minshew did enough to remain among the five best rookies in the NFL. On the season, Minshew has generated the 11th most big-time throws, with eight, and is the third highest-graded quarterback on throws of 10-plus yards — behind only Patrick Mahomes and Carson Wentz. While his seven fumbles on the year are certainly a concern, Minshew boasts the ninth-lowest negatively graded throw rate, as his performance on a throw-for-throw basis is what makes him a rising star.
Not only is Terry McLaurin the top rookie wide receiver through Week 5, he's the 11th best wide receiver in the entire league. His 16.2 average depth of target is among the 10 highest and his deep receiving grade (20-plus yard targets) is the NFL's third best. Assuming his usage won't change after the firing of Jay Gruden, McLaurin could be in for a massive day against the NFL's worst coverage unit in the Miami Dolphins.
The 6-foot-4, 342-pound defensive lineman had himself a day against the Vikings in Week 5, with a solid 83.0 overall grade, one sack, one forced fumble and six instances of being the first defender to contact. Though the bigger story is how stout Lawrence was while playing a high rate of the Giants' defensive snaps compared to his previous weeks. On Sunday, Lawrence stayed on the field for 52 snaps (in each of the previous four games, Lawrence had a snap count between 28-34). Prior to the draft, PFF was vocal that if Lawrence was able to stay on the field for all three downs, he may be worth that mid-first-round pick he was actually taken at. So far, so good.
Second-overall pick Nick Bosa had big shoes to fill entering the NFL with his brother, Joey Bosa, dominating for the Los Angeles Chargers and ranking fourth in PFF pass-rush grade from 2016 to 2018. Nick is far exceeding expectations thus far, and if his dominant Week 5 is any indication, he may be better than his big brother. Against the Browns in Week 5's edition of Monday Night Football, Bosa had a 91.0 pass-rush grade and nine quarterback pressures (five of which were a sack or hit). In addition, Bosa put together a pass-rush win rate of 36% and a pressure rate of 36%. Not only was this the best game we have seen by a rookie from the 2019 class through Week 5, it was among the five highest-graded games we have ever seen from a rookie edge defender AND was also the highest pass-rush win rate recorded by a rookie edge rusher in a single game in the PFF era (since 2006).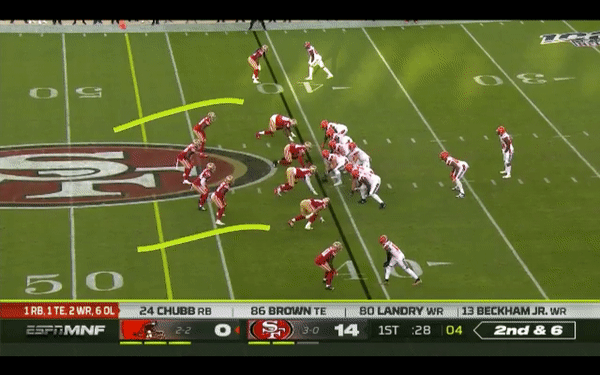 Oakland running back Josh Jacobs faced the toughest challenge of his rookie campaign against the Chicago Bears in Week 5. Jacobs came away rather successful with a 77.7 overall grade. On top of that, Gruden decided to use more of Jacobs in the receiving game, with three targets on 17 receiving routes ran where he would pick up 20 yards and a broken tackle. Overall on the season, Jacobs has found the most success rushing right up the gut. On attempts at or between his guards, Jacobs is the highest-graded running back by a mile. If Jacobs can broaden his great play to the receiving game, he can set himself apart from others at his rather replaceable position.