Fifteen weeks of the 2019 NFL season have been completed, giving us almost a full-season sample size on each of the 32 first-round rookies. Some have shined while others have disappointed, and some have barely seen the field either because of injury, poor performance or both. Through 15 weeks of action, here is how each of the 32 first-round picks has graded so far.
2019 overall grade: 63.3 (28th out of 32 qualifying quarterbacks)
Murray's 63.3 PFF grade is a bit deceiving considering he dropped two absolute duds in Week 13 against the Los Angeles Rams (27.2 overall grade) and Week 14 against the Pittsburgh Steelers (29.9), plummeting his grade nearly 10 points. We talk here about the quarterback owning their pressure rate, and Murray certainly did across those two games. He was charged as the responsible party for nine pressures, six of which were sacks. On the season, Murray has been at fault for 21 sacks, leading all quarterbacks. His ability to escape danger is a luxury that most teams don't have, but it could be getting him into more trouble than it's doing him good.
It hasn't been all bad for Murray, though. He's shown flashes of the ability that made him the first overall pick in the draft. Don't let his height fool you — Murray has a cannon of a right arm that he's used to make some throws that most quarterbacks simply can't. He ranks in the top half of the NFL in big-time throws with 20, including this laser over 40 yards downfield to Christian Kirk that fell incomplete. The arm talent is there, and we've seen high-level production from Murray at times. It's up to him to put it all together next season.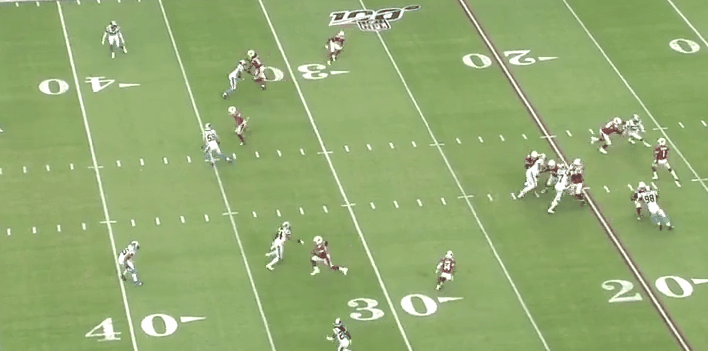 2019 overall grade: 88.6 (8th out of 107 qualifying edge defenders)
Bosa is the overwhelming favorite to win Defensive Rookie of the Year, and it's not hard to see why. Due to his sheer dominance, the Ohio State product is being compared to the top edge rushers in the NFL instead of his fellow rookies. Bosa has generated 64 quarterback pressures on 383 pass-rushing snaps for a pressure rate of 16.7% that ranks sixth among qualifying edge defenders. For a rookie edge defender with 250 or more pass-rushing snaps, you have to go back to his brother Joey Bosa in 2016 (17.3%) to find a higher pressure rate. You have to go back even further to Von Miller and Aldon Smith in 2011 to find a higher pass-rushing grade than Nick Bosa's mark of 83.2.
It's rare to see the kind of impact Bosa is having as a rookie, and he's been a big part of the defensive revival for the 49ers this season. With the statistical company he's keeping now at just 22 years old, the future is bright in the Bay Area.
2019 overall grade: 67.8 (61st out of 117 qualifying interior defenders)
Williams' rookie season, particularly his contributions as a pass rusher (or lack thereof), has been one of the bigger surprises among the first-round draftees. He couldn't be blocked in either the run game or the pass game in his final season with Alabama. Williams' 96.5 run-defense grade led all interior defenders in college football last season as did his 92.5 pass-rush grade. Unfortunately for the Jets, that utter dominance hasn't translated to the professional level this season.
Through 15 weeks, Williams has recorded 15 pressures on 272 pass-rushing snaps for a pressure rate of 5.5% that ranks 89th among 123 interior defenders with 100 or more pass rushes this season. He's been better in run defense, posting a 73.5 grade that ranks 33rd out of 117 interior defender qualifiers — but even there, he hasn't shown the expected immediate impact given his production at Alabama. It hasn't been a bad season for Williams, but average isn't what you're looking for in a top-three pick. With all signs pointing to a return from the neck injury that sidelined him last week, the rookie will have two more weeks to build momentum heading into his second season.
2019 overall grade: 60.8 (83rd out of 107 qualifying edge defenders)
Ferrell's selection at fourth overall in the draft turned quite a few heads, proving to be the first real surprise selection. Up to this point, the rookie out of Clemson hasn't done anything to change the perception that he was a reach as a top-5 pick. Ferrell is one of 119 different edge defenders who have rushed the passer 100 or more times this season. But his 8.0% pressure rate ranks 103rd and his pass-rush win rate of 8.6% ranks even lower at 105th. He's been outperformed by fellow rookie edge defender Maxx Crosby on his own team (11.5% pass-rush win rate and 10.7% pressure rate) despite Crosby being selected 125 picks later.
Ferrell is coming off by far his best single-game grade of the season (90.8) against the Jaguars in Week 15, though, highlighted by a tackle for loss on Leonard Fournette from behind and a pass-rushing snap in which he treated Cam Robinson like a blocking sled. He'll look to carry that over against the Chargers in Week 16.
2019 overall grade: 51.1 (68th out of 88 qualifying linebackers)
Like Ferrell, White hasn't lived up his pre-draft billing as a rookie. His 51.1 overall grade ranks near the bottom of the linebacker position, and it isn't just one area that has sunk his mark. White has grades below 55.0 in run defense, coverage, pass rush and tackling.
Coming out of LSU, White's coverage ability was seen as one of his biggest strengths, and his 91.6 coverage grade led all linebackers in his final college season. Through the first 12 weeks of this season, though, it was anything but a strength. White's 33.4 coverage grade over that span was the fourth-lowest mark among all linebackers who had seen 25 or more targets. His passer rating allowed of 119.6 — 29 receptions on 34 targets for 352 yards and a touchdown — was a bottom-10 number at the position, as well.
Shaky start aside, White has begun to show in recent weeks why he graded out so highly at the college level. Over the past three weeks, White has earned an 89.7 coverage grade, allowing just 35 combined receiving yards into his coverage in those games. The jump from college linebacker to NFL linebacker is a big one. White's recent results indicate he may be starting to get more comfortable in his new role, and if he's able to get back to how he was playing at LSU, the Buccaneers will have a second elite linebacker to pair with Lavonte David.
2019 overall grade: 64.3 (25th out of 32 qualifying quarterbacks)
Jones came into the season behind Eli Manning on the depth chart, but it didn't take long for him to rise to the starting role by Week 3. Back-to-back wins against the Buccaneers and the Redskins had some singing his praises, but the eight-game losing streak that followed showed what most believed coming into the season: Jones wasn't ready to be a successful starting quarterback in the NFL.
His biggest issue to this point has been his carelessness with the football. Jones' 27 turnover-worthy plays are fewer than only Jameis Winston, Kyle Allen and Philip Rivers. When you look at it on a per-play basis, his turnover-worthy play rate of 5.8% is better than only Allen this season, and he is one of only three quarterbacks with a rate higher than 5%. When you add in that he's taking sacks at a top-10 rate leaguewide (once every 13 dropbacks), Jones simply hasn't been able to overcome the negative plays with the flashes of potential that he has shown.
2019 overall grade: 67.7 (48th out of 107 qualifying edge defenders)
Outside of Bosa, Allen has had the best season of any rookie edge defender in the NFL. PFF sacks have Allen with 11 on the season (t-10th) while his NFL sack total sits at 10.0 (t-9th) — the difference being the way that we categorize sacks, primarily not awarding half sacks — which would seem to point to the notion that he has been one of the top pass rushers in the NFL, ahead of even Bosa.
One of our goals at PFF is to stop the belief that a pass rusher should be evaluated solely on sacks, though. Instead, they should be evaluated on their disruptiveness over their entire body of work. While it is great that Allen has gotten the quarterback to the ground 10 times, the more important number is his 13.3% pressure rate that ranks 37th among 119 qualifying edge defenders. His pass-rushing grade ranks 47th among the same group. Allen has had some truly impressive reps — the on which he sacked Derek Carr last week comes to mind — but he has been only an above-average pass-rusher in his rookie season, not elite like his sack totals would suggest.
2019 overall grade: 60.7 (38 out of 69 qualifying tight ends)
It's rare that a rookie tight end makes a huge impact in his first season, but it looked like that was exactly what Hockenson was going to do after a Week 1 performance in which he put up six receptions for 131 yards and a touchdown against the Cardinals. That effort became an outlier, though, as the season played out. Since Week 2, Hockenson has averaged just 0.95 yards per route run (29th among 32 tight ends with 200 or more routes run). Over that span, his 76.2 passer rating when targeted ranks dead last.
Hockenson's college tape at Iowa highlighted his ability to be a true tight end who could both be a legitimate receiving threat and a plus-blocker at the position, but it never materialized this season. Now that his season has ended on IR with an ankle injury, he will look to build on his connection with a healthy Matthew Stafford in his sophomore season.
Subscribe to PFF Edge to continue reading
Already have a subscription? Sign In