We're now 12 weeks deep into the 2019 NFL campaign, and the rookie seasons of all 32 first-round picks have all but been defined. Some have shined on the field while others have disappointed, and some have barely seen the field either because of injury, poor performance or both. Through 12 weeks of action, here is how each of the 32 first-round picks has graded so far.

2019 overall grade: 73.4
Murray did as much as he could to try to get his team a win against the San Francisco 49ers in Week 11. The first overall pick completed 24-of-33 attempts for 150 yards and two touchdowns in the game, putting up a 112.0 passer rating from a clean pocket in the process, while he also added 67 rushing yards across his eight designed rushing attempts on the day. The signs are overwhelmingly positive 12 weeks into Murray's tenure with the Cards, but the team has to be especially ecstatic about how well he's taking care of the ball. So far, only 2.16% of his attempts as a pro have been turnover-worthy, which is currently tied with Russell Wilson (2012) for the best mark ever recorded by a rookie in the PFF era.
2019 overall grade: 89.7
Before Week 12, 87.1% of Nick Bosa's pass-rushing snaps had been taken from the right side of the defensive line, with just 45 snaps from the left side being taken all season. That script flipped quickly in Week 12 when stalwart right tackle Bryan Bulaga left the game with an injury and Alex Light was tasked with replacing him. Noticing the potential mismatch, the Niners lined Bosa up on the left-hand side of the defense for the majority of his plays, and he caused havoc, racking up one sack, four hurries and two additional pass-rush wins across his 39 pass-rushing snaps on the night. Bosa now has 54 total pressures to his name through 12 weeks, which is just 10 shy of the PFF record for the most pressures produced by a rookie edge defender.
2019 overall grade: 67.4
Williams played 28 snaps in his team's upset victory over Raiders, but he was a statistical non-factor for most of the game. He failed to record a pressure, a stop or even a solo tackle, though he did earn two positive grades in run defense across five total snaps.
2019 overall grade: 53.2
It may have taken the better part of a season, but Clelin Ferrell finally delivered a highly graded game. He played 50 total snaps against the Jets in Week 12 — 26 in run defense, 23 in the pass-rush and one in coverage — and he recorded a quarterback hurry and two defensive stops against the run en route to a career-high single-game grade of 71.4. It wasn't all good, however, as he also missed a tackle, meaning that he's missed at least one tackle in seven of his 10 games as a pro.
2019 overall grade: 41.0
White was mightily productive as a pass-rusher in Week 12 against the Falcons, notching two sacks from just seven snaps in the pass-rush, but that's about all there is to say of his Week 12 performance. He missed three of his eight tackle attempts in the game and also allowed three catches for 65 receiving yards on throws into his coverage. His work as a pass-rusher saved him a bit, but he still ended the game with a PFF grade of 48.0.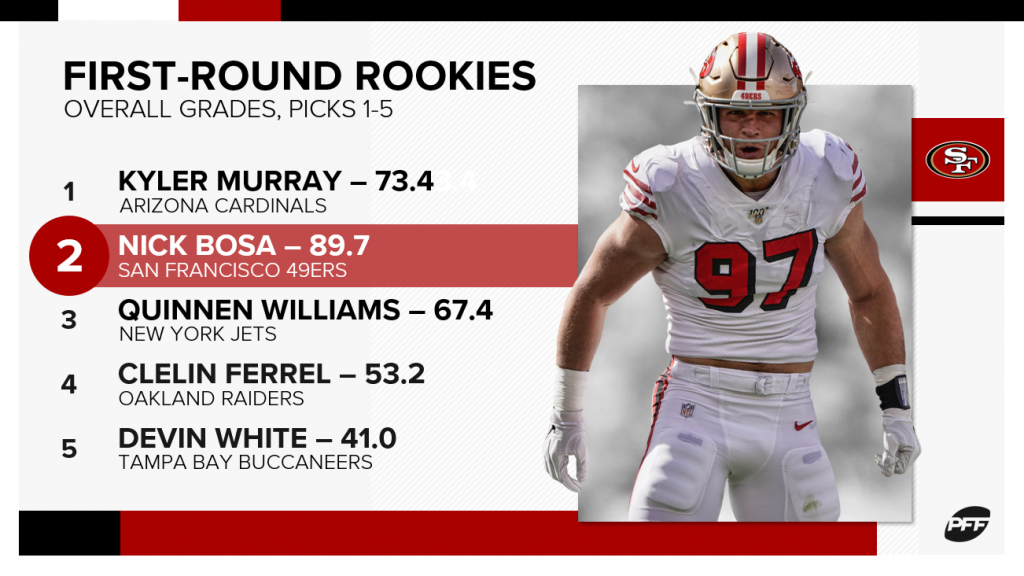 2019 overall grade: 62.0
Daniel Jones was flat-out outplayed by Mitchell Trubisky in Week 12, which is certainly not the end of the QB spectrum you want to be as a franchise quarterback, no matter how long you've been in the league. The sixth overall pick completed 13 of his 20 clean-pocket attempts in the game but managed just 88 yards in such circumstances, and he added another two turnover-worthy plays and only one big-time throw to his season-long resume. As things stand, there have been 38 quarterbacks who have thrown at least 300 passes in their first year in the league since 2006, and Daniel Jones' current turnover-worthy play rate (6.63%) currently ranks 34th.
2019 overall grade: 65.2
Allen played just 23 snaps against the Titans in Week 12 — 11 as a pass-rusher and 12 in run defense — and he was mostly kept at bay throughout the contest. He was unable to tally a quarterback pressure, but he was able to tally a single defensive stop against the run. He did just enough to secure his fourth consecutive 60.0-plus game grade.
2019 overall grade: 59.4
T.J. Hockenson was a relative nonfactor against the Redskins this week. He was targeted twice in the game by quarterback Jeff Driskel, though neither of those passes was deemed to be catchable. Hockenson left the game without a reception for the first time in his career, a week after hauling in just a single pass for six yards. Matthew Stafford's return likely can't come quick enough for the first-round tight end.
Subscribe to PFF Edge to continue reading
Already have a subscription? Sign In