We're almost three-quarters of the way through the 2019 NFL season, and with it has come several standout performances from first-round rookies across the league. Through 11 weeks of action, here is how each of the 32 first-round picks has graded so far.

2019 overall grade: 73.4
Murray did as much as he could to try to get his team a win against the first-place team in his conference. The first overall pick completed 24-of-33 attempts for 150 yards and two touchdowns against the 'Niners in Week 11, putting up a 112.0 passer rating from a clean pocket in the process, while he also added 67 rushing yards across his eight designed rushing attempts on the day.
2019 overall grade: 88.8
Week 11 was one of Bosa's quieter games. While he still managed to add another five quarterback pressures to his season total, one of those pressures came as an unblocked rusher, and another two were charted as cleanup/pursuit pressures. He ended the game with his lowest single-game pass-rushing grade (60.0) since Week 7, showing that he may just be human after all.
2019 overall grade: 67.8
Williams continued his run of good-but-not-great games by grading at 60.1 in Week 11 against the Redskins — he's now graded between 58.4 and 72.1 in all eight of his professional outings. He put up a hit and a hurry as a pass-rusher against the Washington offensive line, taking his season total to 11 total pressures from 226 pass-rush snaps, and he's also secured all of his 18 tackle attempts on the year.
2019 overall grade: 50.4
Ferrell managed just one quarterback hurry on 24 pass-rushing snaps in Week 11 against the Cincinnati Bengals, who just so happen to field one of the worst offensive tackle situations in the league. Ferrell's rookie year is now becoming a concern: Through 11 weeks and 256 pass-rushing snaps, he's managed just four sacks, one hit and only 15 hurries, and his 58.3 pass-rush grade ranks eighth among the 13 qualifying players at the position.
2019 overall grade: 42.0
Of all the ways to set your first-round rookie linebacker up for failure, leaving him up against Saints superstar Michael Thomas in single coverage is near the top of that list. All told, White was the primary coverage defender against Thomas on four snaps, and rightly recognizing the mismatch, Brees targeted Thomas on all four of those snaps, with White giving up four catches for 67 yards and two first downs. This was the tip of the iceberg for White, who, in total, allowed 11 receptions from 11 targets for 93 yards and earned a single-game coverage grade of 37.3.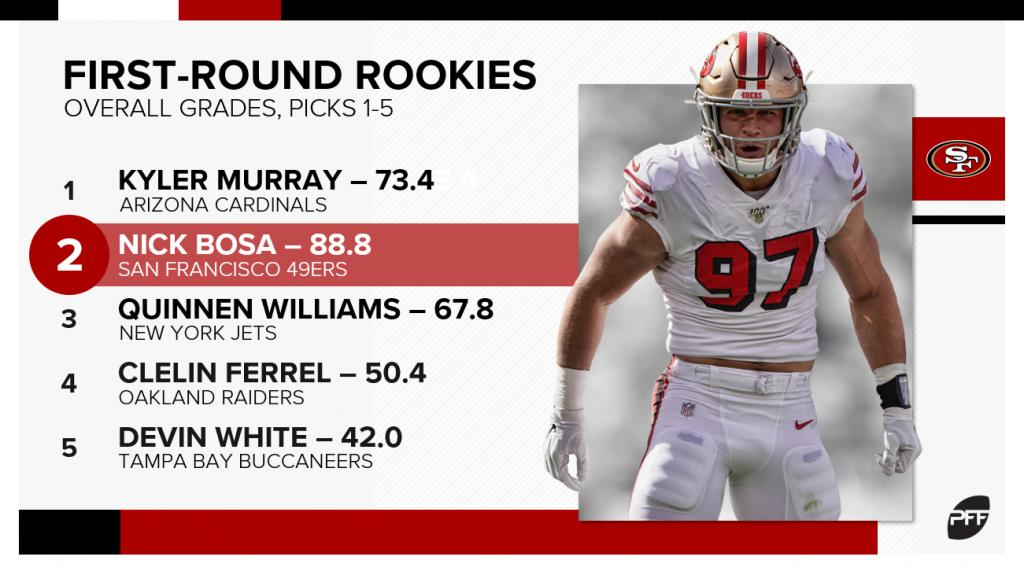 2019 overall grade: 63.5
Week 10 proved to be another Daniel Jones-esque game, where the first-round signal-caller put up a number of good throws — but no big-time throws — yet still let rip another three turnover-worthy plays on the day, the worst of which was getting the ball flat-out stolen from him by Jets' safety Jamal Adams on a play that ended up being a deciding factor in the game. Ten weeks into the season and eight games deep into Jones' tenure as the Giants' franchise guy, the first-rounder has almost twice as many turnover-worthy plays (22) as big-time throws (12) — only Jameis Winston (23) has more turnover-worthy plays so far this season. He'll look to rebound in Week 12 after his Week 11 bye.
2019 overall grade: 65.3
Allen rushed the passer just 17 times in Week 11, the smallest snap count of his NFL career, but he still managed to record a sack, a hit and a hurry. Through 11 weeks, Allen ranks third among qualifying rookie edge defenders in pass-rush win rate (14.8%), and he leads the same group in sacks (9).
2019 overall grade: 60.7
The former Iowa tight end had a rough time in Week 11, which is a shame given that he graded well in Week 10. He was targeted just twice this week, catching the single catchable ball that was thrown his way for six yards, and he committed a false start penalty to cap off one to forget. He earned an overall grade of 42.1 for his efforts, the third-lowest single-game grade of his career.
Subscribe to PFF Edge to continue reading
Already have a subscription? Sign In