Two weeks of NFL action are officially in the books, so there is no better time to check in on each team's first-round rookies. This week, we saw a few more debutants and several "welcome to the NFL" moments for the crop of players that represent the future of the NFL.
Subscribe to
[Editor's Note: PFF's advanced statistics and player grades are powered by AWS machine learning capabilities.]
2020 overall grade: 66.7
Joe Burrow has been thrown into the fire through his first two NFL games, and he has looked incredibly poised. That's not to say that he has been mistake-free, but it's clear to see that the stage is not too big for the No. 1 overall pick; he has even looked capable of executing in disadvantageous passing situations.
Against the Browns, he dropped back to pass 64 times and still emerged without throwing an interception. Burrow's PFF grade has been solid, if unspectacular, but his potential to be so much more than that has been obvious in both games so far. If the Bengals can protect him up front, they will move quickly in the right direction.
2020 overall grade: 81.1
Young wasn't quite as dominant as his Week 1 outing against the Eagles, but he at least showed that his debut was no fluke. Kyler Murray held the ball for less than 2.5 seconds on 60% of his dropbacks, but Young still notched another four total pressures to go with the four he had last week.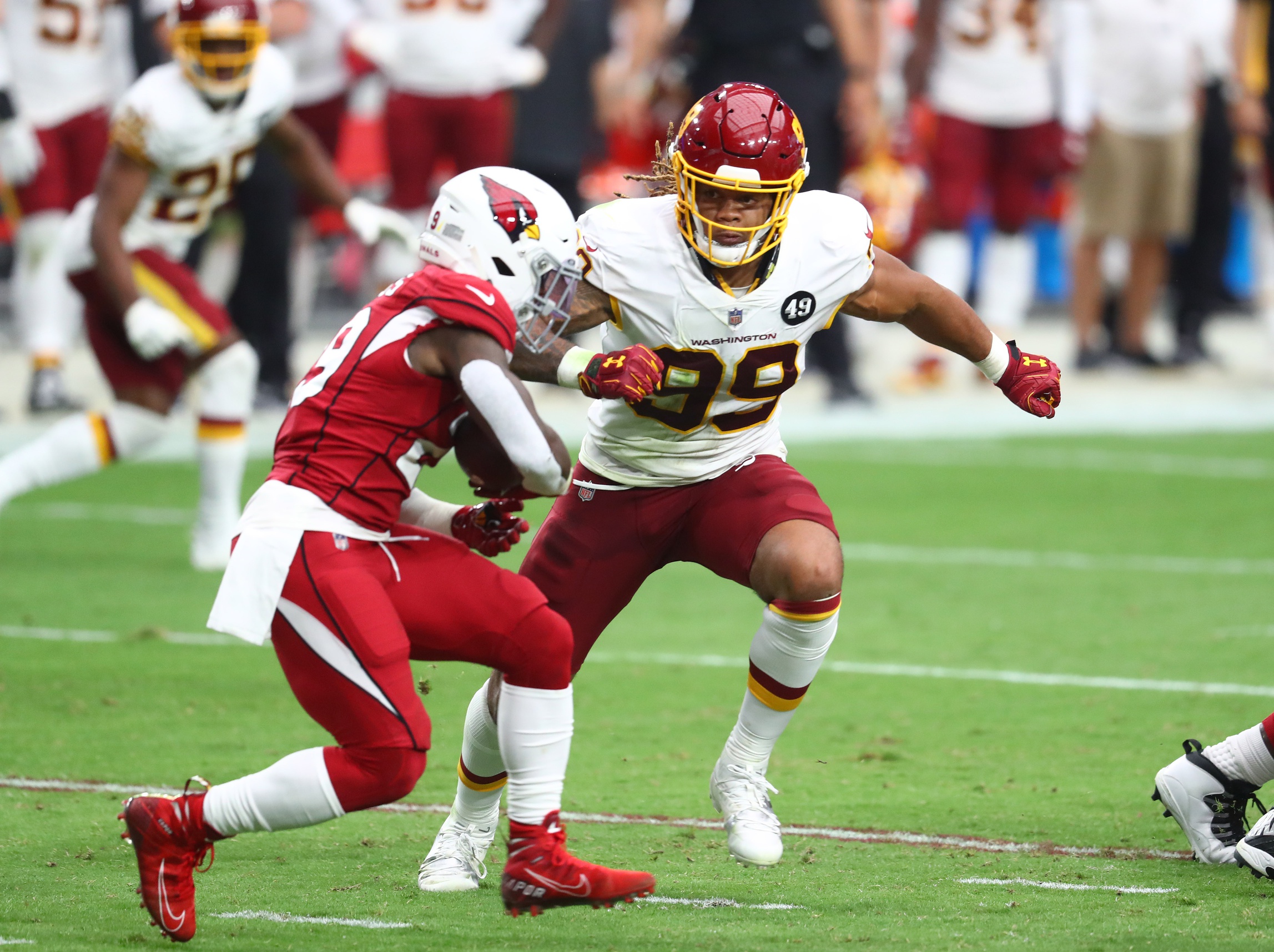 The grades differ because not all pressures are created equal, and he was adding fumbles to the mix at the end of plays against the Eagles. Underrated in the excitement about Young as a legitimate pass-rusher right out of the gate is how solid he has been against the run, posting grades above 70.0 in that facet in Weeks 1 and 2.
2020 overall grade: 28.6
Put in a blender by Davante Adams for his NFL debut, Okudah received a true "welcome to the NFL" moment at the hands of one of the game's best route-runners. Okudah surrendered seven catches for 121 yards, 51 of which came after the catch, on 10 targets.
Adams only did some of that damage, with Marquez Valdes-Scantling and Allen Lazard also beating him for catches. While Okudah certainly lapsed with some rookie mistakes, this is as hard as cornerback assignments get. To draw that as your debut task at this level is incredibly harsh. It's a tough lesson, but Okudah's grade won't stay this low for long.
2020 overall grade: 56.0
You could be forgiven for thinking Thomas' below-average grade this week was a result of Khalil Mack taking the rookie to task, but the majority of his losses didn't come at the hands of Mack. The Chicago All-Pro did beat him for a hurry and another clean pass-rush win, but the majority of the damage came against Robert Quinn, with some of the Bears' interior players causing Thomas some problems in the run game.
It hasn't been a tremendously encouraging start for Thomas, but on the other hand, he has been up against some pretty fierce competition for his first two weeks of NFL football and just about kept his head above water.
2020 overall grade: N/A
Tua Tagovailoa is healthy, but he has yet to win the starting job from Ryan Fitzpatrick.
2020 overall grade: 56.9
A last-minute shock switch saw Herbert start this week against the Chiefs when Tyrod Taylor reaggravated a rib injury in pre-game warmups. And Herbert ended up having a very Herbert game — one in which he showed incredible arm talent and big-play ability, but also one in which he left a frustrating number of plays on the table.
His lone touchdown pass was one of the throws of the season so far, and he had another big-time throw later in the game. However, he also had a turnover-worthy pass and four clean misses. All told, though, he had the Chargers in position to win the game, and at no point was the moment ever too big for him. This was an extremely encouraging debut against the defending champions.
2020 overall grade: 29.9
Derrick Brown's debut was ugly, and his second swing at it didn't go a whole lot better this week against the Tampa Bay Buccaneers. Though he graded better against the run this week, he offset that improvement with penalties, being flagged twice in the game.
As a pass-rusher, he has registered just one hurry across two games and 50 pass-rushing snaps. Brown was one of the surest things in the draft in terms of universal acclaim, but he has had an inauspicious start to his NFL career against some formidable NFL interior linemen.
2020 overall grade: 28.4
Isaiah Simmons was lit up in Week 1 by the San Francisco 49ers even though he didn't have a huge role on defense. He played 18 snaps in that game but was still responsible for two touchdowns and multiple big plays.
This week, he saw just seven snaps on defense — four of which came on defense — and managed to avoid becoming a part of somebody else's highlight reel. Simmons is adjusting to the NFL in a completely new role on defense, and that adjustment will evidently take some time.