• Sauce Gardner shuts things down: The New York Jets cornerback allowed only one catch on seven targets and snagged an interception in the process.
• Ikem Ekwonu rebounds in Week 4: The Carolina Panthers tackle allowed just one pressure from 40 pass-blocking snaps against a worthy opponent.
• Jermaine Johnson II puts together solid outing: The New York Jets edge defender is up to a 74.5 overall grade this season, first among rookies at the position.
Estimated reading time: 12 minutes
---
We will be checking in on the first-round rookies throughout the 2022 NFL season, grading their performances as well as highlighting who their principal individual opponent was in each game.
Here's how the group fared in Week 4, as well as their overall PFF grade for the season.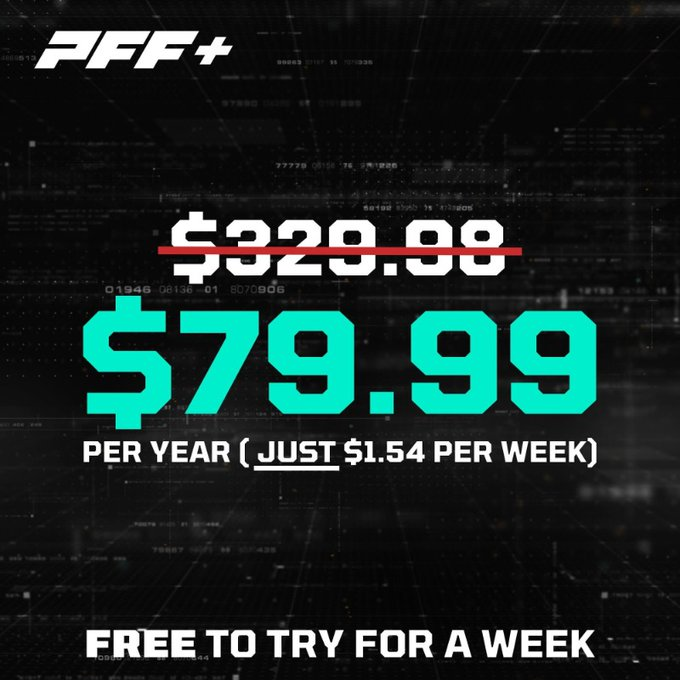 Overall Rookie Grade: 63.3 (Rank: 9/23)
Principal opponent: LANE JOHNSON
Week 4 SNAPS: 71
This week, the difficulty setting for the No. 1 overall pick was turned up to the max as he faced arguably the best right tackle in the game in Lane Johnson. Walker ended up with just one pressure from 21 rushes, but he did have three defensive stops and still affected the game. It was still the worst game grade of his season, coming against the best player he has faced.
Overall Rookie Grade: 57.5 (Rank: 14/23)
Principal opponent: ABRAHAM LUCAS
Week 4 SNAPS: 54
Aidan Hutchinson didn't get a sack this week, but he recorded three pressures and three defensive stops for a Lions defense that was fairly conclusively gashed by Seattle. For the first time this season, Hutchinson stayed firmly on one side of the line rather than moving around, playing 46 of his 54 total snaps on the left side. Previous weeks had seen much more of an even split.
Overall Rookie Grade: 45.5 (Rank: 23/31)
Principal opponent: MIKE WILLIAMS
Week 4 SNAPS: 61
The Texans are asking a lot of Derek Stingley Jr. right out of the gate. This week, he covered Mike Williams almost exclusively, and the results were pretty ugly. He had a couple of solid reps on the outside, but there were some miscommunications in the Texans' secondary and Williams gave him problems with anything in-breaking. In total, Stingley gave up 122 yards and eight catches.
Overall Rookie Grade: 71.1 (Rank: 8/31)
Principal opponent: DIONTAE JOHNSON
Week 4 SNAPS: 64
Sauce Gardner is playing as well as just about any rookie in the league this season. Against Pittsburgh, he was targeted seven times but allowed only two catches for nine yards. On top of that, he intercepted one of those targets and broke up another. He already looks like a high-level cornerback.
Overall Rookie Grade: 66.4 (Rank: 5/23)
Principal opponent: BRAXTON JONES
Week 4 SNAPS: 46
The 46 snaps from Kayvon Thibodeaux were the most of any Giants edge defender this week against Chicago. Twenty-six of those were pass-rushing plays, and though he didn't notch a sack, he did record four pressures in total. Thibodeaux also made one defensive stop from two tackles.
Overall Rookie Grade: 53.7 (Rank: 9/13)
Principal opponent: MARKUS GOLDEN
Week 4 SNAPS: 52
There weren't a whole lot of bright spots for the Panthers' offense this week — or any week this season — but Ikem Ekwonu had his best game as a pro, and against a capable opponent. Markus Golden has beaten up some pretty good tackles over his career, but Ekwonu allowed just one pressure from 40 pass-blocking snaps in this game and earned the best run-blocking grade of his season.
Overall Rookie Grade: 42.1 (Rank: 11/13)
Principal opponent: AL-QUADIN MUHAMMAD
Week 4 SNAPS: 42
Evan Neal exited with a neck injury after 42 snaps against Chicago. It is not believed to be serious. Against the Bears, he allowed no pressure from 21 pass-blocking snaps but did garner a penalty. In the run game, he generated some movement at the point of attack, but his blocks remain too easy for defenders to shed, as they often work their way back into a play he should have eliminated them from.
Overall Rookie Grade: 79.8 (Rank: 1/18)
Principal opponent: DENZEL WARD
Week 4 SNAPS: 44
The Falcons won a game this week in which Marcus Mariota completed seven passes, so it wasn't ever going to be a banner day from any of the team's receivers. Drake London led the team in targets (seven) but caught only two passes for 17 yards. The ball location was extremely rough on most of the incompletions, including a pass in the end zone that led him into a brutal hit from Browns defensive backs.
Overall Rookie Grade: 56.9 (Rank: 7/13)
Principal opponent: CHARLES HARRIS
Week 4 SNAPS: 67
Charles Cross allowed only one pressure against the Detroit Lions this week, but two penalties — a false start and a holding call — will drag his grade down. Cross also struggled a little in the run game, where he missed getting effective contact on his assignment in open space on multiple occasions.
Overall Rookie Grade: 74.6 (Rank: 4/18)
Principal opponent: ARTHUR MAULET
Week 4 SNAPS: 54
A new quarterback this week had an obvious effect on Garrett Wilson's production for the Jets. While Joe Flacco had been one of the most productive passers in the league in terms of yardage, Zach Wilson was far from it until the final drive. His rookie receiver saw six targets, catching two of them for 41 yards. Only one of the incompletions was dropped, with Wilson actually doing well to break up a potential interception on one of them.
Overall Rookie Grade: 76.0 (Rank: 2/18)
Principal opponent: PATRICK PETERSON
Week 4 SNAPS: 41
Chris Olave led the Saints in targets (seven) this week despite the change at quarterback. With no Michael Thomas, Olave saw one more target than Marquez Callaway and hauled in one more pass. He ended up with four catches for 67 yards and a score, and he was very close to a huge game-changing play late in the game that was broken up by Vikings cornerback Cameron Dantzler.
Overall Rookie Grade: N/A (Rank: N/A)
Principal Opponent: N/A
Week 4 Snaps: 0
Williams is still recovering from a torn ACL suffered in the national championship.