The NFL has never liked unusual players — that is, until those players break the established mold and provide a new blueprint the league deems valuable. Coaches and personnel generally look for traditional skill sets, hoping to replicate the position prototype with a new player.
Part of the reason draft season is filled with player comparisons is this very reason. Aaron Donald is the best pass-rusher in the NFL, so who is the next Donald? An elite pocket passer begets a wave of elite pocket passers until a mobile quarterback comes along and breaks the league, then everybody is looking for the next mobile quarterback.
This is the way of the world, but all of a sudden, the game has begun to take advantage of unique players in a way it has never been good at in the past.
"Tweener" used to be a term used to describe players trapped between positions — too small to be an edge rusher and too slow to play in coverage. Those lines are now blurring, and what was once a vice is being seen as a virtue.
---
Click here for more PFF tools:
Rankings & Projections | WR/CB Matchup Chart | NFL & NCAA Betting Dashboards | NFL Player Props Tool | NFL & NCAA Power Rankings
Best Bets Tool
---
Micah Parsons
Micah Parsons was almost a consolation prize for the Dallas Cowboys in the 2021 NFL Draft. Reports stated they wanted one of the top two cornerbacks in the draft, but Jaycee Horn and Patrick Surtain II went off the board with the eighth and ninth picks, respectively, prompting the Cowboys to scramble and grab Parsons instead. Now, his unique talents are being deployed all over the field and are arguably driving the success of the team's defense.
Parsons boasts the best PFF pass-rushing grade of any player this season (93.0), just ahead of Aaron Donald and Myles Garrett. His pass-rush win rate sits at 25.2%, the third-best mark in the league, and his pressure rate on third down (23.0%) is the best in the NFL.
He ranks eighth in total pressures (67) but is one of only two players with 50-plus pressures who have dropped into coverage over 100 times (Harold Landry III the other). Parsons has been in coverage for 284 snaps and still achieved that freakish pressure total because he plays as both a true off-ball linebacker and a pass-rusher. Maxx Crosby leads the league in pressures and has played over 800 snaps. He has dropped into coverage just twice, each time moving off the line and trying to take away a quick route underneath a blitz. Parsons isn't just occupying space underneath in coverage — he's also taking on high-end coverage assignments and performing well.
The rookie's ability to not just switch positions if injury dictates the need for a contingency plan but actively move between them over the course of a game has been a huge design feature in Dan Quinn's defense this season. It's helping him build a legitimate case for Defensive Player of the Year.
Isaiah Simmons
In the 2020 NFL Draft, the Arizona Cardinals took Isaiah Simmons at No. 8 overall in part because of the freakish versatility he brought to the table. At Clemson, he played all over the defense and often made safety-type plays despite being a linebacker. The ability he gives the Arizona defense to shape-shift from down to down has been potent.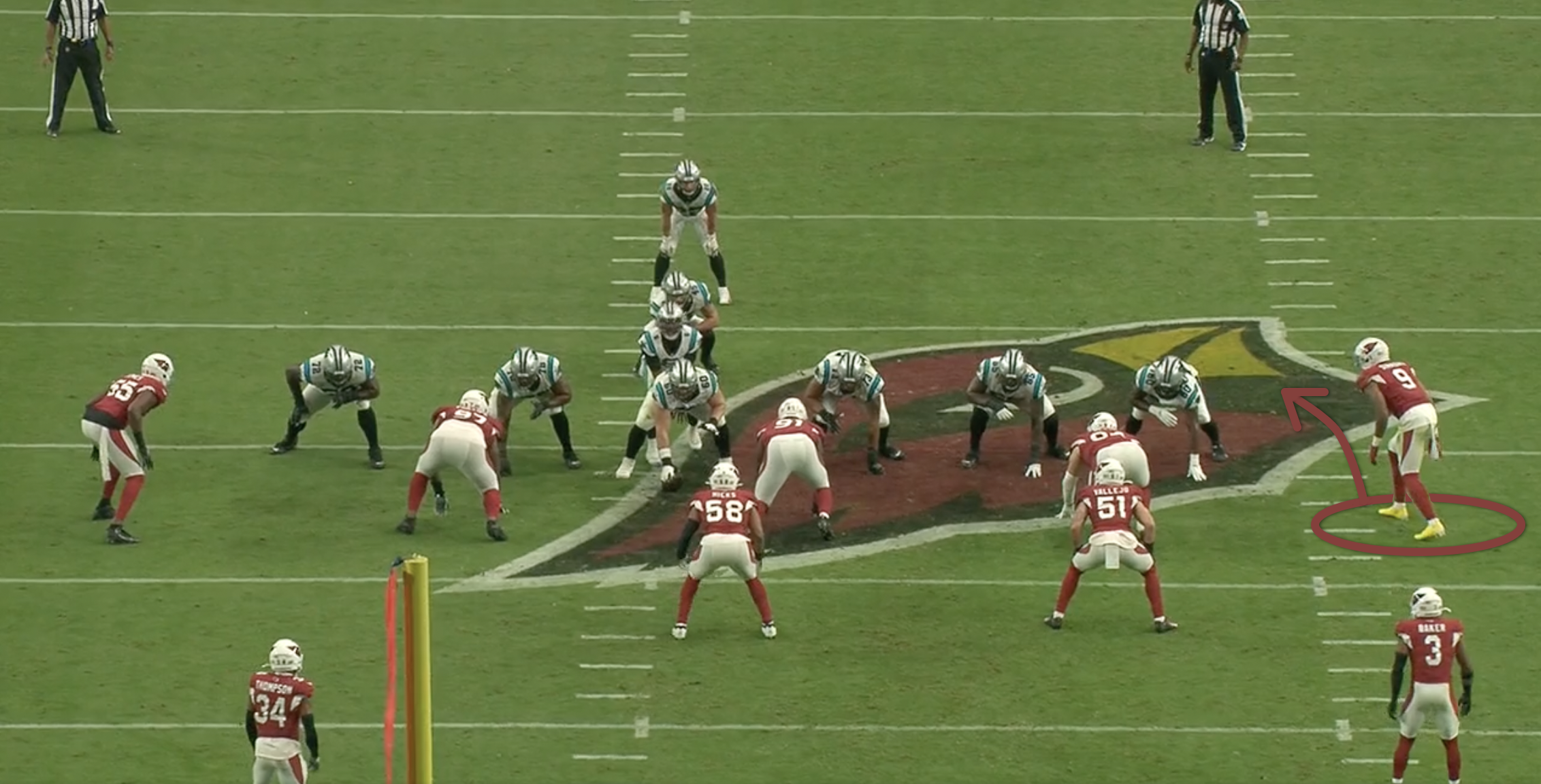 Arizona is able to line Simmons up on the edge and let him rush the passer as well as split him out into the slot to cover Deebo Samuel — or even out as a wide cornerback covering move tight ends and running backs one on one.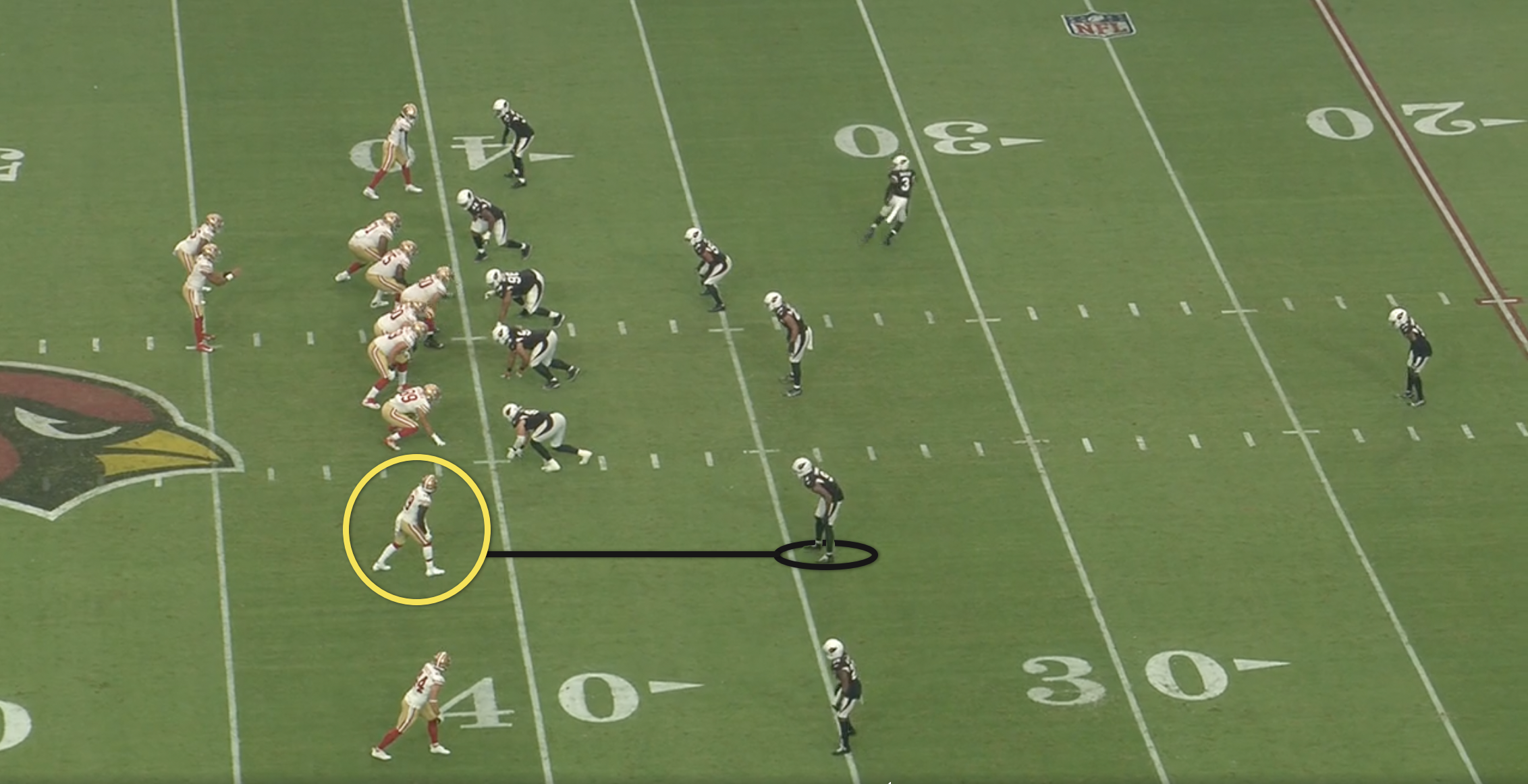 Unique athletes on defense enable schematic flexibility and versatility — the ability to not only match up with anything an offense can throw at you but to do it after they break the huddle. Unique athletes on offense enable you to start to dictate the matchups.
Cordarrelle Patterson
Cordarrelle Patterson has been an athlete without a position for years in the NFL. A former first-round draft pick at wide receiver, Patterson never really mastered the route-running nuance and short-area subtleties required to be a dominant player at that position. He hung around the league as an athlete, gimmick player on offense and the greatest kick returner the game has ever seen (kicks — not punts — Devin Hester hive!).
A position switch to running back helped him stay productive in limited snaps on offense, but it wasn't until this season with the Atlanta Falcons that his true potential has been tapped into and he's played a more expansive role across positions within the offense.
Patterson has played 454 snaps this season on offense, but only 61.7% of them have come as a running back. He has been lined up in the slot, out wide, as a wildcat quarterback and even inline as a tight end a couple of times. Patterson is now a player that teams need to worry about in a variety of different alignments — not simply a running back who can catch out of the backfield.
Between carries and receptions, Patterson has 199 touches on offense this season, one on 45.1% of his snaps. He has one of the highest target rates (27.1% of aimed passes) of any "running back" and is averaging 5.8 yards per touch, 3.3 of which come after contact.
Cordarrelle Patterson Snaps by Alignment | 2021
| | |
| --- | --- |
| Alignment | Snaps |
| Wildcat | 1 |
| Running Back | 280 |
| Inline Tight End | 15 |
| Slot Receiver | 63 |
| Wide Receiver | 95 |
Unicorns
The Falcons' offense is built on the shoulders of unicorn athletes. Patterson was something of a lucky find, but tight end Kyle Pitts was a planned choice at No. 4 overall in the 2021 NFL Draft. Ostensibly a tight end, Pitts has been deployed all over the formation and become the team's No. 1 receiver, pivoting ever-more to a wide receiver role within the offense.
Pitts possesses size, speed and an elite wingspan and catch radius to go along with excellent technical skills that make him a problem wherever he lines up. Teams have given up treating him as a tight end from a personnel standpoint, but the Falcons can still attach him to the line at any time and deploy him as a blocker.
The San Francisco 49ers are also leaning into this strategy of utilizing unique athletes. They have an entire offense staffed with them. Deebo Samuel, George Kittle, Kyle Juszczyk and Brandon Aiyuk are all unorthodox players for the positions they play, with rare skills relative to their peers.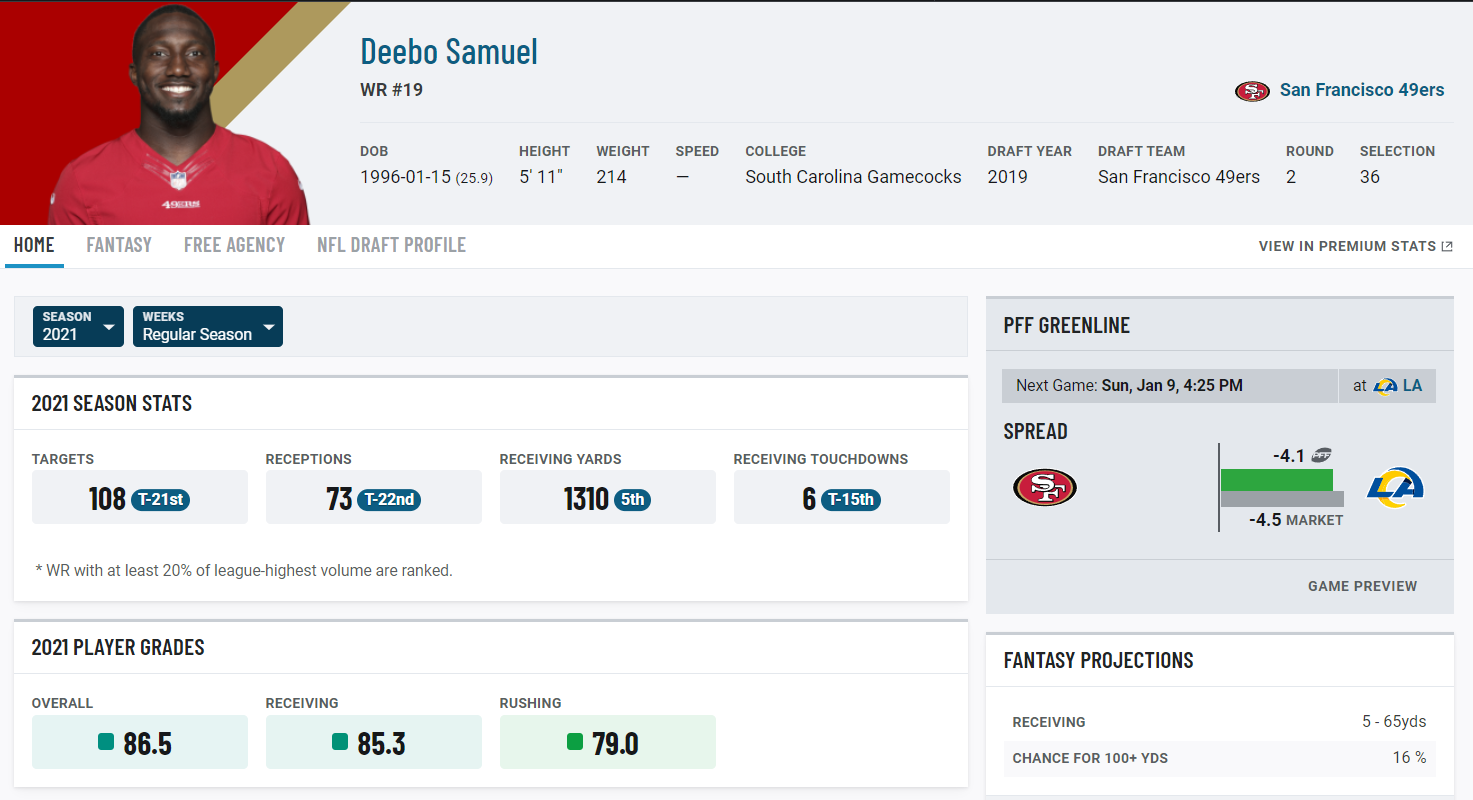 Samuel ranks third in the NFL in average yards after the catch per reception (9.9). He is one of only four wide receivers in the top 20, and he is the only player in the top 10 whose average depth of target is farther than 2.1 yards downfield. Samuel's average depth of target is 8.6 yards. He is also the only player in the top 20 with more than three contested catches to his name, because he is being thrown the ball deeper down the field into areas that defensive backs can contest. There isn't a player in the NFL playing the game the same way Samuel is right now.
Even looking beyond his receiving numbers, Samuel has handled 51 rushing attempts this year. He's also lined up in the backfield 10-plus times in three games. He has 19 broken tackles on those 51 carries and another 19 after the catch. Samuel is a battering ram once he has the football, and defenses struggle to match up with him.
NFL coaches have generally improved at adapting to circumstances, including the unique traits of their players. Coaches used to come with a system, and the name of the game was about finding players who suited the system. Now, true coaching is modifying the system to suit the players you have and acquiring special talent, regardless of whether they fit perfectly into the intended role, knowing you can modify the role to suit their unique needs and abilities.
Being stuck between positions or roles used to be a negative for players, but all of a sudden, those players are some of the most coveted and valuable commodities in football. 
---
Related content for you: