The 2021 NFL season has officially begun, and now that we have three days of moves to sift through, it's time to overreact.
Every year, fans and media alike dub winners and losers from the flurry of roster moves that take place to begin free agency. It's largely a futile effort. You can't say with certainty how a player will react to a new environment, whether they will be utilized correctly or whether they'll remain healthy over the duration of their contract. 
That doesn't mean we can't react to and evaluate the process, though. With that in mind, here are some initial winners and losers — both players and teams — from the first three days of free agency action.
Free agency hasn't treated the Jets too kindly in recent years. From Trumaine Johnson to Le'Veon Bell to C.J. Mosley, the team has handed out big-time money to players who haven't come close to matching it with their on-field production. This crop of incoming free agents could fall into that same category, but the process feels better for New York this time around.
Corey Davis was one of the best "Tier 2" receivers available this offseason, quickly rising to the top of the overall list after Allen Robinson II and Chris Godwin received franchise tags. Davis profiled as a solid WR2 across the 2018 and 2019 seasons but showed the potential for a bit more in his fourth year out of Western Michigan. His 85.3 PFF grade ranked 10th at the position in 2020, and he proved to be a big-play threat in Tennessee's play-action game. New York bringing him in for $12.5 million per year to bolster a thin receiving corps stands out as good value. 
[Related: Grading free agency moves for all 32 NFL teams]
The same can be said for Carl Lawson on the edge. The Jets' defense has lacked an upper-tier edge rusher for some time. As PFF's Mike Renner pointed out, no Jets edge defender has earned higher than a 76.9 pass-rushing grade since PFF began grading in 2006. Lawson produced an 84.9 pass-rushing grade last year on a Cincinnati defense that really didn't have any other pass rushers to instill fear into opposing defenses.
He provides New York a legitimate edge rusher to pair with Quinnen Williams along the defensive front. A three-year, $45 million deal with $30 million guaranteed isn't cheap for a player who has dealt with injuries at times throughout his career, but it's a better contract than what many high-profile edge defenders signed for over the past few days when comparing for performance. 
The Jarrad Davis signing is harder to get excited about, but a one-year flier still doesn't carry much risk. Perhaps new head coach Robert Saleh is able to get the most out of the former first-rounder who struggled in Detroit. 
More moves are still to come for New York given their remaining cap space. It's been a strong start for the franchise thus far as it begins to rebuild.
The Panthers entered free agency with three offensive line positions up in the air following their decision to franchise tag right tackle Taylor Moton: left tackle and both guard spots. On the bright side, Carolina has seemingly identified that need. The team's only two significant free agent additions thus far have been offensive linemen. But those players aren't ones you should feel comfortable with being potential starters, and it hasn't been for insignificant money.
Carolina inked Pat Elflein to a three-year, $13.5 million deal with $6 million guaranteed and Cameron Erving to a two-year, $10 million deal with $8 million guaranteed. Those aren't high-level starter contracts, but they do straddle the line between starter money and high-end backup money.
Now, compare those contracts to these grading profiles. Since 2018, 151 offensive linemen have played at least 1,500 offensive snaps. Erving's 44.4 PFF grade ranks dead last, and Elflein's 50.6 PFF grade ranks fifth-worst among that group. The Panthers brought in two of the five lowest-graded offensive linemen in the league to see significant action — on competitive contracts, no less.
Adding depth with multiple low- to mid-level signings rather than aggressively pursuing high-priced free agents isn't a bad strategy to fill out an offensive line. It's all about eliminating weaknesses that opposing defenses can exploit. However, a team still needs to ensure that the players it's bringing in can provide average play up front. Elflein and Erving have failed to do that throughout their careers, and as things stand, both could be thrust into starter roles next season. That's not an ideal situation for the Panthers' quarterback in 2021.
The Chargers went into this offseason with glaring needs across their offensive line. They didn't need just one or two starters; it was three or four. After Trai Turner's release, right tackle Bryan Bulaga was really the only starter one could feel comfortable about heading into 2021, and even that was a somewhat shaky thought after his injury-plagued 2020 season in his first year with the team. 
Los Angeles has keyed in on solidifying that group over the past few days.
First, the Chargers signed Corey Linsley to step in for the now-retired Mike Pouncey at center. The former Green Bay Packer is coming off a 2020 season in which he led all centers in PFF grade, and he has consistently been one of the top players at the position over much of his seven-year career. 
The Chargers then brought in Matt Feiler, who has provided quality starting play at both the guard and the tackle positions for the Pittsburgh Steelers over the past three seasons. The former undrafted free agent moved over from right tackle to left guard this past season for Pittsburgh and proved to be an above-average option at the position. Feiler will likely slot in at guard for the Chargers. His kind of versatility at $7 million per year is exactly the kind of move a team like Los Angeles, one with multiple holes to fill along the offensive line, should be making.
Los Angeles still has moves to make, but things are setting up for Herbert to have more stability up front in his second NFL season. He impressed as a rookie largely because of just how good he was under pressure. However, the Chargers would like to significantly cut down on how often Herbert feels the heat in 2021. The only quarterback with more pressured dropbacks than Herbert this past season (239) was Russell Wilson (251). Things are trending toward improvement in that facet next year. 
On the flip side of Herbert and the Chargers, we have Burrow and the Cincinnati Bengals. There are clear parallels to be drawn between the two situations entering this offseason. Both franchises enter 2021 with quarterbacks selected in the top 10 picks of the 2020 NFL Draft, and Cincinnati and Los Angeles each sit firmly in the bottom tier of NFL offensive lines. That's generally not a good combination. Cincinnati found that out the hard way last season, with Burrow suffering a torn ACL and MCL after taking frequent hits through the first 11 weeks of the year.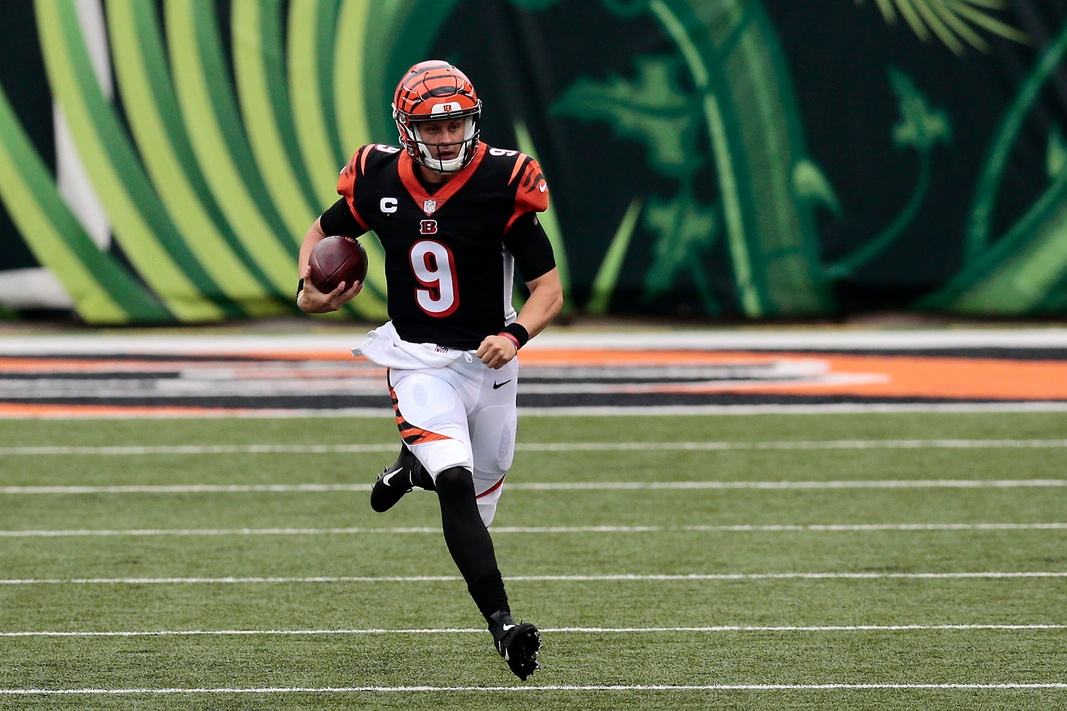 Several notable defensive free agents — Lawson and William Jackson III, among others — made sense for the Bengals to retain, but fixing the offensive line should have been the top priority. As it turns out, Cincinnati brought back neither Lawson nor Jackson. Instead, the team downgraded at both positions, signing Trey Hendrickson to a four-year, $60 million deal and bringing in Chidobe Awuzie and Mike Hilton at cornerback.
Setting those defensive personnel decisions aside, the more notable takeaway from the past three days is that Cincinnati didn't make a single move to address the offensive line. It's hard to fault the Bengals for not going after Joe Thuney at the price point Kansas City ended up paying, but they should have at least been in the market for Kevin Zeitler and Matt Feiler on the kinds of deals they signed. 
Yes, there are still quality starting offensive line options still on the market, but the fact that Cincinnati entered free agency with a heavy defensive focus for the second straight offseason while ignoring the front five is a glaring example of a team failing to address a clear need.
Unless that changes in the coming weeks and months — perhaps starting with a Riley Reiff signing — Burrow will be in for another season of uncomfortable pockets. And this time, it will be coming off a major knee injury. 
Washington made three big signings over the first three days of free agency, and it's hard not to get on board with each of them. 
Ryan Fitzpatrick came in as the highest-ranked quarterback in PFF's free agent rankings after Dak Prescott re-signed with the Dallas Cowboys. It's worth noting that Fitzpatrick was also the most fun option of the bunch due to his truck-stick scrambles and gunslinging mentality.
Fitzpatrick may be a journeyman, but he has also been a legitimately good quarterback over the past three seasons with Tampa Bay and Miami. Since 2018, his 83.2 PFF grade ranks 15th among 32 qualifying quarterbacks across the league. That mark is in a similar ballpark to Prescott's, who recently earned $126 million guaranteed, over that three-year stretch (83.9 overall). Fitzpatrick is going to give Terry McLaurin and company a chance to make plays downfield, which is more than can be said for Washington's collection of 2020 passers who combined for a 59.3 passing grade on the season — 28th in the NFL. 
And McLaurin now has even more "company." The Football Team signed wideout Curtis Samuel, who has a handful of connections to the franchise. Samuel was college teammates with McLaurin at Ohio State and played under head coach Ron Rivera and executive vice president of football/player personnel Marty Hurney while he was general manager in Carolina.
Samuel struggled to find his footing early on with the Panthers, but he's coming off a career year in 2020 in Joe Brady's offense. He was utilized more in the short portions of the field — cutting his average depth of target from 14.8 yards in 2019 to 7.5 yards last season — and received more backfield work than he had at any point in his NFL career. He's a young, versatile piece that should give Scott Turner more freedom offensively and take some pressure off McLaurin as the lone threat at the position.
Lastly, Washington addressed another need by adding the top free agent cornerback on PFF's board this week. William Jackson III's past performances indicate he is capable of being a true No. 1 who can have success in man coverage against talented wide receivers. He has earned coverage grades of at least 72.0 in three of his four seasons of action, headlined by a 90.4 grade back in 2017. Jackson projects as an upgrade over free agent loss Ronald Darby. The Football Team's defense could potentially be even stronger than it was a year ago — and that unit was already one of the NFL's best. 
Even though Washington secured a playoff spot in 2020, it didn't feel like there was much of a ceiling for this team heading into 2021. These three moves have laid the foundation for that to change. At the very least, Washington should again be competitive in the NFC East.
Loser: Teams that went all-in around veteran quarterbacks
It's been a tough week for the "salary cap is a myth" crowd. Yes, these teams in dire straits will ultimately find their way under the 2021 salary cap, but it hasn't come without real sacrifices. Teams that have gone all-in around aging quarterbacks, such as the New Orleans Saints, Pittsburgh Steelers and Atlanta Falcons, stand out. 
The Saints cut starters Emmanuel Sanders, Janoris Jenkins and Kwon Alexander along with reserve pieces Josh Hill and Nick Easton. Additionally, they traded interior defender Malcom Brown to Jacksonville to clear space. Those moves, along with several big restructures for Demario Davis, Cameron Jordan, Michael Thomas and Terron Armstead, still haven't pushed the Saints below the salary cap, with big deals on the horizon for Marshon Lattimore and Ryan Ramczyk. Their only big "additions" were bringing back Jameis Winston on a one-year deal and franchise-tagging Marcus Williams. One can't really say they've gotten better at any particular position group.
The Steelers haven't had quite the same amount of turnover, but they certainly haven't improved over the past few weeks, losing starters Bud Dupree, Matt Feiler, Tyson Alualu and Mike Hilton already in free agency. And the departures are likely to continue. Outside of starters signing elsewhere, Pittsburgh also released Vince Williams and saw long-time center Maurkice Pouncey retire. The team has real needs along the offensive line and in a few defensive areas depth-wise. There just isn't money to go around to improve the roster. 
The Falcons haven't endured as many losses as the first two teams, but their restructuring of Matt Ryan's contract just to create room this offseason will affect the franchise next offseason. Now, Ryan has a $40.5 million dead money cap hit if he's released in the 2022 offseason. That means he's locked in for at least two more years as the starter, in all likelihood. There was a lot of talk about Atlanta potentially taking its quarterback of the future with the fourth overall pick, but Ryan's restructure complicates things.
The moral of the story is that cap wizardry works a lot of the time, but pushing money down the road can come back to bite a team in circumstances like the ones above. The lowered salary cap this offseason just happened to be the (im)perfect storm. 
The eulogy had already been written for Newton's career following a 2020 season in which he threw more interceptions than touchdowns. It's a good time to remember that the Patriots who ran the most routes last season were Damiere Byrd, Jakobi Meyers, N'Keal Harry and Ryan Izzo. Newton wasn't great, but he also dealt with one of the worst supporting casts in the NFL. It was a similar group to the one that had some saying Tom Brady was done in 2019, except Newton didn't even have Julian Edelman for much of the year. 
Thankfully for Newton, the Patriots aren't going into the 2021 season with similar complacency. They have been the single most aggressive team in free agency this offseason. More importantly, they've devoted a good chunk of those resources to bolster the receiving corps, signing Jonnu Smith, Hunter Henry, Nelson Agholor and Kendrick Bourne. There's not a true No. 1 receiver in that group, but collectively, New England's offense boasts much more talent for Newton to work with in 2021. 
That doesn't mean the Patriots' offseason frenzy has been a clinic in how a team should handle free agency. It's closer to the opposite. Still, it does lead to a much better situation for Newton personally in 2021. He'll have an opportunity to show he can still perform with a more legitimate NFL supporting cast around him. Hopefully, it's one that includes another dynamic playmaker at the top of the 2021 NFL Draft.   
The base value on Taylor's contract is $5.5 million, and he chose to sign with Houston. That makes labeling him a "loser" of free agency here seem a little harsh, but it's hard not to feel bad for what he's endured since leading the Buffalo Bills to their first playoff appearance in nearly 20 years back in 2017.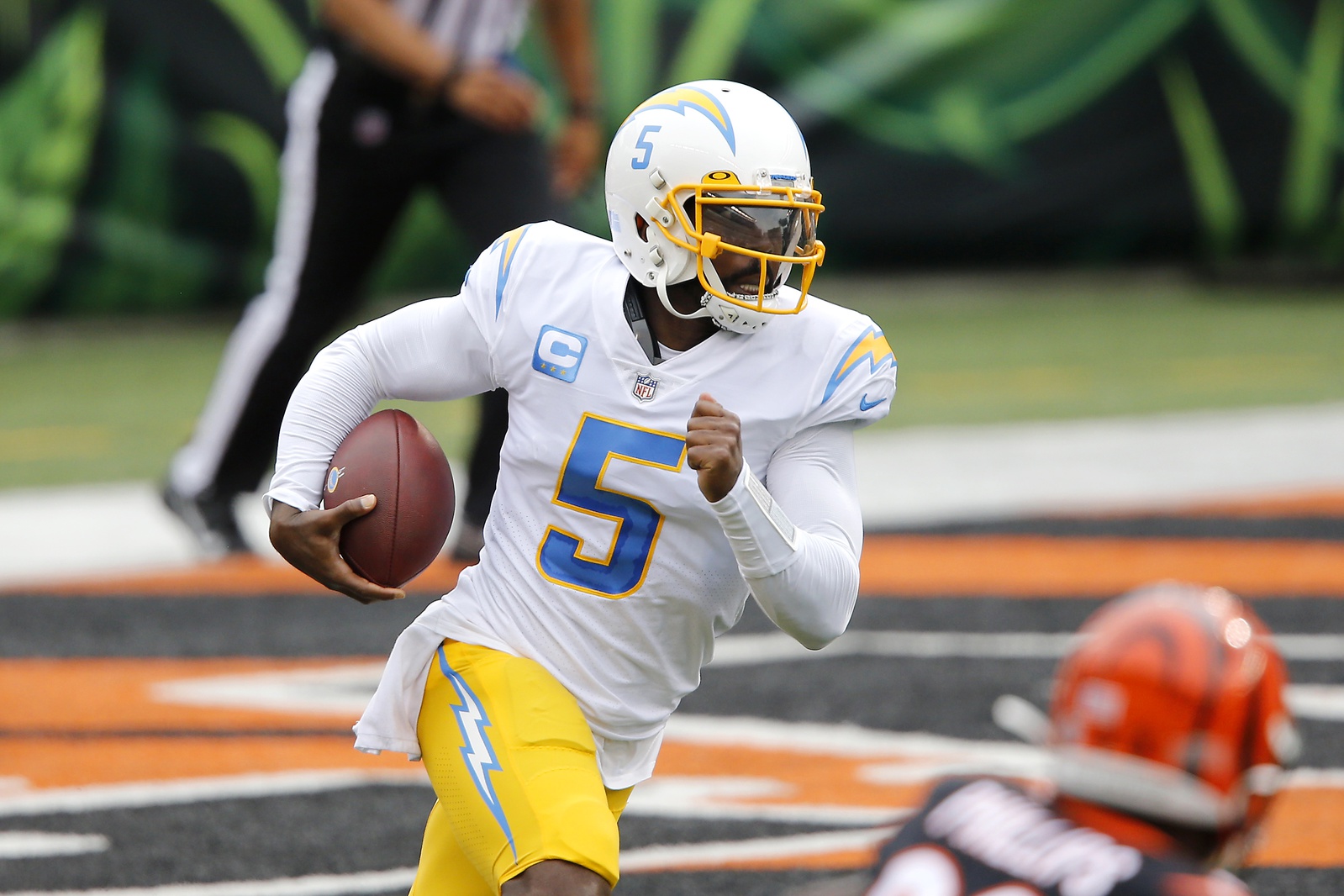 Taylor first joined Cleveland, where he was supposed to be the "bridge" quarterback for No. 1 overall pick Baker Mayfield. Two subpar performances to start the year and a Week 3 injury led to Mayfield taking over the job and never looking back. Taylor then moved on to Los Angeles, where he would back up Philip Rivers under former offensive coordinator Anthony Lynn. He did exactly that in 2019 but got his opportunity to start the 2020 season when Rivers moved on to Indianapolis. 
Once again, Taylor started the year only to lose his job to a highly drafted rookie quarterback (Herbert) following injury. It just so happened to be a punctured lung by the team doctor this time around.
That leads us to now. Taylor will likely have a chance at starting for the Houston Texans, but it profiles as one of the least desirable jobs in the league. This is a roster that just went 4-12 despite Deshaun Watson grading out as a top-three quarterback in the NFL. Taylor will be set up for a failure, which could spell the end of his starting opportunities.
It's a shame because he did look like a capable starter in his time with Buffalo. Taylor earned PFF grades above 75.0 in each of his three seasons with the team, ending that three-year stretch as the eighth-highest-graded quarterback in the league. The way things have broken, Taylor hasn't really gotten a clean shot at building on his previous successes. It's tough to see that changing in Houston.