Expected points added in the 2021 NFL season declined from 2020, and while a decent amount of that could be due to an increase in home-field advantage with fans in the stands, one of the prevailing narratives is that defenses have begun adjusting to the high-powered offenses — the Kansas City Chiefs and Buffalo Bills among them — by disguising coverages, playing fewer men in the box, stunting and being more multiple as far as coverages used.
In an article where I examined the effect of a good running game on a defense's predictability, I employed Shannon entropy to measure the predictability of a defense in coverage by using the proportions of each coverage type (man, two, three, etc.) called on passing downs. I further looked at predictability here.
---
Click here for more PFF tools:
Draft Guide & Big Board | Mock Draft Simulator
Dynasty Rankings & Projections | Free Agent Rankings | 2022 QB Annual
Player Grades
---
In this article, I want to examine the time-varying nature of some NFL defensive metrics. First, let's look at the predictability of coverages used. This is where we use Shannon entropy. In essence, what we're doing is taking the sum of each of the probabilities a team uses a coverage multiplied by the natural log of those probabilities, multiplied by negative one. Higher Shannon entropies mean less information is transmitted each time a team uses a coverage (i.e., they are less predictable). Since 2015, by season: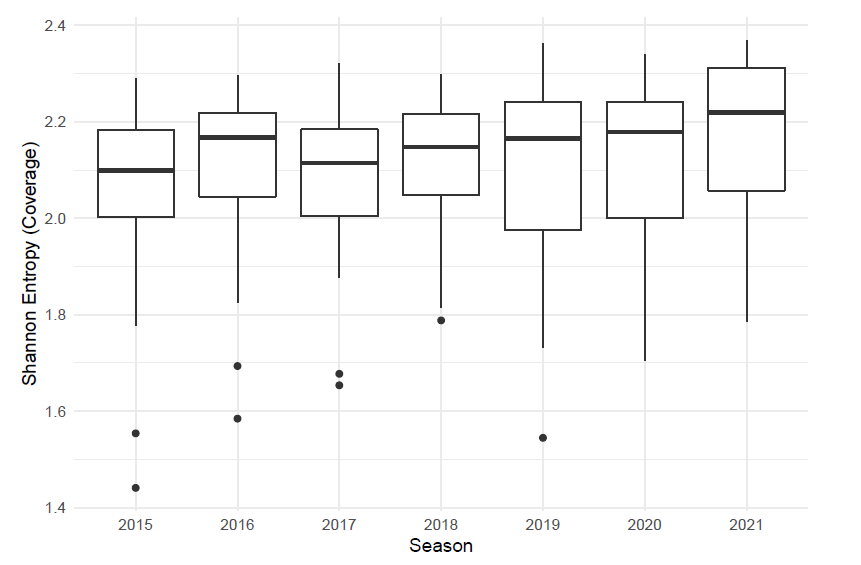 It does look like coverages alone have gotten less predictable, as the median Shannon entropies have increased steadily and took a sizable jump in 2021.