By entering discussions with Deshaun Watson, the Cleveland Browns sent a message to quarterback Baker Mayfield.
And Mayfield read it loud and clear.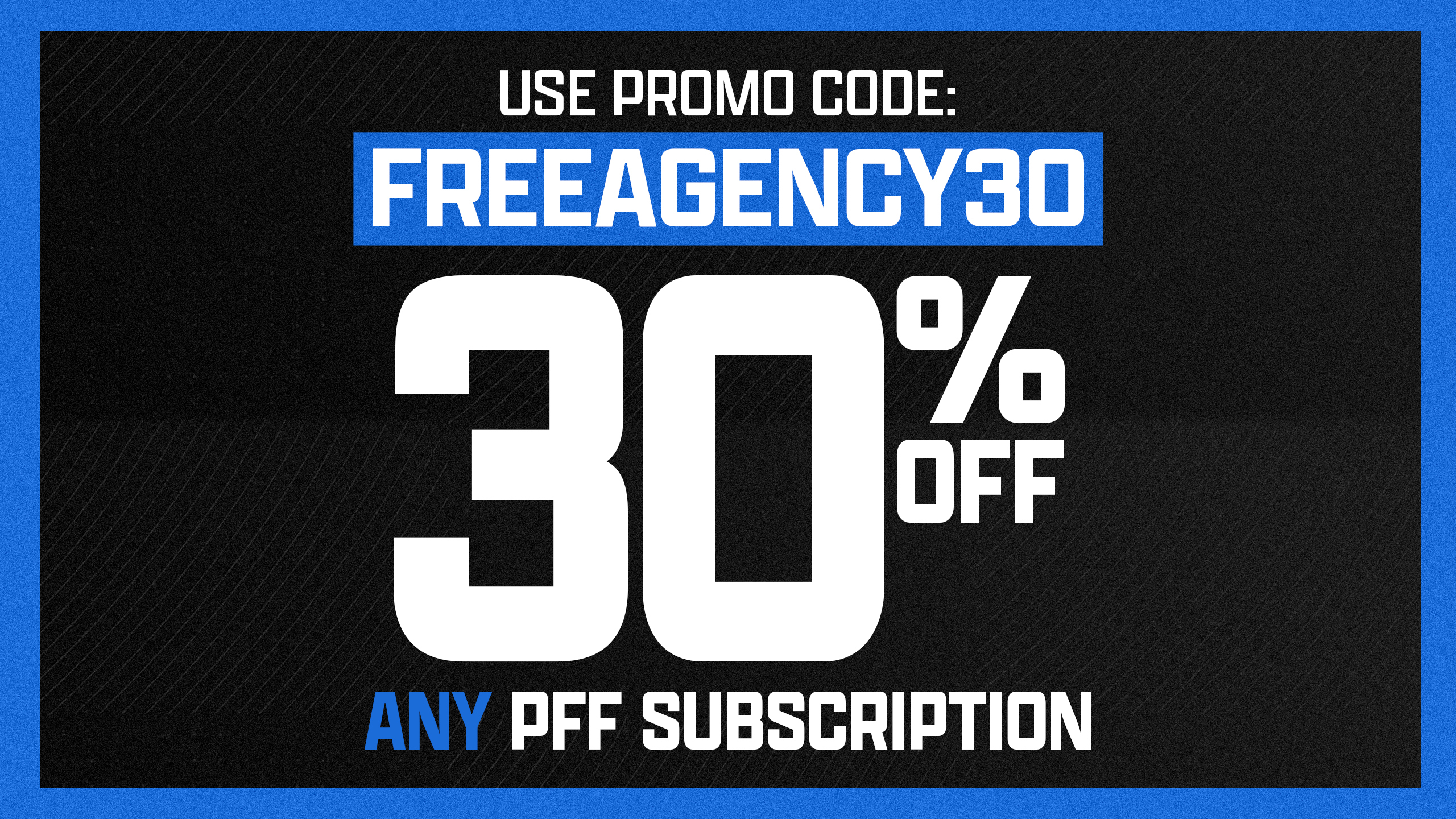 Click here for more PFF tools:
Draft Guide & Big Board | Mock Draft Simulator
Dynasty Rankings & Projections | Free Agent Rankings | 2022 QB Annual
Player Grades
---
The fifth-year quarterback overall pick posted a statement to Twitter on Tuesday night thanking the city of Cleveland for embracing him since he was selected first overall in the 2018 NFL Draft.
"I have no clue what happens next, which is the meaning behind the silence I have had during the duration of this process," the statement read, in part. "I can only control what I can, which is trusting in God's plan throughout this process.
"I have given this franchise everything I have. That is something I have done at every stage, and at every level. And that will not change wherever I take my next snap."
People around the NFL believe the Browns will trade Mayfield even if they don't land Watson in a trade. However, the Browns signal-caller never actually said goodbye to Cleveland in his letter, so it is viewed as a fluid situation.
The Browns were one of four teams reportedly granted permission by the Houston Texans to meet with Watson, who sat out last season amid a trade request while facing 22 lawsuits alleging sexual assault.
From this point, Watson, who has a no-trade clause in his contract, will decide whether he wants to be traded to the Browns, New Orleans Saints, Carolina Panthers or Atlanta Falcons. The Browns are not viewed as favorites to land the star quarterback.
Trading for Watson would be Cleveland's ideal on-field scenario. But if Watson chooses to be traded to the Saints, Panthers or Falcons, the Browns would have other options at quarterback and plenty of QB-needy franchises to serve as a landing spot for Mayfield.
Baker Mayfield: PFF grade and rank since 2018
| | | | |
| --- | --- | --- | --- |
| Season | Dropbacks | PFF Grade | Rank |
| 2021 | 486 | 63.6 | 29 of 38 |
| 2020 | 612 | 85.7 | 8 of 38 |
| 2019 | 592 | 74.4 | 17 of 39 |
| 2018 | 531 | 83.2 | 11 of 39 |
The San Francisco 49ers are still expected to trade Jimmy Garoppolo, and Marcus Mariota and Jameis Winston are still available as free agents. While it's not considered a strong quarterback class, five signal-callers could be selected in the first two rounds of the 2022 NFL Draft.
The Indianapolis Colts need a quarterback after trading Carson Wentz to the Washington Commanders. The Seattle Seahawks are also looking for a starting quarterback after trading Russell Wilson.
If the Panthers and Saints can't acquire Watson, then they'll need quarterbacks, as well. It remains to be seen what the Falcons will do with QB Matt Ryan if they can't trade for Watson, but they were prepared to restructure his contract to free up cap space before meeting with the Texans QB.
The Commanders got out ahead of things by acquiring Wentz from the Indianapolis Colts for a swap of second-round picks, a third-round pick and a conditional third-round pick that can turn into a second-round pick. The Pittsburgh Steelers also filled their need at quarterback by agreeing to sign free agent Mitchell Trubisky in free agency.
On paper, a player like Garoppolo is not a significant upgrade over Mayfield, but the NFL is playing quarterback roulette in hopes that a change of scenery can lead to success. Mayfield is also, on paper, not a significant upgrade over Wentz. But, once again, quarterbacks can benefit from a move.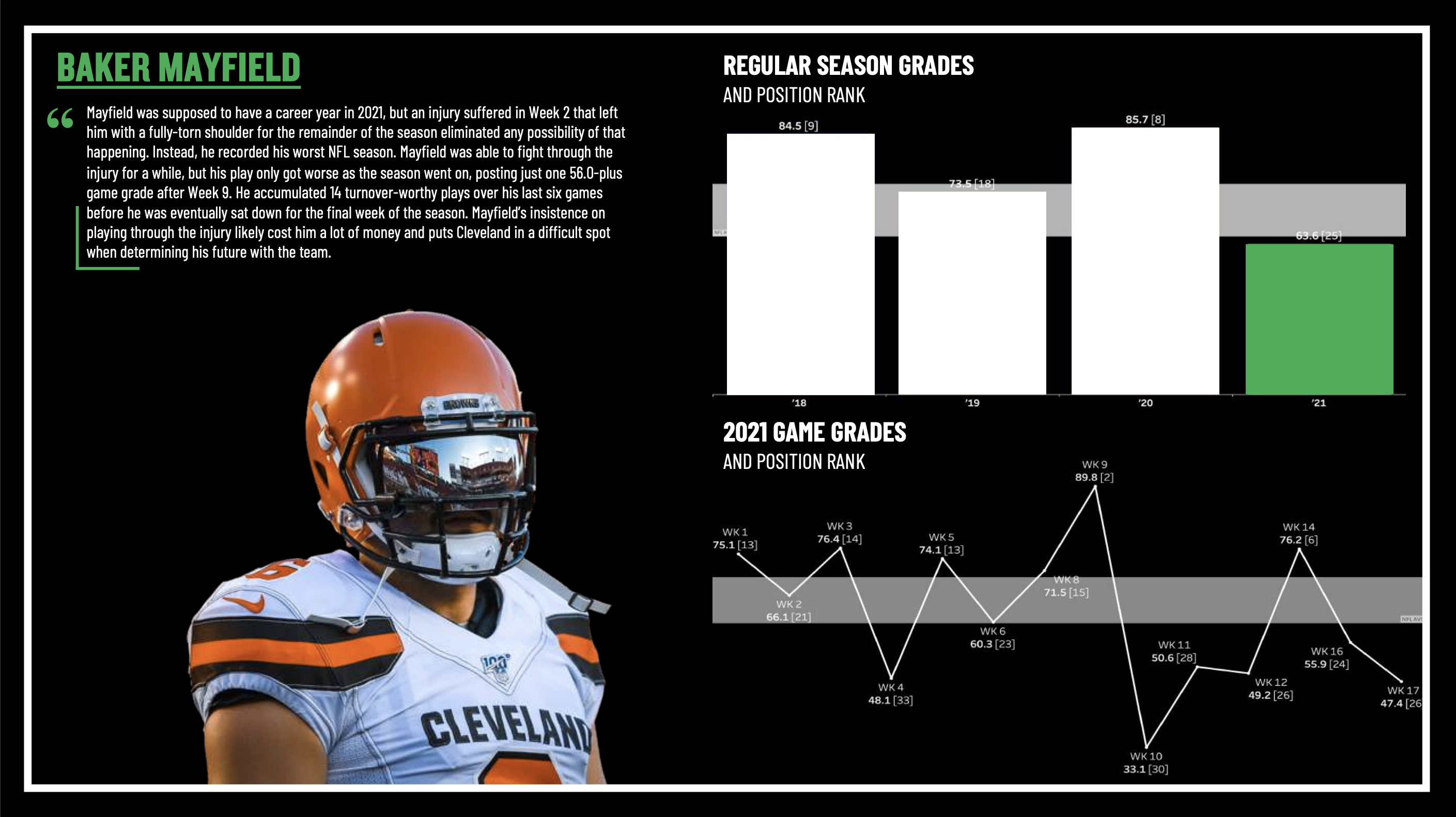 Mayfield earned the lowest PFF grade of his career (63.6) in 2021 while playing through an injury in his non-throwing shoulder that required postseason surgery.
Garoppolo, meanwhile, underwent surgery on his throwing shoulder after the season. The Niners signal-caller earned a 71.2 overall PFF grade in 2021.
Mariota has backed up Derek Carr with the Las Vegas Raiders over the past two seasons. He earned a 64.8 overall PFF grade in 2019 before being benched for Ryan Tannehill in Tennessee.
The Browns elected to pick up Mayfield's fifth-year contract option last April. He'll earn $18,858,000 in 2022 and can be traded without any dead money coming off of the salary cap. He's 29-30 as the Browns' starting quarterback since being drafted in 2018.
He led the Browns to an 11-5 record and playoff win over the Steelers as recently as 2020 and appeared primed to be the franchise quarterback Cleveland has been seeking for years. The Browns, however, didn't commit to Mayfield with a contract extension after the 2020 or 2021 seasons.
Cleveland was a slightly surprising entrant into the Watson sweepstakes despite its lack of commitment to Mayfield. On Tuesday night, Mayfield's open letter opened up the floodgates of speculation about what will happen whether the Browns can acquire Watson or not.