The NFL postseason provides great clarity in this sport, even though the sample sizes are smaller and more volatile than at any other point in the year. After 17 to 18 games of data points on formations, tendencies, personnel packages and injury information, the story of 2021-22 comes down to a handful of snaps in each game.
In basketball, the fans and media crave discussions around "clutch time" — generally the final five minutes of a game within a five-point margin. In baseball, I can personally attest to countless Padres games where Eric Gagne closed out tight contests from the mound, or flipping channels just in time to see David Ortiz or Manny Ramirez clear the bases on a drive to right-center field at Fenway Park.
In football, though, any third down can be the third down, and many games finish within a single-possession margin without the outcome being in doubt. This can obfuscate how we define clutch moments on a game-to-game basis, especially in the regular season.
In the divisional round of the 2022 NFL playoffs, there was no mistaking when the stakes were highest in the four matchups. All four games were tightly contested, and the plays with the largest influence on the result were immediately identifiable. For this edition of likes and dislikes, we will look into all four moments and assess how we got to those points.
Kicking us off…
Click here for more PFF tools:
Rankings & Projections | WR/CB Matchup Chart | NFL & NCAA Betting Dashboards | NFL Player Props Tool | NFL & NCAA Power Rankings
Best Bets Tool
---
Like: Sean McVay Always Having an Answer
An inordinate amount of time goes into scouting out an opponent under normal NFL circumstances. Add in rematches, and the workload spikes again. On top of that, you throw in the pressure of a road playoff game, and I'm sure Sean McVay and his staff were seeing scout cards in their sleep.
The benefit of all the film grinding, mental reps between practice periods and time spent on the tablet between drives is in the hope that your best play calls are made in situations where you are confident in what a defense is going to do. With less than a minute to play, and just short of midfield, quarterback Matthew Stafford uncorked a deep shot to Cooper Kupp, landing the Los Angeles Rams well within field goal range for Matt Gay.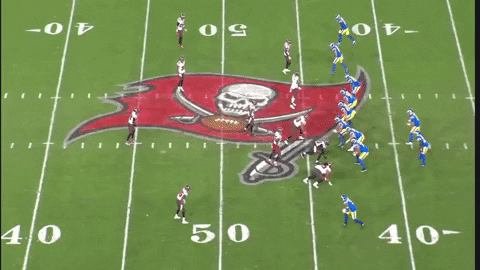 The inner workings of the concept Los Angeles called here (Dagger) isn't as important as why it worked out, from my perspective. McVay and Stafford took a calculated risk to push for a big gain over the middle of the field because the Tampa Bay Buccaneers had a tendency late in games: sending max pressure and playing Cover 0.
| | | | |
| --- | --- | --- | --- |
| Tampa Bay Blitz Tendencies | % of Snaps with Blitz | % of Blitzes w/ Five-Man Rush | % of Blitzes w/ Six-Man Rush |
| Full Game | 42% | 69% | 19% |
| 4th Quarter | 38% | 65% | 24% |
| 4th Quarter, 2-Minute Situations | 38% | 50% | 43% |
The idea behind sending max pressure inside of two minutes makes plenty of sense, in given situations: a trailing opponent is trying to pick up big chunks of yardage, and the pressure can beat the throw, or; a tied opponent is in or near field goal range, and a negative play would significantly change their probability of success.
It's hard to get sacks on max blitzes in obvious passing downs because the quarterback is going to take their time to scan for unblockable rushers, but forcing a quarterback to throw "hot" is just as, if not more valuable in a situation where the clock is the offense's enemy. Tampa Bay has used this strategy successfully at several points in 2021, forcing errant passes or completions for small gains.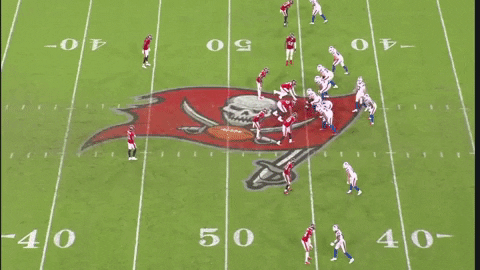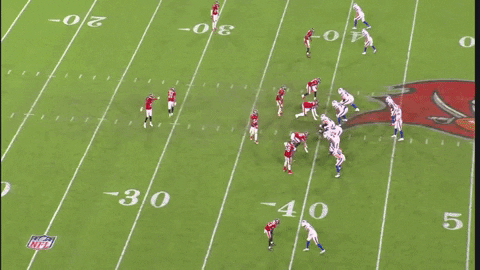 There was criticism levied against defensive coordinator Todd Bowles and his defense for running the pressure without being perfectly aligned and for blitzing from "depth" (away from the line of scrimmage). I'm not positive that showing pressure would help against McVay and Stafford, who've cut up blitzes all season long. In 137 dropbacks against the blitz, Stafford has put up an otherworldly .523 EPA per play this year.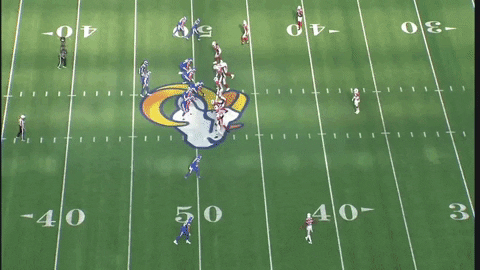 This offense, with every audible and adjustment in the world, has handled max pressure looks without problem this year, checking protections and getting the ball out quickly. Teams haven't even bothered with Cover 0 on passes against the Rams — of just 19 snaps, 12 were either inside their opponents' five-yard line or their own 20. In those seven snaps between the 20-yard lines, Stafford went 6-of-7 for 70 yards and five first downs, showing no stress against max pressure.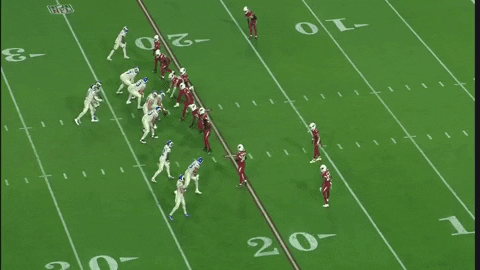 Todd Bowles, with the season on the line, did what he knows best: attacking the quarterback.
Last season, it won him a Super Bowl. This time, it sent his defense packing.
The injuries sustained by the Tennessee Titans' star skill players took up most of the airspace in media narratives about the AFC's No. 1 seed, but the silent theme in Nashville is an ugly trend for quarterback Ryan Tannehill — one that suggests the league has sussed out an answer for this play action-heavy passing game that exploded in 2019.