• BET Steelers U 16.5 points at Browns (+100 BetMGM): Pittsburgh has lowest explosive play rate in NFL (7.5%).
• BET Chiefs O 27.5 points at Colts (-115 DK): 35.8 True Score average leads NFL; Mahomes owns Indy DC Gus Bradley.
• BET Falcons-Seahawks U 43.5 (-110 BetMGM): Atlanta has overachieved, while Seattle No. 31 in True Score (11.8).
• New users who bet $10 or more at BetMGM will receive a free year's subscription to PFF+ — a $79.99 value.
Last week, we used True Score to tell us which offenses were overvalued and undervalued after Week 1 based on performances that probably aren't sustainable week-to-week, leading to more or fewer points than what they should have scored. The bets went 2-1 last week with +0.91 units, with the Browns–Jets game going well over 39.5 total and the Saints going under 20.5 total team points. The Broncos offense didn't go over 28.5 total team points — our first True Score loss. This week, we can again use True Score to find edges that points per game doesn't pick up, and recommend game totals and team totals.
BET: Falcons–Seahawks Under 43.5 Points (-110 BetMGM)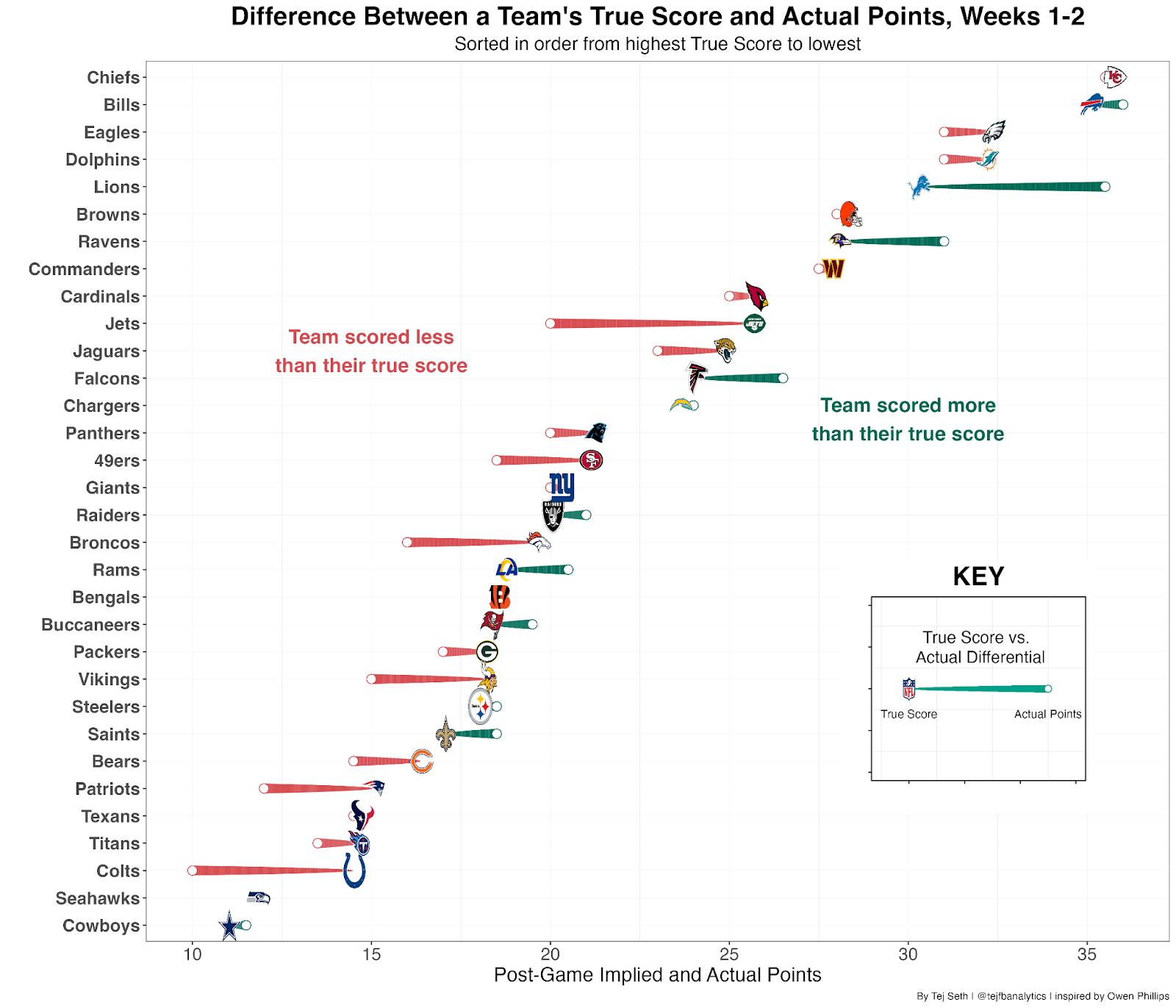 • Atlanta's Offense Has Overperformed: The Falcons have scored 26.5 points per game, but their True Score average has been 24.0 points per game, meaning their underlying metrics aren't as high on them as the results have been. An example of this is the Falcons scoring 7 points off a blocked punt last week, something that we don't tend to see week-to-week.
• The Seahawks Offense is Bottom-5: With an average of 11.8 True Score points through two weeks, Seattle has the second-worst offense in the league, only ahead of the Dallas Cowboys. 
BET: Chiefs Over 27.5 Points at Colts (-115 DraftKings)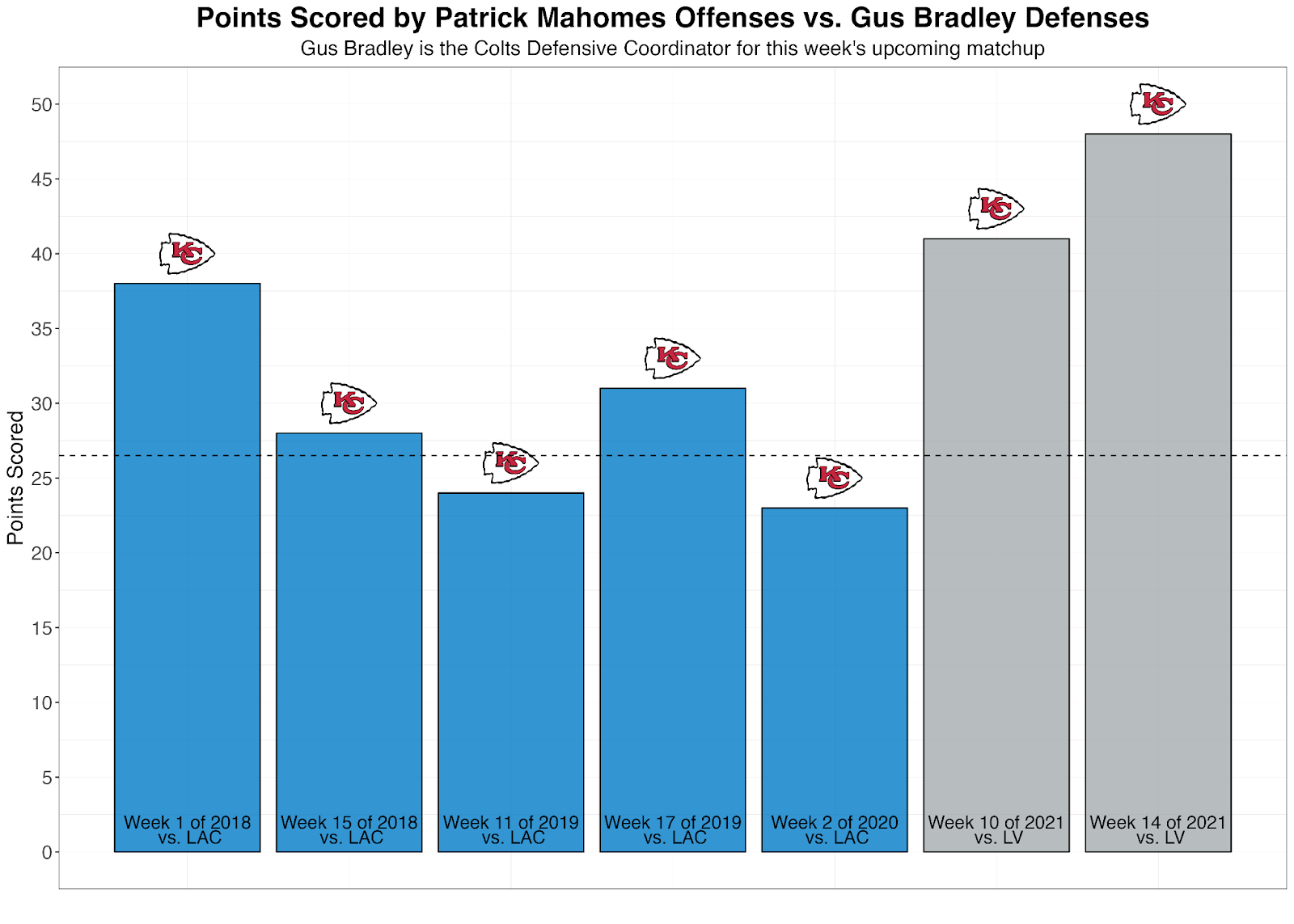 • Chiefs Have the League's Best Offense: Kansas City leads the NFL with the highest average True Score at 35.8 points, including 44.7 in Week 1 and 26.9 in Week 2. 
• The Colts Defense is Predictable: The Colts play a league-leading Cover 3 on 64.5% of snaps. This means they primarily play the coverage that Patrick Mahomes is most efficient against and that Andy Reid will play call knowing he's going to see the same coverage the majority of the time.
• Colts Defensive Coordinator Hasn't Fared Well Against the Chiefs: Mahomes has faced a Gus Bradley-led defense seven times in his NFL career, eclipsing 26.5 points six times, averaging 33.8 points a game.
BET: Steelers Under 16.5 Points at Browns (+100 BetMGM)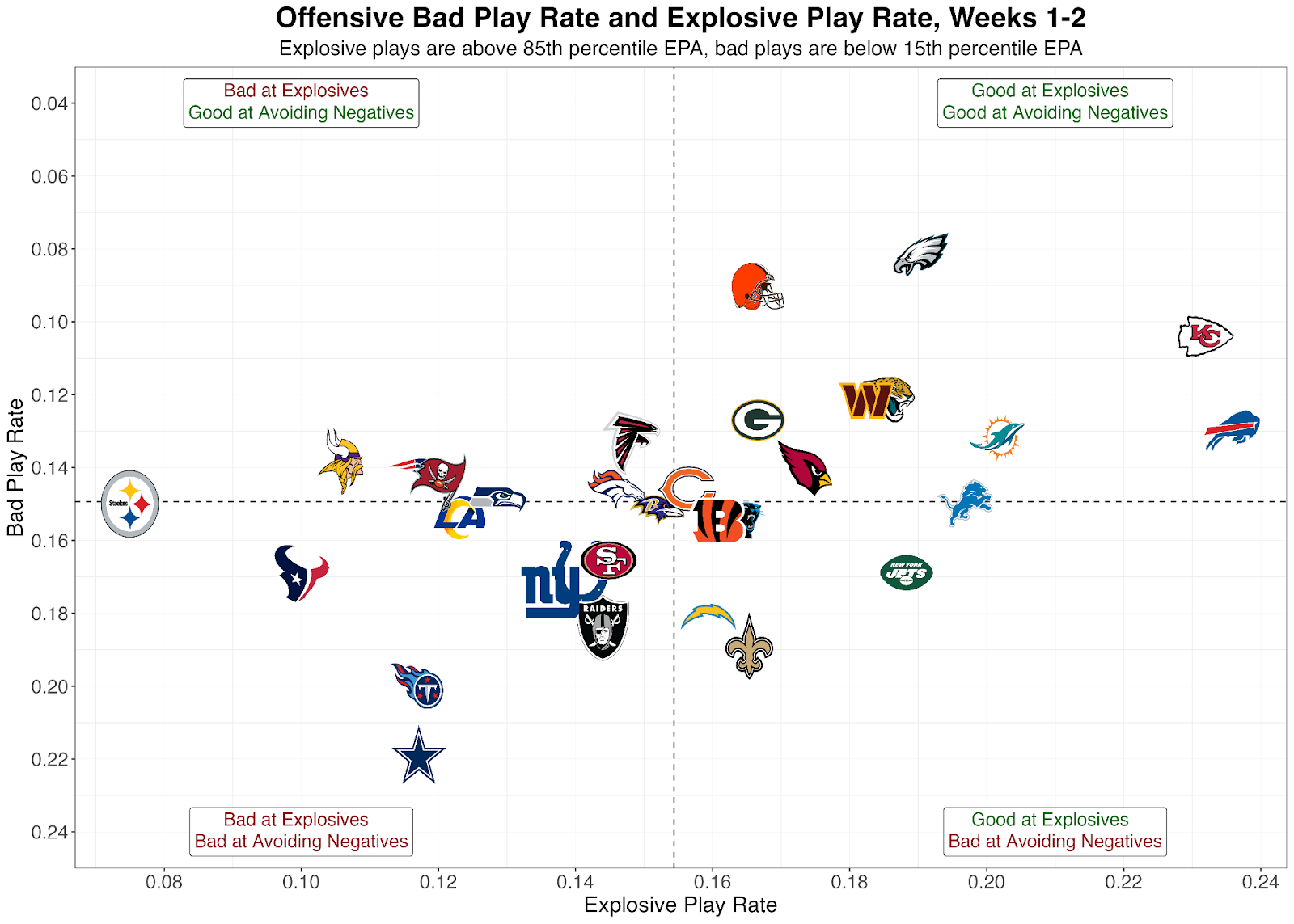 • The Steelers are the Least Explosive Team in Football: Pittsburgh has a 7.5% explosive play rate, the lowest rate in the NFL. On top of that, their bad play rate is about league average, illustrating the Steelers lack the firepower to get themselves out of a hole when a bad play occurs.
• The Browns' Defensive Strength is Limiting Successful Plays: The Browns have only allowed a successful play (a play that gains positive expected points added for the offense) on 40.2% of plays — good for sixth-best in the league. They've had trouble allowing explosive plays, but that shouldn't be a problem vs. Pittsburgh.
• The Browns Probably Won't Give Good Field Position: The Browns offense is second behind only the Eagles in avoiding bad plays through two weeks. In Week 1, the Steelers benefited from five Bengals turnovers but probably won't have that opportunity again Thursday night.
---
True Score was developed using Expected Points Added (EPA), explosive play rate (plays greater than 85th percentile), bad play rate (plays less than 15th percentile), success rate and total plays with era adjustments in a XGBoost model, we can get what we would have expected the team to score with those statistics, taking out some of the variance. True Score is more predictive of future performance as it correlates with a team's future points scored with an R of 0.21 while actual points is at 0.17. We can also use it to help us beat over-under's and team totals, as shown in this article.