PFF charts and grades almost anything you can think of for every NFL and college football game. We can tell you how often the Arizona Cardinals line up in trips formations — a lot — or which side of the field your favorite quarterback throws to most of the time.
Through the might of the PFF database, we're breaking down some situational quarterback data to show the quarterbacks who are playing great and those who are falling flat in certain stat categories through Week 10 of the 2020 NFL season.
Let's start with the front-runners. Here are the guys who are dominating early in the game or on early downs so they don't have to work themselves into a lather late in the game in addition to those who are failing to do so.
Highest-Graded Quarterback in the First Half
The "Let Russ Cook" campaign has gotten off to a great start. With the Seahawks relying on their quarterback early in football games rather than him bailing out the team late, they've gotten excellent play out of their signal-caller.
Lowest-Graded Quarterback in the First Half
It seems as though Haskins' short time in Washington might already be over. When on the field, he wasn't really even pushing the ball downfield much — 70% of his 428 yards came after the catch and he put his team in unrecoverable situations.
Dallas Cowboys quarterback Ben DiNucci has a worse first-half grade, but that's on only a one-game sample as a starter. Among the quarterbacks who look to be starting their team's remaining games, Drew Lock's 51.7 mark is the worst.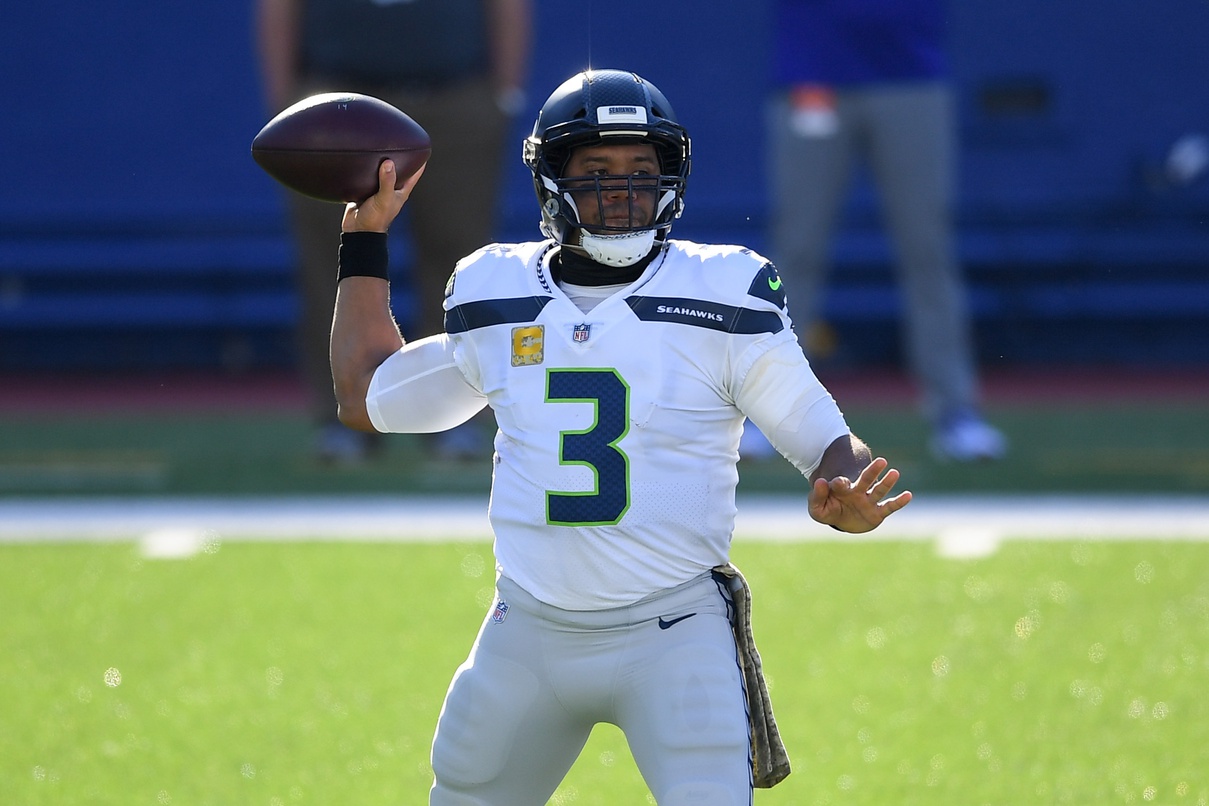 Highest-Graded Quarterback on First Down
Wilson again tops the list. Offensive coordinator Brian Schottenheimer has already called 174 passes on first down for Wilson in 2020. In 2018, the Seahawks called 181 first-down passes for him the whole season. He's on pace to shatter the 272 first-down passes he threw in 2016. This is also the first time he's ever graded above 88.0 on first down in his career.
Lowest-Graded Quarterback on First Down
Mullens has already taken six sacks on only 67 first-down dropbacks this season. His average of 7.6 yards per attempt on such throws is respectable, but that has to do with the easy decisions created for him by coach Kyle Shanahan and his playmakers
Carson Wentz's 53.2 mark on first down is worth a mention, as well. His 12 turnover-worthy plays on such plays are double that of the second-highest quarterback. He's putting the Eagles in a huge hole early in series, and he's also taken the most sacks. When Wentz drops back on first down, the Eagles go backward.
Highest-Graded Quarterback When in Rhythm
Editor's Note: In-rhythm throws are passes on straight dropbacks that are thrown with no more than one hitch step.
This is the area where Rodgers needed to find himself to become an MVP-caliber quarterback. On throws in rhythm, his grade has jumped from 83.9 to 95.5 in one season. Head coach Matt LaFleur is creating opportunities for the quarterback to stay in rhythm, but one of Rodgers' late-career issues has been his need to make plays off structure even if a rhythm throw is there for the taking. He's now taking those throws, and the results are stunning.
Lowest-Graded Quarterback When in Rhythm
Editor's Note: In-rhythm throws are passes on straight dropbacks that are thrown with no more than one hitch step.
The lowest-graded quarterback with at least 30 in-rhythm throws is Dwayne Haskins with a 48.7 mark, but let's avoid harping on the now-backup Haskins and look at the Jets' quarterbacks — two completely different signal-callers who are putting up similar grades in the same offense. While Flacco and Darnold aren't great quarterbacks, the fact that neither can find open receivers quickly and efficiently is damning evidence against Adam Gase.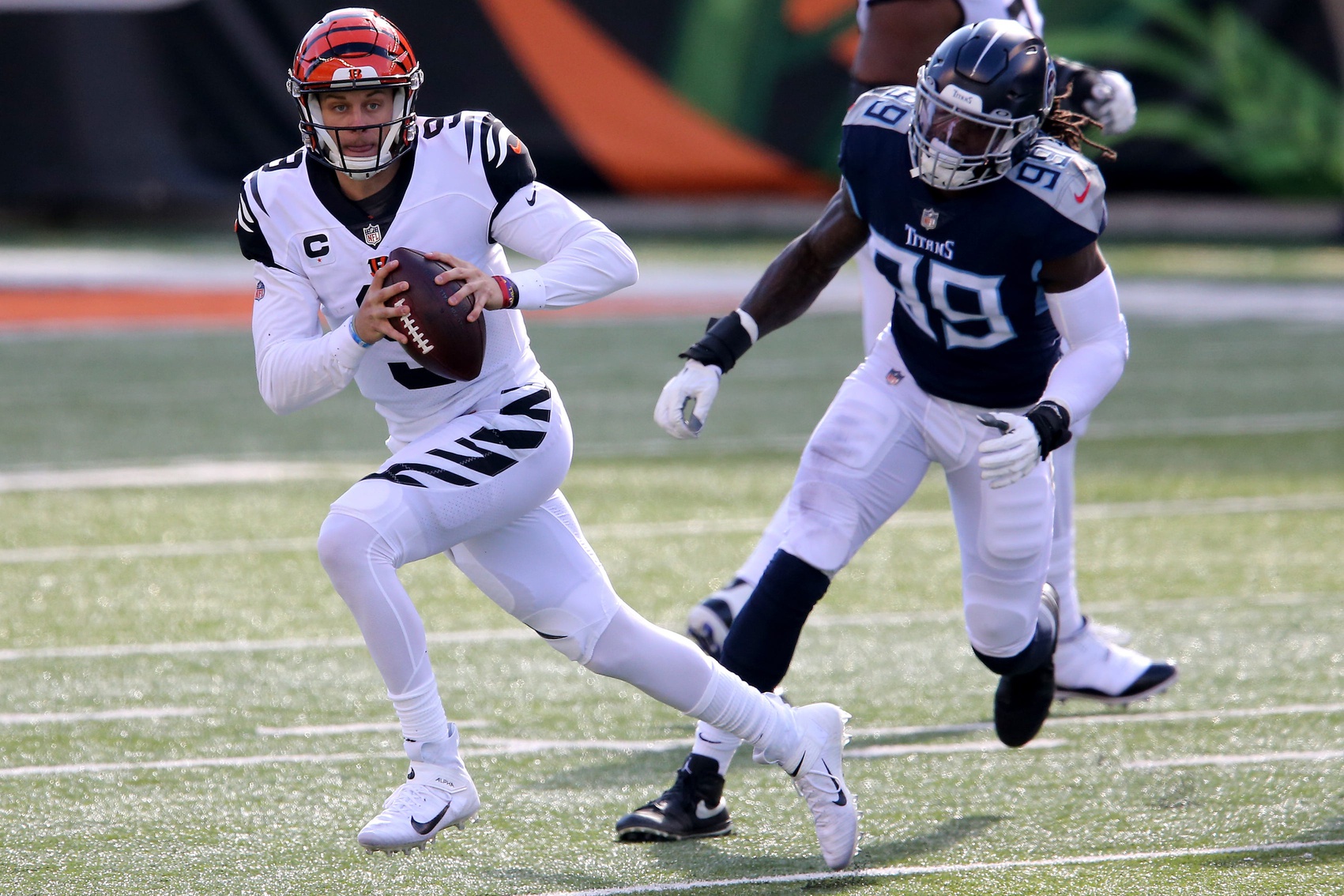 Highest-Graded Quarterback on Quick Game Passes
Dak Prescott is a couple of grading points higher at 85.4, but Burrow being active on Sundays gives him the nod. His high grade on short passes where he has to make quick decisions, usually reading one key defender, is what we expected after seeing him in 2019 with LSU. There are many other issues with Burrow outside of these plays, but at least he's doing well in the areas he's best suited for.
Lowest-Graded Quarterback on Quick Game Passes
Nick Mullens owns a worse grade in this facet, but we'll use Newton here to avoid an abundance of negative words about the once-backup. Quick game has never been Cam's strong suit, and that continues to be the case in a Josh McDaniels passing attack that has created a lot of quick game throws over the years. Tom Brady had 76 quick game throws last season with the Patriots, and Newton won't even get close to that, so his lack of success on these throws isn't really affecting the offense much.
---
The next batch of rankings centers on the quarterbacks who shine — and vice versa — in the back half of games.
Highest-Graded Quarterback in the Second Half and Overtime
Rodgers has been dominant in the clutch this season, but the bigger surprise is Cam Newton's second-place 90.5 grade — a rank he's never been close to before. Even in his 2015 MVP season, Newton put up only a 78.3 grade in the second half and overtime. In fact, his cumulative grade entering this season across his career was only 70.7 in such situations. He has been lights out after halftime this season, a prime example being when he carved up the Seahawks' defense on Sunday Night Football early in the year.
Lowest-Graded Quarterback in the Second Half and Overtime
There are a few quarterbacks who have graded lower than Rivers here, but no signal-caller who has been their team's Day 1 starter is worse in the second half and overtime than him. Rivers' 53.2 grade is the lowest mark he's had in the past decade; He has five years where he graded above 70.0. Luckily, he's been great in the first half this season, posting an 87.1 grade to help put the Colts atop their division.
Highest-graded Quarterback on Third Down
Again, Rodgers shows his worth in the clutch. Only four quarterbacks are above an 80.0 in this category, and Rodgers is 4.4 grading points higher than second-place Dak Prescott. Derek Carr and Tom Brady round out those four. This would be Carr's second-ever 80.0-plus grade on third down after he posted an 87.6 mark in 2016.
Lowest-graded Quarterback on Third Down
After earning season grades anywhere from 64.8 to 76.6 since 2016, Rivers is struggling on the money down in 2020. He has amassed five turnover-worthy plays on his 81 third-down attempts. His four picks in such situations, tied for the second-most, have offset his four big-time throws.
Highest-Graded Quarterback on Scrambles
In somewhat of a shocker, Ryan grades out highly in this category. The Falcons quarterback has had some years where he's graded in the 70.0s — but it's never been this high. Ryan has scrambled only 31 times in 2020, but we know he's not that type of quarterback, so looking at players with higher volumes might give us a better answer.
Russell Wilson and Josh Allen both have over 70 scrambles and still grade above 80.0. When Allen scrambles and then tucks it to run, he forces a missed tackle 41% of the time, the highest rate among quarterbacks.
Lowest-Graded Quarterback on Scrambles
Lock has scrambled 43 times this season, completing only nine of his 32 pass attempts for 70 yards on such plays. When he does cross the line of scrimmage with the ball, he's gained only 40 yards on eight runs. That puts him at 5.1 yards per carry, which ranks 20th in the league among quarterbacks with at least five scramble runs. Carson Wentz has the highest rushing grade on scrambles but the sixth-worst passing grade.
---
Here are a few situational grades to round out this list.
Highest-Graded Quarterback under Pressure
Ryan Fitzpatrick is slightly higher in this category, but since he now resides on the bench for Miami, we'll go with Cousins. He has made five big-time throws to just two turnover-worthy plays when feeling the heat, completing 49 of his 91 attempts in the process. While it's very unlike Cousins to be this good under pressure, as he usually thrives only in the best of conditions, he has taken a turn for the better in 2020.
Lowest-Graded Quarterback Under Pressure
The usual suspects make up the bottom of this list. Ben DiNucci, Dwayne Haskins and Drew Lock are the worst three here, but Goff comes in at fourth-to-last. The results are there when Sean McVay can get his quarterback to play on schedule, but it has been rough outside of that this season. Goff has completed only 35% of his passes under pressure and has thrown up eight turnover-worthy plays.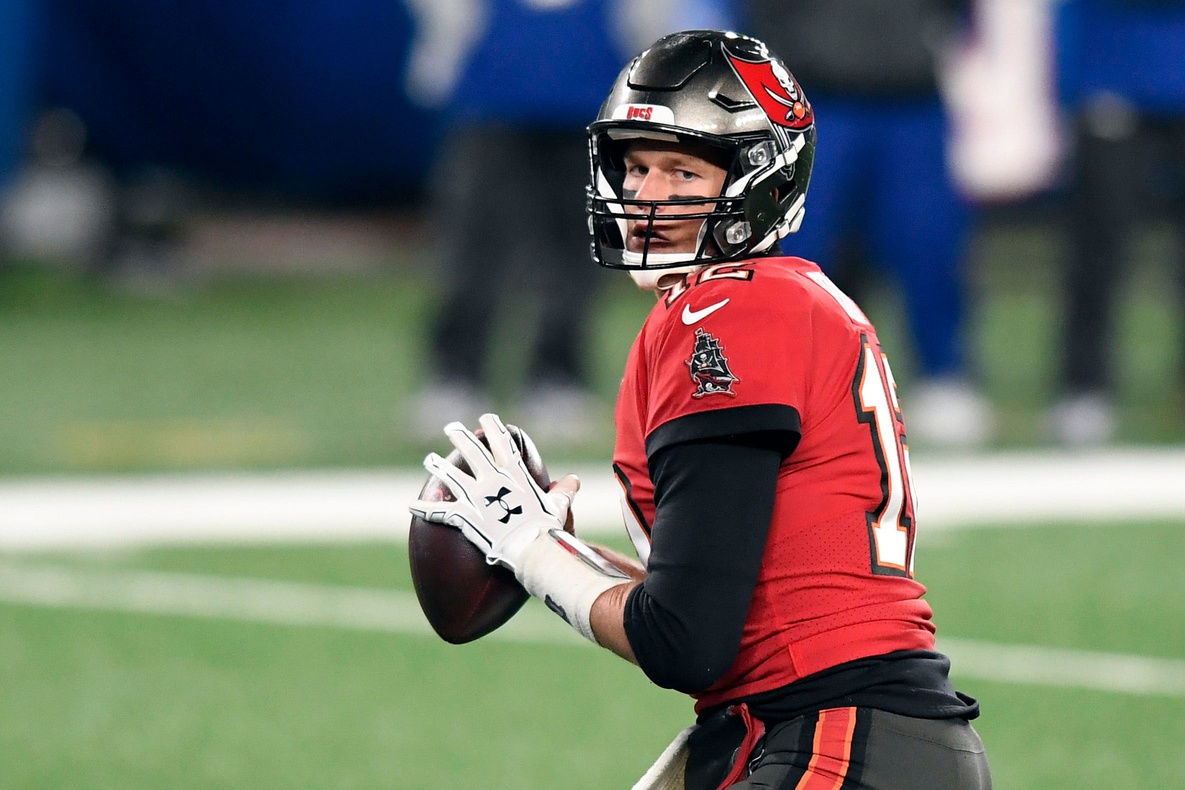 Highest-Graded Quarterback on Play Action
Brady has been almost perfect off play action this season, producing 10 big-time throws to only one turnover-worthy play after a run fake. The problem might be that coach Bruce Arians is not calling enough of these plays for his quarterback. Brady ranks just 19th in total number of play-action passes called for him but sits at 10th in total yards. He can handle an offense of just straight dropbacks, but an uptick in play action could benefit him even more.
Lowest-Graded Quarterback on Play Action
Roethlisberger has had only 39 play-action dropbacks in 2020, which ranks 34th in the league. He's yet to make a big-time throw off play action and has three turnover worthy plays. His average time to throw of 2.37 seconds off play action is the quickest in the league among quarterbacks with at least 10 of these dropbacks. So, while other quarterbacks and schemes are buying time to make plays down the field off the fake run action, Big Ben is getting rid of the ball quickly and not very efficiently.