A near loss to the decimated Baltimore Ravens running out a combination of Robert Griffin III and Trace McSorley at quarterback followed by a loss to the 4-7 Washington Football Team is cause for some self-evaluation. And considering the Pittsburgh Steelers' defense allowed just 37 points across those two games, the fingers are pointed at their offense. 
No one was mistaking the offense for the strength of the team, but it's also a group that hasn't stuck out as a major problem for much of the season. It's near impossible to rattle off 11 straight wins in today's NFL with an incompetent offense, and these Steelers don't have to go back too far to point out one of those (see: the 2019 iteration of the team). Even with these last two games included, Pittsburgh stands out as a middling offense by most metrics rather than a bottom-tier group.
Baltimore and Washington have two of the best defenses in the league, so the biggest issue isn't necessarily that the Steelers have struggled in back-to-back games offensively. Rather, it's how they've struggled. 
Ben Roethlisberger actually produced two of his better performances of the season against Baltimore and Washington from a PFF grade standpoint. His 79.4 passing grade over that two-game stretch ranks eighth among 32 qualifiers at the position over that span. That points to the idea that he was let down by some combination of scheme and supporting cast — the two pillars that are ideally supposed to support an aging Roethlisberger coming off a major elbow injury. Let's start with the supporting cast.
According to PFF's count, the Steelers dropped 11 passes across the last two weeks. For reference, that is five more than any other team during that stretch and as many passes as the Arizona Cardinals and Chicago Bears have dropped all season. You can question the placement on several of those 11, but most fall into the category of straight-up concentration drops on well-placed passes.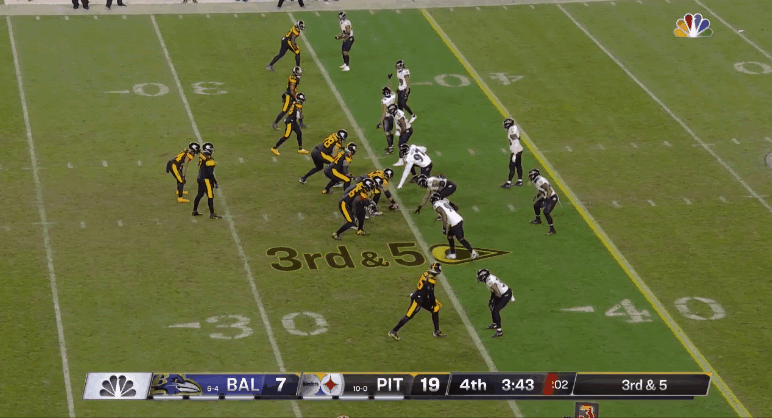 It would be difficult for Roethlisberger to put this ball in a much better spot for Diontae Johnson on this key third down late against the Ravens. Prior to Week 12, Roethlisberger last had five passes dropped in a single game back in 2015. He has had at least five passes dropped in each of the past two games. 
Subscribe to PFF Edge to continue reading
Already have a subscription? Sign In