The NFL Scouting Combine is always a source of great rumor and speculation, and this year was no different for the biggest quarterback headlines. ESPN's Jeremy Fowler originally reported that there was a belief from some around the NFL that the Baltimore Ravens would use the non-exclusive franchise tag on quarterback Lamar Jackson, and the Ravens confirmed that theory by placing the non-exclusive tag on Jackson before Tuesday's deadline.
That opens the door for other NFL teams to negotiate with the Ravens signal-caller, and they would give up two first-round picks if they agreed to a deal that Baltimore opted not to match.
The Ravens could, however, choose to match the deal, ending the speculation on Jackson's future. But for the purpose of this article, let's imagine that Baltimore applies the non-exclusive tag and opts not to match another team's offer to Jackson. What happens then?
Well, at that point it makes sense for the Ravens to draft his replacement, so here we will use PFF's Mock Draft Simulator to imagine what that could look like.

---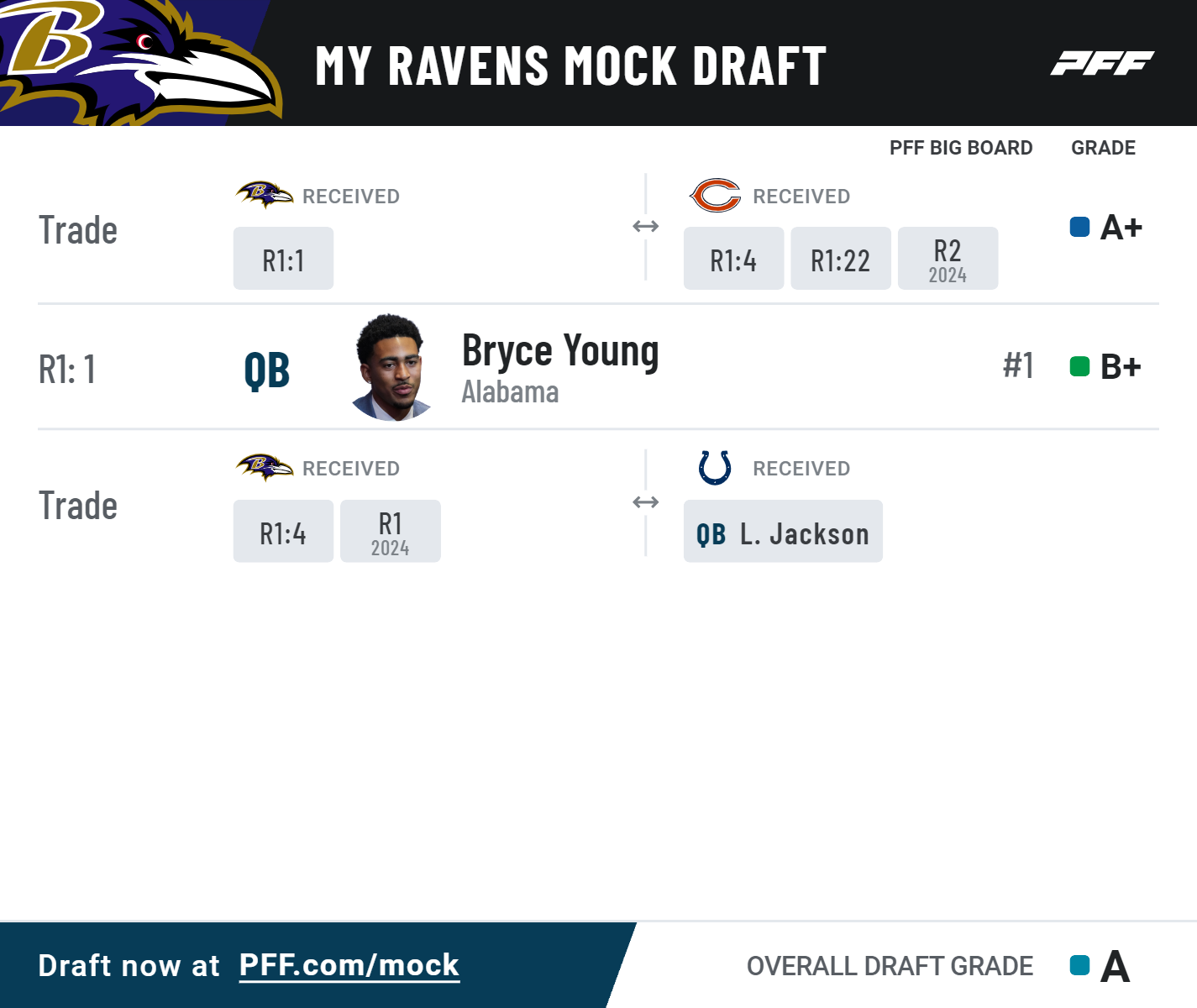 If the Texans or Colts signed Jackson, and the Ravens got Pick Nos. 2 or 4 and a 2024 first-rounder, it's relatively simple. At either pick, they would be guaranteed one of the top four quarterbacks in this class. They would also have the firepower to move up in a deal with the Chicago Bears if they really wanted a particular player.
That might be the only way the Ravens can land Bryce Young, who led all FBS quarterbacks with a 91.3 PFF passing grade in 2022.
---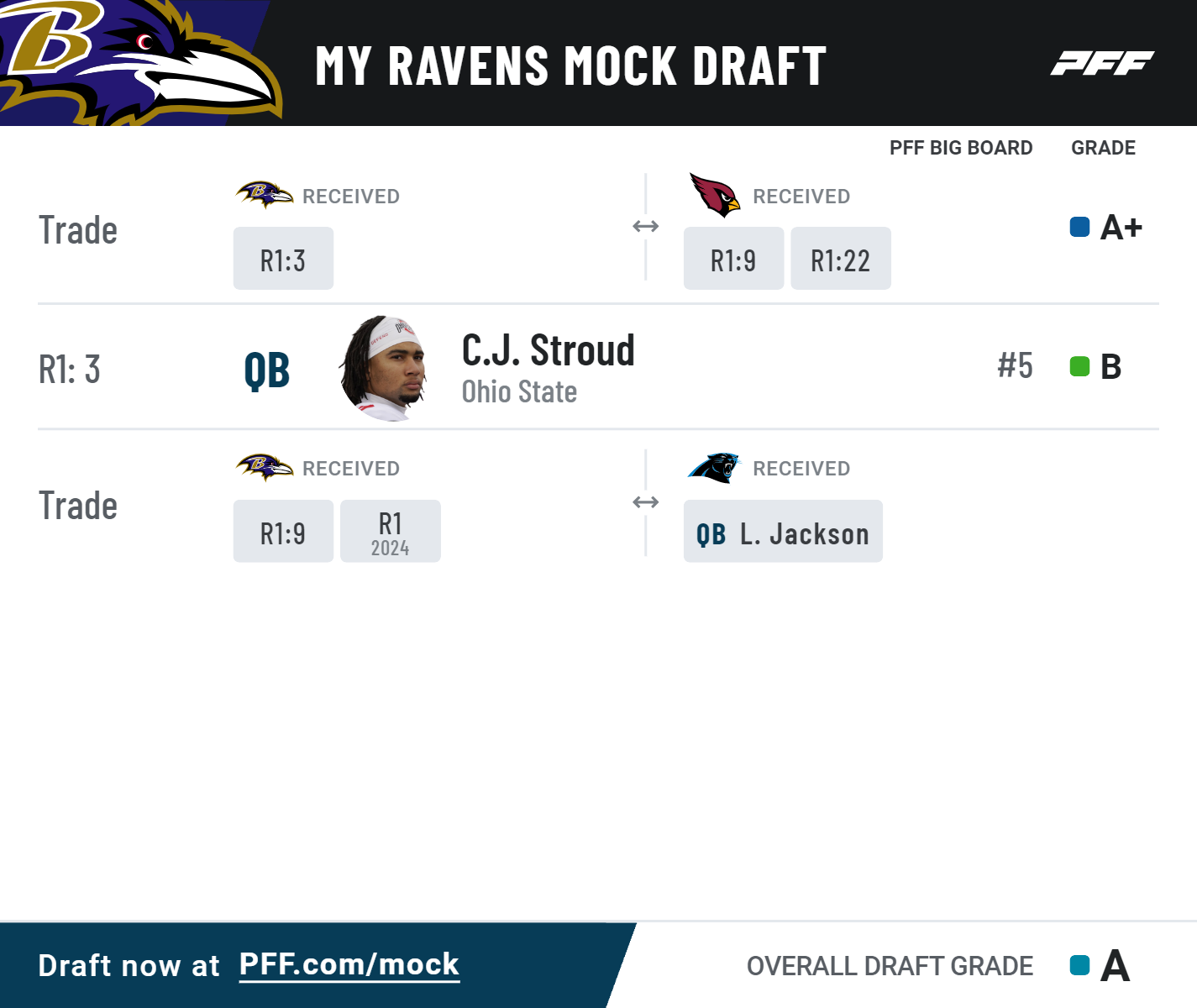 If it's one of these three teams, the Ravens would likely need to move up to at least Pick No. 3 to guarantee one of the top four signal-callers. In that case, the pick they get in return and either their own Pick No. 22 or a 2024 first-round pick likely would get them to No. 3 with the Arizona Cardinals.
Here, they could land Ohio State's C.J. Stroud, who tied for sixth in the FBS last season with 29 big-time throws.
---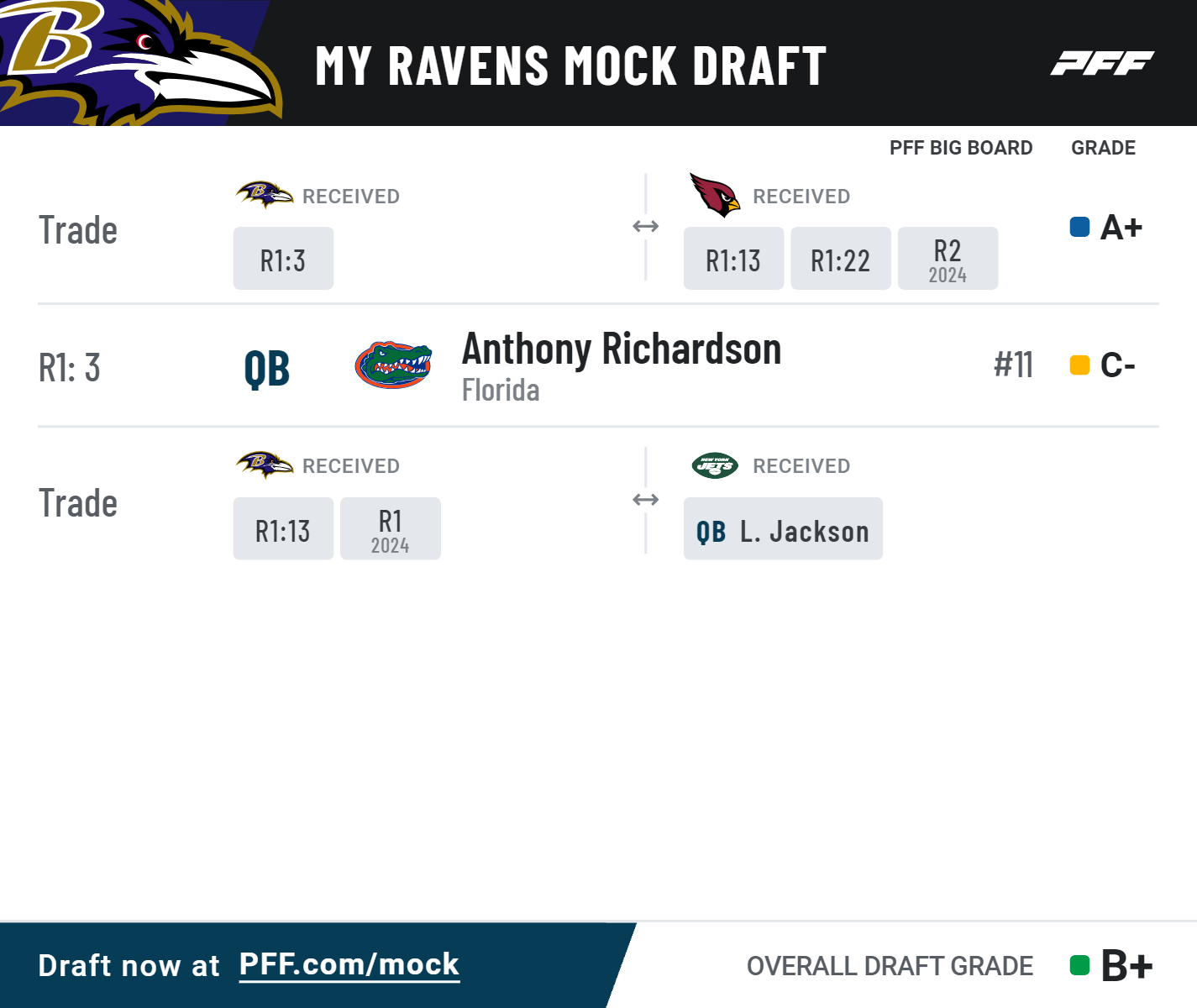 Here, the Ravens would again likely need to get up to No. 3 overall, but it will be a bit tougher this time. They might get there with the Titans' No. 11 pick and their own No. 22 selection but potentially would still need to sweeten the deal. It's less likely that Baltimore gets there with Pick Nos. 13 and 22, so it would probably require a 2024 second-round pick, too.
Florida's Anthony Richardson, who lit up the combine this weekend, forced 39 missed tackles on rushes last season and has a run of at least 80 yards in each of the past two seasons.
---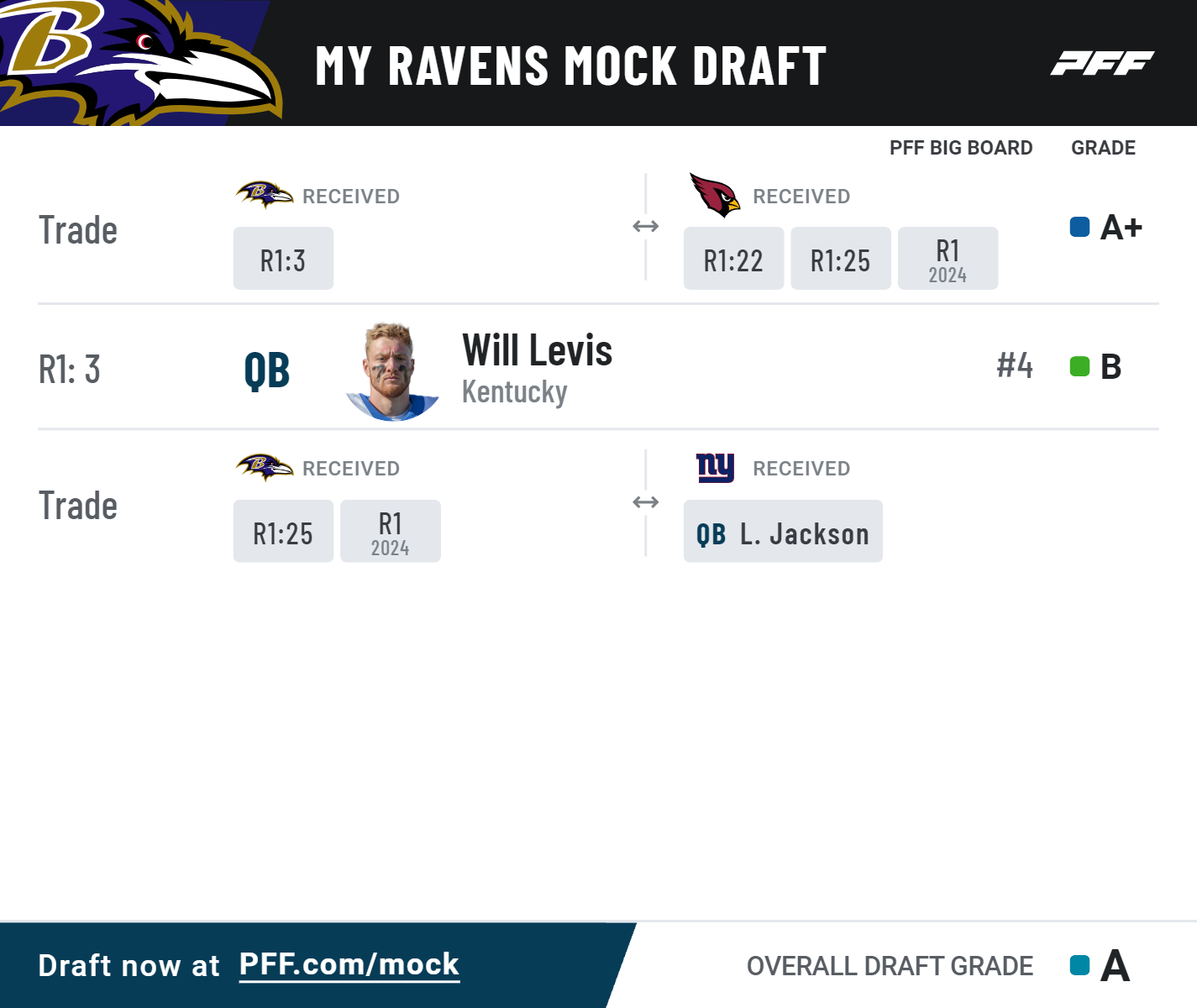 Now it starts to get really costly. Here, the Ravens would likely need to give up both 2023 first-round picks and another in 2024 to get up to Pick No. 3.
Kentucky's Will Levis had his best season in 2021, producing a 90.6 PFF grade, but this past year he made just seven big-time throws compared to 13 turnover-worthy plays.