The Carolina Panthers announced Frank Reich as the sixth head coach in team history on Thursday, with the former Indianapolis Colts head coach returning to the top of his profession after being fired from his previous position in November.
With Reich in position, the Panthers have added an offensive-minded head coach — one they will hope can turn the franchise around — and can now focus their attention once again on finding a franchise quarterback.

It hasn't been for a lack of trying on the Panthers' part, as they've taken three swings at the position since they decided to move on from former league MVP Cam Newton. They signed Teddy Bridgewater to a three-year, $63 million deal in 2020 before trading him the following offseason after he posted a 66.0 PFF grade that was tied for 28th at the position.
In 2021, they traded a sixth-round pick, along with second- and fourth-round selections in 2022, to acquire Sam Darnold from the New York Jets. In return, Darnold posted a 54.7 PFF grade that season, better than just then-Pittsburgh Steelers signal-caller Ben Roethlisberger.
And after a year with Darnold, the third overall pick from the 2018 NFL Draft, the Panthers traded a conditional 2024 draft pick to the Cleveland Browns this offseason for Baker Mayfield, the No. 1 overall pick from that same draft. Mayfield produced a 50.6 PFF grade in 2022 that ranked ahead of just Taylor Heinicke and Zach Wilson among quarterbacks. 
Darnold went on to close out the 2022 season as the starter, and while he did produce PFF grades of 70.0 or better in three of the six games he started, it's clear that the Panthers would be wise to start over and add a top rookie to pair with Reich.
Moving from 11th overall all the way up to the top spot in the draft won't be cheap, but we can map out a reasonable cost based on recent trades.
Philadelphia Eagles send: 2016 first- (eighth overall), third-, fourth-round picks, 2017 first-round pick, 2018 second-round pick
Cleveland Browns send: 2016 first-round pick (second overall)
Washington Commanders send: 2012 first- (sixth overall), 2012 second-round picks, 2013 first-round pick, 2014 first-round pick
Los Angeles Rams send: 2012 first-round pick (second overall)
Los Angeles Rams send: 2016 first- (fifteenth overall), two second-, third-round picks, 2017 first- and third-round picks
Tennessee Titans send: 2016 first- (first overall), fourth- and sixth-round picks
With that in mind, I used PFF's Mock Draft simulator and offered the Panthers' 2023 first-rounder (ninth overall), two 2023 second-rounders (39th and 61st overall) and a 2024 first-rounder for the Chicago Bears' pick at No. 1 overall. Our simulator gives this a 79% chance of being accepted.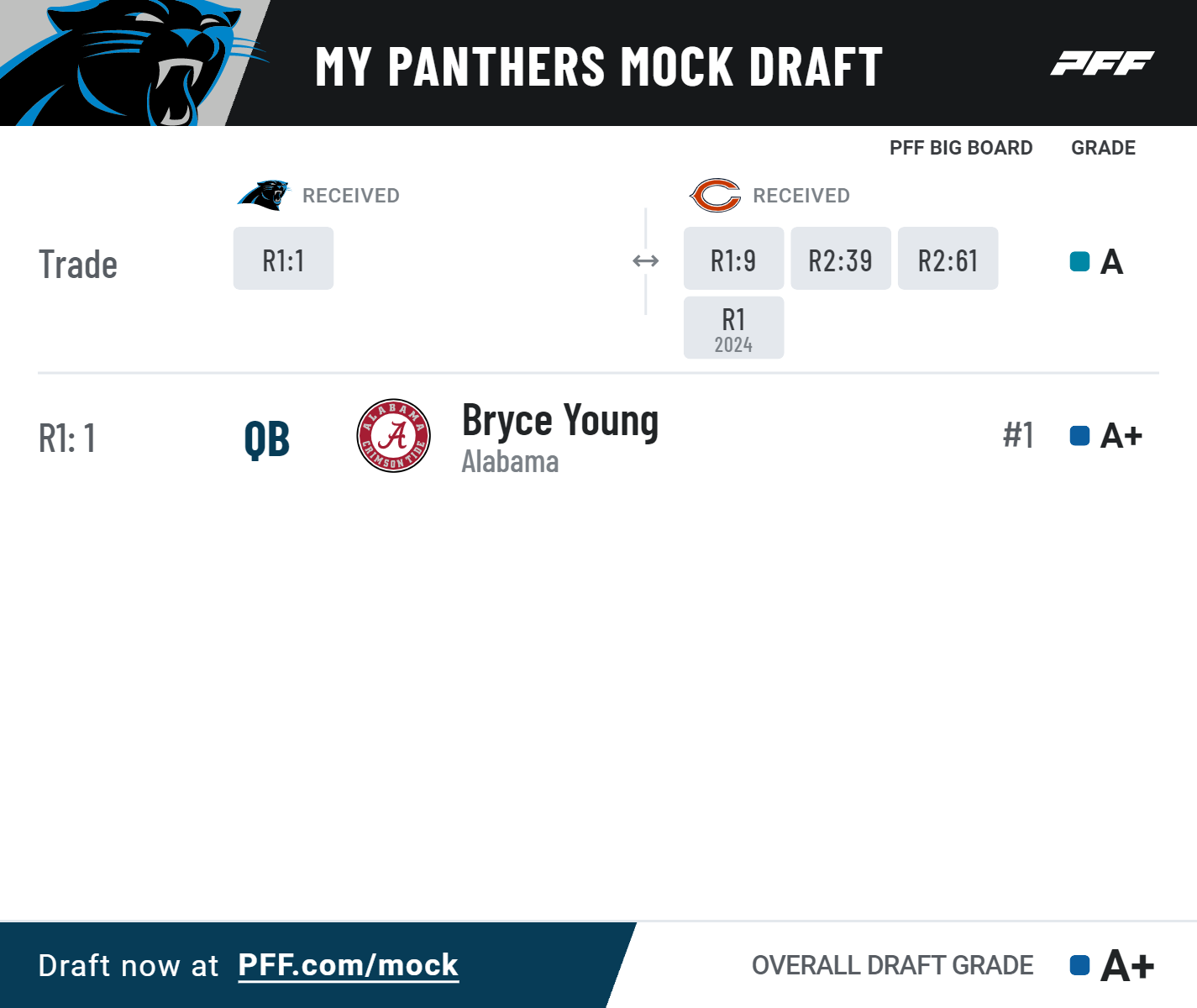 Getting all the way to No. 1 guarantees the Panthers their pick of whomever they view to be the top quarterback in the class. The top contenders there currently are Alabama's Bryce Young, Kentucky's Will Levis and Ohio State's C.J. Stroud. Despite concerns about his size, Young is currently the top player on PFF's 2023 NFL Draft big board, so he was the player I went with.
Young was tied for the highest PFF passing grade in all of college football this past season at 91.3, finishing the season with 23 big-time throws and just nine turnover-worthy plays. That comes a season after ranking third in PFF passing grade (92.0), with 36 big-time throws to 13 turnover-worthy plays. With the level of production we've seen from Young over the past two seasons, it's worth the risk in a big trade-up for him for Carolina.