With Super Bowl 56 firmly in the rearview mirror, all the focus shifts toward free agency and the 2022 NFL Draft, two of the most exciting times in football. Most of the talk revolving around this year's offseason has been about the quarterbacks — whether some of the big names will stay put, retire or request a trade. This talk carries over into the draft, which projects to feature the weakest quarterback class in years, making it tough for teams without a definite answer at the position to begin their rebuild.
---
Click here for more PFF tools:
Draft Guide & Big Board | Mock Draft Simulator
Dynasty Rankings & Projections | Free Agent Rankings | 2022 QB Annual
Player Grades
---
One overlooked position group is the safety market. Safeties have long been undervalued by the NFL, which I wrote about in August. Teams just don't seem to think safeties are as valuable as other skill-position groups. Part of that could be because safeties aren't involved in a majority of plays. Compared to a linebacker, edge rusher or interior defensive lineman, safeties only really are involved when teams pass or the defense lets a rusher break free from the first level. 
We can use Cap-Inflated Spending to create a baseline in which to evaluate every year. To do this, we set the baseline at $198.2 million, which was the NFL's 2020 salary cap for every team. To get every year to $198.2 million, we divide 198.2 by every individual year's cap to get an n value. We then multiply this n value to the team's spending per position by year to reach $198.2 million. Here are the cap hits by year and the n value which was multiplied.
| | | |
| --- | --- | --- |
| Year | Original Maximum Cap | n value |
| 2013 | $123.6 million | 1.60 |
| 2014 | $133 million | 1.49 |
| 2015 | $143.3 million | 1.38 |
| 2016 | $155.3 million | 1.28 |
| 2017 | $167 million | 1.19 |
| 2018 | $177.2 million | 1.12 |
| 2019 | $188.2 million | 1.05 |
| 2021 | $182.5 million | 1.09 |
Using this info, we can take a look at how safeties have been paid, compared to other positions on defense. Because the 2021 cap was below the 2020 cap, we adjusted it back to 2020 rather than keeping it at $182.5 million.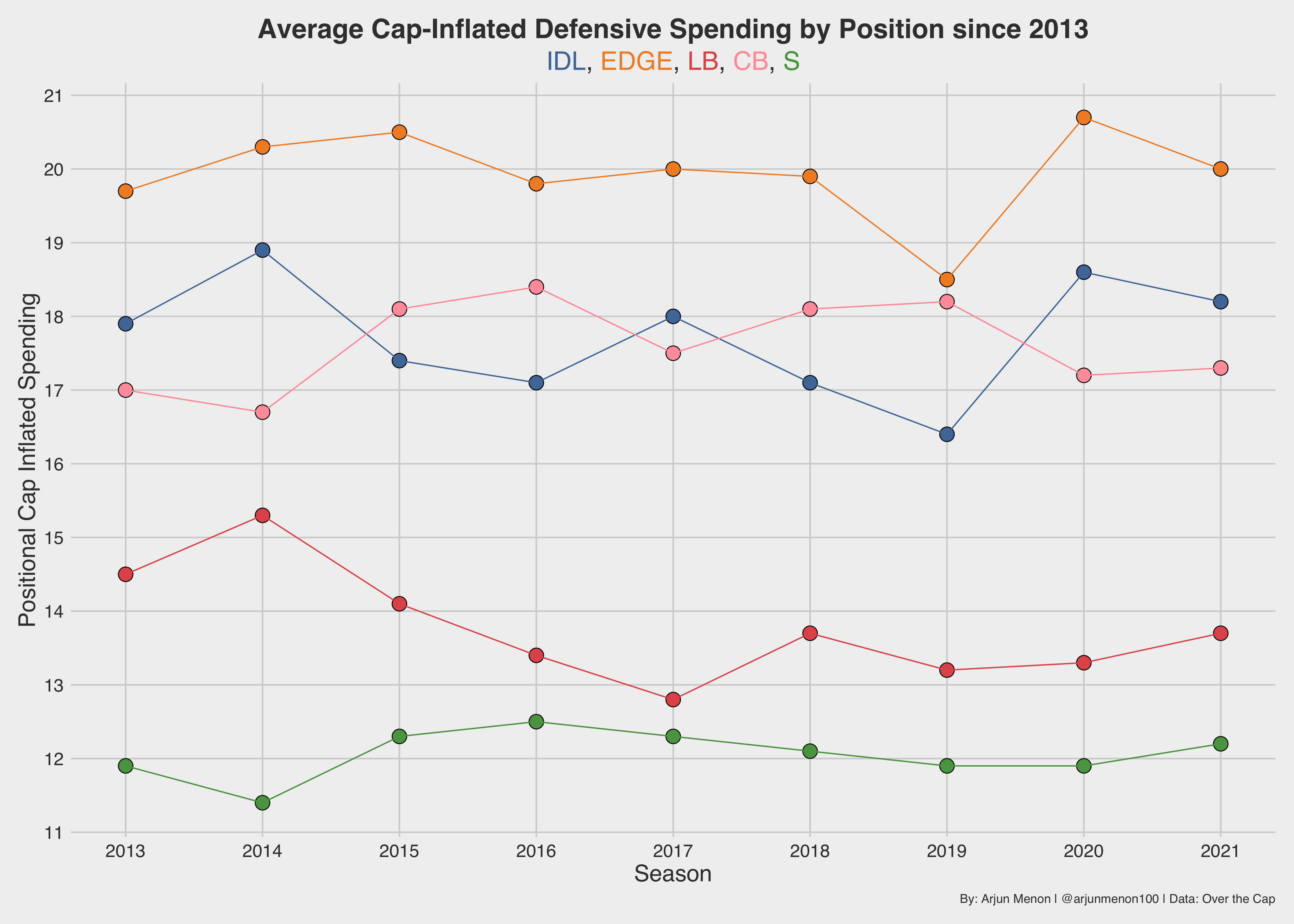 Despite the safety position on average seeing an increase in salary from teams in 2021, they were still the lowest-paid defensive positional group in the league. However, this should all change in the next couple of weeks. In the past three years, the safety market has been reset multiple times, most recently by Jamal Adams, and we should be looking for it to be reset once again before or during free agency. 
In the eyes of the public, there is no consensus pick as to who the best safety is at any given time. People will either use the safety with the most counting stats (INTs, tackles, forced fumbles) or the safety on their favorite team. One reason is that broadcast angles almost never allow us to see safeties before the snap and while the play is going on. Another reason for this is that safeties aren't involved in as many plays as the first- or second-level positions. 
Subscribe to PFF Edge to continue reading
Already have a subscription? Sign In