Put down your brackets because NFL free agency has been the real "March Madness" thus far.
Several star players have changed teams in the last week, bolstering several franchises' chances of contending for the Lombardi Trophy in 2022. There have also been several under-the-radar moves involving non-household names that aren't getting enough praise enough for the positive ramifications they are likely to have for their new team.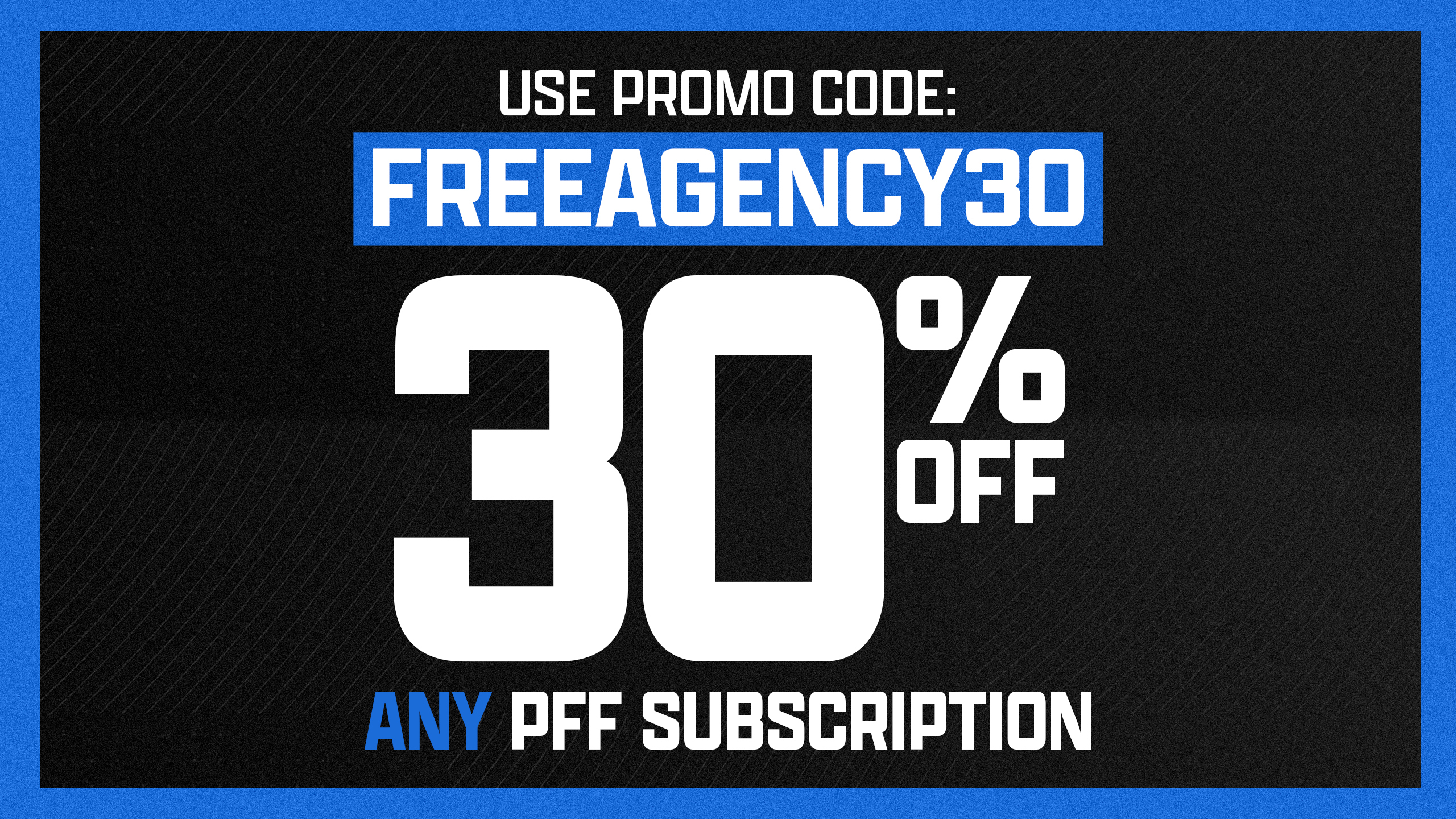 Click here for more PFF tools:
Draft Guide & Big Board | Mock Draft Simulator
Dynasty Rankings & Projections | Free Agent Rankings | 2022 QB Annual
Player Grades
---
Below are examples of each as we dive into the top-10 signings and trades that have kicked off the new league year.
Go ahead and chalk up the Broncos as the NFL's most improved offense in 2022, as they go from having one of the worst to one of the best quarterback situations in the NFL after acquiring Wilson from the Seattle Seahawks for a package of draft picks and players. Since 2015, Denver ranks second-to-last among the 32 franchises in team passing grade. Over that same span, Seattle ranked second, as Wilson brings a deep passing element to Mile High that has long been missing. Wilson's patented "Moon Ball" has helped him throw the most deep passing touchdowns in the NFL since entering the league in 2012.
Deep passing TDs since 2015 (@PFF):

Russell Wilson – 82
Denver's QB room collectively – 32

— Anthony Treash (@PFF_Anthony) March 8, 2022
It's rare to see a franchise quarterback get moved like Wilson, but Denver pulled off the inevitable. This move alone takes the franchise from a bottom-tier team to a Super Bowl contender overnight.
---
It seemed inevitable that the Green Bay Packers would find a way to sign Adams to a long-term deal after Aaron Rodgers' return. Instead of coming to terms on a long-term deal with the star wide receiver, the team shocked the NFL landscape by trading Adams to the Raiders for a 2022 first- and second-round pick.
For Green Bay, this is a crushing blow that impacts its quest for a Super Bowl in 2022. For Las Vegas, this move is incredibly impactful.
Adams was the fourth-most valuable non-quarterback of the 2021 season, behind only Aaron Donald, Cooper Kupp and new teammate Maxx Crosby.
Adams finished as 2020 and 2021's highest-graded wide receiver in the regular season. The Packers star puts out teaching tape every week with his elite route-running and release package. He shredded single coverage better than anyone in the NFL this season, according to PFF receiving grades. The wide receiver hauled in 96.1% of his catchable targets in 2021, the second-highest rate among players with at least 100 targets.
The Raiders may be thought of as the worst team in the AFC West, but don't sleep on them making some noise in 2022.
---
The Chargers entered the offseason ranked top-five among in offseason assets between salary cap space and the 2022 NFL Draft selections. With a quarterback like Justin Herbert — who is fresh off a top-five, elite season (90.1 overall grade) and is accounting for just over 3% of the Chargers' cap on a rookie deal — this is a dream scenario. It was a sign to be aggressive, and the Chargers are certainly doing just that by acquiring Mack from the Chicago Bears.
Staley's defense now has arguably the best edge tandem in the NFL with Joey Bosa and Mack. Bosa is on a run of three straight top-five seasons in pass-rush grade among edge defenders, and Mack was the NFL's highest-graded edge defender in 2020 before his injury-hindered 2021 campaign (just 315 snaps played). In that season with the Bears, Mack generated 0.79 PFF wins above replacement (WAR) — the most at the position. Mack has generated at least 0.39 WAR in every one of his seasons before last year's injury. For reference, that's more than any defensive player on the Chargers roster last season outside of Bosa. Needless to say, Mack is an extremely valuable addition, assuming he can return to form. And if he can't bounce back, Los Angeles can easily get out of his contract after this season despite the fact that Mack has two years left on the contract.
---
Everyone knows that the Bengals' biggest need entering the offseason was the offensive line. An elite unit isn't required to be the Super Bowl champions, but the group can't just be a liability. Last year, Cincy's offensive line was definitely a liability.
2021 Cincinnati Bengals offensive line
| | |
| --- | --- |
| Player | PFF Grade with Position Rank |
| LT Jonah Williams | 74.5 (18 of 35) |
| LG Quinton Spain | 66.4 (18 of 33) |
| C Trey Hopkins | 51.9 (32 of 35) |
| RG Hakeem Adeniji | 43.0 (35 of 35) |
| RT Riley Reiff | 67.3 (20 of 40) |
| RT Isaiah Prince | 42.2 (40 of 40) |
It didn't take long for the Bengals to address this issue during the early-week legal tampering period, as they immediately announced a four-year, $40 million deal with Cappa, who ranked ninth among right guards in PFF grade last season. Not too long after, they signed Karras for three years, $18 million. Karras has experience at all three positions along the interior offensive line and is coming off a season at guard in which he ranked top-three at the position in true pass set pass-blocking grade.
Cincinnati quickly made significant improvements with Cappa and Karras. Right tackle is still a massive issue that needs addressed, but there are still options out there for the Bengals (cough, cough La'el Collins).
---
The defending Super Bowl champions may have lost edge defender Von Miller, but they did manage to bring in Robinson. 
This situation is going to be vastly different than anything Robinson has experienced up until this point in his career. He's been known for bailing out poor quarterback play and hauling in inaccurate throws. As a matter of fact, Robinson — who has seen over three-fourths of his targets at the NFL level from Blake Bortles and Mitchell Trubisky — is top 10 in the NFL in inaccurate receptions since 2018 (72). The former Chicago Bear can be a dominant and trustworthy "X" receiver for the Rams. In his four years with the Bears, Robinson has been a top-15-graded receiver in the league and ranked fourth in drop rate (2.5%).
Robinson finally has a quality quarterback throwing him the rock with Matthew Stafford  — who led the most efficient passing attack of 2021 — got an added boost. 
And as The Athletic's Jourdan Rodrique reported, this doesn't mean the team doesn't want to bring back Odell Beckham Jr. to pair with Robinson, Cooper Kupp and Robert Woods, which is a scary thought for the NFC.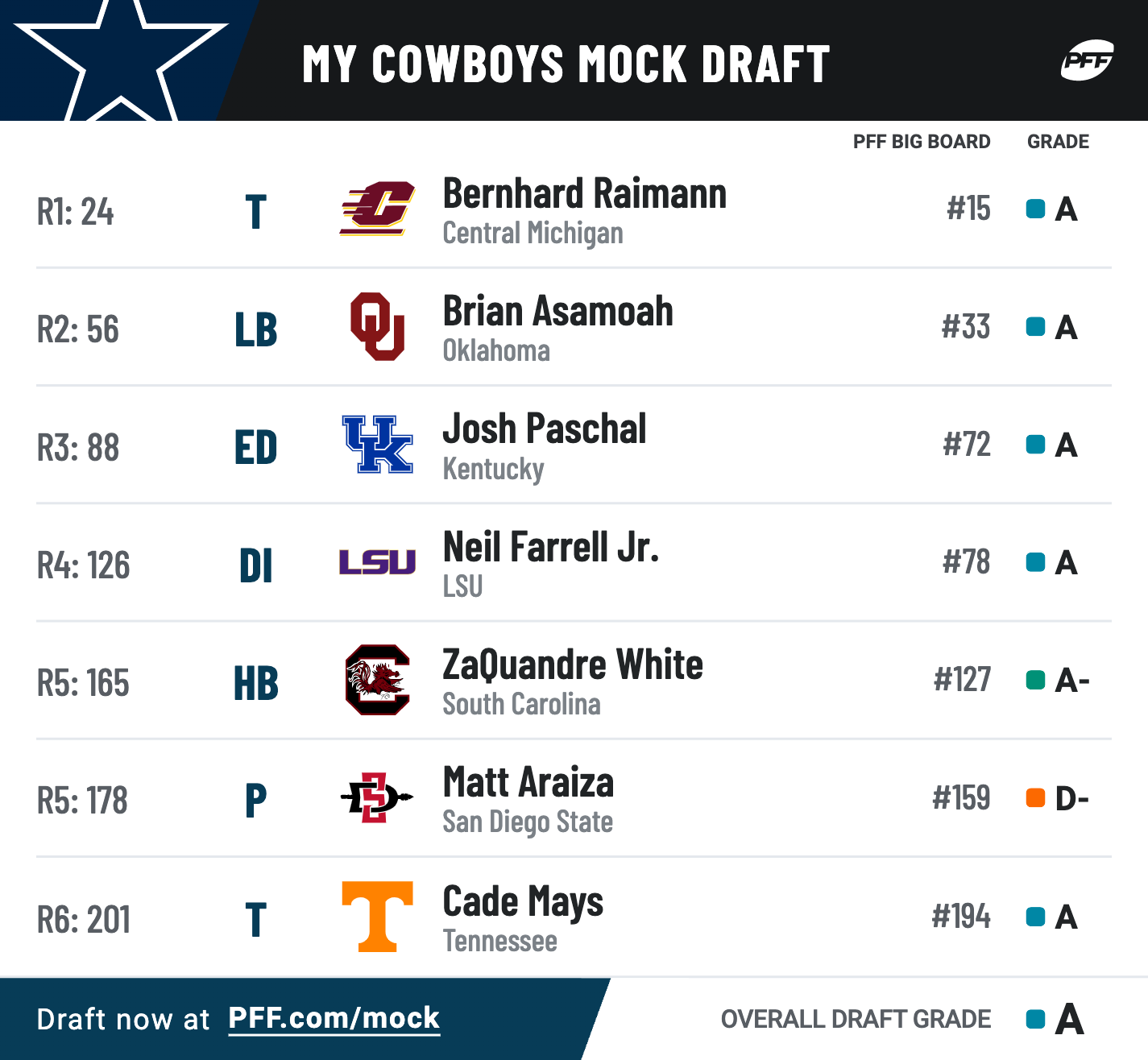 ---
Asante Samuel Jr. is a promising young cornerback, but the rest of the Chargers' corner room needed some change. Michael Davis earned a 54.4 coverage grade starting on the outside for the Chargers in 2021 while impending free agent Chris Harris Jr. looked far from his prime form in the slot with a 60.4 coverage grade. Enter Jackson — who accrued a top-10 grade among cornerbacks in 2021 season and signed for five years, $82.5 million with $40 million guaranteed. 
This addition now gives head coach Brandon Staley a cornerback who can play man coverage when needed, such as when they rotate from two-high safeties to Cover-1 post-snap which they did often last season. 
Jackson trails only Stephon Gilmore for the highest man coverage grade in the NFL since 2018. He has intercepted 19 passes in man coverage over that span, five more than the second-place player and twice as many as the guy in third. His mirror ability and poise at the catch point make him a nightmare to face in man coverage.
While the Chargers' scheme is going to be vastly different from where Jackson came from in New England, his skill set is going to translate to this system just fine.
---
The Browns wide receiver room looked bleak one week ago. Cleveland ranked 27th in team receiving grade this past season, and Jarvis Landry's, who was their highest-graded wide receiver, future with the team was in doubt. Landry was eventually cut, but things took a turn before that by trading for Cooper, which cost them just a fifth-round pick. While Cooper still has three years remaining of his five-year, $100 million deal, the Browns have no guaranteed money on the books for the wide receiver. This move doesn't carry much risk, as Cooper has shown to be one of the best route-runners in the game. The 27-year-old receiver stands in the 78th percentile in separation rate against single coverage since joining Dallas in 2018. His grade against single coverage, in general, over that span is in the 87th percentile.
---
Gage was the most underrated free agent receiver in this class and is now joining the Super Bowl contenting Buccaneers. He forms a trio with Chris Godwin and Mike Evans that is now in the conversation for the best in the NFL, when healthy. Gage became a more featured piece in Atlanta's offense the last couple of years and has performed admirably with 76.4 and 74.7 PFF grades. From Week 11 on in 2021, Gage owned an 84.1 receiving grade that ranked ninth in the NFL. He's generated separation against single coverage at a rate that sits at the 88th percentile since 2020. Gage's route-running is going to be a significant asset to Tom Brady.
---
Buffalo is pushing the chips to the middle of the table. After back-to-back crushing losses to the Kansas City Chiefs in the NFL playoffs, the Bills are doing everything they can to get over the hump in 2022. They made one of the biggest moves of free agency by shelling out a six-year, $120 million deal to Miller. On paper, this seems like a bad deal to give to a soon-to-be 33-year-old pass-rusher, but this isn't any ordinary old pass-rusher, and the contract is made so Buffalo can easily get out from it after a few years if needed.
Miller still produced at an elite level in his Super Bowl run with the Los Angeles Rams in 2021. His 91.2 PFF grade was the third-best at the position behind only Myles Garrett and Maxx Crosby. It was also Miller's ninth season out of 10 in which he produced an elite PFF grade above 90.0 over the course of a season. He showed up when it mattered most in the postseason, producing the highest grade of any defender partaking in the playoffs (93.0). Miller may not have the same juice as when he was in his prime, but he makes up for it by being one of the most technically refined players at the position. His down-to-down pass-rush plan is masterful and makes him a must-watch for any aspiring NFL pass-rusher at the collegiate and high school levels. This move should pay massive dividends.
Von Miller put out some teach tape yesterday. Watch him set up this ghost rush — gives the long arm one play and then a few snaps later flashes it again before hitting the LT with his patented ghost move

Masterful stuff from the future Hall of Famer pic.twitter.com/wZ71PcB5Uw

— Anthony Treash (@PFF_Anthony) January 24, 2022
---
Tom Brady wasn't able to convince Cappa to return to Tampa Bay like everyone else, as the top-10 graded right guard already had his eyes set on the Bengals, leaving a gaping hole along the Bucs' offensive line. However, the Buccaneers traded a fifth-round pick to the New England Patriots for Mason. He's been one of the 10 highest-graded guards in the NFL in every season since taking over the starting right guard spot in 2016, which includes this past season when he was the second-highest-graded right guard and fourth-highest-graded guard overall. The Buccaneers managed to upgrade at the position for just a Day 3 pick.