Rumors about Derek Carr's expected contract extension have started to swirl around Las Vegas.
Though there have been no indications of an offer being extended from either side, Carr and the Raiders appear motivated to get an extension done. And according to multiple reports, the 30-year-old quarterback will likely cost the team something in the region of $40 million a year on average this offseason.
The veteran quarterback is entering the final year of the five-year, $125 million extension he signed in 2017, which has a 2022 cash commitment of just under $20 million. The rumored long-term extension would likely double that, potentially making him the latest case study in the balance between a quarterback's on-field performance and his effect on the salary cap.
Click here for more PFF tools:
Rankings & Projections | WR/CB Matchup Chart | NFL & NCAA Betting Dashboards | NFL Player Props Tool | NFL & NCAA Power Rankings
Best Bets Tool
---
Every contract in the NFL must also be judged against the team's salary cap, but the discussion typically centers around quarterbacks because they take up so much of it in one deal.
For the 2022 NFL season, the league has set the salary cap at a little over $208 million for an entire roster's worth of players. So, a deal for $40 million a year accounts for 19.2% of that cap in one player, at least in the first year.
That percentage gets smaller as the years pass and the cap increases, but it is a very substantial percentage tied up in one individual at first, and that player must therefore provide incredible value to the team.
Quarterbacks, by nature of the position, provide that value and then some. In fact, there is a very real argument that relative to the importance of the position, quarterbacks are actually still underpaid, even at that huge percentage of the salary cap. But is Carr the kind of quarterback who is worthy of such a deal, and are the Raiders about to make a mistake by handing over such a substantial check?
Carr's Ranking
The eighth-year pro has had an interesting NFL career so far. In 2016, he finished the season with a PFF passing grade of 87.2, fifth in the NFL. After improving each season of his professional career, he looked like he might be on the precipice of being seen as the next great young quarterback in a league that had no idea who Patrick Mahomes, Joe Burrow, Josh Allen, Lamar Jackson or Kyler Murray even were.
Late that season, Carr suffered a broken ankle and seemed to return a different quarterback. He was solid but unspectacular after the injury, and it wasn't until the last couple of years that we started to see his aggressive streak and the high-end play he is capable of.
Before the Raiders fell apart in 2021, Carr was one of the best-graded passers in the league and led all players in big-time throws for much of the season. And despite the situation around him, he still finished the year with his highest PFF Wins Above Replacement (PFF WAR) figure since 2016.
| | | |
| --- | --- | --- |
| Year | PFF Passing Grade | Rank |
| 2021 | 76.6 | 12 |
| 2020 | 83.9 | 8 |
| 2019 | 81.2 | 8 |
| 2018 | 71.9 | 19 |
| 2017 | 69.9 | 19 |
| 2016 | 87.2 | 5 |
In terms of PFF grade, he has hovered on the fringes of the top 10 in recent seasons, but he has shown the capacity to be better than that, particularly with a good environment around him.
NFL contracts are more about projecting play than evaluating previous play, so it isn't unreasonable to believe Carr could justify a standing firmly in the top 10 rather than on its periphery.
Other advanced metrics tell a similar story. Since the start of 2019, the Raiders quarterback ranks eighth in big-time throw rate (5.3%) and has the 10th-best turnover-worthy play rate (2.8%). His 7.8 yards per attempt is tied for ninth league-wide over that span.
---
Related content for you:
Best-case, worst-case scenarios for all 32 NFL teams in the 2022 offseason via Anthony Treash
---
The Value of Production
It wouldn't be unreasonable to suggest Carr is the 10th-best quarterback in the league.  And as of this moment, the 10th-highest-paid quarterback in the league by average per year is Matt Ryan at $30 million a season, which is probably a "fair" price for Carr's production, perhaps adjusted up a little bit for inflation going forward.
In their effort to quantify the salary cap figure attached to PFF WAR, PFF's research and development team has calculated that each win above replacement is worth $10 million in salary cap for a quarterback. Carr generated 3.1 WAR in 2021, which would be right in line with that No. 10 ranking —  he should earn $31 million for that performance.
His best season in 2016 saw him generate 3.3 WAR with a game left on the table after his broken ankle. So, his peak performance in the NFL would push him as high as $33 million.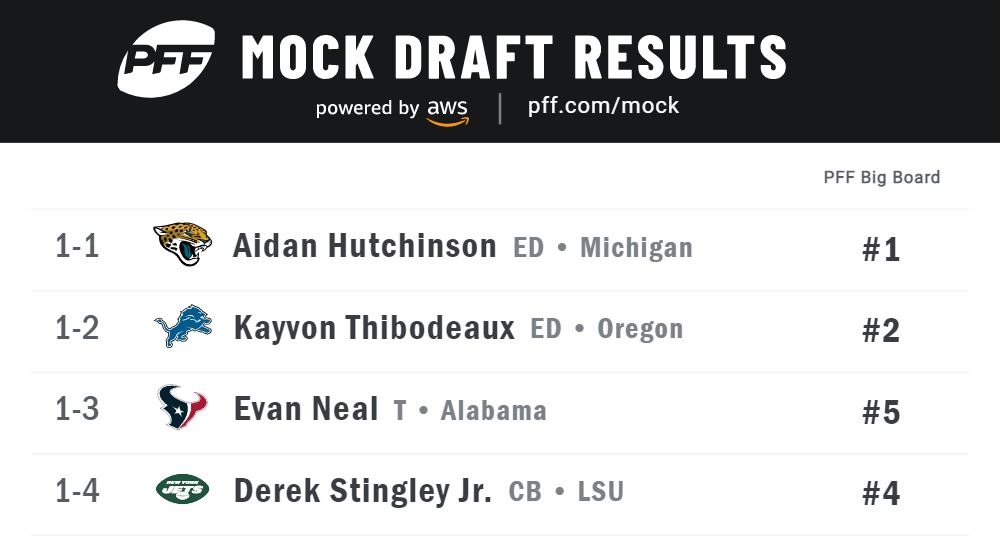 If contracts were decided independent of negotiation, that's the range we could expect Carr to receive as fair recompense for his play, but that's not how contract negotiations work. Leverage is everything when it comes to determining the final numbers.
In this deal, Carr has leverage because the alternative is still frightening for a team with a new regime in a division featuring Mahomes and Justin Herbert. Maybe Carr can't go toe to toe with those guys, but he has a better chance than most alternative options the Raiders have a shot at.
Ultimately, in a league trending toward needing elite superstars at quarterback, the Raiders may not have that option available to them. What they do have is a fringe top-10 quarterback whose ceiling may be a little higher than that. They have just seen the possibilities presented by a quarterback capable of going on a run in the playoffs and stringing together elite games, and Carr certainly has that ability.
Paying him $40 million a year may be overpaying by every available metric, but that may simply be the reality of a negotiation where the other party has the leverage. For the Raiders, overpaying for Carr falls into the category of a necessary evil because the alternative is potentially much worse.