The red-hot Cleveland Browns entered this matchup with four straight wins after getting blown out by the Baltimore Ravens to open the 2020 season. Baker Mayfield hadn't been performing up to snuff, but head coach Kevin Stefanski had this offense rolling.
But instead of continuing that hot streak, the Browns of Week 1 returned, enduring a 38-7 beatdown from the Pittsburgh Steelers.
Editor's note: All of PFF's grades and advanced stats from this game will be finalized and made available to ELITE subscribers within 24 hours of the final whistle.
STORY OF THE GAME
Mayfield was questionable with an injury to his ribs entering Sunday and was unable to finish the game out, with Case Keenum taking over in the second half. It's unclear whether that was due to injury because Mayfield was performing at a career-low level. Grades are currently in review, but Mayfield will most likely finish as the lowest-graded quarterback of the week with a career-worst grade.
Whether he was in a clean pocket or under pressure, the third-year signal-caller failed to get anything going. The daunting Steelers pass rush pressured him on over 47% of his dropbacks (11 in total). Mayfield took four sacks and completed just three of seven passes for 45 yards and an interception on pressured dropbacks.
When free from pressure, Mayfield was equally as bad. He completed seven of 11 passes for 74 yards with a pick-six — courtesy of safety Minkah Fitzpatrick. He also had another interception that was negated by a penalty. In all, Mayfield led the Browns' passing attack to -0.59 expected points added per pass play when on the field, the second-worst mark of his professional career.
Meanwhile, Ben Roethlisberger made few mistakes in the game but led a relatively lethargic passing offense that barely generated positive expected points added per pass play and completed just three passes over 10 yards downfield. The Steelers' rushing attack was actually more efficient on a per-play basis.
But it didn't matter at the end of the day due to how well the defense played and how bad the Cleveland offense was. Pittsburgh held the Browns to -0.5 expected points added per play, the best mark of the week so far and tied for the best by a Steelers defense since Week 17 of 2008 — also against the Browns.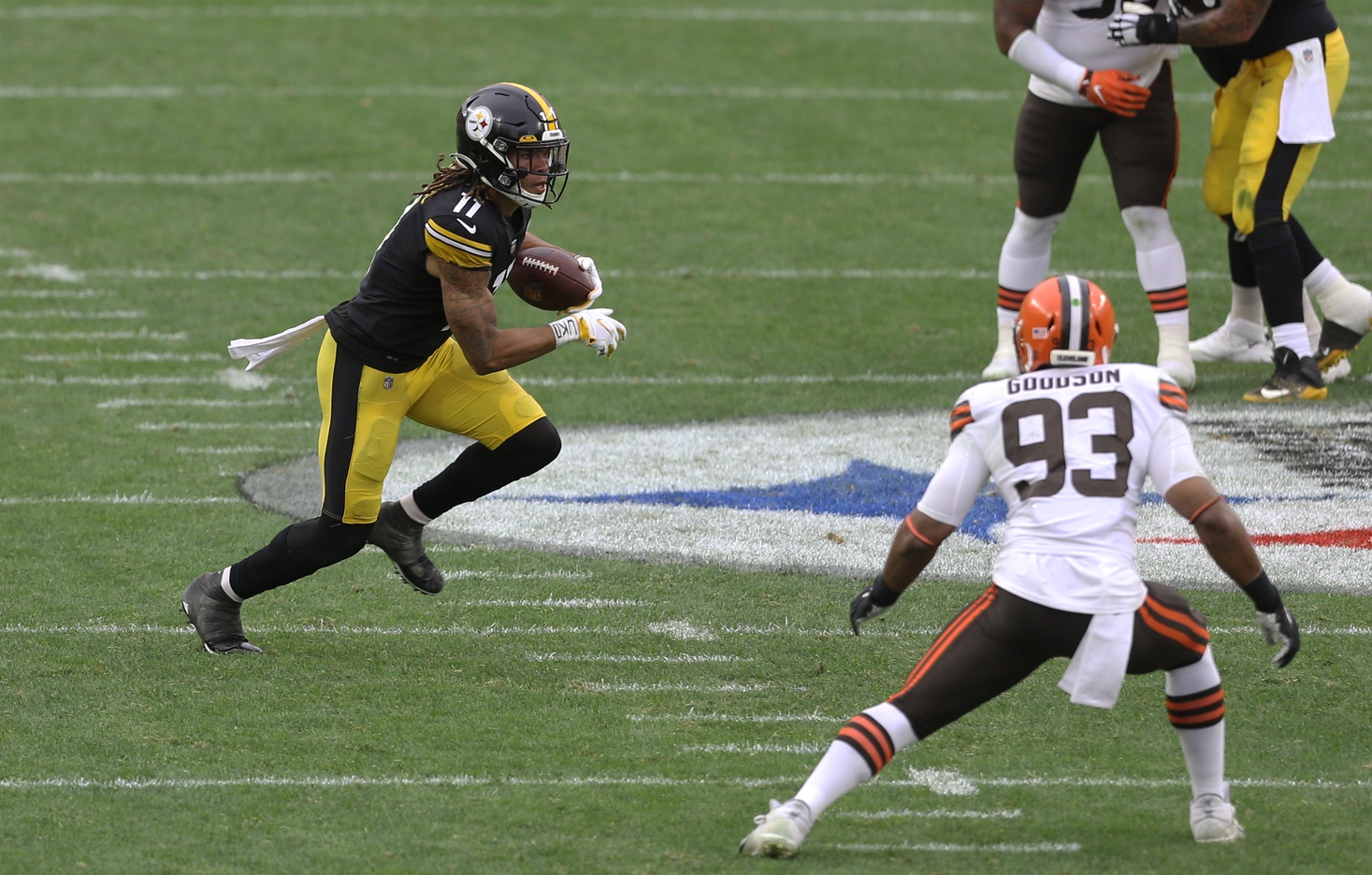 ROOKIE WATCH
The most productive receiver on a per-route basis in this game was none other than Steelers second-rounder Chase Claypool. He may not have been able to match his four-touchdown performance from Week 5, but he did rack up 3.36 yards per route run — bringing his season total to 3.49, which is over half a yard more than any other qualifying wide receiver. Claypool also picked up a touchdown on the ground and is now one of two wide receivers with two rushing touchdowns on the season.
Kevin Dotson got the start at right guard for the Steelers and lost just one of his 25 pass-blocking reps. That loss resulted in a sack, but it could have been worse for the Day 3 rookie. Dotson has now seen 92 pass-blocking snaps in his NFL career and has lost just two reps. His run blocking, however, was far from great as he will likely end up with more than double the number of negatively graded run blocks as positively graded ones.
Cleveland's first-round pick, Jedrick Wills Jr., had a similar day as Dotson. He was stout in pass protection, with only two losses on 36 reps, but was a non-factor in the run game. That has really been the story of his rookie season so far, as he entered the day with a 77.9 pass-block grade and a 52.0 run-block grade of 52.0.
ELITE subscribers can view player grades, advanced statistics, positional snap counts and more in Premium Stats 2.0.