While the Cowboys came away with their second win of the season to move into first place in the NFC East, it was a bittersweet victory. The only takeaway from Sunday's action on the minds of Cowboys fans right now revolves around quarterback Dak Prescott. He suffered a serious ankle injury in the second half and had to be taken to the hospital for emergency surgery. PFF's injury analyst Mario Pilato believes it to be a season-ending injury. With Prescott gone, so likely are any serious postseason hopes the Cowboys may have had.
Editor's note: All of PFF's grades and advanced stats from this game will be finalized and made available to ELITE subscribers within 24 hours of the final whistle.
Story of the Game
The biggest positive in the game for Dallas was easily the play of its offensive line. The Cowboys will be without both starting tackles the rest of the season, and they got by just fine with their backups in this one. Brandon Knight and Terence Steele each allowed only two pressures on the day. It was also a career day for guard Connor Williams, who didn't allow a single pressure himself.
Defensively, a couple of highly paid Cowboys players who have had some serious criticism levied against them over the past few weeks finally came to play. The much-maligned linebacker Jaylon Smith must have heard effort concerts over the course of the week because he was everywhere Sunday. He allowed four catches on six targets for only 12 yards and collected three coverage stops and four run stops to lead the Cowboys. It was also easily Demarcus Lawrence's best outing of the season. After only nine pressures through the first four games, Lawrence had seven on Sunday alone.
Of course, those came at the hands of a Giants offensive line that has still failed to turn things around. Daniel Jones was under pressure on 19 of his 35 dropbacks on the day. That's an absurd rate that few quarterbacks in the NFL would be able to operate behind.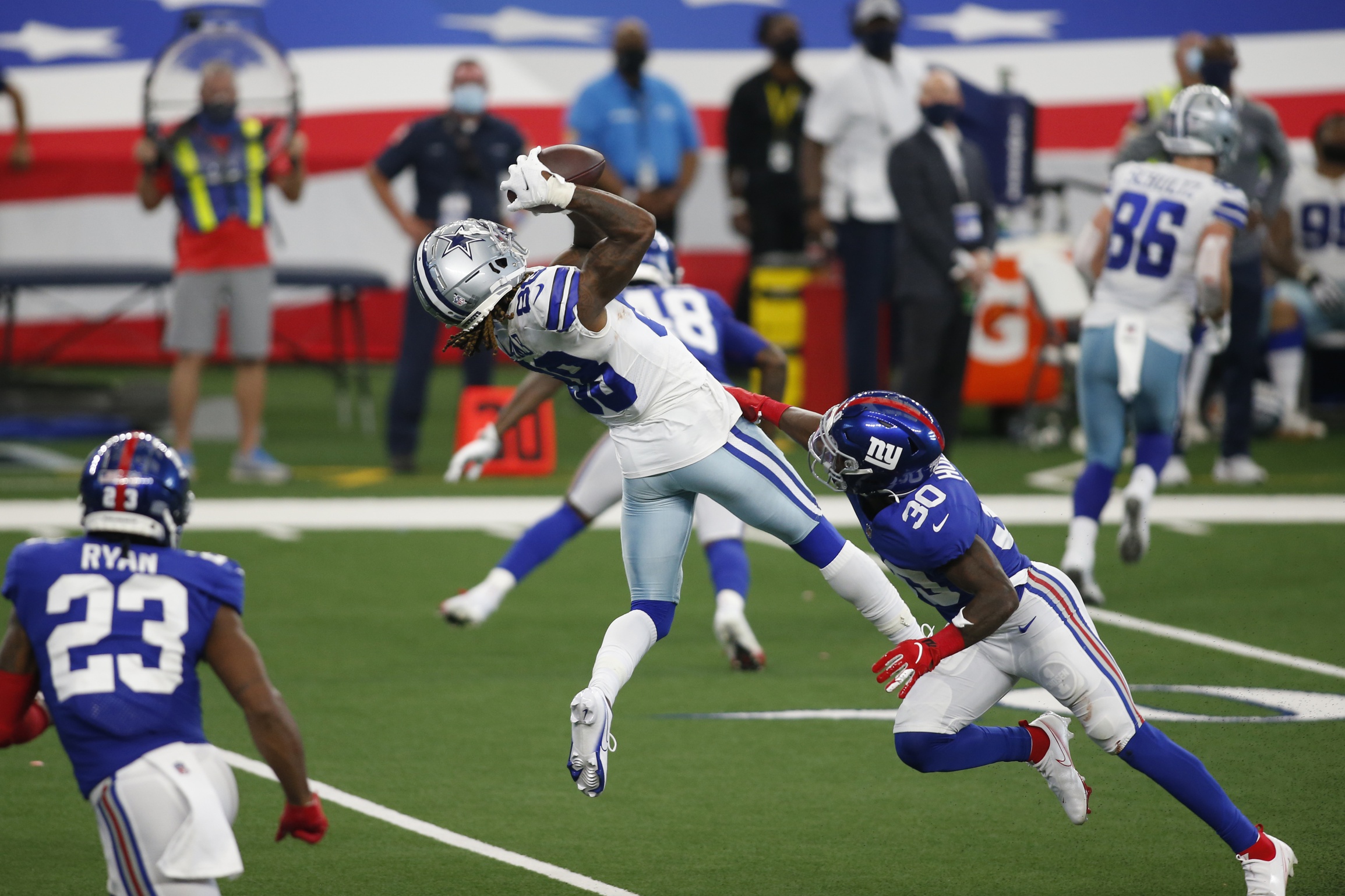 Rookie Watch
Those offensive line struggles are there in large part because Andrew Thomas still hasn't looked like the player we saw at Georgia. He allowed an egregious nine pressures in what was likely his worst outing of the season. The signs of improvement you'd hope to see from a youngster as the season goes on weren't there in this one.
For the Cowboys, CeeDee Lamb was once again electric. He hauled in eight catches on 11 targets for 124 yards — including a highlight-reel snag over the middle of the field. There's been no rookie learning curve for this first-rounder.
ELITE subscribers can view player grades, advanced statistics, positional snap counts and more in Premium Stats 2.0.