Justin Herbert's unexpected debut for the Los Angeles Chargers a week ago was encouraging enough that expectations were high in Week 3, but the lack of preparation he had for his debut may have helped as much as hindered.
This week, everybody knew it was coming, and the Panthers were able to better take advantage of his mistakes as they hung on to a lead forged through field goals en route to a 21-16 win.
Editor's note: All of PFF's grades and advanced stats from this game will be finalized and made available to ELITE subscribers within 24 hours of the final whistle.
Story of the Game
Much like his game a week ago, Herbert showed a lot of good, but his mistakes were costly. He had two turnover-worthy plays and was more of a victim than a culprit for two other turnovers — the Chargers fumbled the ball away on an end-around, and Herbert was strip-sacked by the Panthers.
Teddy Bridgewater continued his steady, if unspectacular, tenure at the helm of the Panthers' offense. His adjusted completion rate was 85.2%, but that's largely because his average depth of target was just 4.9 yards downfield, which goes a long way toward explaining why the team was so reliant on field goals.
While Bridgewater has always been reluctant to push the ball down the field, it seemed like the Chargers were trying to hold Herbert back and limit what they asked of him until the game was nearly out of reach and he got a chance to open up a little. For the game, Herbert's average depth of target was just 6.0 yards downfield. That was a full yard more than Bridgewater, but it will rank as one of the lowest marks in the league this week or any other week.
With Bryan Bulaga getting hurt, the Chargers are suffering a familiar injury crisis along their offensive line, and two different linemen allowed a pressure rate of 10% or higher — an extremely high mark to hit.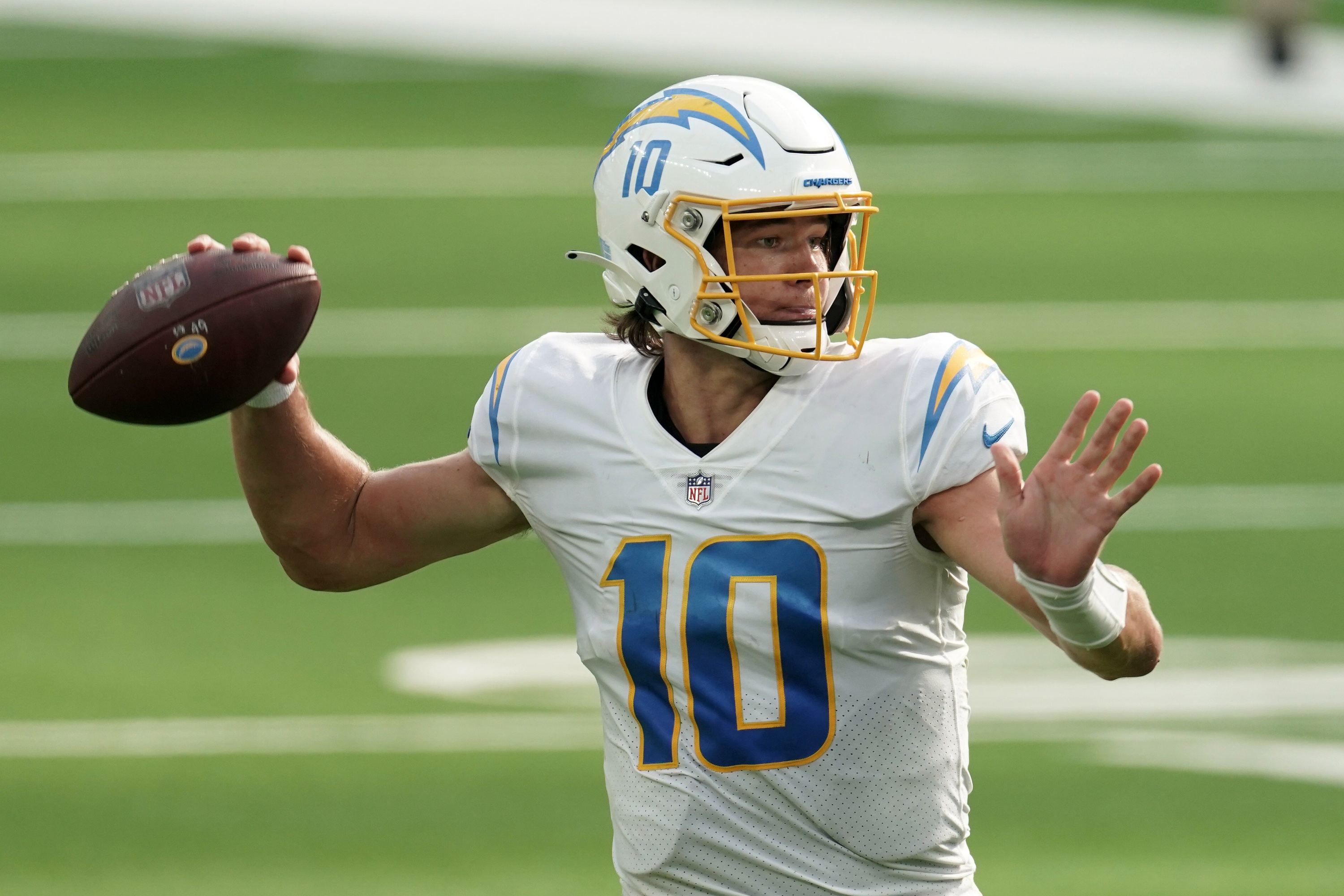 Rookie Watch
We have already covered Herbert, but after two weeks of him starting, the positives outweigh the negatives despite him being unexpectedly thrust into action when his own team was far from confident he was ready for such a role.
Elsewhere on offense, the Chargers got 33 snaps from wide receiver K.J. Hill and 20 from running back Joshua Kelley. Hill caught just one of four targets and had a bad drop on what would have been a significant gain across the middle. Kelley had eight attempts, and while he averaged over 5 yards per carry with over 3 yards per carry after contact, he undid all of that good work with a fumble.
On defense, Kenneth Murray had 45 snaps of action, but his grade won't be very high. He had a couple of solo tackles and assists, but he also had a missed tackle and a play where he badly overpursued in the run game to blow his gap assignment.
Carolina had at least 15 snaps on defense by five different rookies. Derrick Brown had struggled through two games to begin his NFL career, but a matchup against the Chargers' offensive line was just what the doctor ordered for the No. 7 overall pick. Brown had four tackles, with each of them a defensive stop, and his average depth of tackle was actually in the Chargers' backfield.
Jeremy Chinn played all game in the secondary and had a busy day. He notched a pass breakup in coverage as well as a hit on Herbert on the blitz, but he also had a bad loss against Austin Ekeler in coverage. Cornerback Troy Pride Jr. played 37 snaps and didn't give up a catch from two targets.
Yetur Gross-Matos and Bravvion Roy combined for 39 snaps up front, with each playing more often on pass-rushing downs. Gross-Matos had a pair of hurries and another win as a pass-rusher, while Roy had just one hurry.
ELITE subscribers can view player grades, advanced statistics, positional snap counts and more in Premium Stats 2.0.