One week after very little went right for the Cleveland Browns in a decisive loss to the Baltimore Ravens, the team righted the ship with an impressive offensive showing in a 35-30 win over the Cincinnati Bengals on Thursday Night Football. 
Editor's note: All of PFF's grades and advanced stats from this game will be finalized and made available to ELITE subscribers within 24 hours of the final whistle.
STORY OF THE GAME
Baker Mayfield looked a lot more comfortable in his second game in Kevin Stefanski's system than he did in Week 1. Part of that had to do with the fact that Cleveland was playing the Bengals' defense rather than the Baltimore Ravens, but credit where credit is due — Baker and the Browns looked impressive on offense. That goes from top to bottom. 
We'll start with Mayfield himself. The fourth quarter interception aside, Mayfield looked to be in control — something you certainly couldn't say about most of his performances as of late. The Browns did a good job of hitting on play-action and getting Mayfield outside the pocket by design for some big plays.
If that sounds familiar, it's because that's exactly what Stefanski did last season with Kirk Cousins in Minnesota. The Browns only ran two outside zone play-action dropbacks in their Week 1 contest against Baltimore. By initial count, Mayfield averaged over 12 yards per pass attempt on seven such throws this week. 
The ground game was rolling, as well. Both Nick Chubb and Kareem Hunt did their fair share of running over, around and through Bengals defenders in this contest behind an offensive line that was moving bodies. Both will finish the week with very impressive rushing grades, along with strong after-contact and missed-tackles-forced numbers. Chubb did see the lion's share of the work with 36 offensive snaps to Hunt's 20.
ROOKIE WATCH
Much like in the opener, Joe Burrow had an up and down performance. At times, he was leading impressive scoring drives and connecting on accurate passes. But there were also moments when he didn't feel pressure that he should have, including a fumble deep in his own territory. Burrow threw often but wasn't very efficient (5.2 yards per attempt) behind an offensive line that didn't offer much help. He looked A.J. Green's way a lot in this one, with 13 targets, but the two were only able to connect on three passes for 29 yards.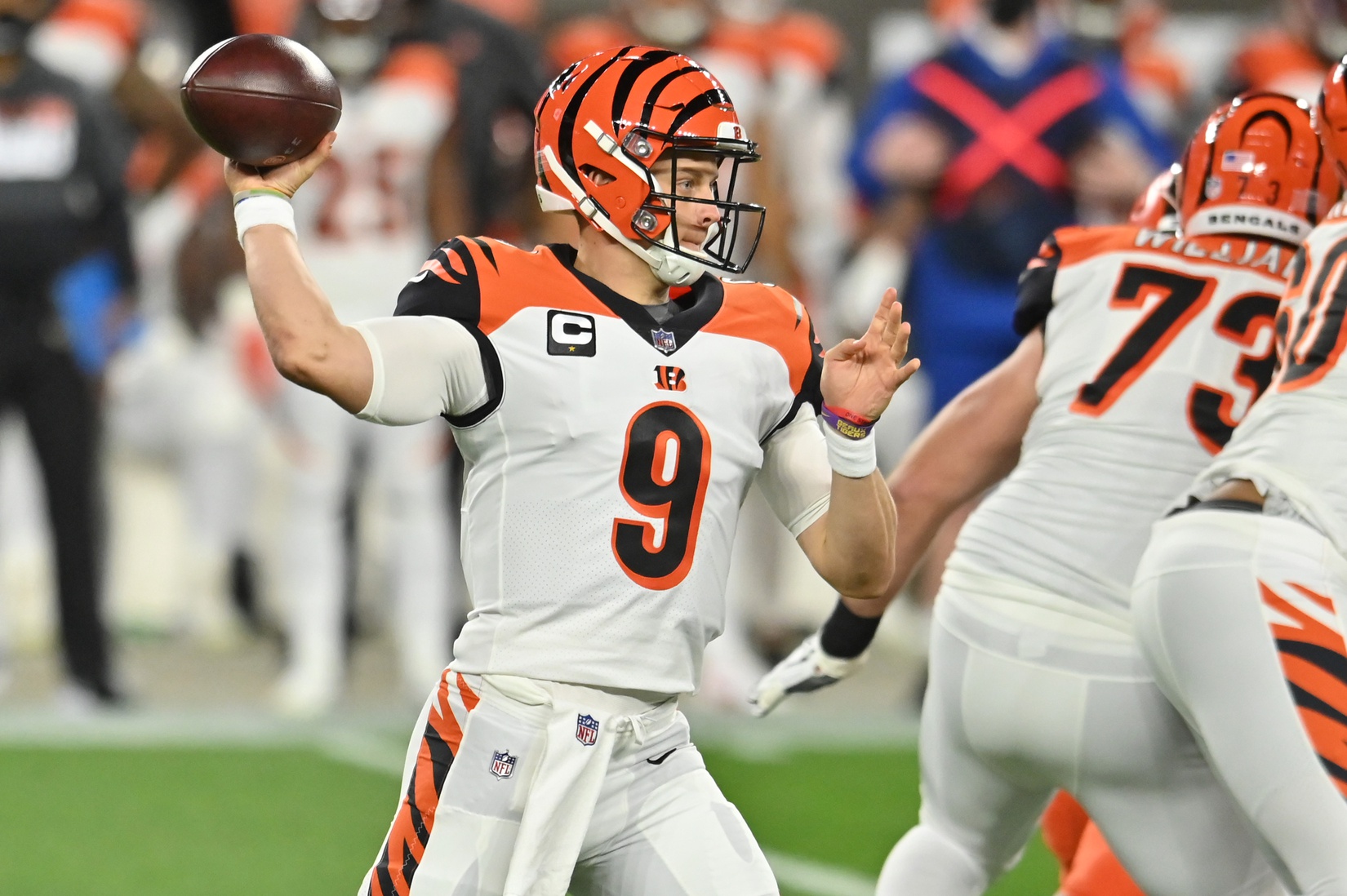 Jedrick Wills drew the start once again at left tackle, and he was one of the more impressive rookies on the night, particularly in pass protection. The Browns didn't run a ton of true pass sets, but it's still promising to see the rookie hold up at that left tackle spot after making the transition from the right to the left side upon arriving in Cleveland. His run blocking was expected to be a strength coming out of Alabama, and that was the case in this one. 
Tee Higgins (42 routes run) saw significantly more playing time than he did in Week 1 and came down with several catches, including a nice sideline grab on an even better throw by Burrow for his first career catch. His 42 routes run ranked third on the team behind Tyler Boyd (63) and Green (45).
Harrison Bryant (30 offensive snaps) saw significant playing time as well, but he didn't make a massive impact for Cleveland with just one reception. His biggest contribution may have ultimately been as a run blocker (18 of his 30 snaps) clearing the way for Chubb and Hunt. 
In the Bengals' rookie linebacker watch, it was Akeem Davis-Gaither who earned more snaps in this contest (19) than Logan Wilson (14) after the snap count battle was flipped in Week 1. Davis-Gaither also turned in a better performance than Wilson, particularly in run defense. 
Jordan Elliott and Khalid Kareem rounded out the rookies who saw defensive snaps in this one. Elliott saw a decent bit of playing time with 33 defensive snaps and got home for a couple of pressures. Kareem played just 14 snaps with his most notable play being a penalty on the return of Mayfield's interception. 
ELITE subscribers can view player grades, advanced statistics, positional snap counts and more in Premium Stats 2.0.