With an offense that has struggled most of the season, the New England Patriots turned to trick plays against the New York Jets in Week 17, and it was enough to escape the 2020 season with a little dignity and a 7-9 record.
Editor's note: All of PFF's grades and advanced stats from this game will be finalized and made available to ELITE subscribers within 24 hours of the final whistle.
Story of the Game
Two of Cam Newton's best games of the season have come against the Jets, and the Patriots added to that higher baseline of production with a trick play pass from Jakobi Meyers to Newton as a receiver to put a touchdown on the board. Newton threw three touchdown passes, and the Patriots' passing game generated 0.42 expected points added per passing play — a massive jump over their typical level of play this season.
For the Jets, it was more of the same from Sam Darnold and his offense. There were glimpses of what the sum of their talent could produce, with Darnold registering multiple big-time throws and more passing yards than Newton, but it was packaged with disappointment and mistakes. The Jets' offense has been unable to get itself together for most of this season, and this game was largely more of the same.
Turnovers became a large part of the difference between the two teams, with the Jets sending the ball over to New England twice but the Patriots refusing to return the favor because they recovered both of their own fumbles.
The Jets head into the offseason with an ugly year now in the rearview mirror and a lot of work to do to get the franchise headed in the right direction. They missed out on the No. 1 overall draft pick but secured the No. 2 spot, and so they will have plenty of options to address the most important position in the game. Darnold has been consistently below-average this season and has had little help over his time in New York.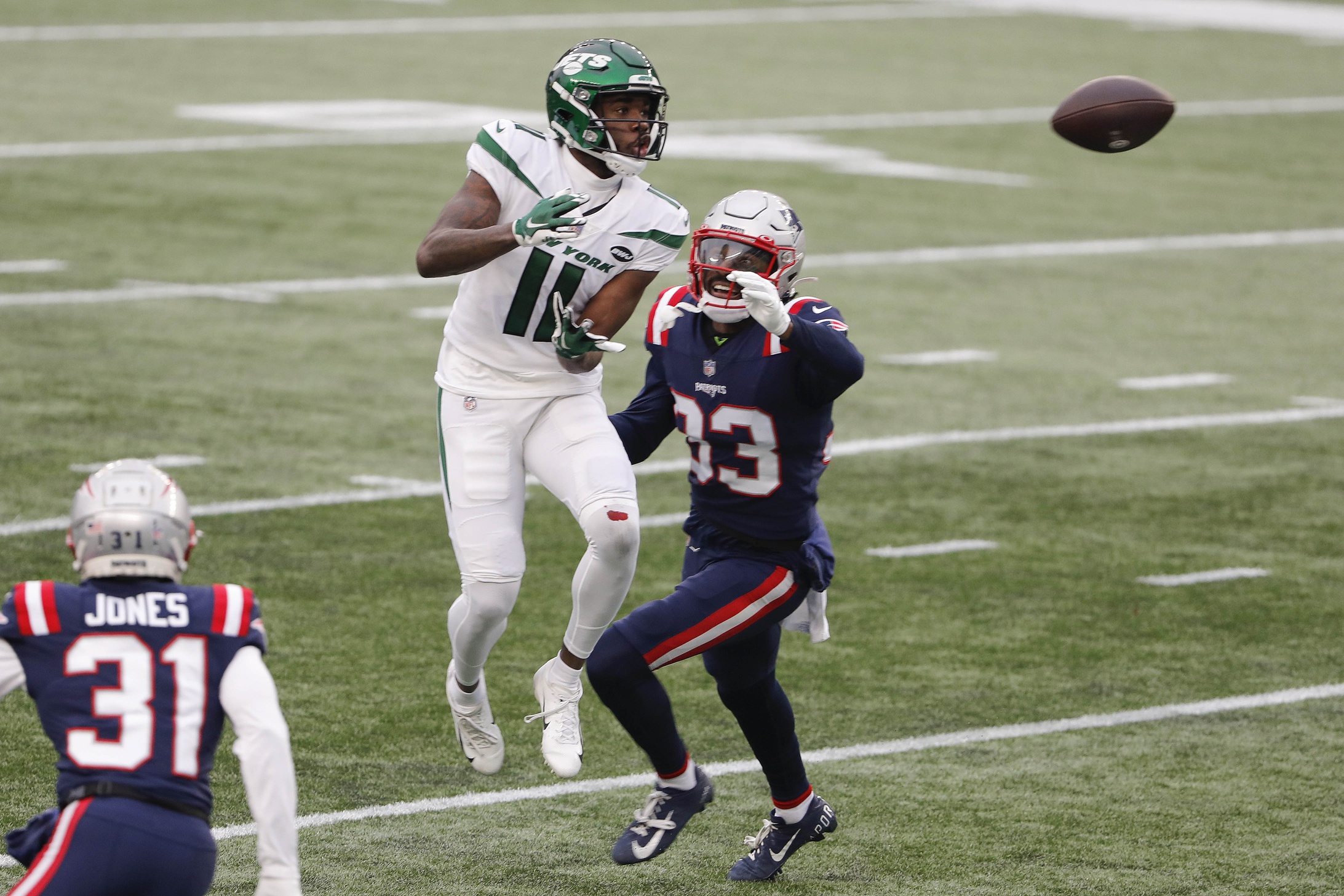 Rookie Watch
New England continued its trend of developing rookies along the offensive line, with Michael Onwenu playing all game (63 snaps) at tackle and Justin Herron also featuring on 39 snaps of action. Herron played well, while Onwenu has had better days when it comes to run-blocking. He was solid in pass protection, though, with just one hurry surrendered on 34 pass-blocking snaps.
Third-round tight end Devin Asiasi played 39 snaps and saw three targets, catching two of them for 39 yards and a score. Fellow rookie tight end Dalton Keene saw two targets, catching one of them for six yards.
On defense, Kyle Dugger has been a mainstay for the Patriots all season long, and that continued against the Jets. He notched 62 snaps, albeit with some poor plays against the run sprinkled in.
He was joined at safety by a fellow rookie Myles Bryant, who also had his struggles against the run.  Edge rusher Rashod Berry played 14 snaps but failed to generate any pressure.
The Jets have had rookie starters all season, and Mekhi Becton played 35 snaps at left tackle before leaving with an injury — something that has been all-too-frequent an occurrence this season. Denzel Mims was on the field for 18 snaps, catching the only pass that was thrown his way for 15 yards.
On defense, Bryce Hall and Lamar Jackson each played 63 snaps as the team's starting cornerbacks, with both players holding up reasonably well against a Patriots passing attack that doesn't really have the weapons to attack the perimeter. Bryce Huff played 17 snaps and notched himself a sack and a hit on 11 pass rushes.
ELITE subscribers can view player grades, advanced statistics, positional snap counts, and more in Premium Stats 2.0.