Deshaun Watson did all he could to keep the Houston Texans in this AFC South divisional matchup, but his push for a game-tying touchdown ended when Keke Coutee fumbled the football into the end zone only to see it recovered by the Indianapolis Colts for a touchback.
Editor's note: All of PFF's grades and advanced stats from this game will be finalized and made available to ELITE subscribers within 24 hours of the final whistle.
Story of the Game
Watson was in a hole early in the game, with the Colts scoring touchdowns on their opening two drives. Houston was unable to answer with a score of any kind until a coverage bust halfway through the second quarter allowed Chad Hansen to walk into the end zone for a 38-yard touchdown catch.
Watson wasn't perfect in the game but this season has avoided the disastrous games that have punctuated his career before this year. In 2019, he had three games with a PFF game grade in the 40s, but this season despite significantly less help around him he has yet to earn a grade below 60. On the first look, that trend will continue.
On the other side, Philip Rivers maintained the kind of performance the Colts need for them to win this season — relatively mistake-free, even if he didn't make a lot of big plays. Rivers didn't have a turnover-worthy play, throwing for 228 yards with just one big-time throw. He relied on a quietly efficient game in which no single Colts receiver caught more than five passes.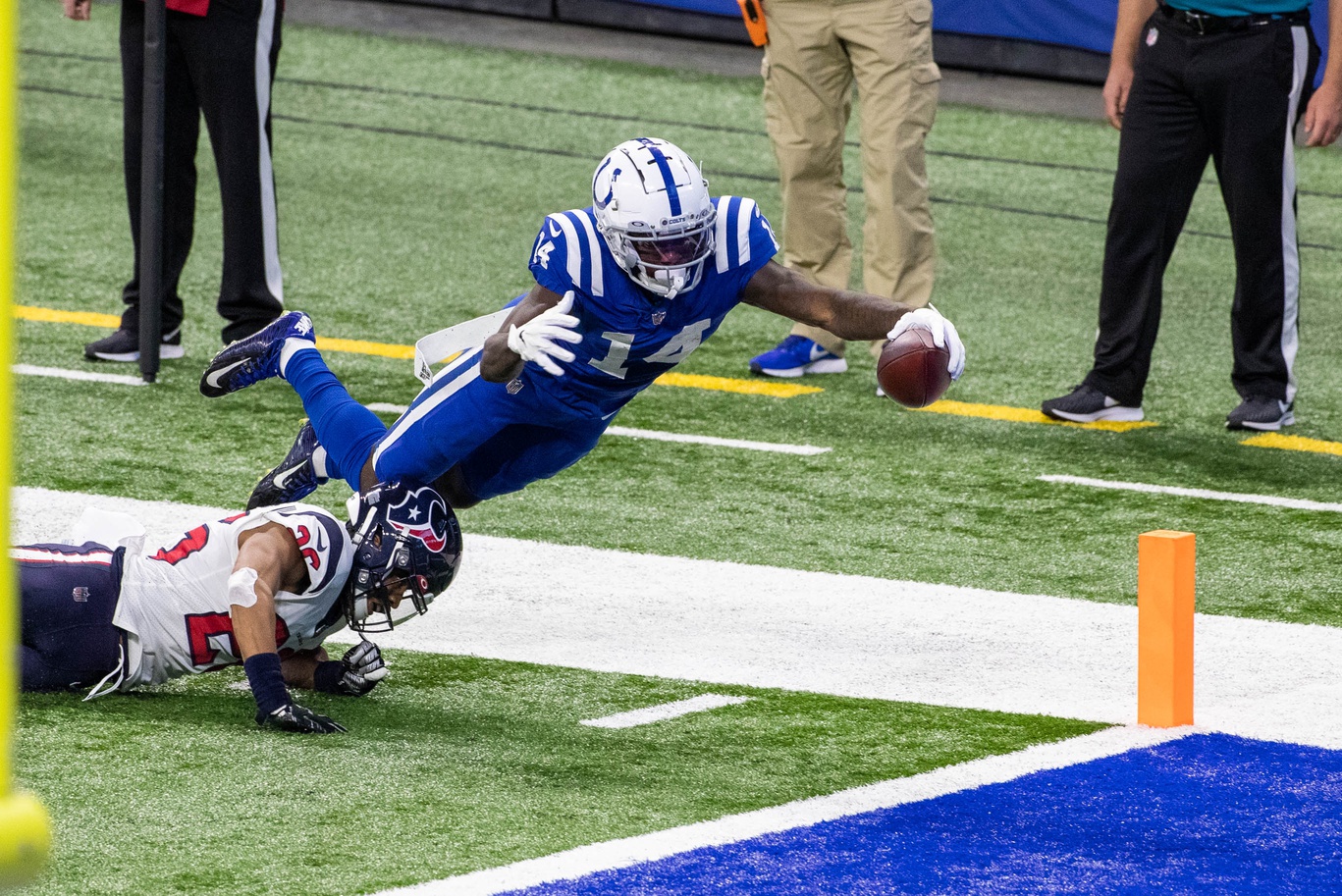 Despite some injuries affecting them, the Colts defense was the difference between the two sides, showing up with big plays at key moments from the start to the finish. There was no bigger moment than the play that effectively ended the game, when star linebacker Darius Leonard forced the ball loose from Keke Coutee as he converted a key fourth down and was bearing down on the goal line. The Texans were driving to try and tie or possibly win the game, and that play from Leonard forced a turnover that allowed Indianapolis to completely ice the game. 
The Colts made those plays this week, and the Texans simply didn't. Houston managed only one sack. 
Rookie Watch
The Colts' first two draft picks were both significant parts of the offense this week. Jonathan Taylor only had 16 carries, but they went for 83 yards — 49 of which came after contact. He also caught four passes, though they went for a total of only 12 yards as largely a check-down option.
Michael Pittman Jr. caught two passes for 19 yards in 45 snaps of offensive play.
The other Colts rookie we expect to have a lot of playing time is on the other side of the ball, with safety Julian Blackmon again a constant on defense. He played 67 snaps, and though he was the first man to contact the ball carrier twice, he also missed a tackle which will hurt his overall PFF grade.
Houston didn't have much in the way of rookie impact in this game. Running back Scottie Phillips was the only rookie to see any snaps on offense, getting four snaps in relief of David Johnson with Duke Johnson not playing.
Three defensive rookies saw playing time, but none were the field for more than 15 snaps. Ross Blacklock played seven snaps and Auzoyah Alufohai 15. The latter flashed a little against the run. 
Jonathan Greenard also saw action, with 15 snaps on the edge, failing to generate any pressure.
ELITE subscribers can view player grades, advanced statistics, positional snap counts and more in Premium Stats 2.0.