The Los Angeles Rams were finally able to enact their revenge on the New England Patriots, who held them to just 3 points in Super Bowl LIII. Aaron Donald and Co. gave the Cam Newton-led Patriots a taste of their own medicine, defeating them 24-3.
Jared Goff and the passing game did not have their best night, but it didn't matter as rookie running back Cam Akers carried the offense to its division-leading ninth victory of the season. 
Editor's note: All of PFF's grades and advanced stats from this game will be finalized and made available to ELITE subscribers within 24 hours of the final whistle.
STORY OF THE GAME
Although many players have come and gone for both sides since their Super Bowl bout two years ago, Sean McVay and the Rams were seeking retribution for their poor outing in the last matchup. Still, it was not the offense that led the team to the win, outside of Akers' heroics.
It was the defense holding the Patriots to a single field goal on four red zone drives, manufacturing pressure on over 60% of dropbacks, and Kenny Young returning an interception 79 yards for six points.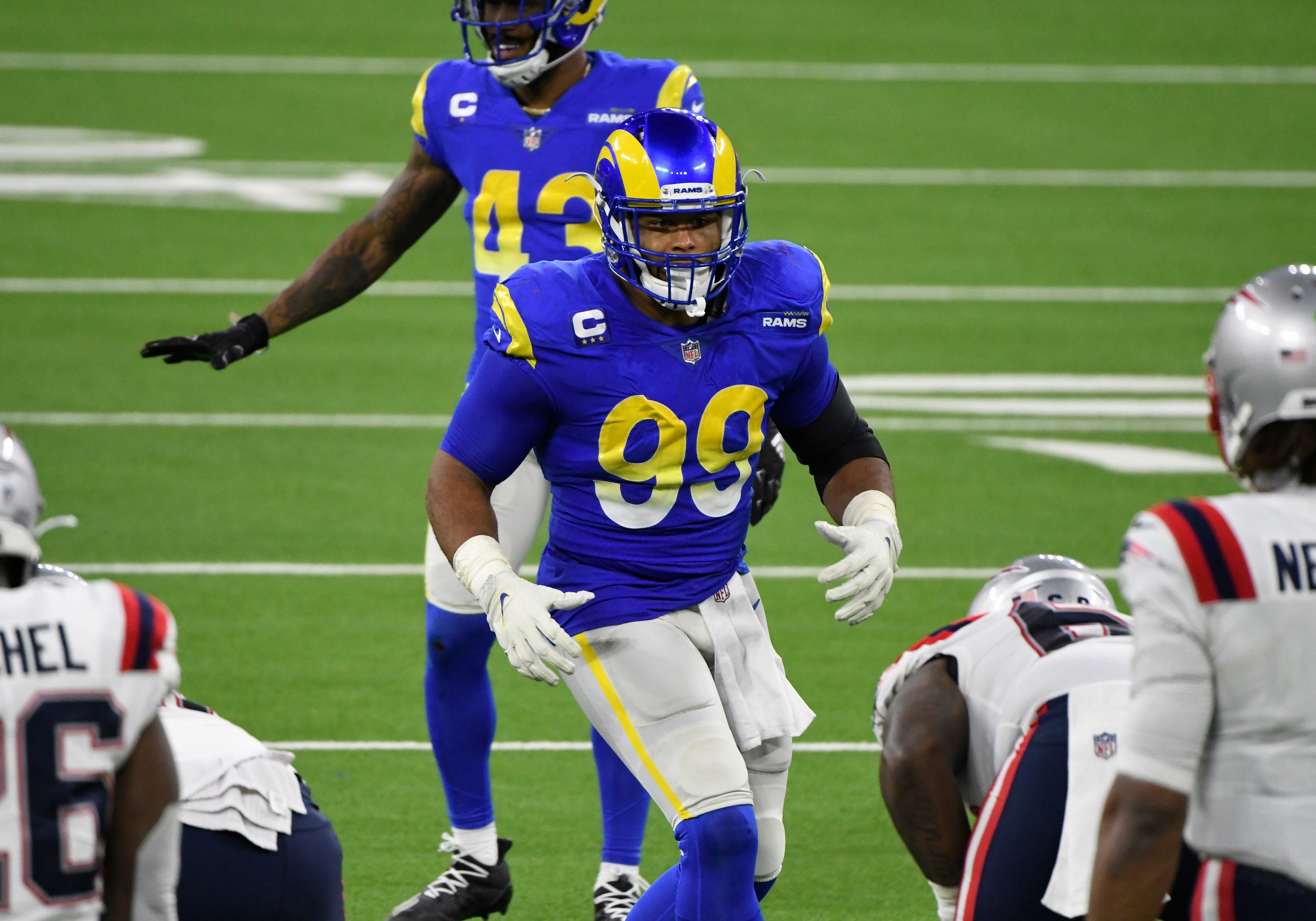 Donald excelled in his usual fashion, this time generating five QB pressures — just two less than the entire Patriots defense. The Rams' defensive line forced six QB sacks — their second-most in a game this season — all of which came in the second half. Jalen Ramsey and Troy Hill were the stars of the secondary, combining for nine targets and allowing five to be caught for 26 yards, none of which gained a first down. 
The Newton experiment is wearing out in New England, as he has now thrown for five touchdowns against 10 interceptions on the season. His rushing ability is undeniable, but with a lack of receiving prowess on the outside and Newton's shortage of elite accuracy, the Patriots offense has been uninspired, to say the least. Bill Belichick seems to agree, as he pulled Newton in favor of second-year QB Jarrett Stidham in the fourth quarter. 
There is not much to write home about for the Rams offense. No receiver had more than 40 yards and Goff completed just 16 of 25 passes for 137 yards with a touchdown and an interception.
There really is only one player to recognize, and that is Akers. The rookie took his 29 carries for 171 yards, not only the most by a Rams running back this season, but the most by a rookie RB. McVay has often gone with the hot hand in 2020, but no back on the roster has received more than 21 carries in a game this season. This performance showcased just how much he believes in Akers heading into the playoffs. 
ROOKIE WATCH
Outside of Akers, only safety Jordan Fuller saw more than 20 snaps for the Rams. The sixth-round rookie did not make much noise in the secondary, allowing both his targets to be caught for 20 yards and a first down. He did, however, net two tackles in the running game with one resulting in a defensive stop. 
On the other side of the field, tackle Michael Onwenu, tight ends Dalton Keene and Devin Asiasi, safety Kyle Dugger and linebacker Anfernee Jennings saw significant playing time tonight. Onwenu struggled in pass protection, allowing three QB pressures — including a sack — and was beaten on a couple more occasions on 32 pass-blocking snaps. Despite seeing plenty of playing time between the two, Keene and Asiasi combined for just one target and no receptions. 
Dugger did not need to do much in coverage, as he saw just one pass come his way, which wound up incomplete. But he was a force against the run, netting three total tackles, two defensive stops and one tackle for loss or no gain. Jennings was unable to make much of an impact in his time on the field, recording no significant stats. 
ELITE subscribers can view player grades, advanced statistics, positional snap counts and more in Premium Stats 2.0.