The Houston Texans needed a win against the Indianapolis Colts in Week 13 to avoid another blow to their slim playoff chances. With just over a minute remaining and fewer than 10 yards from the end zone, center Nick Martin sent a low snap to Deshaun Watson, who was unable to recover it, resulting in the Colts' offense setting up in victory formation to run the clock out. 
In the end, the Texans came just short to their division rivals, 26-20. And with the Tennessee Titans falling to the Cleveland Browns, the Colts now own a division-leading 8-4 record.
Editor's note: All of PFF's grades and advanced stats from this game will be finalized and made available to ELITE subscribers within 24 hours of the final whistle.

STORY OF THE GAME
Philip Rivers and company displayed an efficient, chain-moving offense, while the defense put on a show of its own in key moments. Rivers completed 27-of-35 pass attempts for 285 yards and two touchdowns. He did not go deep at all, attempting just nine passes traveling 10-plus yards downfield. And Rivers didn't need to, as his receivers made plays all over the field.
T.Y. Hilton hauled in eight of his 10 targets for a season-high 110 yards — his first 100-yard game of the year — and one score. Six of his receptions gained a first down and four went for 15-plus yards while the rest of the team combined for just two. Rookie Michael Pittman Jr. continued to build rapport with his signal-caller, reeling in all five of his targets for 46 scoreless yards. 
It was not all great for the Colts' offense, though. After they scored a season-high 24 first-half points, they were held in check in the second half — their only points came off a defensive safety. 
Watson did his best to keep his team in striking distance with star receiver Will Fuller V out due to suspension. On top of his leading wideout sidelined, Watson was pressured on over 40% of his dropbacks compared to Rivers' 18% rate. Watson was consistently forced to step up in the pocket, take hits and throw on the run to keep drives alive. He connected on 6-of-8 passes outside the pocket for 144 yards, his most in a game this season. He also added another 38 yards and his only touchdown of the contest on seven carries.
With Fuller out and Brandin Cooks missing much of the second half due to being evaluated for a concussion, Keke Coutee and Chad Hansen posted career games. Coutee corralled eight receptions for 141 yards, while Hansen caught five passes for 101 yards. The running game was abandoned early on due to the Texans trailing for the majority of the contest, so David Johnson was unable to establish a real rhythm. On his 10 attempts, he rattled off 44 yards and the only other Houston touchdown of the game. 
Both defenses played their parts, but Colts cornerback Kenny Moore II was particularly lights out in coverage. He was targeted nine times, allowing six catches for 58 yards and two first downs. However, those three incompletions were some of the best you'll see. The first two came at the end of the first half with the Texans trying to punch in a score. Watson picked on him twice, but Moore was prepared, generating two stellar end zone pass breakups to force a Houston field goal. The other incompletion was an interception, with Moore stealing the football from Cooks' hands on the way to the ground.
The Colts notched the most impressive first half of their 2020 season, but their offensive dysfunction in the second half was troubling. They will need to maintain consistency if they wish to fend off the Titans — though their outing in Week 13 does not inspire confidence.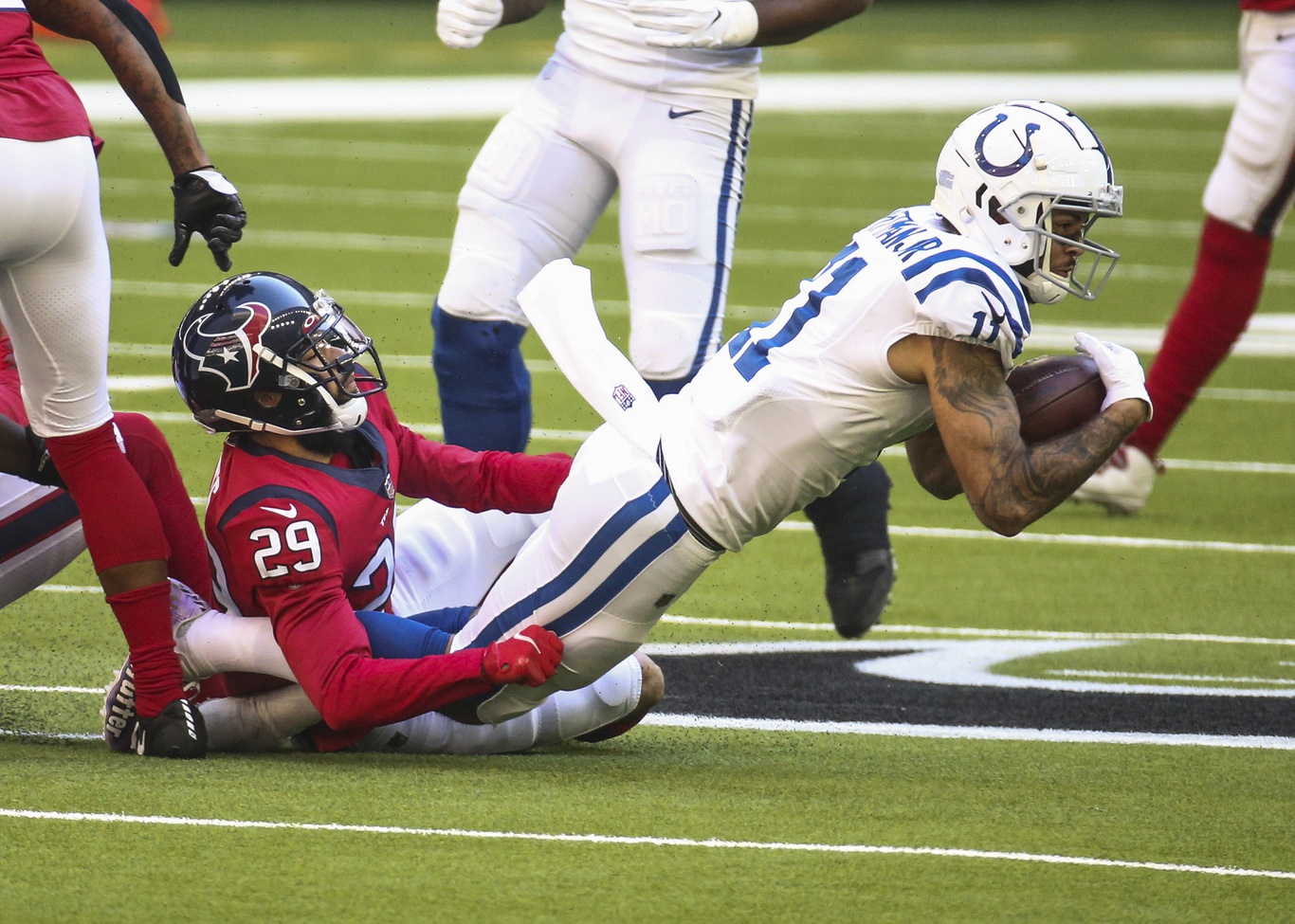 ROOKIE WATCH
Only three rookies saw 20-plus snaps for either side today, with all three coming from the Colts' sideline. We touched on Pittman, but second-round running back Jonathan Taylor also netted an imposing performance. On 12 carries, he fumbled forward for 91 yards, single-handedly out-rushing the entire Texans' offense. 
Third-round safety Julian Blackmon has been a standout this season, but he was far from good in this outing. He allowed both targets into his coverage to be caught for a whopping 80 yards and two first downs. He was also nonexistent in the rushing game, not recording a tackle on 14 such snaps.
ELITE subscribers can view player grades, advanced statistics, positional snap counts and more in Premium Stats 2.0.