Intrigue continues to grow in the NFC East, as the New York Giants were able to finish the job this time against the Philadelphia Eagles and get to 3-7 on the season — a mark that somehow gets them to second place in the division behind only the 3-5-1 Eagles. The product may not be the best the NFL has to offer, but these divisional games all matter with the division so tight. 
Editor's note: All of PFF's grades and advanced stats from this game will be finalized and made available to ELITE subscribers within 24 hours of the final whistle.
STORY OF THE GAME
Daniel Jones has graded as a better quarterback than Carson Wentz this season coming into the week, and that gap is only going to grow after this one.   
Jones had an efficient day both through the air and on the ground. On passes 10 or more yards downfield, Jones went 7-for-9 for 167 yards — coming out to an impressive mark of 18.6 yards per attempt. As the 21st-ranked coverage unit in the NFL coming into the week, coverage has been an issue for Philadelphia all year. This game was no different. Avonte Maddox was the primary victim with a game-high four first downs allowed in his coverage. Perhaps most important was the fact that Jones avoided the turnover-worthy plays that have plagued him throughout his career.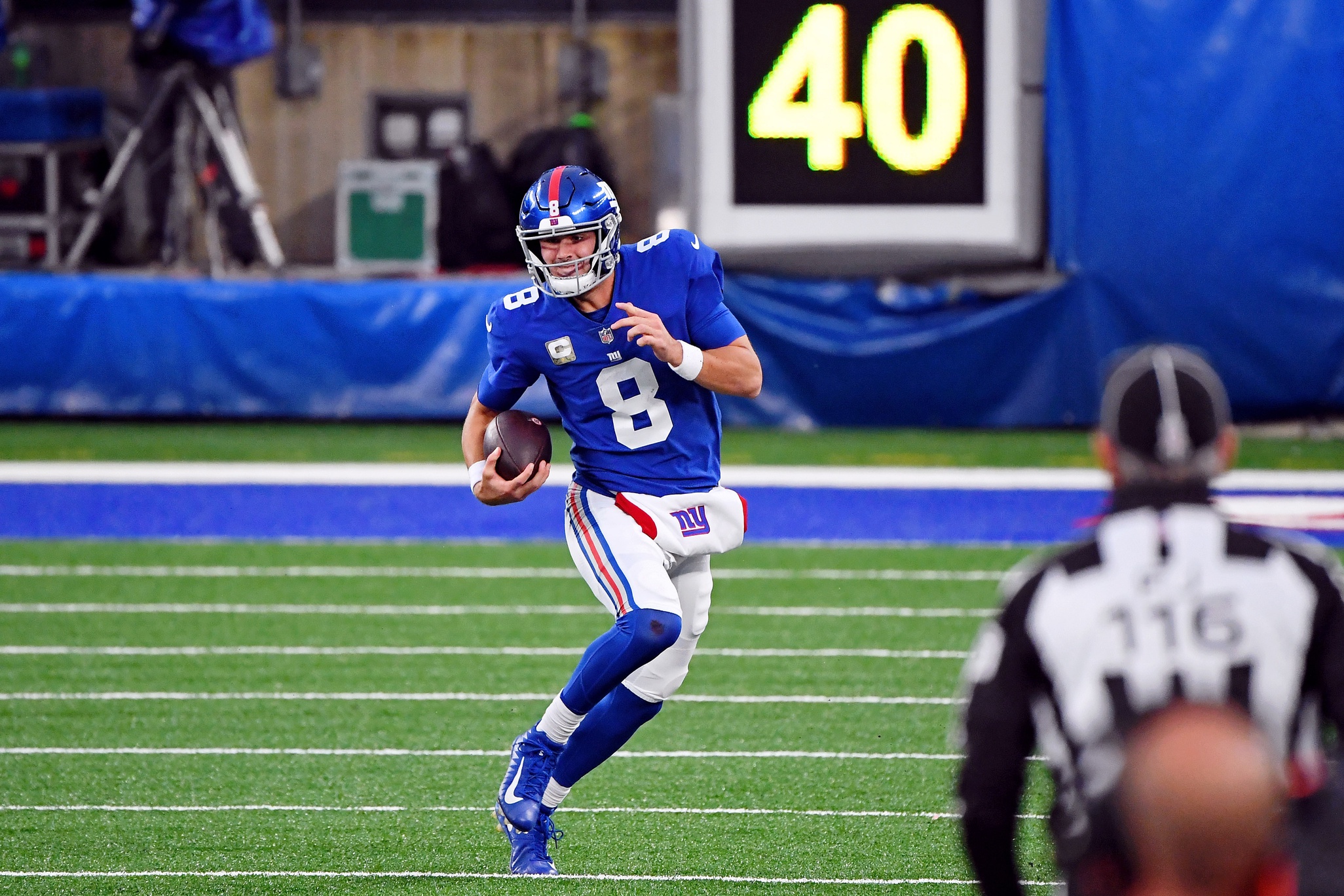 The second-year quarterback out of Duke also continued to add value on the ground with another lengthy run for a touchdown in the game. In all, Jones ran for 66 yards on seven carries and is now averaging over eight yards per carry on the season. There is a very real chance that he leads this team in rushing yardage this year. 
The Eagles, meanwhile, averaged nearly 7.0 yards per attempt on the ground with an efficient day from Miles Sanders and a long touchdown run from Boston Scott, but inaccuracy from Wentz kept their offense from really rolling. He completed just 57% of his passes, and you can't point to drops by his receivers as the reasoning for it. Injuries around him didn't help, but it's hard to say that Wentz's play hasn't held this team back this year. 
ROOKIE WATCH
The left side of the Giants' offensive line was once again manned by rookies Andrew Thomas and Shane Lemieux. Thomas had one of his better pass-protecting performances of the season against a talented Eagles front four. On initial count, he allowed just one pressure in 33 pass-blocking snaps. At left guard, Lemieux did not fare as well in pass protection with multiple pressures allowed. 
Darnay Holmes manned the slot again for New York, and like many rookie cornerbacks around the NFL, he's had a rough go of things this season from a PFF grading standpoint. From a raw production standpoint, Holmes' coverage stat line will look significantly better here than it did last week against Washington when he was charged with 11 receptions allowed into his coverage. He still isn't making many plays on the football, though, with just one pass breakup and no interceptions so far this season.
First-round pick Jalen Reagor ran more routes and drew more targets than Travis Fulgham for Philadelphia. Reagor ended up second on the team in both receptions (four) and receiving yards (47). It wasn't a pretty performance for the Eagles' passing offense, but there is no doubt that this is a better offense with Reagor on the field. 
ELITE subscribers can view player grades, advanced statistics, positional snap counts and more in Premium Stats 2.0.