This one had all the fixings to be a low-scoring affair with extremely heavy winds in Cleveland. The Houston Texans and Cleveland Browns ended up scoring fewer points than the majority expected, combining for 17 points — nearly 30 fewer than the betting markets point total. Ultimately, the Browns were able to piece together more than one scoring drive and securing the 10-7 win.
Editor's note: All of PFF's grades and advanced stats from this game will be finalized and made available to ELITE subscribers within 24 hours of the final whistle.
STORY OF THE GAME
Considering the weather and the fact that Nick Chubb was making his return from injury, Kevin Stefanski was expected to have Cleveland pound the rock, and the Browns did just that. Over 64% of their total offensive plays were rushes — the second-highest rate in a single game by any team this season. Chubb and Kareem Hunt combined for seven explosive runs of 10 or more yards. Five of those runs came in the fourth quarter, with two on the final drive that helped seal the win for the Browns.
Baker Mayfield and the Browns' passing attack couldn't find much success because of the weather conditions. But the quarterback was able to connect on a big-time throw on a third-and-18 near the end of the third quarter that extended Cleveland's drive. The Browns got bailed out on a Vernon Hargreaves DPI on third down following that big completion, which set them up at Houston's 35-yard line. A couple of explosive runs by Chubb led to the first and only touchdown of the game.
While the Browns were able to string together a handful of explosive plays that helped lead to points, Houston couldn't manage much offense through the air or on the ground. Through the first three quarters of action, the Texans had just one play to gain at least 15 yards. And that big play to start out the second half amounted to nothing, as the Texans were forced to punt three plays later following three straight incomplete passes from Deshaun Watson.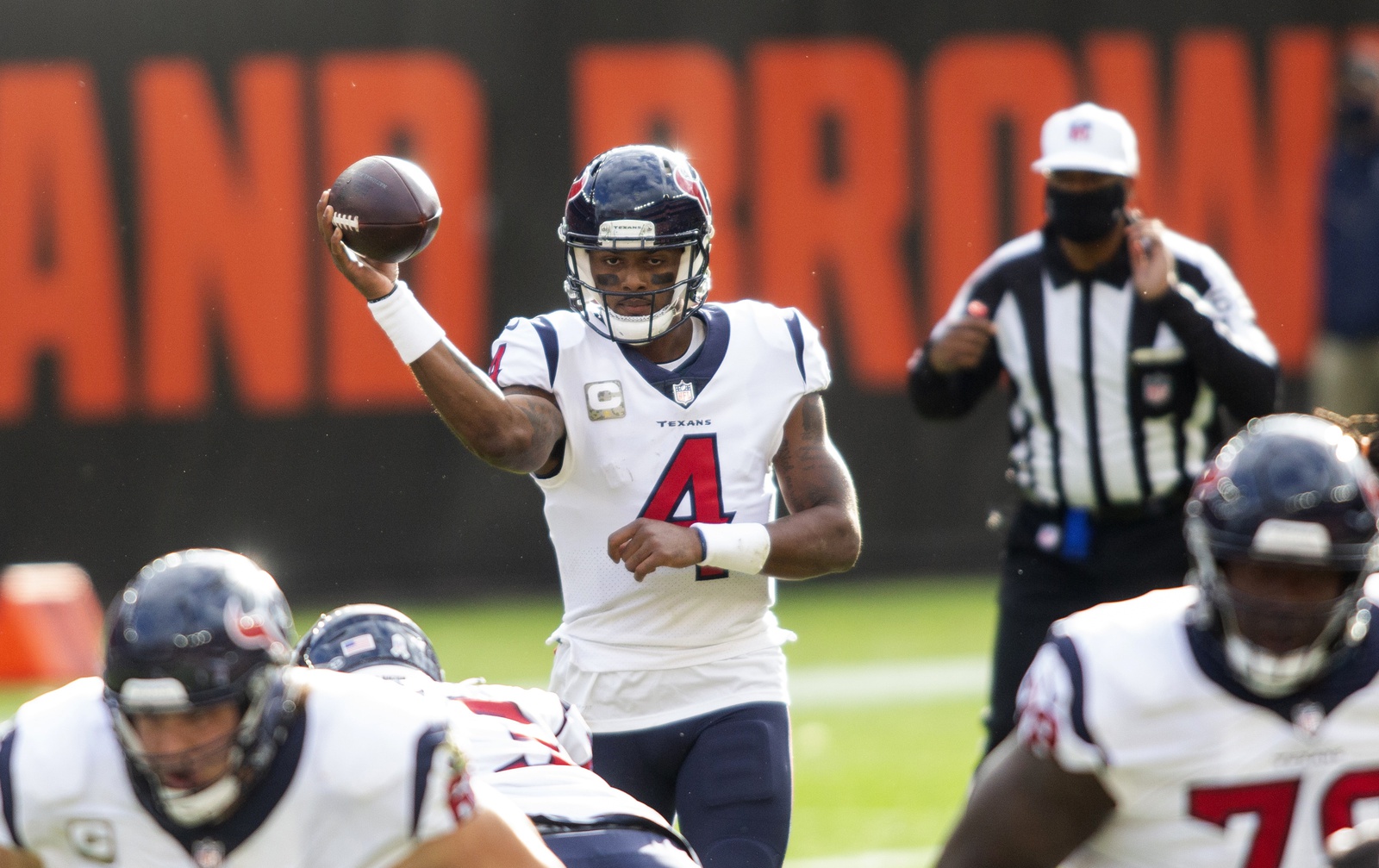 The Texans did put together a 14-play drive the second time they got the ball that led to a goal-to-go situation, but they couldn't capitalize and turned it over on downs. Houston managed -0.13 EPA per play in that span. Considering they didn't fumble the ball or toss up an interception, that is extremely bad.
Watson did march Houston down the field in the fourth quarter for a scoring drive while down 10 points. That drive consisted of 100% passes, and Watson seized the opportunity. He threw up a prayer on a third-and-6 when under pressure that found Randall Cobb for a 29-yard gain, then a few plays later delivered a big-time throw in the red zone to Pharaoh Brown for a touchdown. At that point, though, it was just a bit too late for Houston to come back and win the game, as they didn't see the ball again.
ROOKIE WATCH
Jedrick Wills Jr. continued his run of strong pass-blocking for a rookie left tackle — he didn't allow a single pressure and lost just one rep in total on 22 pass-block snaps for the game. Granted, he was helped out some by the offense, as he saw just five true pass sets all game long. It was still an impressive performance nonetheless.
The real good news with Wills' performance is that he wasn't a poor performer in the run game. He had entered this one with five straight run-blocking game grades below 60.0, and it looks like he will end that streak here. It still wasn't spectacular by any means, but Wills wasn't hindering the team's rushing success like he had been in recent weeks.
ELITE subscribers can view player grades, advanced statistics, positional snap counts and more in Premium Stats 2.0.