The story of the Steelers' 2019 season obviously centers on the quarterback position, where starter Ben Roethlisberger was limited to just one game. The offense clearly wasn't the same with Mason Rudolph and Duck Hodges at the helm, but on a positive note, the Pittsburgh defense rallied and put up its best performance in years.
From a stout defensive line to effective pass-rushers to a playmaking secondary, the Steelers' defense dragged the team to an impressive 8-8 record. With Roethlisberger back in the mix, the pass game will be better, though duplicating last year's defensive performance will be difficult.
ADDITIONS/SUBTRACTIONS
Additions/players brought back:
EDGE Bud Dupree (franchise tag)
FB Derek Watt (signed for three-years, $9.75 million, $3.25 million guaranteed)
G Stefen Wisniewski (signed for two-years)
TE Eric Ebron (signed for two-years, $12 million)
DI Chris Wormley (via trade)
Losses:
CB Artie Burns
LB Mark Barron (cut)
T Anthony Chickillo (cut)
QUARTERBACK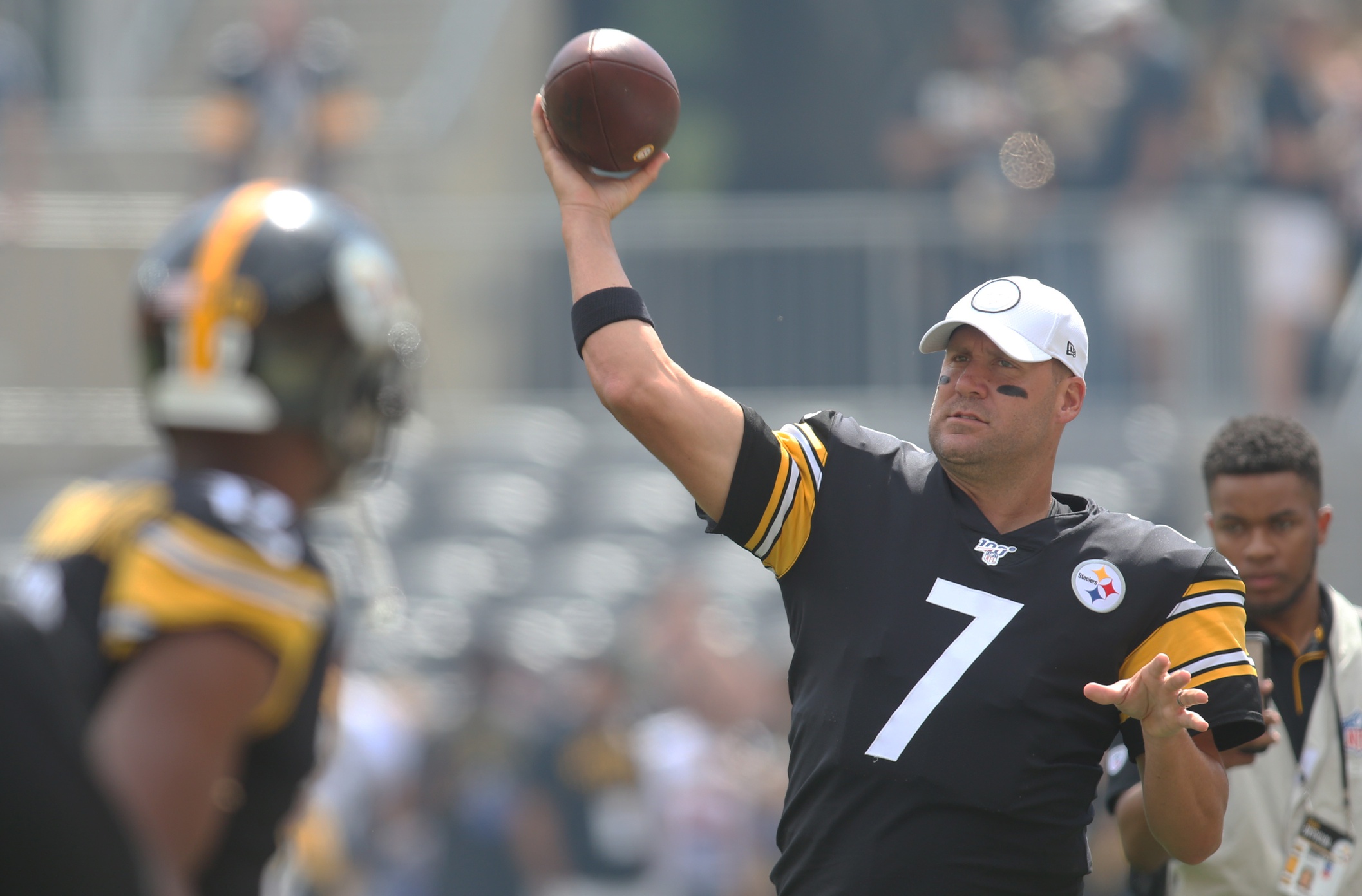 We saw only one game from Ben Roethlisberger last season, and it was not his best effort — he graded at just 49.0 overall. In 2018, Roethlisberger put up big numbers, but his 75.2 passing grade was his worst since 2008, as he had the eighth-highest percentage of negatively graded throws in the league. The concern for Roethlisberger and the Steelers is his below-average performance in many stable metrics, including clean-pocket grade and passes thrown at or beyond the sticks.
On the positive side, Roethlisberger may have missed more throws than usual in 2018, but he still has the natural playmaking to move the ball down the field and put points on the board — something this offense lacked last season under Mason Rudolph and Duck Hodges. Any time Roethlisberger is on the field, he's capable of carrying a team and putting his playmakers in position to succeed, but there are also many signs from his 2018 and limited 2019 on-field play that are cause for concern.
RUNNING BACK
In 2018, James Conner replaced Le'Veon Bell's production nicely, averaging 4.5 yards per carry and posting a 74.8 rushing grade. Last season, Conner's rushing grade dropped to 66.8 and he averaged 4.0 yards per carry. Backup Benny Snell Jr. posted near-identical numbers with a 65.8 rushing grade and 3.9 yards per carry. Both players return as the one-two punch, with fourth-round pick Anthony McFarland Jr. set to compete for carries.
McFarland has big-play ability, as he ran a 4.44 at the combine and averaged 7.9 yards per carry in 2018, but he had just a 70.3 overall grade at Maryland last season. Conner is the best bet to produce in the pass game after his 89.8 receiving grade ranked third and he broke 19 tackles after the catch, tied for fourth. He'll get the first shot to be the every-down back, but splitting up the carries may be the best option to make use of Conner's receiving ability out of the backfield.
WIDE RECEIVER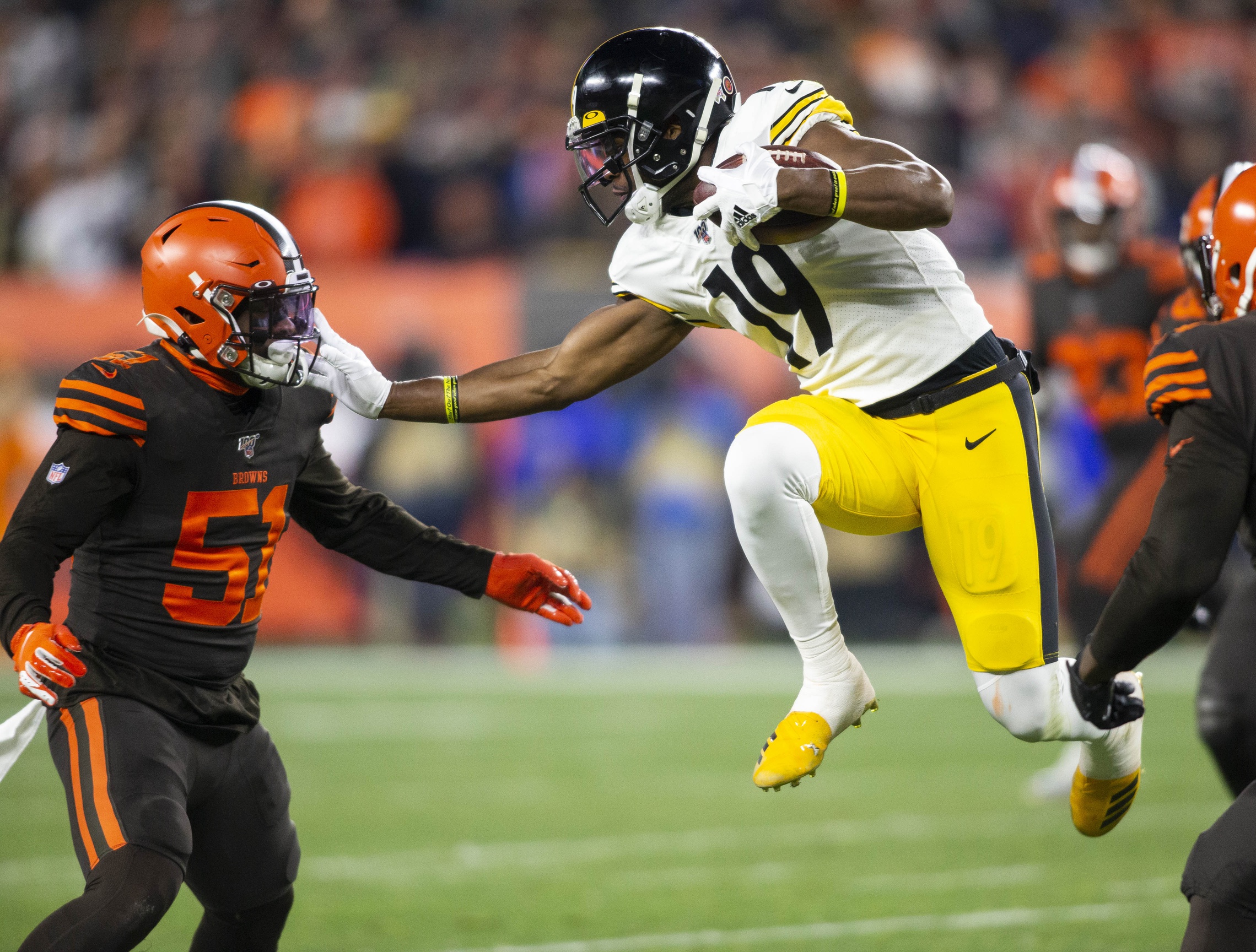 The Steelers' receiving production took an obvious hit with Ben Roethlisberger missing most of the season, and this group heads into 2020 with plenty of question marks. JuJu Smith-Schuster had an excellent rookie campaign in 2017 and followed it up with over 1,400 yards in 2018, but he dropped to a 63.0 receiving grade with only 552 yards in his 12 games last year.
Even heading into 2019, there were questions about whether Smith-Schuster could produce without Antonio Brown on the other side. Those questions still remain. Smith-Schuster has shown all the necessary skills, from catching 46.4% of his contested catches — ranking 15th since 2017 — to averaging 6.1 yards after the catch per reception. James Washington also has something to prove, as he's coming off a 69.3 overall grade after a rough 49.2 grade as a rookie in 2018. Washington showed off some of the downfield skills that made him a second-round pick, and that's a much-needed skillset in this offense.
Look for Diontae Johnson to earn more targets this season, as the 2019 third-rounder was open on 70.2% of his single-coverage targets as a rookie — ranking ninth-best in the league. Johnson is a dynamic route-runner who ran a 4.60 40-yard dash, and he reminded us of Antonio Brown coming out of the draft. Those are high expectations, but Johnson has the skills to be a high-volume target for Roethlisberger.
Pittsburgh added the 6-foot-4, 227-pound Chase Claypool in the second round of the 2020 NFL Draft, as well. Claypool does his best work on the vertical route tree and ran an impressive 4.42 40 at the scouting combine, so the Steelers are expecting big plays from him on the outside. Deon Cain will compete for some of those downfield targets, while Ryan Switzer provides depth in the slot. The Steelers have an intriguing group on paper, and there's certainly a world where Smith-Schuster, Johnson and Washington all continue to progress, but they have more question marks than most receiving units around the league.
TIGHT END
Pittsburgh tight ends had the worst receiving grade in the league last season (43.5) while also ranking last with just 7.7 yards per reception. Obviously, the quarterback situation had plenty to do with that, but it was a disappointing year for Vance McDonald, who followed up a career-high 610 yards in 2018 with a career-low 45.3 overall grade in 2019. His 2018 season was impressive, though it still looks like more of an anomaly — his best role is as a backup.
Pittsburgh brought Eric Ebron into the mix this offseason to complement the receiving corps. Ebron averaged 12.1 yards per reception last season and has progressed after a slow start to his career. He shined in 2018, catching 14 touchdowns and posting a 70.5 receiving grade. Ebron still drops a few too many passes and he's not a great run blocker, but he has athleticism and spectacular catch ability that will complement the outside receivers nicely. 2019 fifth-rounder Zach Gentry adds depth after playing 49 snaps as a rookie.
Ebron's production will make or break this unit, and a replay of 2018 for both him and McDonald could push them into the top 10.
OFFENSIVE LINE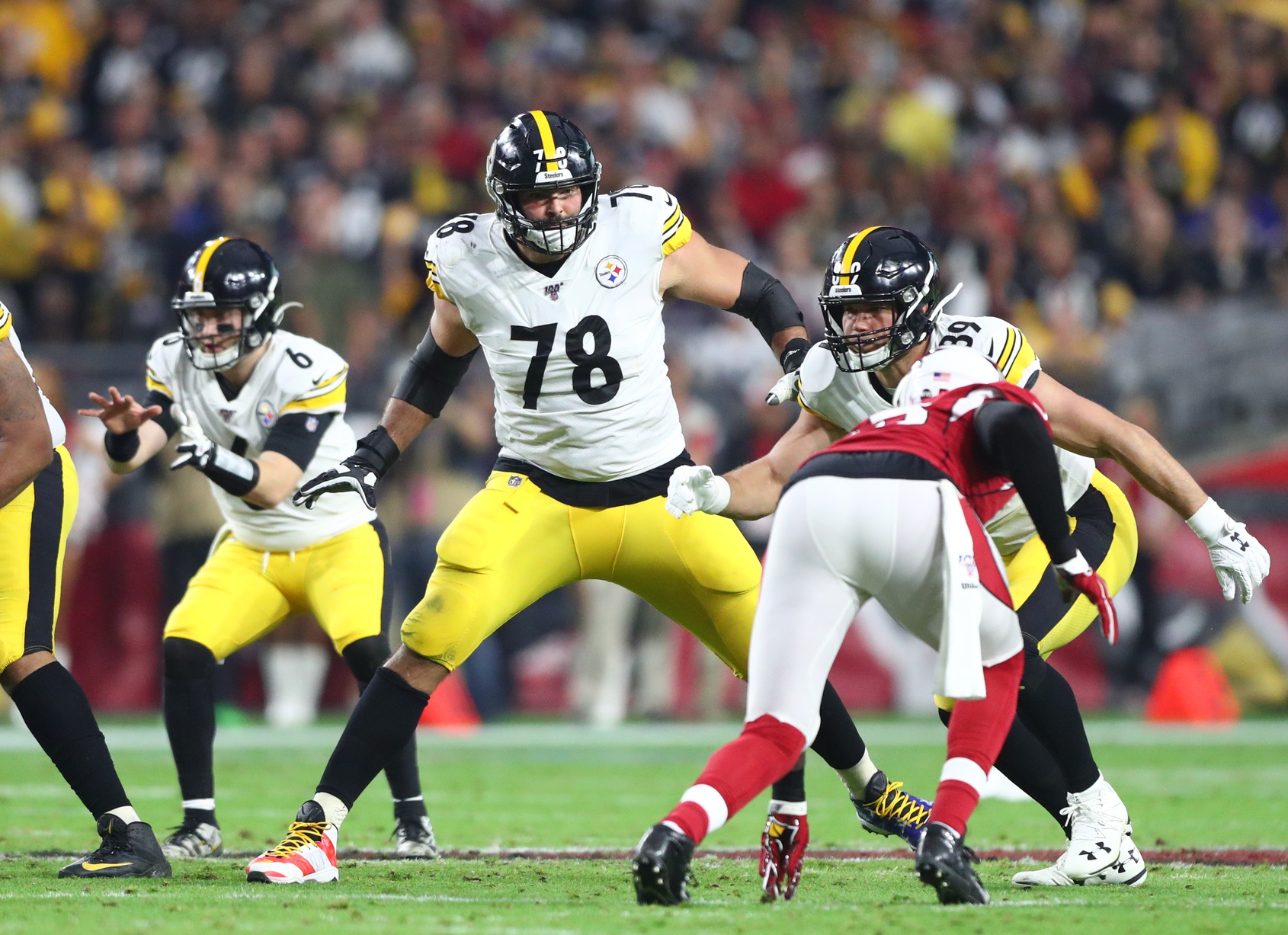 Pittsburgh has had one of the better offensive lines in recent years, including a ninth-place finish in our final rankings last season. Left tackle Alejandro Villanueva has developed into one of the league's most dependable starters, posting four straight years of 74.0-plus grades and ranking 21st among tackles last season. Villanueva is strong in pass protection, though he's coming off his worst run-blocking grade since 2015.
At right tackle, Matt Feiler is another unexpected success story, making the NFL out of small-school Bloomsburg and becoming a starter in 2018. Last year, his 75.9 overall grade ranked 17th among tackles, including an 80.7 pass-blocking grade that ranked 14th. On the inside, right guard David DeCastro has seen his run-blocking grades take a hit over the past two years, but he remains one of the better pass protectors in the league. His 71.0 grade last season ranked 17th overall among guards.
Ramon Foster — last year's left guard — retired, and Pittsburgh signed Stefen Wisniewski to take his place. Wisniewski is on his fifth NFL team, but he has seven years with grades of 70.0-plus, including a 70.9 mark for the Chiefs on 416 snaps last season. He should be a viable replacement, but keep an eye on fourth-round rookie Kevin Dotson, a powerful run blocker who finished with the top grade among draft-class guards (92.1) last season.
At center, Maurkice Pouncey dominates the postseason awards annually, but his 51.5 overall grade last season ranked just 34th among centers. Pouncey had the eighth-highest pressure rate and the eighth-highest percentage of negatively graded run blocks, but he's usually solid in the middle, grading between 69.0 and 78.1 in his previous five full seasons. Pouncey also takes on much more than most centers in pass protection — last season, he had the most one-on-one matchups in the league for the third time in five years.
The Steelers have epitomized an offensive line that has few stars but also few weaknesses, and they should be in the top-10 discussion once again in 2020.
DEFENSIVE LINE
T.J. Watt took another step forward in 2019, playing at a legitimate Defensive Player of the Year level. Watt ended the season with the highest pass-rushing grade (91.7) of any edge rusher in the league, and with 81 total pressures. Both figures were new career highs for a player whose progression has been steady and inexorable in the NFL. He also forced eight fumbles and had two interceptions.
The Steelers' defensive front features career years out of multiple players in 2019. Cameron Heyward was the best interior defender in the league outside of Aaron Donald; Javon Hargrave had a big season when he stepped in after Stephon Tuitt's injury; and even Bud Dupree had the best season of his career. Hargrave departed in free agency, but the other main figures all return — including Tuitt, who will look to continue his impressive form before injury.
That group will earn the bulk of playing time, with Chris Wormley likely to see the snaps at nose tackle in base defense. However, replicating the level of play the defensive line reached last season will be tough to do in 2020. Alex Highsmith was the only significant addition to the defensive front in the draft, and the third-round pick will look to carve a role for himself as a situational pass-rusher in his first NFL season.
The Steelers have some of the most proven quality in the league up front, but almost all of them are coming off the best seasons they have produced to date, so expecting some form of regression heading into this year would be sensible.
LINEBACKER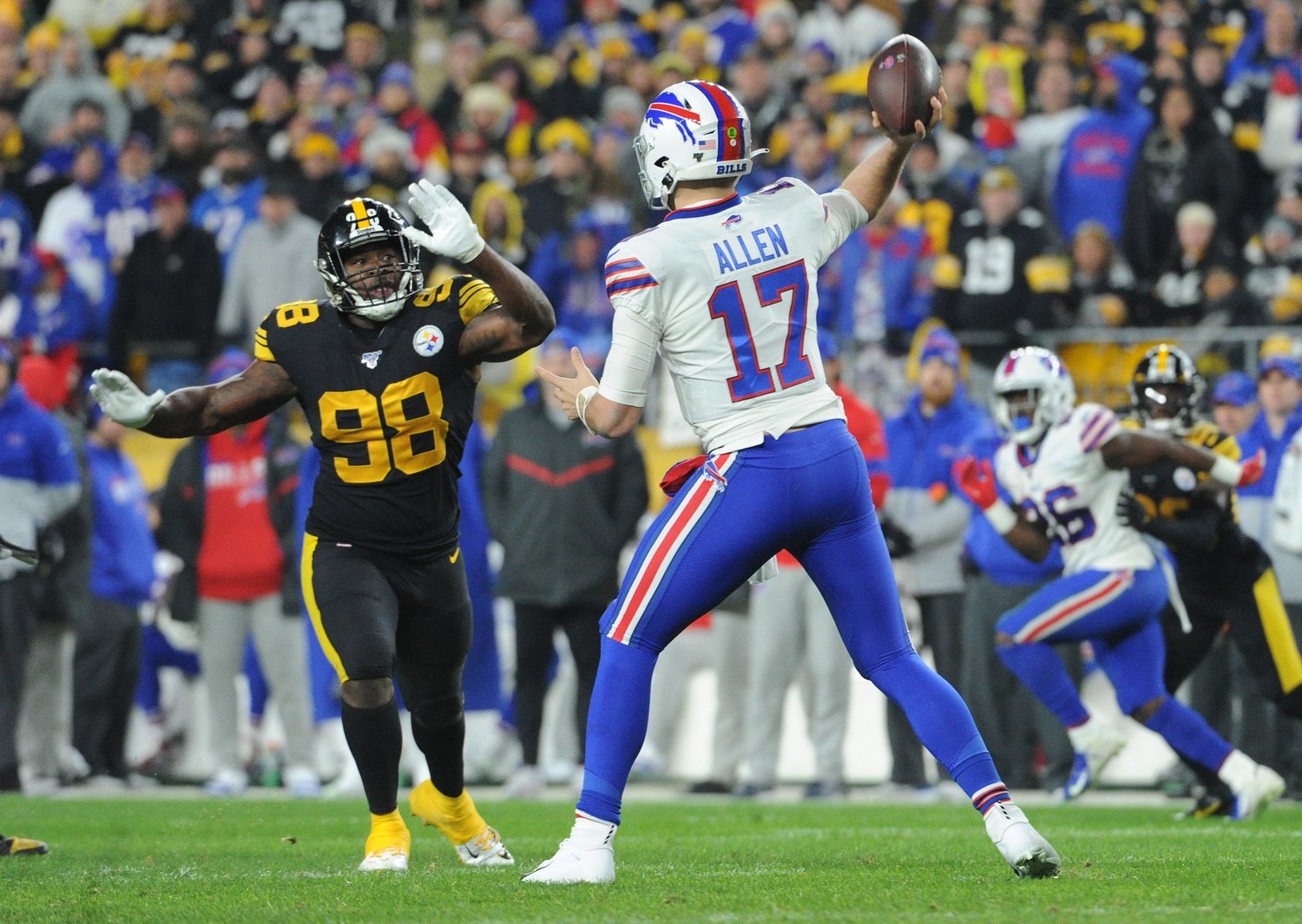 Few young players had higher expectations than Devin Bush last season, with the Steelers trading up to No. 10 to draft him in the hopes of immediately improving their middle-of-the-field defense. Bush had the usual rookie ups and downs on his way to a 62.9 overall grade that ranked 40th among NFL linebackers. Bush's athleticism has given Pittsburgh a different look, and he posted a solid 65.2 coverage grade; he's primed to take a big step forward in Year 2.
Next to Bush is Vince Williams, more of a traditional run-stopping thumper who has been one of the league's best blitzing linebackers over the past three years. Williams had 19 pressures on just 56 rushes last season en route to a career-high 76.2 overall grade. The rest of the five players on the depth chart have combined for four career snaps, so the pressure is on Bush and Williams to produce at a high level.
SECONDARY
The Pittsburgh Steelers are cornering the market on solid, if unspectacular, defensive backs. Steven Nelson was the team's top corner last season, earning an 80.5 overall PFF grade that ranked sixth at the position. Joe Haden was the other starter, and while he had better coverage numbers than Nelson across the board, Nelson's grade in critical areas was better.
In single coverage, Nelson's grade was in the 88th percentile, while Haden's was in the 61st. Similarly, Nelson was better when there was no pressure on the play. Unlike many teams, the Steelers also have strong play in the slot in the form of Mike Hilton. Hilton has the third-best PFF coverage grade among slot corners over the past two seasons and has graded above 70.0 in coverage in every season of his career so far.
Terrell Edmunds has been a disappointment as a shock first-round selection in 2018, but he has at least been consistently average in two years of play. Edmunds may never justify the Steelers' reach in that draft, but he doesn't look like he will be a problem player in a good secondary. The acquisition of Minkah Fitzpatrick last season is the real game-changer for this defense and, given the trade, you could argue he is their top draft pick from this year's draft.
Fitzpatrick earned an 88.4 overall grade with the Steelers after he was traded and showed the ability to be a true playmaker, but much of that high grade came in a three-game stretch where he had four interceptions, a pass breakup and a PFF grade above 90.0. He still needs to show he can be a consistent dominant force and not just ride the optimism caused by that brief stretch of elite play.
He has certainly yet to be given a clear and stable role his young NFL career, so there is legitimate hope we might see him raise his game in 2020 and eliminate that inconsistency to become one of the better players in the league at his position.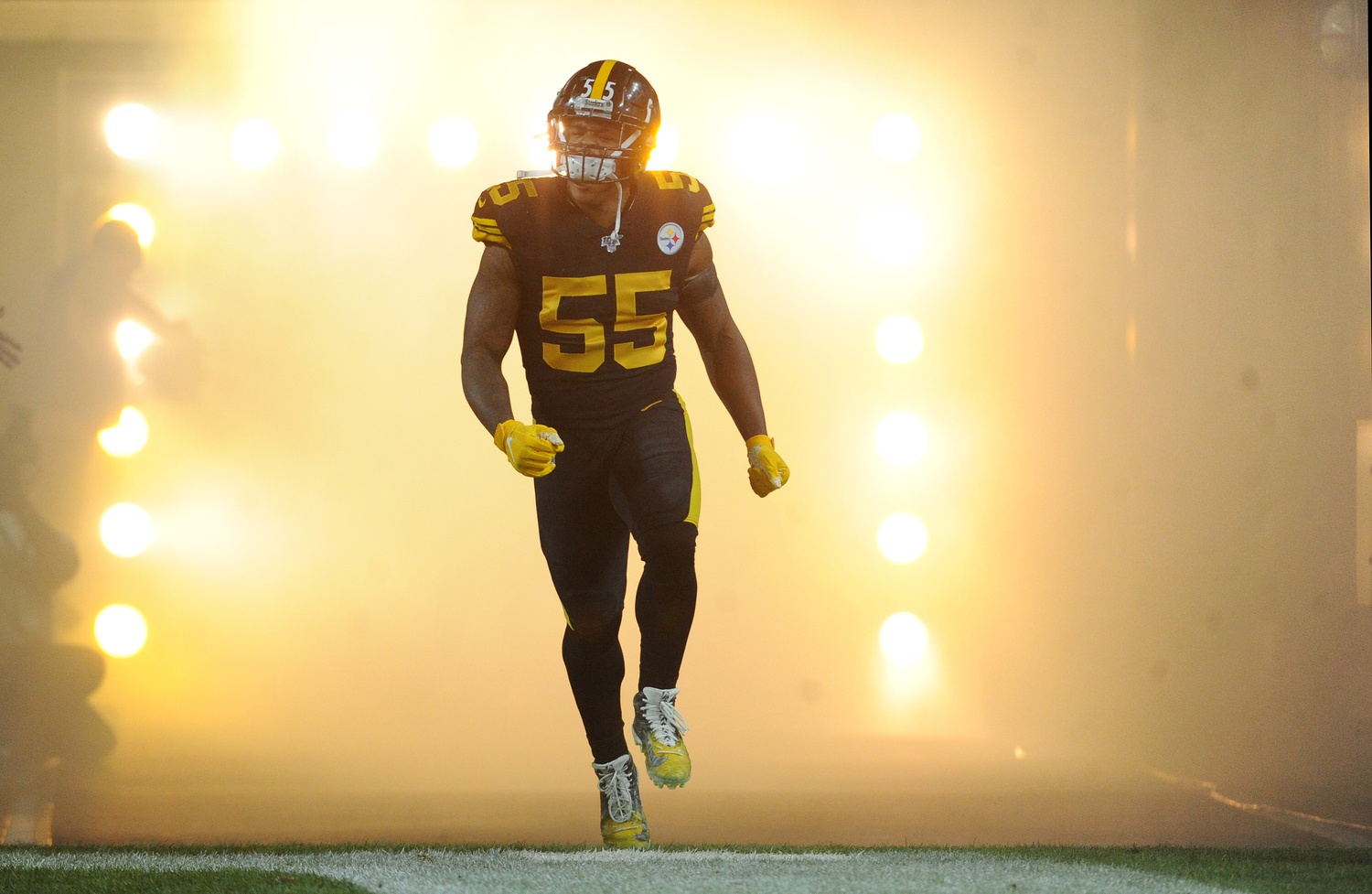 While Bush had a solid rookie season, there's still room to grow within the Pittsburgh offense. Given the team's investment in Bush and the lack of similar skillsets across the roster, he must continue to progress to maximize the effectiveness of the defense. Bush ranked just 64th out of 79 qualifiers in coverage grade on zone concepts, a crucial area for him to improve in next year.
DRAFT CLASS REVIEW
Pittsburgh used its first-round pick to trade for Minkah Fitzpatrick, meaning wide receiver Chase Claypool was the team's first selection in the 2020 NFL Draft. He has the tools to become a downfield threat, and the Steelers have the depth to ease him in. It was a depth draft for the Steelers — Alex Highsmith brings insurance at edge defender, Anthony McFarland, Jr. will compete for running back snaps, and Kevin Dotson is a guard with future starting ability.
BEST BET
Betting on Big Ben to return to his Super Bowl-caliber past appears to be a losing proposition, according to our simulation. Pittsburgh is significantly lower in our simulation then all listed betting odds; we have the Steelers' win total sitting slightly below 7.5 wins. The best bet on the board is a plus money proposition for the Steelers to not make the playoffs. We are significantly lower than betting markets by giving them a 66.9% chance of not making the playoffs.