It's a new era in New England after Tom Brady departed to join the Tampa Bay Buccaneers, and post-Brady life for the Patriots is one of the season's biggest stories. For the most part, this offseason looked like previous ones for New England — successful players left, they signed new players to fill specific roles and they went with a high-volume draft approach. Then, they signed free-agent quarterback Cam Newton, increasing expectations with the 2015 MVP at the helm.
The big question is Newton's health and how he adjusts to the new offense with below-average playmakers. The other question is the defense, where the secondary is one of the league's best, but duplicating last year's strong performance is a difficult task. Either way, the Patriots will be must-see TV this season, but for different reasons than in year's past.
ADDITIONS/SUBTRACTIONS
Additions/players brought back:
G Joe Thuney (franchise tag)
S Devin McCourty (re-signed for two years, $23 million, $17 million guaranteed)
ST Matthew Slater (re-signed for two years, $5.3 million)
DI Beau Allen (signed for two years, $8 million)
WR Damiere Byrd (signed for one year, $2.5 million)
QB Cam Newton
EDGE Shilique Calhoun
Losses:
QB Tom Brady
EDGE Kyle Van Noy
S Duron Harmon (via trade)
QUARTERBACK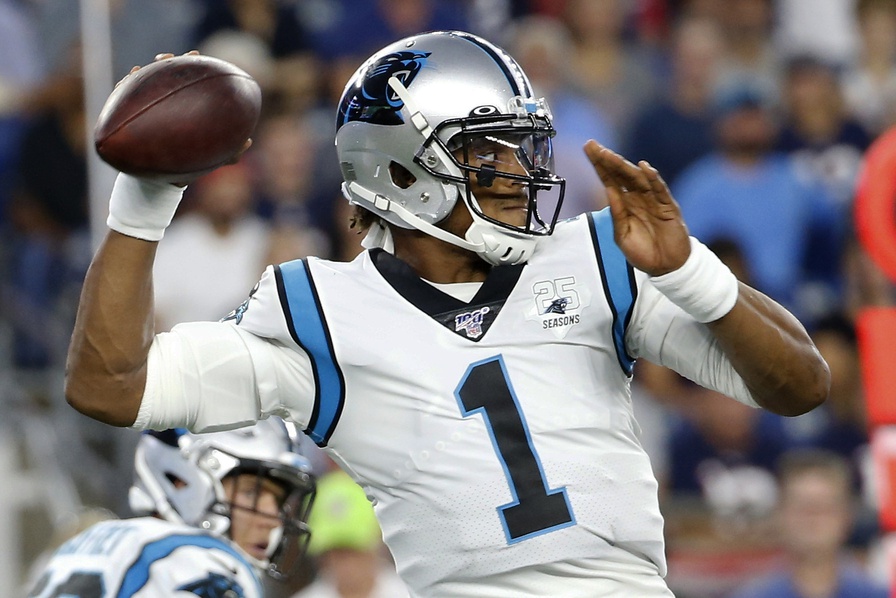 Most of the offseason was dedicated to imagining a Jarrett Stidham-led Patriots offense, but their recent signing of Cam Newton creates an entirely new vision. Newton is incredibly talented, and while many point to his 2015 MVP season, that year was a clear outlier compared to the rest of his career. Newton has been an above-average quarterback in his nine seasons, though he has ranked below 20th in PFF grading in each of the past three seasons. Injuries have been part of the issue, but early 2018 Newton was a change from the previous downfield-throwing, boom-or-bust passer who hit great throws while also missing far too many.
While Newton's early 2018 numbers were slightly inflated, it showed his ability to play a more ball-control style, perhaps the desired style for the Patriots' offense. Newton's rushing ability is another factor for the Patriots to tap into, and given his one-year contract, they could look to use it to its fullest. As for Stidham, he was a project coming out of Auburn, though he showed quick progress with a solid preseason as a rookie. There still may be a future starter in there, and adding Newton allows Stidham to continue developing, a rare occurrence in today's NFL.
RUNNING BACK
New England's backfield committee remains intact for the second straight season. Former first-rounder Sony Michel led the team in carries for the second straight season and posted a 66.6 rushing grade that ranked 40th including the playoffs. Michel has not been as dynamic as expected, forcing just 0.13 missed tackles per attempt — which ranks 42nd out of 57 qualifiers over the past two years. He also has a disappointing 43.7 receiving grade.
James White is the top pass-game threat out of the backfield, ranking third among running backs in both receiving grade (90.5) and yards per route run  (1.91). Rex Burkhead has cycled between feature back and receiving back in his three years in New England, all adding up to a 70.6 overall grade that ranks 50th during that span. The top three have defined roles, whereas 2019 third-rounder Damien Harris will try to steal some playing time after seeing just five snaps as a rookie last season.
New England also uses a fullback more than most teams, and they've brought in Danny Vitale to assume that role, but he graded at just 49.3 last season on 170 snaps with the Packers. The Patriots have their usual array of role players in the backfield, though they could use a more dynamic threat to challenge opposing defenses.
WIDE RECEIVER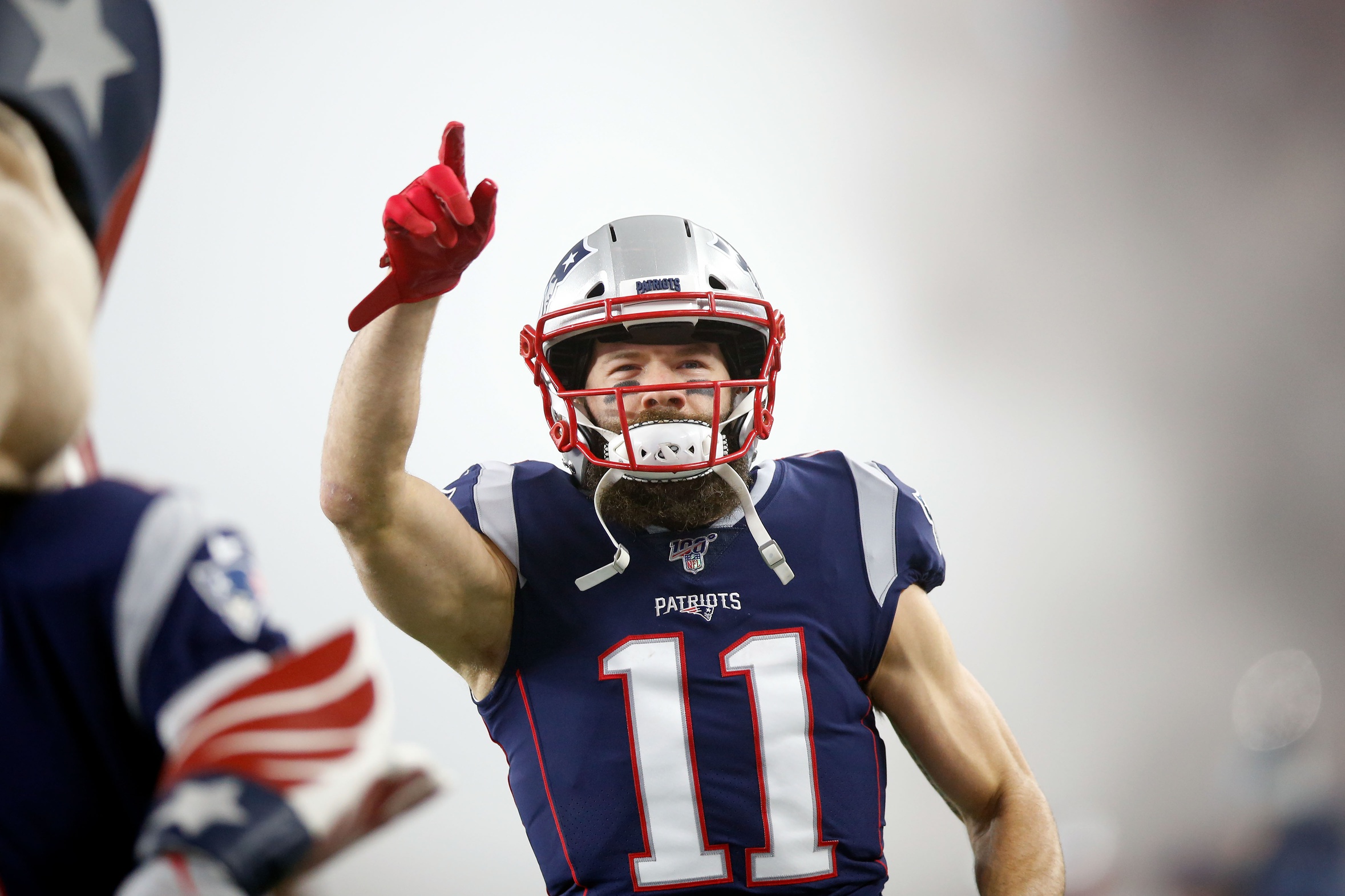 Last season, Patriots wide receivers and tight ends combined to produce a 67.0 receiving grade, ranking 27th in the NFL. The receiving corps looked promising early in the season with Josh Gordon and Antonio Brown in the mix, but optimism soon turned into the worst offensive performance from the team in recent history. Julian Edelman is still effective, as he can work the underneath routes as well as any receiver in the league and finished the season with 100 receptions. Edelman's 73.6 receiving grade in 2019 ranked just 37th in the NFL, in part due to 10 drops and three fumbles. Once defenses turned their attention his way, the Patriots' offense struggled.
Mohamed Sanu graded at just 57.1 with the Patriots, dropping four of his 27 catchable passes, while first-rounder N'Keal Harry got open on only 11.1% of his single coverage targets, the worst rate in the NFL. The Patriots also added Damiere Byrd and Marqise Lee this offseason to compete with second-year player Jakobi Meyers for the No. 4 spot. Byrd adds much-needed speed to an offense that looked like one of the slowest in the league last year, while Lee has been limited to just 111 snaps over the past two seasons.
Meyers showed flashes last year, posting a 67.0 receiving grade. There are plenty of options for the Patriots, but none of them are exciting on paper other than Edelman. They need the best of Sanu and one other receiver along with strong Year 2 development from Harry to move this unit into the top half of the league in 2020.
TIGHT END
Only the Steelers had fewer yards than the 419 produced by Patriots tight ends during the 2019 regular season, as the lack of replacements for Rob Gronkowski stung quite a bit. Benjamin Watson, Matt LaCosse and Ryan Izzo all played at least 250 snaps and graded under 60.0 overall, struggling in both the pass and run game. LaCosse and Izzo return to battle with a pair of third-round draft picks in Devin Asiasi and Dalton Keene.
Asiasi is a big-bodied target with some wiggle at the top of his routes, and he earned a comp of former Patriot Michael Hoomanawanui in the PFF Draft Guide. Keene is more of a "move" tight end, as he played all over the Virginia Tech offense. However, his receiving production was limited with just 748 career yards under his belt. New England needs at least one of the rookies to produce right away, or else this looks like one of the bottom-tier tight end groups for the second straight year.
OFFENSIVE LINE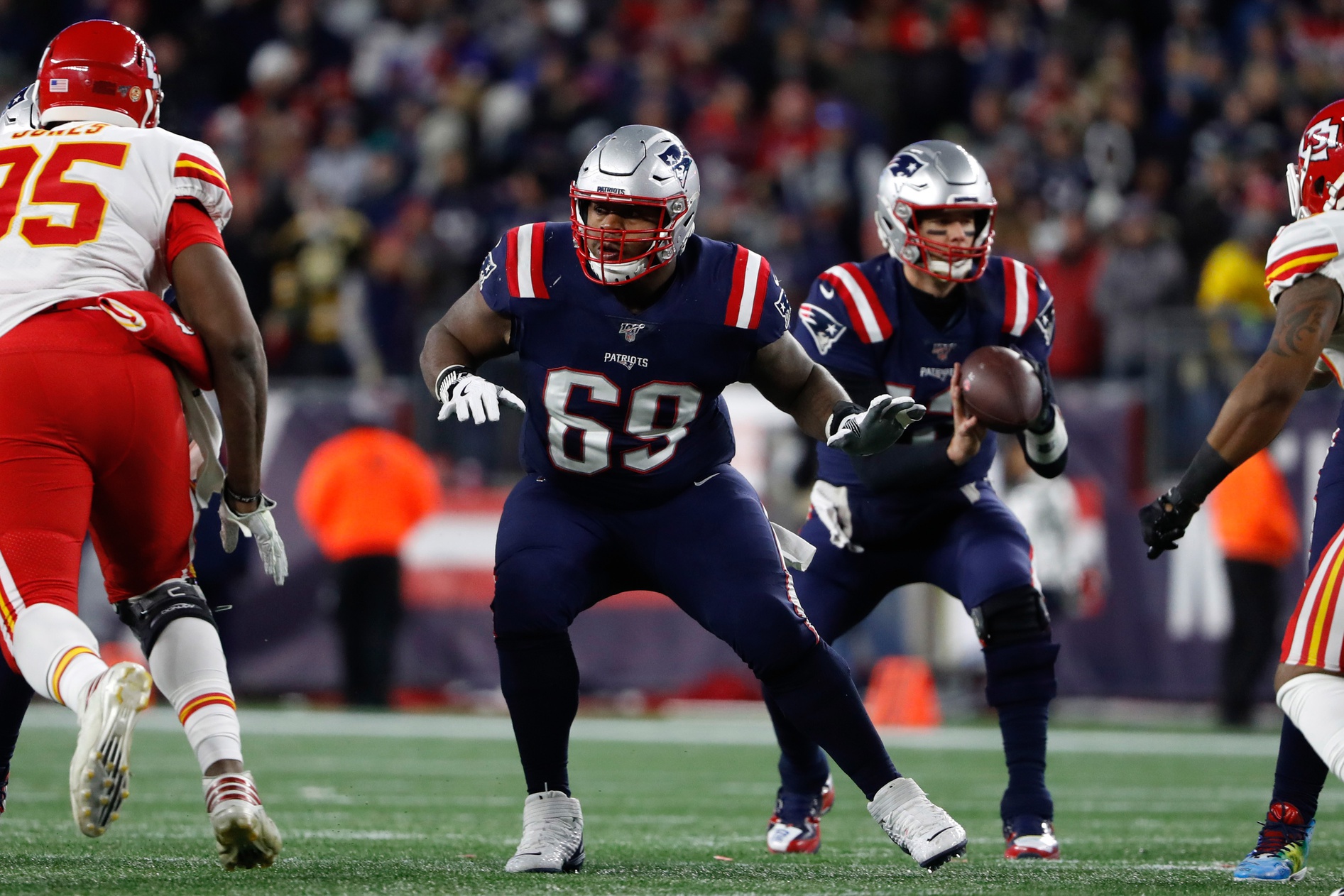 New England's offensive line finished 10th in our 2019 rankings and should be capable of cracking the top 10 once again. Left tackle Isaiah Wynn has played just 563 snaps after being drafted in the first round in 2018, producing a 70.7 grade in 2019, good for 34th among 89 tackles. Wynn got off to a good start in what was essentially his rookie season, particularly in pass protection, where he earned a 75.0 grade.
Right tackle Marcus Cannon has graded at 70.0-plus over the past four years, though last season's 70.1 mark is his lowest during that time. He has developed into one of the more dependable right tackles in the league after turning his career around in 2016 with an 86.6 grade that tied for sixth among all tackles. On the inside, left guard Joe Thuney has improved his grade every season since entering the NFL and finished at 79.2 overall in 2019, good for fifth among guards. Thuney graded at 88.0 as a pass protector, allowing just 17 pressures on 732 attempts — evidence that he's improved his ability to handle power players since his rookie season.
Right guard Shaq Mason is one of the better run blockers in the league, capable of collapsing defenders at the line of scrimmage or locating them on the move. Mason's 86.9 overall grade ranks fifth among guards since 2016. At center, David Andrews returns after missing all of 2019 due to injury. Andrews has graded at 67.0 or better in every year as a starter from 2015 to 2018, including a career-high 82.1 mark in 2017.
While the starting five has plenty of experience, New England has an intriguing group of first- and second-year players — including tackles Yodny Cajuste and Justin Herron and guards Hjalte Froholdt and Michael Onwenu. That group gives the Patriots excellent depth and flexibility when building for the future.
DEFENSIVE LINE
The Patriots' defensive front has undergone some significant turnover this offseason. Kyle Van Noy was the highest-graded member of the group a season ago but will be plying his trade in Miami in 2020, while Danny Shelton moves to another refuge for former Patriots — the Detroit Lions. That frees up plenty of opportunities for other players to earn time, particularly to replace Van Noy. Second-year edge rusher Chase Winovich was impressive as a rookie but played fewer than 300 snaps. He notched 23 total pressures on 232 pass-rushing snaps and could be a candidate to step into a larger role in 2020.
Deatrich Wise Jr. was the most efficient pass-rusher of the group a season ago and has one of the best pass-rush win rates in his NFL career of any defensive lineman. However, he was a liability at times in the run game and has seen his playing time decrease in each of his seasons in the league. John Simon was solid in 2019, grading at 73.3 overall on just under 500 snaps, but seems unlikely to have the upside to replace Van Noy's production.
The most intriguing additions to the team and the competition for playing time came in the 2020 NFL Draft, where the Patriots added Michigan's Josh Uche and Alabama's Anfernee Jennings in back-to-back rounds. Uche, in particular, was one of the most efficient pass-rushers in college football but is undersized and has never really been deployed as a full-time edge rusher. He fits perfectly into a defense that is excellent at putting players in a position to succeed, and he could hit the ground running in terms of pass rush production.
One of the best run-stoppers in the draft, Anfernee Jennings is a classic power edge from Alabama who can contribute on early downs in the classic New England hybrid role. To replace Danny Shelton, the Patriots brought in Beau Allen. Allen has been a rotational body on the defensive line in his career in Philadelphia and Tampa Bay, and he will compete for Shelton's vacated snaps. The interior options like Allen and Lawrence Guy are more solid than impressive, but last year's fifth-round pick Byron Cowart could be a dark horse candidate to earn some more playing time. He barely featured for the team in the regular season but had impressed in the preseason and been a standout at the Senior Bowl before the Patriots drafted him.
LINEBACKER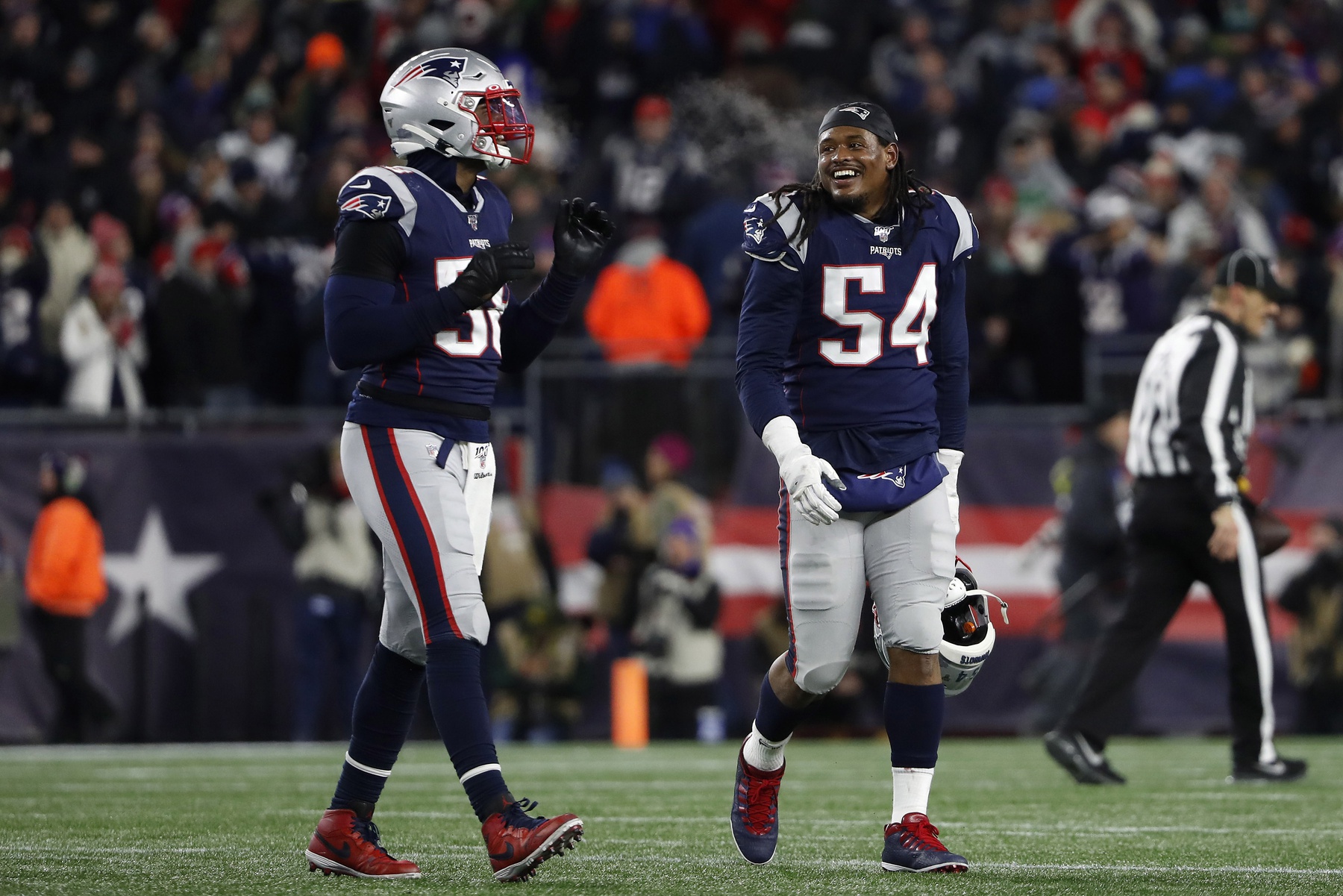 New England annually has one of the best linebacking groups in the league, though they have some turnover at the position heading into 2020. Dont'a Hightower has been a staple since 2012, showing off the coveted versatility to play the run, to drop into coverage and to rush the passer from various alignments. Hightower bounced back from injury-prone and subpar years in 2017 and 2018 to grade at 71.3 last season, including his best coverage grade since 2016. He led all off-ball linebackers with 277 pass rushes and 33 pressures, including seven sacks. Blitzing linebackers are a New England staple, and the team must replace Jamie Collins' production after he ranked second behind Hightower with 32 pressures.
Collins rejuvenated his career in his return to New England, grading above 70.0 for the first time since 2015. The Patriots signed Brandon Copeland from the Jets, and he's more of the pass-rush conversion type that New England has had success with in the past. In 2018, he rushed the passer 357 times and picked up 38 pressures before taking on a more traditional linebacker role last year and grading at 58.6. Elandon Roberts also moves on after four years as an early-down run-stopper, a role that should fall to Ja'Whaun Bentley, who was an outstanding run defender in college and has shown flashes on his 432 career snaps.
SECONDARY
The New England secondary is led by arguably the best cornerback in the game in Stephon Gilmore. Over the past two seasons, Gilmore has by far the best PFF grade among corners (91.3) — and that is despite tracking No. 1 receivers more or less every week for the Patriots. In 2019, Gilmore scored more touchdowns on defense (two) than he surrendered in coverage (one) and gave up just a 47.4 passer rating when targeted. Gilmore's elite-level play allows the Patriots to maximize the effectiveness of the rest of their corners.
J.C. Jackson has yet to surrender a catch longer than 28 yards in the regular season, and when he has been targeted in his career, the resulting passer rating is the same as if the quarterback had just thrown the ball into the dirt every play. Jackson's grade isn't as spectacular as his numbers, but that's the effect of the scheme and Gilmore's presence. Jason McCourty and Jonathan Jones give the Patriots excellent depth as well as top-end play at cornerback.
At safety, the Patriots were able to bring back Devin McCourty, one of the most consistent players they have had over the past decade. McCourty has had back-to-back seasons with a PFF grade above 80.0 and has three years with a mark of 90.0 or better in his career. Patrick Chung and Adrian Phillips provide solid veteran play, and they'll help develop second-round pick Kyle Dugger from Division II Lenoir-Rhyne. Overall, the Patriots have had one of the best secondaries in the league for a number of years, led by one of the best defensive minds of all time.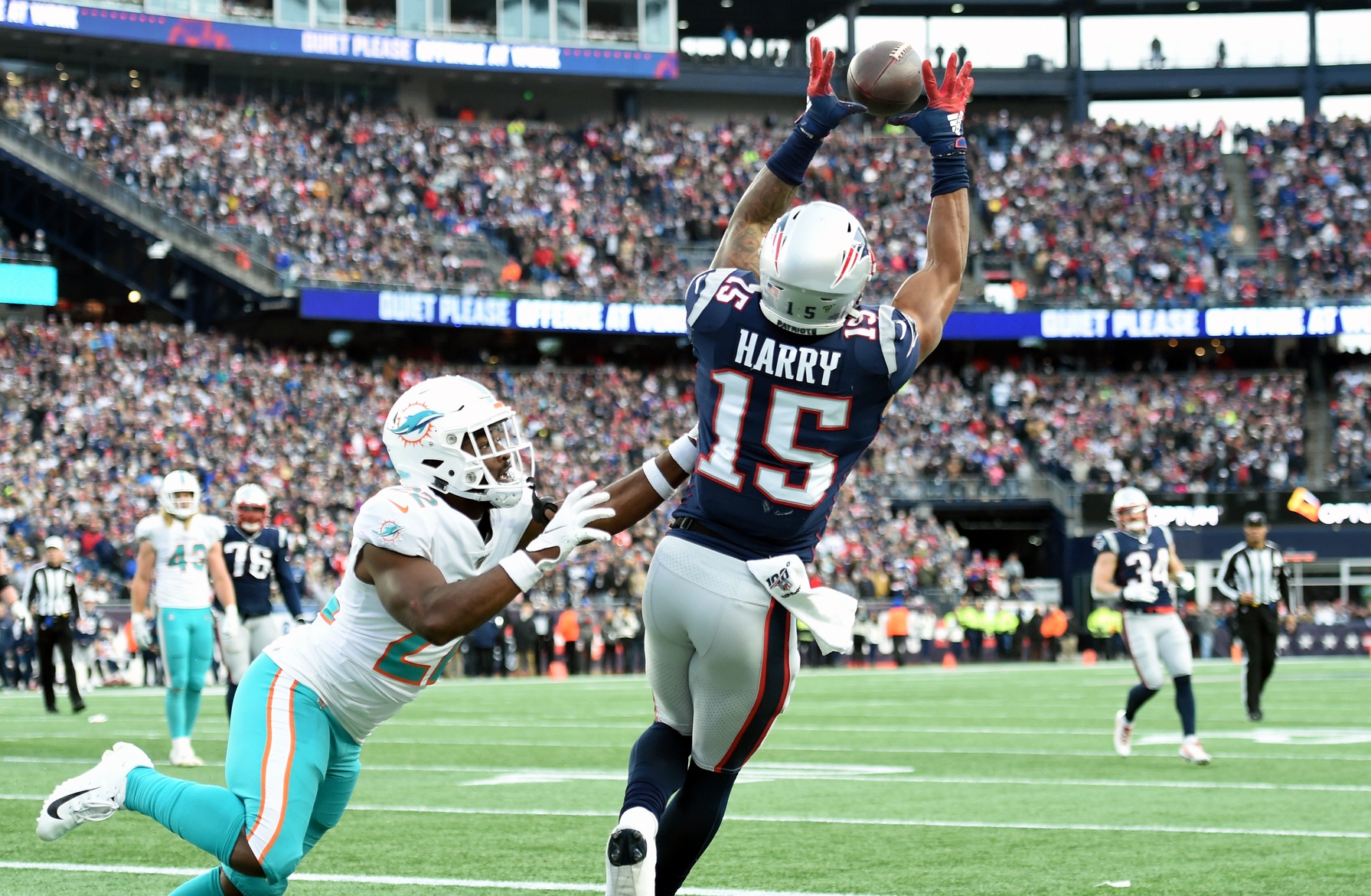 With so many question marks within the Patriots' receiving corps, Harry must be ready to take on a bigger workload in 2020. He showed the same skillset in 2019 that was on display in college, as he's dynamic with the ball in his hands and will make his fair share of spectacular catches. But he struggled to create more favorable, open throws for his quarterback, and even when he did, Harry dropped three of his 17 catchable passes. While he may never be the best route-runner, there is some big-play potential in Harry's game. He just needs to show it this season.
DRAFT CLASS REVIEW
New England brought in a large draft class, with perhaps the biggest story being that it was business as usual — even without Tom Brady. The Patriots maneuvered the draft board, moving up and down to find their guys, and came away with 10 players, the first three of whom were on the defensive side of the ball. This draft will be remembered for the Patriots replenishing depth on the defensive side of the ball along with attacking a huge need at the tight end position.
BEST BET
No team has seen their odds fluctuate more this offseason than the Patriots. It has been a wild ride in Foxboro, with the loss of Tom Brady dropping their sky-high win total down to 8.5. Since signing Cam Newton, the Patriots odds have caught a bid, as they have been re-established as the favorites in the AFC East. Newton definitely helps their case out East, but according to our simulation, the news of the signing has caused a bit of an overreaction from betting market movement.
In our latest simulation, the Patriots win the division 36.3% of the time. That's better than previous pricing but still well short of the current betting market consensus. Hope springs through in New England, but that may be a losing proposition this season. The best bet on the board appears to be the plus money wager on the Patriots not making the playoffs, with current odds available at +184.