Now through Week 10 of the 2019 NFL season, we at PFF have updated our power rankings using PFFELO.

Like any ELO system, it adjusts the ranking of a team after each game based on what happened in the game and the perceived strengths of the team and its opponent prior to the game. As opposed to most other ELO systems, PFF ELO doesn't use the final score to update the rankings. Instead, we compute what the final score should have been based on the player grades. Thus the predictive power of our grades carries over to a strong predictive power of our ELO rankings, though we should note that other variables go into our season-long or game-by-game projections.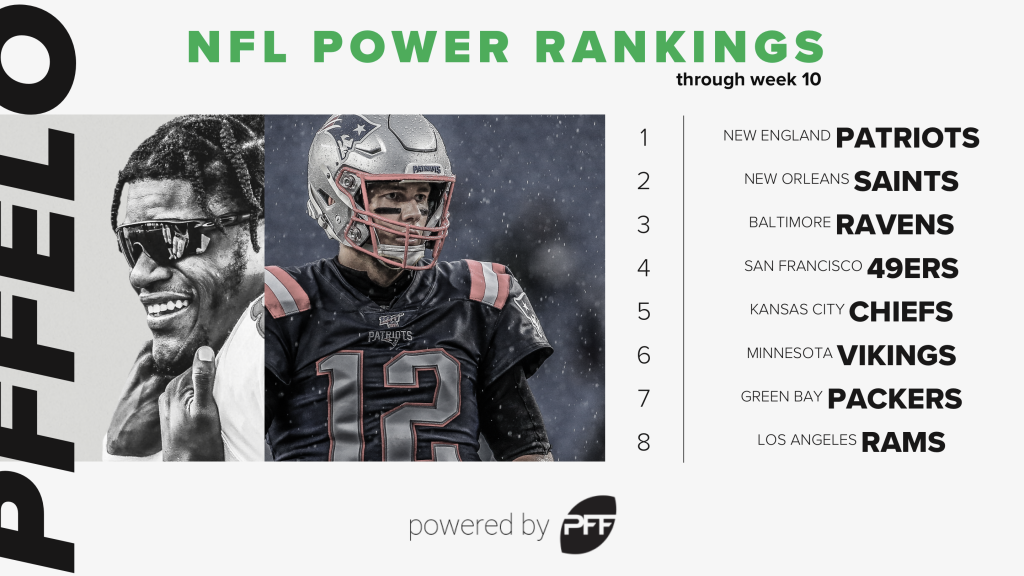 Last Week: 1st
While much of the story surrounding the Patriots involves their defense, whether that be the unreal first eight games for the unit or the signs of weakness against a Ravens offense that is tearing through the league, it is ultimately their offense that will determine their success this season. Brady is still one of the top quarterbacks in the league when given time to operate from a clean pocket, coming in as PFF's highest-graded quarterback in the NFL when not pressured this season. The same can not be said for when pressure does get home (19th among quarterbacks). That leads to the critical question for the Patriots season: How well can they consistently keep pressure off Brady with an offensive line that has taken a step back in 2019?
Last Week: 2nd
The Saints surprisingly fell to the Falcons at home in Week 10 but maintain their spot at No. 2 in our ELO rankings. Despite the loss, New Orleans still ranks eighth in EPA allowed per play and features the third-ranked quarterback in PFF passing grade in Drew Brees. We expect Brees & Co. to bounce back and make a deep postseason run.
Last Week: 4th
Lamar Jackson continues to just put up performances that make you believe in his skillset and what the Ravens offense is doing right now. His overall grade of 97.8 in the Week 10 win over the Bengals was the second-highest single-game grade of any quarterback since PFF began grading back in 2006. The Ravens leading the league in EPA per play as an offense is not a fluke, and that offense starts and stops with Jackson. There have been 13 occurrences of a quarterback grading at 90.0 or higher in a single game this season, and Jackson now owns three of those games.
Last Week: 3rd
The 49ers' offense enters Week 11 ranked just 13th in EPA per play, and starting quarterback Jimmy Garoppolo owns just the 18th-best PFF passing grade among qualifiers. The offense is fighting to stay above average while the team's defense continues to dominate. Robert Saleh and the San Francisco defense ranks second in EPA per play allowed behind just Bill Belichick and the Patriots entering Week 11.
Last Week: 5th
After Matt Moore performed admirably in a couple of spot starts for the Chiefs, Patrick Mahomes came back to lead a 32-point performance against the Titans … in a loss. There is little reason to worry about their offensive firepower coming down the stretch, especially with a healthy Mahomes that resembles the 2018 iteration. Their defense, however, does have legitimate concerns. Only the Falcons, the Dolphins, the Bengals and the Cardinals have allowed a higher percentage of the plays against them to be converted for a first down or a touchdown than the Chiefs have this season.  
Last Week: 6th
Kirk Cousins has played at a high level in recent weeks, and the offense has benefited significantly from his improved play. Minnesota enters Week 11 ranked fourth in EPA per play and yards per play. The offense also ranks fifth in scoring drive percentage (29.2%).
Last Week: 9th
Aaron Rodgers enters Week 11 ranked second in PFF passing grade (85.2) among all quarterbacks with at least 200 dropbacks on the year. He has recorded 24 big-time throws and just eight turnover-worthy plays so far this season. In turn, the Packers' offense currently ranks inside the top-10 in EPA per play, scoring drive percentage and yards per play. Green Bay's defense hasn't been as successful, but offense is king in today's NFL. Rodgers has this team in a good spot right now.
Last Week: 7th
The Rams continue to fall in PFF's ELO rankings with their underwhelming efforts on both sides of the ball. Jared Goff enters Week 11 ranked just 19th in PFF passing grade (69.0), and the Rams' offense as a unit ranks just 19th in EPA per play, as well. The offensive line is drastically underperforming and now battling injuries. Los Angeles' defense is what's keeping the team from a complete free fall. With Aaron Donald leading the way, Los Angeles' defense ranks fourth in EPA per play allowed and fifth in yards per play allowed.
Last Week: 13th
Russell Wilson should be the favorite to win NFL MVP considering his efforts in Weeks 1-10. The Seahawks signal-caller currently leads all qualifying quarterbacks in PFF passing grade (89.4) and has recorded 27 big-time throws and just six turnover-worthy plays in the process. Seattle goes as Wilson goes, and Wilson is winning right now.
Last Week: 10th
Carson Wentz enters Week 11 ranked fifth in PFF passing grade (83.8) with 16 big-time throws and nine turnover-worthy plays. The offense, however, has still been plagued by drops and currently ranks just 16th in EPA per play and 22nd in yards per play. Defensively, the Eagles rank inside the top half of the NFL in yards per play allowed and EPA per play allowed.
Last Week: 8th
It was a rough week for the Texans in the PFF ELO rankings as they moved down three spots despite being on a bye in Week 10 based on the results elsewhere around the league. That being said, they still stand as one of the top threats in the AFC thanks to Deshaun Watson, who is putting together an MVP candidate-level season. He is the only quarterback besides Lamar Jackson to own a passing grade and rushing grade of 80.0 or higher this season, and oddly enough, both will share the field this week. The next three games for Houston — against Baltimore, Indianapolis and New England — will go a long way to determining how they stack up against the other AFC contenders.
Last Week: 12th
The Steelers have now strung together four consecutive wins to move to 5-4 on the season, including back-to-back victories over the Colts and the Rams. In a turn of events from recent seasons, the Steelers' defense (third in EPA allowed per play) has carried a below-average offense (29th in EPA/play). Minkah Fitzpatrick has received a lot of the media hype for his splash plays since arriving in Pittsburgh via trade, and deservedly so, but the pass-rush deserves equal attention. T.J. Watt is currently PFF's highest-graded edge defender, while Cameron Heyward trails only Aaron Donald and Calais Campbell among interior defenders. In a city that has grown accustomed to elite defensive performances, defense is back. 
Last Week: 11th
Dak Prescott is on pace for a career year in 2019. He enters Week 11 ranked ninth in PFF passing grade (80.9) with 18 big-time throws and 13 turnover-worthy plays. And his top target, Amari Cooper, leads all receivers with at least 200 routes run in PFF receiving grade (90.3). Cooper is averaging over three yards per route run and has 20 receptions of 15-plus yards. With Prescott and Cooper leading the way, Dallas' offense currently ranks second in EPA per play and first in yards per play.
Last Week: 14th
Many wondered if the Dolphins would win a game at all early in the season, so the fact that the Colts lost to that Dolphins team last week doesn't instill confidence in their chances moving forward. In that game, Brian Hoyer wasn't as bad as his three interceptions and 38.8 passer rating would suggest (Hoyer had just one turnover-worthy play in the game), but he still came away with just a 56.7 passing grade. The Colts will look to right the ship against the Jaguars this Sunday, and they hope to do it with Jacoby Brissett at the helm. 
Last Week: 17th
Mitchell Trubisky is playing a lot like we expected him to this season, and his lowly efforts have the Bears ranked 25th in EPA per play, 30th in yards per play and 27th in scoring drive percentage. The defense is keeping the Bears alive in the NFC. Khalil Mack & Co. enter Week 11 ranked third in yards per play allowed and fifth in EPA per play allowed.
Last Week: 15th
The Panthers' defense has been good, not great this season, and their offense has been slightly worse. Clawing into the top-10 in PFF's ELO rankings will require improved play from quarterback Kyle Allen. After coming out the gates hot, Allen has cooled down quite a bit and now enters Week 11 ranked 29th in PFF passing grade with 12 big-time throws and 14 turnover-worthy plays.
Last Week: 16th
The Chargers had a golden opportunity on Thursday Night Football to build on their win over the Packers and beat a fellow wild card and AFC West hopeful to pull to 5-5 on the season. Instead, they lost to the Raiders in a game that magnified the biggest weakness on their team — their offensive line. The Chargers allowed pressure on 39% of Rivers' dropbacks in the game, which was the third-highest number of any team last week. They did so against a Raiders' pass-rush that had generated pressure at just the 25th highest rate in the NFL coming into last week. Simply put, if the offensive line continues to give Rivers no time in a clean pocket, it will be difficult for them to move the football and string together wins.
Last Week: 18th
The Titans are coming off their biggest win of the season against the Chiefs in Week 10, bringing them to 5-5 on the season after a 3-1 stretch with Ryan Tannehill as the starter. Among 33 quarterbacks with 250 or more offensive snaps this season, Tannehill ranks 12th in overall grade at 78.4. He ranks fourth in big-time throw rate behind only Matthew Stafford, Russell Wilson and Patrick Mahomes. In other words, he has made it clear that the Titans made the right decision in moving on from Mariota, and Tannehill has them in position to contend for a playoff spot in the AFC.
Last Week: 21st
The Raiders continue to rise in the PFF ELO rankings after another big win, this time over the Chargers on Thursday Night Football. There are still legitimate concerns about whether their defense can stop a competent offense (32nd in EPA allowed per play this season), but their offense has been a top-10 unit throughout the year (seventh in EPA/play). Derek Carr sits as the fifth-highest-graded passer in the NFL through 10 weeks and his rookie backfield mate, Josh Jacobs, is the highest-graded running back in the league. With a favorable remaining schedule, that offense puts them in strong position for a playoff berth. 
Last Week: 20th
The Broncos remain locked in at 20th in our rankings after a Week 9 victory with Brandon Allen at quarterback followed by a Week 10 bye. Courtland Sutton continues to be a bright spot for this Denver offense, grading out as a top-10 wide receiver in the league in his second season. A year after catching just 53% of his targets and dropping nine passes, Sutton has brought in 72% of his passes in 2019 with just one drop. His passer rating when targeted has skyrocketed from 84.6 to 131.3 as well. He's rapidly developing from a disappointment as a rookie to a legitimate top-tier talent at wide receiver that will help out whoever is quarterbacking the team moving forward. 
Last Week: 19th
The Bills are coming off their most disappointing loss of the season against the Browns in Week 10, and that result knocked them outside the top-20 in the PFF ELO rankings. Josh Allen produced one big-time throw in the game compared to three turnover-worthy plays as the Bills ultimately didn't have the offensive firepower to win the game. Their defense remains one of the best units in the league (fifth in EPA allowed per play), but if their offense doesn't improve, they'll be susceptible to results like the one last Sunday: losses in which neither team scores more than 20 points.
22. CLEVELAND BROWNS
Last Week: 23rd
The Browns were able to halt their four-game losing streak with a win over the Bills on Sunday, but there are still plenty of questions surrounding Baker Mayfield and this passing offense. Mayfield had three turnover-worthy plays in the game despite no interceptions, which is probably warranted given his turnover luck on the season prior to last week (12 interceptions compared to 10 turnover-worthy plays). On the season, Mayfield ranks just 31st out of 32 qualifying quarterbacks in passer rating. Unlucky interceptions or not, the Browns have too much talent in their passing offense for that to be the case. Things don't get any easier against a red-hot Pittsburgh defense on Thursday Night Football in Week 11. 
Last Week: 26th
The Flacons move up three spots in PFF's ELO rankings following the team's upset win over the Saints in Week 10. Playoffs are still a bit of a pipe dream for Dan Quinn & Co. considering the team's current record and defensive standing. Atlanta enters Week 11 ranked 25th in yards per play allowed and 30th in EPA per play allowed.
Last Week: 22nd
The age of Gardner Minshew is over in Jacksonville after he put together one of the uglier fourth-quarter performances you'll see against the Texans prior to their bye this past week. That ushers Nick Foles back into the fold, who only got off eight pass attempts before his injury in Week 1, but he looked great on those eight passes. Foles completed five of them for 75 yards and a touchdown, including one big-time throw. Performances like the ones that Foles delivered to close out the 2017 postseason are what got Foles the big contract, and the Jaguars will be hoping he delivers a similar performance to close out the 2019 season. 
Last Week: 24th
Jameis Winston's roller-coaster play under center is keeping Tampa Bay from having one of the better offenses in football. Mike Evans and Chris Godwin both rank inside the top-five in PFF receiving grade, but Winston still ranks just 20th in PFF passing grade with his 15 big-time throws and 23 turnover-worthy plays. The Bucs enter Week 11 ranked just 17th in EPA per play.
Last Week: 25th
Detroit needs a healthy Matt Stafford if they're going to climb PFF's ELO rankings and make a run at the playoffs. The veteran signal-caller enters Week 11 ranked eighth in PFF passing grade (81.4) with 25 big-time throws and just 12 turnover-worthy plays. Before the Jeff Driskel experience in Week 10, Detroit ranked fourth in EPA per pass play and third in yards per dropback.
Last Week: 27th
Kyler Murray and coach Kliff Kingsbury are getting better every week on the offensive side of the ball, but the team's defense continues to struggle. Arizona enters Week 11 ranked 30th in yards per play allowed and 29th in EPA per play allowed.
Last Week: 29th
The Jets won the battle of New York for their second win of the season, jumping the Redskins in the PFF ELO rankings as a result. Sam Darnold had just a 64.0 passing grade for the day, but most importantly, he didn't make any major mistakes. He had no turnover-worthy plays in the game for the first time since Week 1 against the Bills. We've already seen Darnold turn in top-tier quarterback play to close out a season last year. For the sake of the Jets moving forward, they'll need to see more of those types of performances to close out the 2019 season as well. 
Last Week: 28th
Not much is going right for Washington. The carousel of quarterbacks that have taken the field for the Redskins have combined to lead an offense that currently ranks 30th in EPA per play and 29th in yards per play. And the defense hasn't performed much better.
Last Week: 30th
Whether the organization wanted to or not, the Dolphins are winners of two straight games after their victory over the Indianapolis Colts this past week. Cornerback Nik Needham had an impressive day in coverage in that win, allowing just three of the eight passes thrown his way to be completed for 34 yards. Needham added three forced incompletions and an interception to his stat line as well. The Dolphins now have four interceptions in the last two weeks compared to just two prior to that point. 
Last Week: 31st
Danny Dimes has not taken the team to new heights since taking over. New York enters Week 11 with just two wins, an offense that ranks 27th in yards per play and a defense that ranks 25th in EPA per play allowed.
Last Week: 32nd
It's pretty clear at this point that the Bengals are the worst team in the NFL at this moment in time, and from that perspective, last week went perfectly for them with a loss to the Ravens and wins by the Jets, Dolphins and Falcons. That leaves the Bengals in the uncontested lead position for the number one overall pick. If Ryan Finley's 42.6 overall grade is any indication, they'll be looking to take a quarterback with that draft pick. In his first start, Finley completed just over 50% of his passes, while putting up a 0:3 big-time throw to turnover-worthy play ratio. That included an ugly staredown and decision on an outside route that resulted in an easy pick-six for the Ravens.