Last week, we took a look at the league's best offensive play-callers. This week, using the machine learning capabilities of AWS, we crunched our play-by-play data to see which defensive play-callers were getting the most out of their team's talent.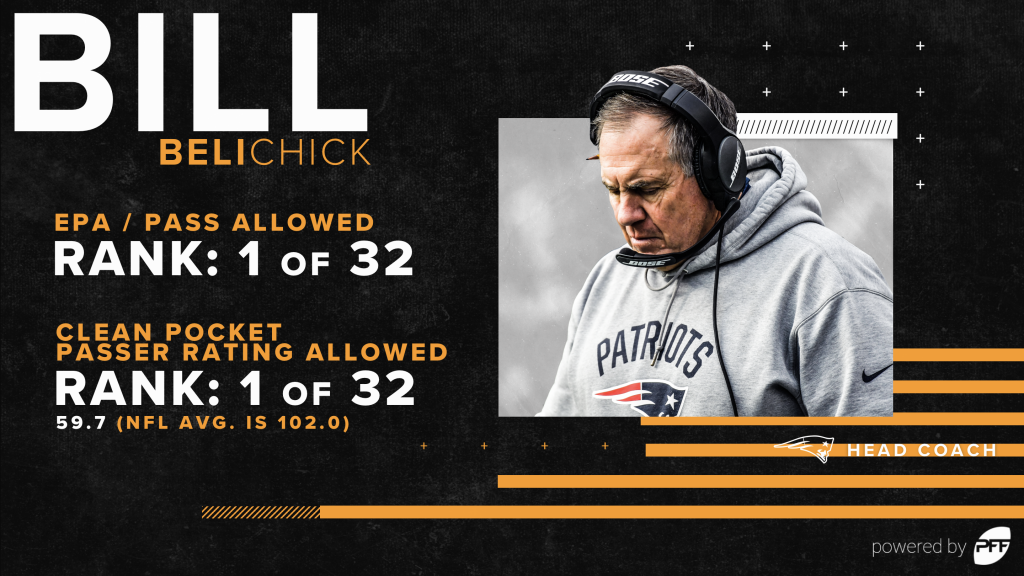 It's hard to actually discern who is calling the plays defensively for the Patriots, but it's easy to see that the great one is in charge. The Patriots have adhered to the idea that coverage is at least as important (if not more important) as pass-rush, building their defense around Stephon Gilmore as a long, lock-down corner, Devin McCourty as a top-tier all-around safety, Duron Harmon as a deep, center-field safety, Patrick Chung as the tight-end eraser. They allowed Trey Flowers to leave for Detroit in free agency and have not skipped a beat, going from 19th in overall pass-rushing grades in 2018 to fifth in 2019. 
Despite playing one of the league's easiest schedules, the coaching that Belichick is doing is more than one standard deviation better than the next-nearest coach in our metric. The Patriots have forced a whopping 22 turnovers on opposing team pass plays, and they rank first by a decent margin in expected points added per pass play allowed this season. The Patriots' defense is a modern marvel, as it's driven by great coverage and doesn't have a single d-line stud (no offense to Kyle Van Noy, who is a converted linebacker and now leads the team in pressures by 21). Opposing quarterbacks have a 59.7 passer rating when throwing from a clean pocket–to put this in proper context the NFL average passer rating from a clean pocket is 102.0 and the average when under pressure is 69.0–and their passer rating allowed from a clean pocket would be the ninth-best mark allowed when getting pressure. The Patriots turn clean-pocket passers into below-average pressured passers, and that is why Bill Belichick is a wizard.
While the Patriots and the 49ers get all the attention with notable defensive leaders on the sideline and on the field, the Buffalo Bills are very quietly one of the best defenses in the NFL without the star power. The highest-graded Bills defender is Micah Hyde, and he ranks just 62nd among all defensive players with 300-plus snaps this season. This emphasizes exactly how this metric for coaching is built: a team constructed of players who are good but not great is not expected to have consistently great results, and when they exceed expectations as a team, that credit goes to the defensive play-caller. Compare this with a 49ers team that has been great but is also getting exceptional play from a bevy of players at all levels of the field and has faced an easier slate of games to this point.
Despite the lack of star power, the Bills' defense is on par with the best in the NFL. On first- and second-down passes, the Bills' opponents are getting closer to scoring next just 44% of the time, which ranks third to the Patriots and 49ers. On all passing plays, the Bills are allowing the fourth-lowest expected points added and have done so without a whole slew of turnovers, forcing just nine, which is below the league average of 11.3.
Bowles' inclusion on this list is somewhat surprising, but while Tampa Bay has not met our expectations this season, their defense is vastly improved, especially given the set of opposing offenses they've faced so far this season. Jameis Winston's penchant for producing turnover-worthy plays has also put the Bucs' defense in precarious positions that they have often risen to. After finishing 31st in yards per play allowed against the pass in 2018, they are 24th through 10 weeks. They were the third-best team in terms of yards per carry allowed last year, and despite losing Gerald McCoy and breaking in rookie first-round pick Devin White at linebacker, they remain the league's third-best best unit.
The Buccaneers have improved despite having zero secondary players grading above 65.0 (and needing to jettison former first-round pick Vernon Hargreaves III just this week).  Free-agent newcomer Shaq Barrett is the NFL's leading sacker, despite having a PFF grade 73.6, demonstrating a pass-rush that is allowing Barrett to capitalize on his strong, but not elite, play through the season's first 10 weeks. If the Bucs' secondary, many of whom were drafted during the last two seasons, can emerge, maybe Tampa Bay can play spoiler down the stretch against an average remaining schedule of opponents.