• Michigan product Josh Ross ranks as the top-graded rookie after standing out through two weeks in coverage for the Baltimore Ravens.
• Miami Dolphins wideout Erik Ezukanma has caught two of his three contested targets through two weeks to rank tied as fifth-highest-graded rookie.
• Green Bay Packers tackle Zach Tom has yet to allow a pressure across 40 pass-blocking snaps in two preseason games thus far.
---
One tenet of the PFF grading system is that it doesn't change based on level of competition. That means if a player is going up against first- or third-stringers, the grading won't change; it's purely based on how well a player executes their job. That's important to keep in mind when looking at the highest-graded rookies through two weeks of the 2022 NFL preseason: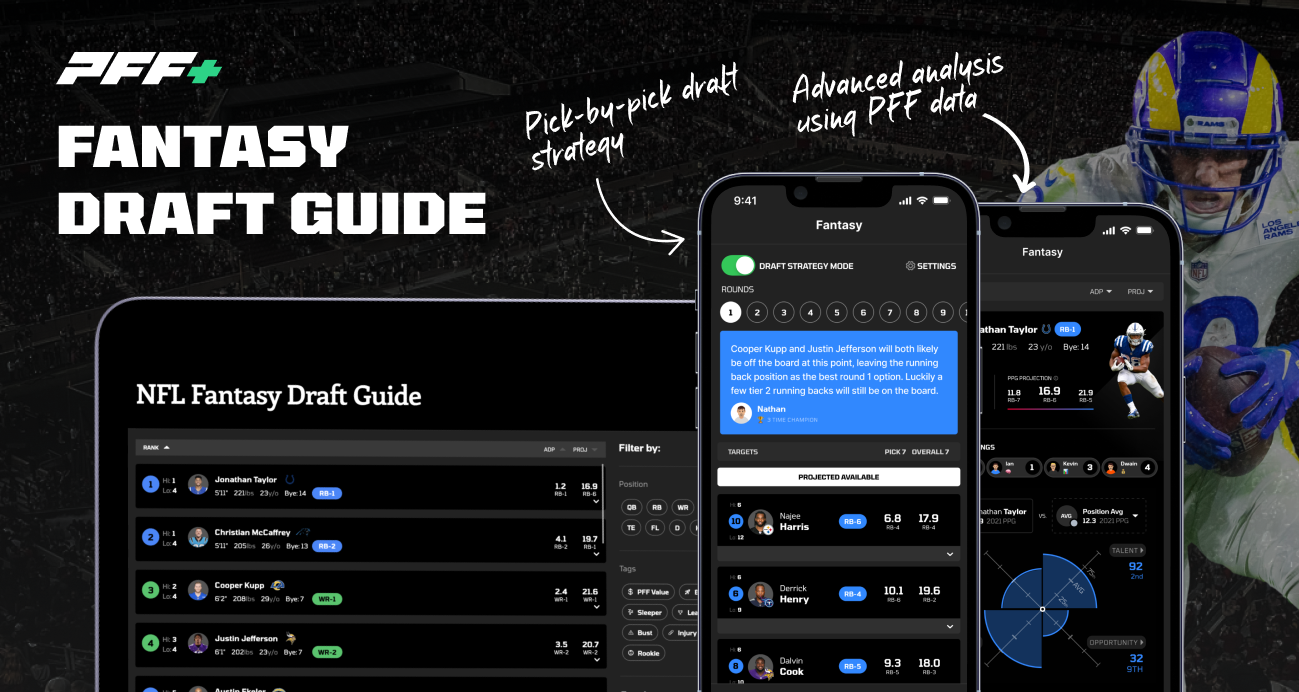 Ross has already been making his presence felt in coverage in each of the Ravens' two preseason outings. Against Tennessee, he allowed two catches on three targets for 10 yards with a pass breakup, then gave up just one catch on two targets for -1 yards against Arizona this past week. He hasn't been all over the field racking up stops, per se, but Ross hasn't made any glaring mistakes, either. The UDFA may not challenge for a starting role, but he should at least secure a roster spot.
The Falcons look like they have something in the former CFL standout. Alford has put on a show through two games, allowing seven catches on 13 targets for just 42 yards to go with an interception:
"I'll take that." – Dee Alford

????: @nflnetwork | @FOX5Atlanta
????: Falcons App pic.twitter.com/O0UueParHW

— Atlanta Falcons (@AtlantaFalcons) August 12, 2022
*Pending final review from Monday Night Football
Likely is already being declared one of the steals of the draft after catching all 12 of his targets through two weeks for 144 yards and a score. To secure those, the fourth-rounder has gone 4-of-4 on contested catches so far. That's not even close to the most impressive thing about Likely's game, though. On those 12 catches, he's broken an absurd seven tackles and averaged nearly 5.9 yards after the catch per reception. Likely is about to bring a whole new element to the Ravens' offense that it desperately needed. 
Good morning.
Isaiah Likely highlights.
Enjoy.???? pic.twitter.com/16jXt8aA3B

— Sarah Ellison (@sgellison) August 22, 2022
Emerson makes this list on the back of the most absurd interception we've seen this preseason. 
Martin Emerson with a pick 6. Good ball skills in college and he shows it here pic.twitter.com/bSf2o4hros

— Billy M (@BillyM_91) August 13, 2022
On 42 snaps in two games, Emerson has allowed four catches on seven targets for 57 yards. If he keeps making plays on the ball, he could challenge Greedy Williams for playing time early on.
Womack is seriously working his way into some regular-season playing time despite being a fifth-rounder. He's been targeted three times across two games and caught more passes than his opposition. Womack hasn't allowed a single catch yet but has picked off two passes himself while operating exclusively from the slot.
#49ers rookie DB Samuel Womack looks poised to takeover as the starting nickel ???? pic.twitter.com/Jum3Z7SjuY

— ???????????????????????????????????????????? (@TheSFNiners) August 15, 2022
Ezukanma has already flashed a complete skill set this preseason. The big-bodied receiver has not only won multiple times at the catch point (2-of-3 on contested targets), but he's also done work after the catch (three broken tackles) He's hauled in eight catches on 11 targets for 132 yards on 36 routes run. The fourth-rounder provides a physical presence that complements the rest of the receiving corps in Miami.
Erik Ezukanma had six catches for 114 yards the other night for the Miami Dolphins. Already flashing his potential!

6'2", 209 pounds, 33.5" arms. Size, play strength in all phases, athleticism. He gives Mike McDaniel a *ton* to work with.

— Ian Cummings (@IC_Draft) August 22, 2022
This is the same guy we saw at Wisconsin last season. Sanborn just sees the game at a high level and plays faster than any stopwatch measurements will tell you. He's allowed only one first down on eight targets and had an interception himself. Maybe most encouragingly, Sanborn hasn't missed a tackle on 10 attempts this preseason after displaying some issues in that facet at Wisconsin.
Rookie LB Jack Sanborn with the INT ????@ChicagoBears | @BadgerFootball

????: #KCvsCHI on @NFLNetwork
????: Stream on NFL+ https://t.co/3mvoWh7UD3 pic.twitter.com/qxkPWUcOwQ

— NFL (@NFL) August 13, 2022
Unlike many on this list, Cross' grade has been earned while running with the ones for Indy. He's seen three targets across two games — all three in the red zone — and not allowed a single completion while contesting the catch point on all three. We note that they were in the red zone because his short-area match and mirror skills aren't even what he was known for as a prospect. Cross' range, thanks to sub-4.4 speed, was supposed to be his calling card, but he's making plays one-on-one this preseason.
Nick Cross breaks up a pass in the end zone for the second week in a row ???? pic.twitter.com/0E8LwMjMYx

— NFL Rookie Watch (@NFLRookieWatxh) August 20, 2022
It's always enjoyable to see college evaluations translate to the NFL level so quickly. McFadden was one heck of a blitzer at Indiana, where he earned the highest pass-rushing grade of any off-ball linebacker in the country last year. That's already been the case for the Giants this preseason, as well, with two pressures on nine blitzes for an 83.1 pass-rushing grade. In Wink Martindale's blitz-heavy defense, that'll get him playing time.
Nice aggressive diagnosis & run stop by Micah McFadden pic.twitter.com/kPM0RfNGcW

— Bobby Skinner (@BobbySkinner_) August 12, 2022
Fatukasi has gotten extended run in each preseason game so far, with 80 total snaps already, and repaid the Buccaneers' faith with some impressive football. He not only leads all rookies with nine stops, but that figure also leads the entire NFL by two. After he was one of the most consistent tacklers in the country at Rutgers, Fatukasi has done the same in the league so far with only one miss on 15 attempts.
Virgil is a size-speed freak, and cornerbacks are finding out the hard way. He has five catches for 122 yards (24.4 yards per reception) through two games, with two of those being deep receptions. He was barely featured at Appalachian State, but Russell Wilson shouldn't have any trouble finding a receiver with his kind of speed next season.
.@jayvirg81 with another tough catch ????

????: My20 pic.twitter.com/kYOBvWDJyF

— Denver Broncos (@Broncos) August 20, 2022
On 40 pass-blocking snaps across two games, Tom has yet to allow a pressure. While that wasn't exactly "expected," Tom did lead all of college football in pass-blocking grade a season ago. What definitely hasn't been as expected is how well Tom has fared in the run game. He's earned an 82.6 grade in that regard, as his play strength concerns at Wake Forest haven't materialized on 75 snaps this preseason.
Not often you find a tackle in the 4th round ready to start as a rookie, but Zach Tom has looked the part at RT pic.twitter.com/6BB0VKlEFj

— Mike Renner (@PFF_Mike) August 22, 2022
Jurgens looks like a star in waiting. Watching him fly across the football field, it's difficult not to see shades of Jason Kelce in his game. Few centers in NFL history move as well in the open field as Jurgens does.
Cam Jurgens pic.twitter.com/vFG0zAu36T

— James Foster (@NoFlagsFilm) August 22, 2022
He's been a true weapon in the run game in both of the Eagles' preseason contests — and on a healthy 69 snaps, too. Whenever Kelce hangs it up, the Eagles' offensive line won't miss a beat.
Zach Tom isn't the only rookie Packers offensive lineman who is impressing. Jones may still have quite a bit longer to go in pass protection compared to Tom, but he's been dominant in the run game so far. The 6-foot-9, 370-pound tackle has already earned a 90.5 run-blocking grade across 30 such snaps. It will be an uphill climb for the UDFA to make the roster amid a loaded Packers line, but he's got intriguing developmental potential on the practice squad.
Durant was the talk of the Rams' rookie class all offseason, drawing rave reviews from coaches and fellow players alike. Now the world is seeing why. The fourth-round slot cornerback has allowed two catches on three targets for 28 yards with a pass breakup, two stops and a forced fumble. 
Rookie Cobie Durant making plays ????

Coach McVay approves. pic.twitter.com/ogtkE8we08

— NFL Network (@nflnetwork) August 20, 2022