NFL free agency is officially here.
Monday, March 14 marks the start of the legal tampering period, when teams can begin negotiations with respective free agents in preparation for the official opening of free agency: Wednesday, March 16 at 4 p.m. ET.
Here are the best remaining players available on the open market. This list will be updated as free agency progresses. Signed players will be removed from the list and replaced with the next highest-ranked free agent on PFF's free agency rankings.
Click here for more PFF tools:
Draft Guide & Big Board | Mock Draft Simulator
Dynasty Rankings & Projections | Free Agent Rankings | 2022 QB Annual
Player Grades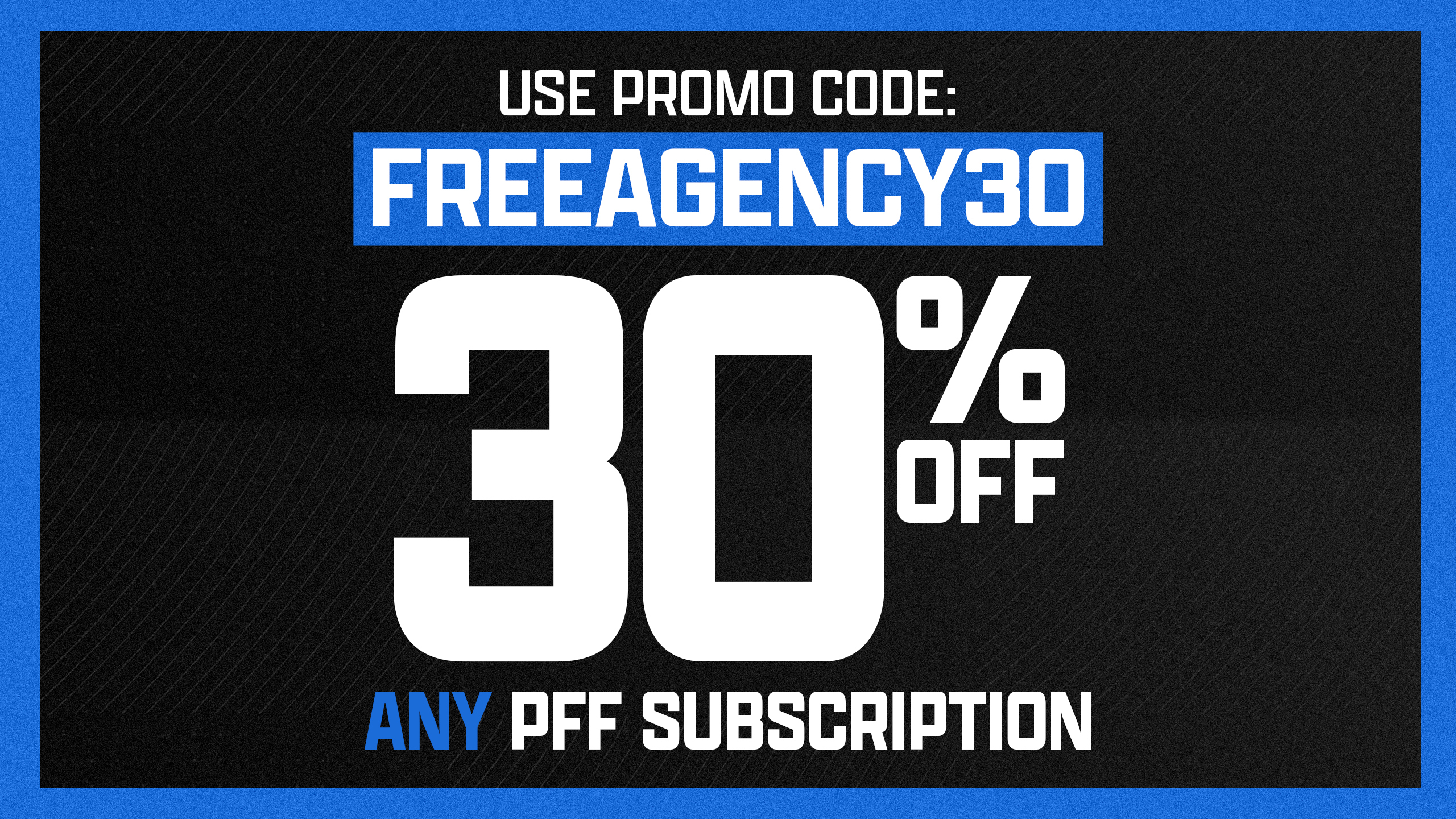 ---
LB Bobby Wagner
Wagner has been one of the league's best players since he came into the NFL. Since he was drafted, he has been the most valuable linebacker in football, according to PFF WAR. At his best, he was a tackling machine who once missed just five tackles in two years, but he has shown some signs that he isn't the player he once was. Wagner still has elite potential, but now gauging where he is in his decline becomes a tricky balance.

---

Edge Jadeveon Clowney
Clowney is one of the better run defenders in the league and he has the speed and power to move around the defensive line to create mismatches in pass-rushing situations. He's a No.2 pass-rusher and should not be relied upon as a No. 1 option.

---

CB Stephon Gilmore
Gilmore made the Patriots' defense tick from 2017 to 2019, as he played lockdown man coverage better than any corner in the league. He's at his best playing press man where he can cover the league's best receivers, but he comes back down to Earth when asked to play more zone concepts.

---

PFF's 2022 NFL Draft Guide provides analysis, strengths/weaknesses, comparisons, grades and more for all of college football's top prospects. Subscribe today for access…

---

S Tyrann Mathieu
Mathieu frequently finds himself on "most versatile" lists and his snap distribution backs those claims up. Since joining Kansas City in 2019, Mathieu has played over 600 snaps in deep, box and slot alignments. The Ravens reportedly had interest in Mathieu back in 2019 and could use his playmaking ability at safety.

---

WR Odell Beckham Jr.
OBJ has elite, No. 1 skills as a receiver, but it has been a long time since we have seen that player for any extended period of time. He has battled through a laundry list of injuries and doesn't seem quite the same explosive athlete he once was. He still has a rare blend of ball skills, athleticism and the ability to separate and will have suitors trying to uncover the player he once was.

---

C J.C. Tretter


Tretter has been a rock-solid part of the Cleveland offensive line since they signed him from Green Bay. He has five consecutive seasons starting and has earned at least a 72.0 overall PFF grade in the last four of them. Pass protection is his strength, and he now has seven straight years with PFF pass-blocking grades in the 80s, but his run blocking is typically very solid, as well.

---

DI Akiem Hicks
Hicks has been one of the better run defenders in the league over the last few years, especially when lined up over the guard or tackle. He has not been nearly as effective during his limited time playing nose tackle.

---

Edge Melvin Ingram III
Ingram is still an effective all-around player, but he's likely best as part of a rotation at this point in his career. He can play the run on the edge or rush from any alignment.

---

WR Antonio Brown
Brown works in any scheme and in any position. He would be best suited to a scheme that taps into that versatility and already moves their receivers around and interchanges roles.

---

DI Calais Campbell
Campbell broke out in 2011 and he hasn't looked back, ranking as one of the best defensive linemen in the league. He is at his best playing over the guard, but he's been effective playing the run and rushing the passer from all alignments along the defensive line. Campbell is a scheme-versatile player who upgrades multiple positions in any system.

---

T Duane Brown
While he's at his best in a zone-heavy scheme, Brown has done it all during his 14-year career. He's been one of the most dependable tackles in the league since his rookie season and he's likely entering tackle-for-hire one-year deal status for teams that expect to be in playoff contention.

---

PFF's customizable mock draft simulator gives you the opportunity to be the GM for any team in the 2022 NFL Draft. Try it today — it's free!

TE Rob Gronkowski
Gronk has been the quintessential all-around tight end during his hall of fame career and he still has many of those same characteristics, albeit a step below where he once was. He's one of the few tight ends who can plan in-line against defensive ends in the run game, but also line up outside and create mismatches as a receiver.

---

WR Julio Jones


Jones is one of the greatest receivers the game has seen. He posted five straight seasons of 90.0-plus PFF grades, with two more bookending those elite years that were at least 86.0 overall. At his best, he was uncoverable one-on-one and could win in every conceivable way at any moment.

Recent seasons have seen him struggle with injuries as he has aged, and now how effective he can be is something of an open question. Jones is potentially still an elite weapon in an offense if he can get 100% healthy over an offseason, but it's also possible that his days of being that effective are simply a thing of the past.

---

Edge Justin Houston
Houston fits into the cluster of edge defenders in this free-agent class who can still provide value to a defense but are best utilized situationally at this stage of their career. He has shown in his time with Kansas City, Indianapolis and Baltimore that he can operate both as a 4-3 defensive end and 3-4 outside linebacker.

---

Edge Jerry Hughes
Hughes has graded out in the 90th percentile or higher of edge defenders in pass-rush grade and pass-rush win rate over the past three seasons. Turning 34 years old in August means that ability is best used situationally at this point, but Hughes makes sense on a defense in need of another pass-rushing specialist off the edge.

---

WR Jarvis Landry
Landry isn't limited to being strictly a slot receiver and can win on the outside — just not as a Z receiver who doesn't have to consistently face press coverage. His route running and hands are excellent, but limitations to his speed and explosiveness restrict him to a complementary piece in a receiving corps.

---

CB Steven Nelson
Steven Nelson is a classic overachiever at the cornerback position. A little undersized, he has been a consistently good player in the NFL, making up for some limitations with feisty physicality. He is better in zone coverage, but can hold up in man coverage too and would fit within most NFL defenses. He would be a good option to a team that needs several cornerback additions like the Cardinals or Vikings.

---

Edge Derek Barnett
Barnett does not stand out in any one area, but he can play the run and he's a mid-tier pass-rusher. Ideally, he'd be part of a 3-man rotation on the edge, but he can provide a quality 600-800 snaps as a starter.

---

LB Alexander Johnson
Alexander Johnson has a complicated backstory and got his chance in the NFL late, but he has been consistently excellent in the time he has had. He hits free agency at 30 years old but with just a little over 2,000 career snaps to his name. Johnson should have at least one contract of high-end play in him as a middle linebacker that can do it all but especially bring the wood against the run. Though not his best areas, he can also be productive on the blitz and cover.

---

T Eric Fisher
Fisher fits in the mold of average starting tackles that fanbases think they can upgrade over, but the reality of replacing an average tackle isn't always pleasant. Fisher fits best in a zone-blocking scheme.


---

QB Marcus Mariota
Marcus Mariota's time in Tennessee never really got going and he devolved rather than evolved as a starter before being replaced by Ryan Tannehill. As a backup with the Raiders, he has flashed the potential to be a starter again after time on the bench, but in a league with plenty of options, there won't be many chances for him to start again and his best role may be that of a high-end backup that can offer a chance of pace package of rushing plays in certain situations from the bench.

---

---

CB Bryce Callahan
Callahan stepped up and played some outside cornerback for Denver in 2020 when he was called on, but that's not where he's at his best. Callahan has been one of the best nickel cornerbacks in the NFL with a 96th percentile slot coverage grade since 2017. Brandon Staley's defense in Los Angeles stands out as a scheme fit for Callahan if the Chargers aren't planning on re-signing Chris Harris Jr. this offseason.

---

RB Leonard Fournette
Fournette has rejuvenated his career in Tampa Bay's duo-heavy rushing attack. He has been one of the best runners in gap schemes in the NFL this season, so it makes sense that he would look for a similar scheme if he doesn't stay with the Buccaneers. Ideally, Fournette would rotate with someone who is better suited to take on the passing-down work that he's picked up over the past few years.

---

LB Dont'a Hightower
Typical of a Bill Belichick defender, it feels impossible to project productivity for Hightower outside of New England's system. Because the Patriots are intentional about how its players match up against offenses, Hightower is often in a position to succeed. If he were to leave New England, expect him to be a utility player, used most against run-heavy offenses.

---

G Daryl Williams
Williams has the versatility to play guard, but his best play in the NFL has consistently come at right tackle — every season he has had at that position has been a good one. When he moves to guard, his consistency is far more hit or miss. That versatility is valuable, but it should be seen more as a bonus when injuries hit because his best play is when he is allowed to start at right tackle consistently.

---

RB Sony Michel
Michel has now posted 70.0-plus PFF rushing grades in three of his four NFL seasons across multiple schemes. He will get downhill and move the chains on the ground, but he's provided little reason to send him out on many routes through four seasons.

---

DI Linval Joseph
Linval Joseph has been a dominant run-defender in his career but is coming off a surprisingly productive pass-rushing season for the Chargers. His biggest plus is the capacity to occupy space and dissuade interior running, making an impact whether or not he makes the play.

---

PFF's 2022 NFL Draft Guide is available to all EDGE and ELITE subscribers. If you're already a subscriber, download your copy here.

S Kareem Jackson
Jackson was moved from corner to safety to hide his slipping coverage skills in the first place, and Fangio's Cover 1 heavy scheme doesn't do much to mask those deficiencies. Philadelphia plays the kind of soft two high coverages that play best with Jackson's skill set.

---

CB Janoris Jenkins
As Jenkins continues to bounce from team to team, he remains a reliable starting option outside. He has earned PFF grades between 64.0 and 73.0 in every season of his career outside of a career-best 82.5 mark in 2016 with the New York Giants.

---

CB Robert Alford
Alford is the kind of defensive back you can use to stabilize a defensive backfield in need. With the attrition and injuries suffered in Tampa Bay, he may be an option for a similarly blitz-heavy, majority-zone defense.

---

LB Anthony Barr
Barr has made the successful transition from collegiate edge rusher to off-ball linebacker in the NFL, but he's still best utilized in a role that lets him get after the quarterback as a blitzer. He has consistently met expectations against the run over the course of his eight-year career, producing both negative and positive grades at one of the lowest rates at the linebacker position.

---

RB Melvin Gordon III
It's not as if Gordon has had no receiving responsibilities in recent years, but he's been the least efficient receiving back in the NFL with those opportunities. Since 2018, Gordon ranks in the 80th percentile of all running backs in rushing grade compared to the 0th percentile in receiving grade.

---

WR Will Fuller V
Fuller is the ultimate receiver tease in the NFL. An elite deep threat who immediately makes every offense he is on better, he can't stay on the field. Almost every offense in the NFL should be interested if the price is right, but they need to expect he will miss time, and that's a gamble many teams want no part of.

---

T Riley Reiff
Reiff was a longtime starter at left tackle before moving to the right side for the Bengals in 2020. He has been solid in both spots but loses enough that teams will always be looking to upgrade. He would be a high-end backup, but will also massively upgrade a problem spot for a team that has one.

---

T Billy Turner
Turner's grades have been solid but unspectacular during his time as a starter, but his versatility of having played multiple positions on both sides of the line brings value to teams. That versatility may be his biggest strength, and he may best fit as a sixth offensive lineman that can cover four positions. If he gets a shot to start, his best play has come at right tackle.

---

T Germain Ifedi
Ifedi started the 2020 season at right guard for Chicago before kicking back out to right tackle, where he also started the 2021 season. Ifedi has graded out better as a pass protector at tackle with the Bears, and he's been a better run blocker in gap schemes throughout his career.

---

CB Patrick Peterson
Peterson was one of the best corners of his generation at his peak, but at 32 he is now seemingly well beyond that peak. He still has enough experience and savvy to hold up overall, but isn't as quick or rangy as he once was which hurts his production in both zone and man coverage.

---

LB Nick Kwiatkoski


Kwiatkoski is an all-around linebacker who doesn't wow with measurables or upside but has been solid in all phases of the game during his time in the NFL, outplaying his fourth-round draft status. He comes to free agency after struggling the longer his time with the Raiders went but is only a couple of years removed from far better play in the Chicago defense.

He is still just 28 years old and could fill a role for a defense in the linebacker corps, particularly as teams are running more and more sub-package defense and the need for an every-down player at the position is less than it ever has been.

---

LB Kyzir White
White brings a strong all-around skill set to the table and he's continued to improve during his four-year career. He moves around well as an underneath zone defender, and he's at his best if he's kept clean in the run game. White is a mid-tier starter on the outside.

---

WR Emmanuel Sanders
Sanders still knows how to get open and he's capable of winning on the outside as a complementary option in a good passing offense.

---

DI Sheldon Richardson
Richardson has primarily played defensive tackle on four-man fronts of late, but he did kick out to defensive end this past season in Minnesota and has graded out best when lined up over tackles over the past three seasons. The 31-year old is durable and still brings a well-rounded game, even if he's no longer the dominant run defender he was early in his career for the Jets.

---

WR Keelan Cole
The five quarterbacks to throw the football to Cole the most in his NFL career have been Blake Bortles, Gardner Minshew, Zach Wilson, Mike Glennon and Mike White. It hasn't exactly been the best of circumstances, but Cole has still managed to produce relatively consistent results under those circumstances. He stands out as a decent complementary option who can line up either in the slot or outside.

---

Edge Jason Pierre-Paul
The last two edge defenders in their 13th season or higher to play a single defensive snap were Terrell Suggs and Lorenzo Alexander in 2019. The days of Pierre-Paul logging over 1,000 snaps like he did in 2020 should be over, but he can still contribute as part of a rotation that keeps him fresh.

---

CB Joe Haden
As an older defensive back, playing much less press coverage, it's time to take a look at slot DB or play outside in a zone-heavy scheme. If playing inside is a dealbreaker, the Giants and Raiders may want to take a look at Haden. Patrick Graham and Gus Bradley run Cover 1 less than 15% of the time, and allow their corners to play with the depth Haden needs to keep the game in front of him.

---

WR T.Y. Hilton
As Hilton ages, his value diminishes, but he's still capable of moving the chains as a complementary weapon on the outside.

---

WR Sammy Watkins
Watkins' best value in the NFL has been going off when all the focus is on another player. He has enough skills to win, and win big, against No. 2 corners or players that can't match up with him physically, but struggles against elite cover guys and has been fragile.

---

QB Andy Dalton
Teams aren't looking to build around Dalton, but he's a low-end starter who can hold the fort as a bridge to the future.

---

WR A.J. Green
Green has finished in the second percentile of all qualifying wide receivers in separation percentage since returning from injury in 2020. He's going to need to win in contested situations at this stage of his career, and he's only been average in those situations of late. He still provides a big target for quarterbacks at 6-foot-4 with 34-plus inch arms.

---

QB Ryan Fitzpatrick
When healthy, Fitzpatrick is a good short-term starter who can win some games, but he's ultimately a stopgap for an organization in transition.

---

T Brandon Shell
Listed at 6-foot-5 and 324 pounds, Shell isn't the dominant force in the run game that his size might suggest. But he has been a serviceable starting option for Seattle when healthy, which hasn't been a guarantee over the past two seasons. Shell has graded above the 65th percentile in true pass sets and in avoiding negative grades in the run game since 2020.

---

G Trai Turner
Trai Turner has elite tape on his NFL resume, but it came in the first couple of seasons of his career before his performances fell away. This past year in Pittsburgh, he had a relative bounceback season, but it was hugely helped by Ben Roethlisberger's league-fastest average time to throw. Turner showed he can still start, but how good he will be remains a question.

---

S Terrell Edmunds
Terrell Edmunds was s surprise first-round draft pick when the Steelers selected him in 2018, and while he has been a starter for them for his rookie contract, he has not excelled in any area. Typically not a liability, he has been low on the kind of playmaking teams want at the position.

---

S DeShon Elliott
Deshon Elliott carried an unenviable task of trying to cover for an injured and thin secondary, but he's capable enough to fulfill his responsibilities. Playing in the middle of the field or dropping over tight ends, he's a safety that can fill a hole in the secondary.

---

G Quinton Spain
Big maulers at the guard position generally profile best in gap schemes, but Spain has graded in the 57th percentile at the position on zone runs compared to just the 10th percentile in gap runs over the past three seasons. He's a starting option but likely one who teams will be looking to upgrade on.

---

T Bobby Massie
Massie has some ugly moments on tape giving up short angles to the quarterback in pass protection, but he's a steady starter on the right side overall.

---

T Cornelius Lucas
Lucas has been one of the better swing tackles in the league for the last eight years, always answering the bell with solid play when called upon.

---

C Matt Paradis
At 32 years old, Paradis still flashes the ability to make difficult reach blocks and climb to the second level on zone runs. An offense that plays to that strength is where he'll be at his best.

---

S Jabrill Peppers
At this stage of his career, it's unfair to hold expectations from Michigan against Peppers, but it's hard not to think about. Peppers' skill set fits best near the line of scrimmage in a Jamal Adams kind of role, but his movement skills don't do enough to make up for size disadvantages, and he's a liability in man coverage.

---

T Jason Peters
Peters has slowed down from his peak, but he's still a capable starting left tackle who can hold his own in pass protection while creating movement at the point of attack in the run game.

---

G Oday Aboushi
Oday Aboushi has developed into a solid starter at guard and has played on both the left and right sides throughout his NFL career. His ceiling may be limited, but he can solidify a problem area for a team that has a bad offensive line.

---

S Ronnie Harrison
Harrison should really only be playing over tight ends and in the box against running backs, a near prototypical down safety type. In a system like New England's always looking to field extra safety-type bodies, he would fit in perfectly given his abilities.

---

CB Jason Verrett
Given Verrett's injury history, it's difficult to project him as a starter despite his starter skills. He's an outside corner.

---

CB Chris Harris Jr.
One of the best corners of his generation, Harris is at his best as a nickel corner capable of playing both man or zone coverage. He has had success on the outside during his career, but those reps are likely best if limited at this point in his career.

---

CB Kyle Fuller
At his best, Fuller is a No. 1 cornerback who makes plays on the ball at one of the highest rates in the NFL. However, Fuller was far from his best last season in Denver.

---

T Nate Solder
Solder was already trending in the wrong direction as a low-end starting option at left tackle, but a move to right tackle made things look even worse in 2021. He's at his best when he can quick-set in a quick passing game, and he's still effective taking out linebackers in the run game.

---

T David Quessenberry
Perhaps better suited as a swing tackle, Quessenberry produced in a perfect role for his skill set as he executes all the necessary blocks in a zone scheme, though he does need to be protected in pass protection.

---

T Mike Remmers
Remmers could be a low-end starter at tackle, but any team that has him as their No. 6 offensive lineman is feeling good up front. He can play either tackle position or guard in a pinch and he's performed reasonably throughout his career.

---

C Dennis Kelly
Kelly can hold his own when called upon and he's played both tackles positions and both guard positions at points in his career. He's a classic sixth offensive lineman.

---

DI Maurice Hurst
Hurst does his best work as a pass-rusher where he can get under lineman's pads and push the pocket. He's less effective in the run game, so a heavy pass-rush role is best in order to maximize production.

---

Edge Arden Key
Key has never been a great run defender, but his breakout 2021 season showed that he has a role rushing the passer from multiple alignments.

---

LB Jayon Brown
Given Brown's injury history and his coverage/run game splits, he's at his best in more of a coverage-first role. It's harder to define that in today's NFL, but an ideal role for Brown is one that taps into his good coverage ability and limits his snaps against the run.

---

S Jaquiski Tartt
Tartt fits exactly what the San Francisco 49ers were looking for, as a safety with enough instinctual knowledge and technical proficiency to handle how opposing offenses attacked the 49ers' zone-heavy scheme.

---

LB K.J. Wright
A longtime stalwart at linebacker for the Seahawks, K.J. Wright has played strong and weakside linebacker throughout his career. He signed with the Raiders this past season but didn't look the same player in coverage and may have declined into a two-down player.

---

S Duron Harmon
Harmon is best served as a safety in a soft zone scheme, keeping the whole game in front of him. At 31, it looks like his athletic peak is squarely behind him, not making many plays on the football in 2021.

---

S Rodney McLeod
McLeod is made to play for defenses that still major in Cover 3, rolling down towards the line of scrimmage and adding value to the run game. For teams like the Falcons, Patriots, and Seahawks, he can step in and be a reliable piece of the rotation.

---

Edge Rasheem Green
Green has yet to post a season-long grade above 60.0, but he did record a career-high eight sacks with the Seahawks in 2021. He plays mostly on the edge but has had some success sliding over to defensive tackle in sub-packages. He's only 24 years old, so it's not crazy to think that he still has room to improve.

---

CB Xavier Rhodes
At his best, Xavier Rhodes was an elite cover corner in any scheme, but at his age those skills in man-to-man coverage have eroded. He can still do a job as a No. 2 in a zone scheme but passes thrown his way generated a passer rating above 90.0 in 2021.

---

TE Jared Cook
Cook has elite receiving skills and even at his age still has enough dynamism to get open and make plays. His issue has always been inconsistency, despite a track record of catching passes from elite quarterbacks. He can still be a valuable part of an offense, but expectations should be limited.

---

RB Marlon Mack
Mack hits free agency still just 26 years old and with the potential to break a big play at any moment. Durability has been a problem and he isn't a great option in the passing game, but Mack could be a nice change of pace option to a team with an established back.

---

Edge Takkarist McKinley
McKinley has settled in as a complementary piece on a good defensive line, preferably as a third pass-rusher. Expecting anything more is aggressive at this point in McKinley's development.

---

QB Geno Smith
We saw Smith start three games last year with uneven results, though he finished with a strong game against the Jaguars. It's the first extended action we've seen from him since 2017 – he's a reasonable backup option.

---

WR DeSean Jackson
Jackson has been a premier deep threat throughout his NFL career. He has consistently made an impact on whatever offense he has been on even deep into his career, but for the first time – with the Raiders – that stopped working in 2021, which likely scares teams away.

---

RB Justin Jackson
Jackson has struggled with durability throughout his career, making him a rotational back at best. Given his struggles in protection, his role is likely locked in as a receiving back type.

---

DI Ndamukong Suh
Suh has rarely come off the field during his career, but it might be time for him to take on a lesser workload. A 500-snap season could extract better production as Suh's overall PFF grades have declined in each of the last four seasons.

---

C Ethan Pocic
Pocic's struggles with picking up pass rushers on stunts and twists in 2021 make me concerned for his ability to play in more spread-out systems. If he's in an offense with heavy personnel and tighter formations, his run blocking would help to sell play-action fakes and buy him time in pass protection.

---

LB Josh Bynes
Bynes can contend to start almost anywhere in the NFL, if not win the job as a forgone conclusion. If a team like New England lost one of its LBs, Bynes could fill in as a dominant run defender.

---

C Austin Reiter
Reiter's run blocking film is an issue for an interior lineman, and his lack of power in protection and on zone schemes make it difficult to project a home where he should be considered a starter. Expect a pass-heavy offense to bring him into the fold as a player to swing around the three interior sports.

---

RB Darrel Williams
Williams showed versatility in playing in Kansas City's spread scheme, but he can punish teams as a north-and-south runner behind pullers and lead blockers like Tennessee.

---

DI Zach Kerr
Kerr's best use is as an additional DL to employ against heavier personnel, for the sake of the matchup. He can fit anywhere because of his ability to play in different alignments.

---

TE Jordan Akins
Akins' fit in the NFL as a tight end is precarious. He's not much of a run blocker, and certainly not a pass protector, but his value in the passing game isn't explosive. That squeezes him into a role of second or third tight ends for most talented teams.

---

G Michael Schofield III
It's always a bit concerning to see a guard's best tape be on combo blocks and his worst on base blocks. Schofield's saving grace is his ability to eat up interior pass rushers, which should make him a draw as a backup for spread-out offenses.