(As we head into the 2019 fantasy football season, we're taking a trip around the league to identify the offseason moves we'd most like to see each team make for fantasy purposes. Today: the Cleveland Browns)
For most franchises, a 7-8-1 season is unremarkable, maybe a little disappointing. For the Browns, 7-8-1 in 2018 represented a near-triumph, a 600% improvement on their combined win total from the two previous seasons. Such is the world of a moribund franchise suddenly becoming less moribund.
In addition to the improved record, the situation in Cleveland is on the upswing around the roster. The team (finally!) has a quarterback in Baker Mayfield. Nick Chubb was our highest-graded running back in 2018. Jarvis Landry came over as a free agent and held down the top receiver role. And David Njoku nearly doubled his receiving output from his 2017 rookie season.
The Browns haven't yet made themselves into a contender. But they're miles closer than they have been. This offseason, for the first time in a while, the Browns are polishing, instead of chiseling away at a big hunk of stone with no direction in mind.
(Keep up with the whole offseason wish list series here.)
Three offseason moves we want to see for Cleveland
Landry had a productive first year in Cleveland, eclipsing 1,000 yards from scrimmage and finishing as a top-20 PPR receiver. The only problem (not a big one) is that Landry was slightly miscast as a deeper-catch receiver than he had been in his career to date. His average depth of target in his last year in Miami was 6.3 yards, but that ballooned to 11.3 yards in Cleveland. Nobody is saying he needs to shrink back to a dump-off guy, but expanding his radius caused Landry to put up the lowest (by a little) PFF grades of his career, at 74.7 overall and 70.8 as a receiver.
Brown, off a somewhat disappointing one year in Baltimore, would help that by providing the team with a proven deep-ball option and allowing Landry to stay closer to home. Brown had a 17.0-yard aDOT in 2018, and he's had one of the 20 longest aDOTs every year of his five-year career. He would make the Cleveland offense more versatile.
Draft a receiver
Landry, Antonio Callaway, and Brown-if-they-sign-him would be a good start for a receiving corps, but there's likely no one in that group capable of being a Michael Thomas– or Julio Jones-style game-breaker. The Browns have four picks in the first three rounds, and with fewer glaring needs than they've had in generations, especially on offense, they can afford to spend one on a wide receiver with upside.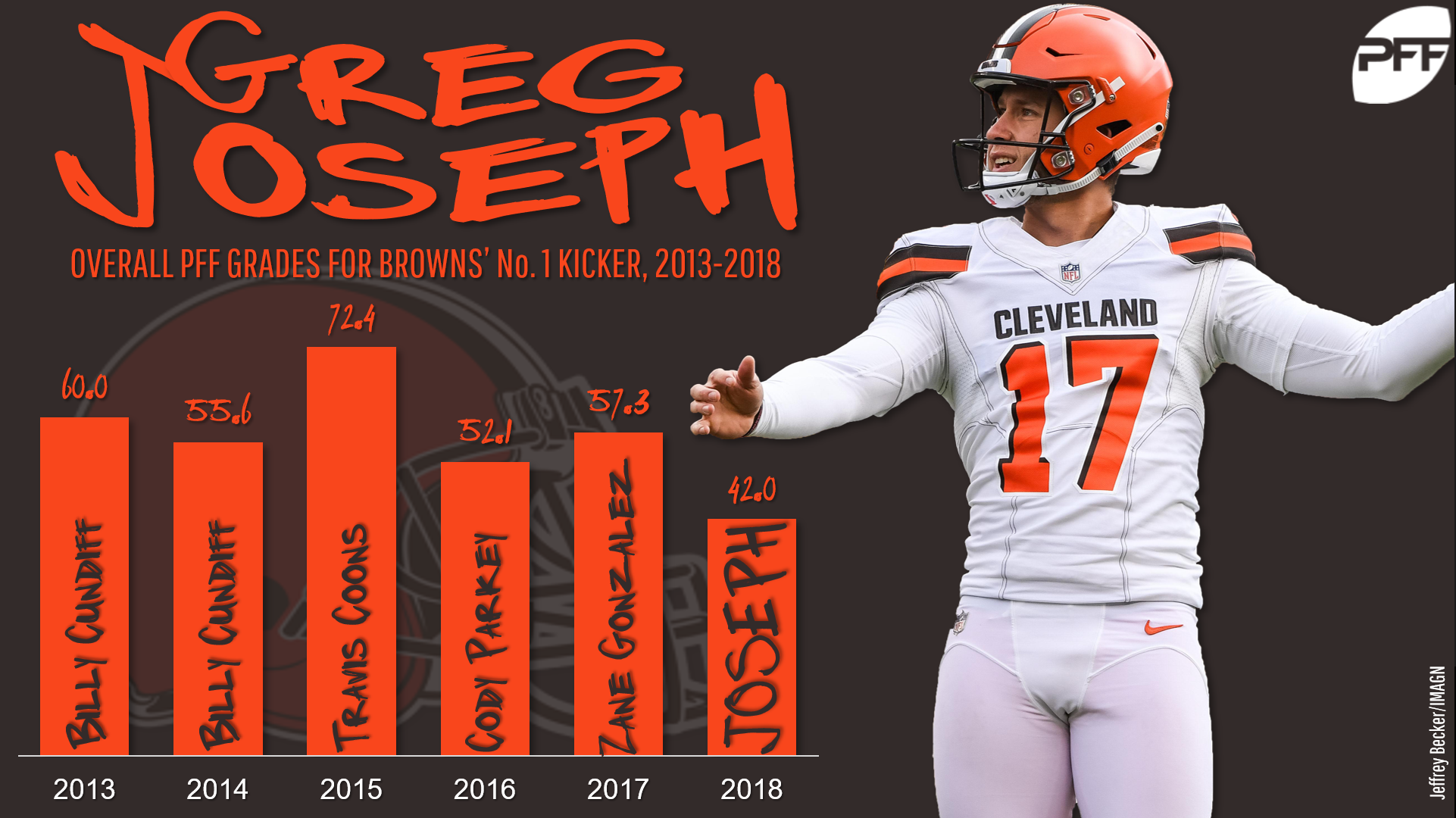 There might as well be a bullet train between Cleveland and Foxborough, for all the players who have played for both franchises in recent years. Gostkowski would be another to add to the list, hitting free agency after 13 years with New England. He's not the uber-elite kicker he was at points in his career, but the two kickers who did the job for Cleveland in 2018 both came in the bottom five in PFF's kicker grading, and Gostkowski would at least be a significant improvement on that, sealing up one of the team's primary remaining weaknesses on the scoring side of things.