Estimated reading time: 26 minutes
---
The NFL is a matchup-driven league. Offensive coordinators are always looking to scheme their playmakers into one-on-one situations against a defender, while defensive coordinators will attempt to do anything in their power to upset the timing and rhythm of the opposing QB.
Despite the obvious impact that defenses have on opposing offenses, fantasy players and fans alike are often left with one-way metrics to describe offenses and defenses that they are then forced to compare against each other in an attempt to identify mismatches.
The goal here is to provide easy-to-decipher charts and notes to define each week's key matchups and advantages on both sides of the ball in:
Explosive Plays

Pace

Pressure

Yards Before Contact

EPA
The following charts display matchup-specific information meant to highlight the largest mismatches in these ever-important facets of football to ultimately gain actionable betting and fantasy takeaways. And, of course, to have fun.
Note: Data is from Weeks 1-3, 2022. There are obviously plenty of limitations to this due to the small sample size at hand; key discrepancies will be highlighted in the ensuing paragraphs and the metrics will get stronger as the season continues.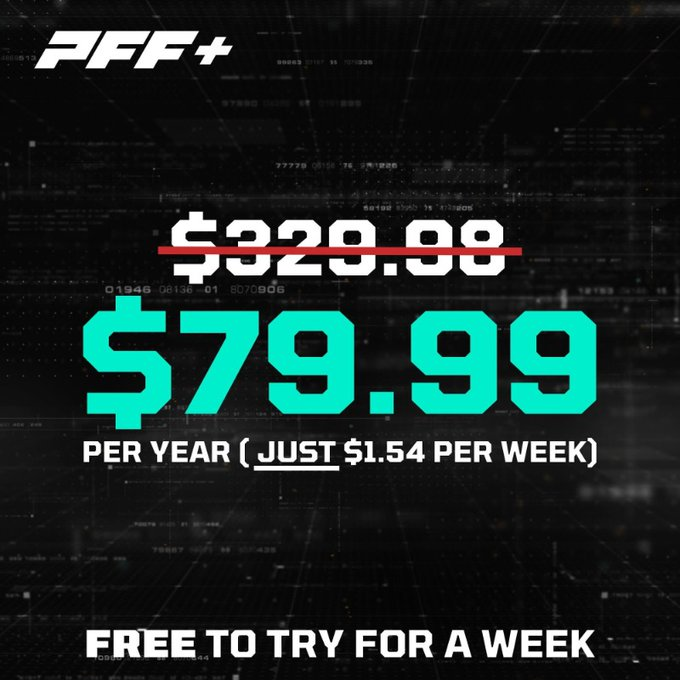 ---
Explosive Plays
Big plays make the football world go round. Matchups between explosive offenses and leaky defenses are exactly what we're looking for when compiling game stacks in DFS, or when betting an over.
Explosive Pass Rate

: The sum of an offense's rate of 20-plus yard completions per pass attempt and the opposing defense's rate of 20-plus yard completions allowed per pass attempt. A higher percentage is better for offenses (blue is good, red is bad).

Explosive Run Rate

: The sum of an offense's rate of 15-plus yard gains per rush attempt and the opposing defense's rate of 15-plus yard runs allowed per rush attempt. A higher percentage is better for offenses (blue is good, red is bad).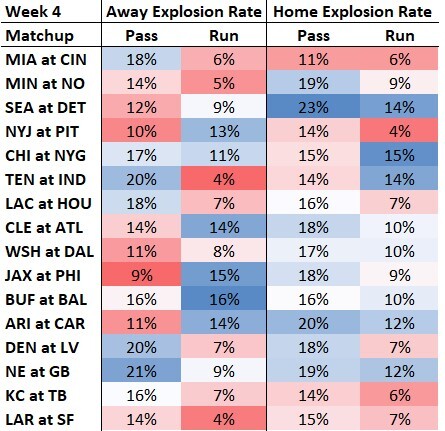 These offenses breed explosive plays: Five offenses are averaging an explosive pass play on at least 10.5% of their dropbacks: Titans (12.1%), Patriots (11.7%), Packers (11.1%), Chiefs (10.8%) and Falcons (10.5%).
Will Elon Musk abolish injuries already?: ESPN's Adam Schefter reports that Mac Jones is dealing with a severe high ankle sprain that would cause many to have surgery. The expectation is that Jones will miss multiple games.
This leaves Brian Hoyer to save the Patriots' floundering 25th-ranked scoring offense ahead of a rather brutal Week 4 spot in Lambeau. Note that Hoyer has started just two games over the past five seasons and performed rather brutally in losses to the Dolphins (204 pass yards-1 TD-3 INT) and Chiefs (130-0-1).
The soon-to-be 37-year-old journeyman has honestly never been someone that fantasy managers thought kindly of; don't expect anyone involved in this passing "attack" to consistently flirt with upper-range outcomes as long as Jones is sidelined.
This Chiefs offense is still great, but maybe not quite as great as usual: Last Sunday marked just the seventh time that the Chiefs have scored fewer than 20 points in 77 games with Patrick Mahomes under center since 2018. The early returns on Mahomes in the post-Tyreek Hill-era haven't been up to his usual loft standards:
| | | | | | | |
| --- | --- | --- | --- | --- | --- | --- |
| Year | PFF Pass Grade | QB Rating | BTT % | TWP % | Pass YPA | aComp% |
| 2018 | 92.8 | 113.8 | 7.8% | 3.2% | 8.79 | 78.8% |
| 2019 | 81.9 | 105.3 | 5.7% | 2.5% | 8.33 | 76.4% |
| 2020 | 90.4 | 108.2 | 7.4% | 3.2% | 8.06 | 76.7% |
| 2021 | 73.2 | 98.5 | 3.3% | 2.8% | 7.35 | 78.3% |
| 2022 | 73.7 | 112.1 | 4.2% | 3.1% | 7.86 | 78.0% |
Of course, the Chiefs still rank fourth in EPA per play and points per game so even a less-lethal version of a Mahomes-led offense is still pretty damn unstoppable. It'd make sense if the offense gets better and better as the still-new pieces gel, but things could again be a bit more disappointing than usual ahead of Week 4's Sunday night matchup against the Buccaneers.
Overall, Tampa Bay ranks second in explosive pass play rate, pass yards per attempt and QB rating allowed this season. Mahomes should never be moved to the fantasy bench – even as a joke – but it's fair to reign in his usual sky-high expectations just a bit more than usual ahead of this objectively tough spot.
Good offense beats good defense in today's NFL: Offenses set up to thrive in their quest to create some explosive pass plays: Lions, Patriots, Titans, Broncos and Panthers.
Broncos country, how we feeling: The early returns on the "Let's Ride" era haven't been great. In fact, Russell Wilson has largely been the worst version of himself that we've ever seen by almost any passing metric that you want to look up. Both Courtland Sutton and Jerry Jeudy have flashed on occasion but through three weeks, the first-place Broncos (!) rank 31st in scoring.
You know what might help? A matchup against a Raiders secondary that ranks 25th in explosive pass-play rate allowed to opposing wide receivers through three weeks of action. While nobody has truly gone off against this group just yet, Robert Woods (4-85-0) started to get going in Week 3, Marquise Brown (6-68-0) was inches away from adding a score to his tally in Week 2, and Keenan Allen (4-66-0) had to depart early with a hamstring injury.
This is less of a bet on anything quantifiably wrong with the Raiders defense and more so backing the idea that Russ and company aren't going to be the league's second-worst offense at scoring points in the year 2022. Sutton's status as the league's No. 2 air-yard getter cements him in starting lineups regardless of format. Jeudy should be back to his usual full-time role another week removed from his shoulder injury, so I'm still treating him as an upside WR3 despite the middling start to the season.