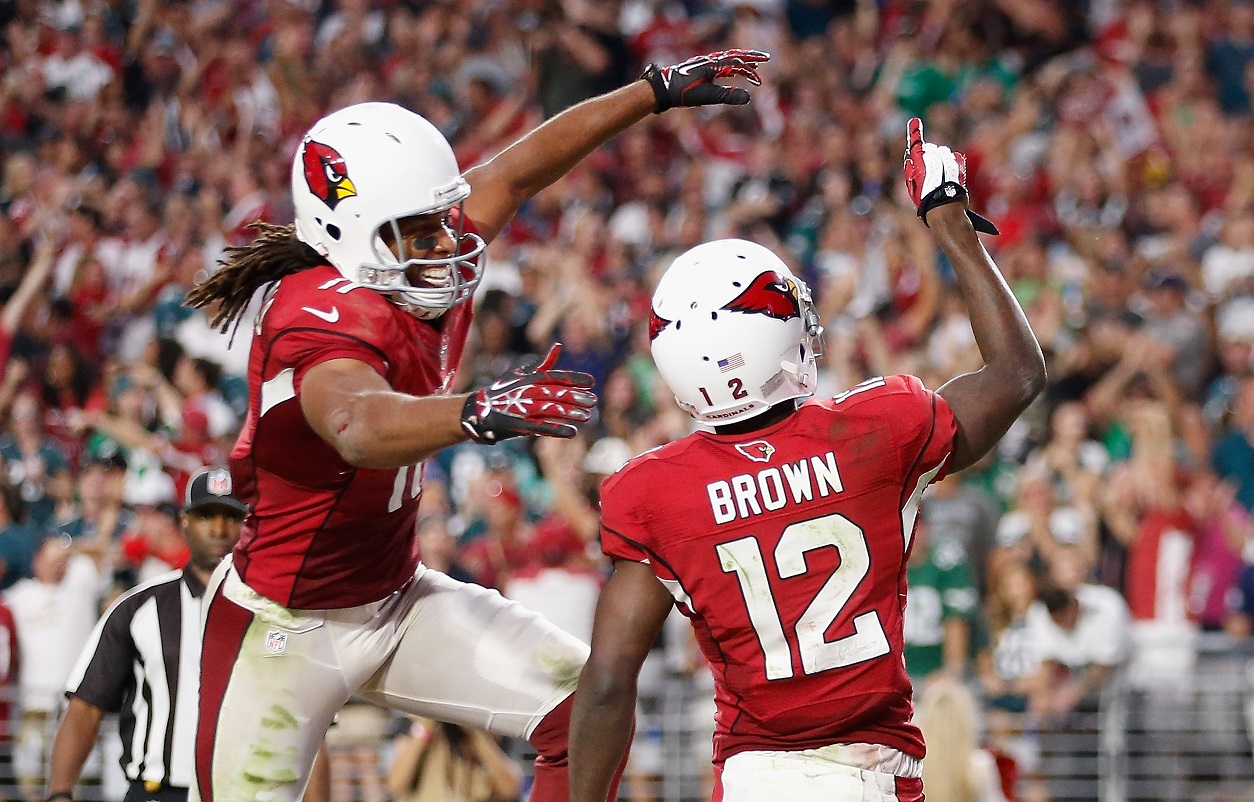 GLENDALE, AZ - OCTOBER 26: Wide receiver John Brown #12 of the Arizona Cardinals celebrates with wide receiver Larry Fitzgerald #11 after Brown's 75-yard touchdown reception against the Philadelphia Eagles in the fourth quarter during NFL game at the University of Phoenix Stadium on October 26, 2014 in Glendale, Arizona. (Photo by Christian Petersen/Getty Images)
The stars of the 2016 season of Amazon's All or Nothing finished as a sub-.500 team last year despite the breakout success of David Johnson. Arizona returns largely the same crop of skill position players this year with Bruce Arians still at the helm. Arians runs an aggressive vertical offense that pushes the ball downfield, but also makes heavy use of the slot receiver. In the run game, the Cardinals primarily ran power, but mixed in zone blocking as well.
Team Offensive Stats

ARZ
Rank
Lg Avg
Snaps/Gm
68.3
4
65.3
Pace (Sec/Sn)
23.9
11
24.28
Run %
36.5%
26
39.8%
Pass %
63.5%
7
60.2%
% Leading
32.6%
20
36.0%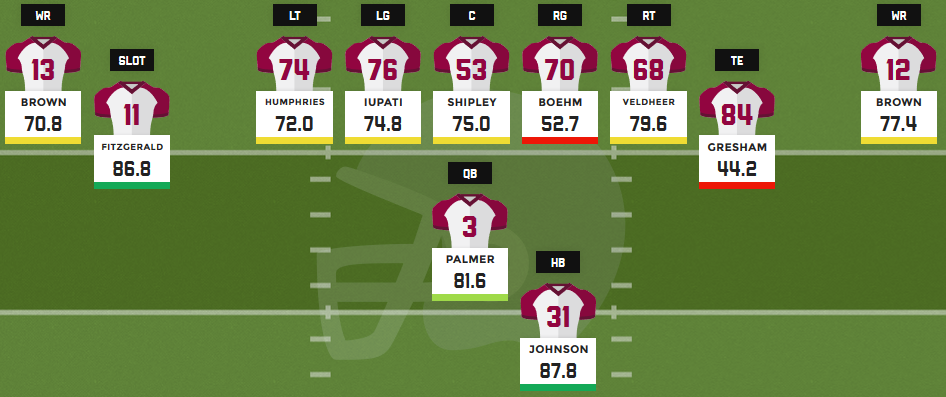 Quarterback
After posting career-best numbers in multiple stat categories in 2015, Carson Palmer regressed last year. He went from a career-high 8.50 yards per attempt in 2015 to 7.09 in 2016. To his credit, he still managed 4,233 yards and 26 touchdown passes, but in today's pass-heavy NFL that was good enough for just 19th among quarterbacks in fantasy scoring. Palmer did have five top-10 fantasy weeks, but he was largely a QB2 for much of the season. Arians suggested that Palmer may have overdone it last offseason, which could have contributed to a lack of arm strength throughout the season. In his age-37 season, this could yet again be an issue. Fortunately, you don't have to invest a high pick on Palmer this year. He's a solid QB2 option who you can get in the late rounds of drafts.
Vacated Touches

2016 Touches
% Vacated
Carries
383
7.6%
Targets
573
14.2%
Total
956
11.6%
Running backs
What can David Johnson do for an encore? The third-year back is coming off a massive 2016 campaign where he averaged 23.3 touches per game. Johnson's massive workload included 293 carries, which tied for third in the league, and a position-high 107 targets. This volume plus Johnson's remarkable consistency resulted in RB1 finishes in 14 out of the Cards first 15 games – he only played 15 snaps in Week 17. Perhaps the only word of caution for those who draft Johnson is regarding his touchdown productivity. Johnson has been remarkably efficient over the course of his pro career and posted a whopping 20 combined scores last year. That level of productivity is unsustainable even for the best players in the league, so expect touchdown regression. That being said, he's still an elite fantasy option and will be either the first our second player taken in this year's drafts.

Behind Johnson the Cardinals have veteran Chris Johnson along with Kerwynn Williams and Andre Ellington. The artist formerly known as CJ2K will serve as David's backup, but those in deeper leagues will want to keep an eye on Williams. The fifth-year man scored twice over the last three weeks of the 2016 season and has passed Ellington on the depth chart.
Rushing Stats

ARZ
Rank
Lg Avg
YPC
4.35
12
4.18
YCo/Att
2.50
12
2.43
YBCo/Att
1.84
12
1.76
Inside Zone
16.5%
29
26.0%
Outside Zone
20.3%
23
27.7%
Power
43.4%
1
9.5%
Man
4.8%
27
15.0%
Wide receivers
Larry Fitzgerald has yet to ride off into the sunset, but that time is coming. One of the all-time greats at the position, he's found a way to flourish in the twilight of his career as the slot receiver in Arizona. Last season, Fitzgerald's yards per reception was below 10.0 for the first time in his career, but his dip in yardage productivity has been accompanied by a higher catch rate, with over 70 percent of his targets caught in each of the last two years. One of the most consistent high-volume players, Fitzgerald has topped 100 targets in each of the last 12 seasons. Last year, he ranked four among wide receivers with 147. While he's coming to the end of the line, Fitzgerald's floor is still high enough to be considered a back-end WR2 in PPR formats.
Last year was one to forget for John Brown owners. The fourth-year receiver battled health issues for much of the season and managed just 39 catches for 514 receiving yards and two scores. Those numbers ranked him a lowly 75th among wideouts in fantasy scoring which was 50 spots lower than his 2015 finish. While the health issues are in the rearview mirror, Brown has missed most of training camp with a quad injury. If he's able to get healthy, Brown is an intriguing upside option in the late rounds. However, if the injury persists, fantasy drafters may want to give J.J. Nelson a look. The speedster actually had three top-10 fantasy weeks last year. While he's volatile from week to week, Nelson's high ceiling puts him on the flex radar if Brown continues to miss time.
Wide Receiver Sets

%
Rank
Lg Avg
Throw%
Rk
Lg Avg
2-Wide
23.9%
18
24.5%
46.4%
12
45.0%
3-Wide
52.8%
20
55.5%
64.0%
24
66.1%
4-Wide
11.0%
2
2.9%
95.8%
13
81.6%
Tight end
This isn't the place to look for your fantasy tight end. Arians has historically avoided the position and the Cardinals don't have a standout talent at the position. There's a chance Jermaine Gresham surfaces on the fantasy radar at points during the season. He had two top-10 weeks last year. But overall, he saw minimal volume with just 58 targets. Gresham isn't someone you want to consider drafting, even in deep leagues.
Personnel Groupings

%
Rank
Lg Avg
Throw%
Rk
Lg Avg
11
50.4%
22
53.5%
63.0%
25
33.5%
12
21.8%
6
15.6%
45.4%
19
50.2%
21
1.6%
23
6.9%
61.1%
8
62.5%
(Keep up with all of PFF Fantasy's draft strategy and advice here!)