I am hopelessly addicted to something called MFL10s. MFL10s are $10 (or $25, $50, or $100) best-ball leagues hosted by MyFantasyLeague.com. I've participated in over 100 of these leagues and profited more than $500 over each of the past two seasons. (Our Pat Thorman wrote a primer on the format here a month ago, and it's a must-read.) The short explanation is, if you participate in an MFL10, you stand to win $100 or your money back on a $10 entry if you finish first or second out of the 12 teams.
It is a 20-round PPR draft with zero in-season upkeep. If you're a true fantasy football degenerate such as myself, drafts are taking place now and will continue until a week before the season starts. Today, I'm looking at some of the lessons learned from the earliest drafts, based on drafting trends and average draft positions.
During college, I briefly worked at a hedge fund analyzing stocks and pitching buy-or-sell recommendations to the owners and senior analysts. This experience no doubt has put me at an advantage over many of my peers when it comes to analyzing NFL players from a fantasy perspective. One important lesson, specific to investing, that I learned during my time there was how the market seemed to follow specific seasonal patterns year over year.
My employment there began as a four-week intern in June, but continued into the fall. During September, I remember tensions being high. One of the senior analysts pulled me aside after one of the owners had another Odell Beckham Jr.-like meltdown. He said, "Don't worry about him. He's like this every September. Historically a terrible month for the markets." I asked why and he replied, "I'm not really sure. It's an old adage, 'sell in May and go away.' Something to do with everyone coming back from vacation? I have no idea, but the data support it."
The data do seem to support it.

I'm no longer as skilled with stocks as I am with fantasy football, but this experience has led me to start imagining ADP in a similar way as to one might look at the stock market. Is it possible that MFL10 ADP follows specific seasonal trends each year? Looking at last year's data, my findings have concluded that this does appear to be the case in several specific instances.
Below, I'll be contrasting MFL10 ADP from March and September of last season. If you're curious to see what MFL10 ADP currently looks like, click here and thank @fantasyADHD and TwoQBs.com for providing it free-of-charge.
Rookies
Whereas Antonio Brown and Odell Beckham Jr. can be compared to blue-chip stocks, drafting rookies before the NFL draft might feel like buying penny stocks, where you're drafting/investing purely on speculation. Still, without taking into account actual fantasy performance (rookies tend to be risky investments in general), on average, drafting a rookie in an MFL10 last season returned over a round of value in ADP change.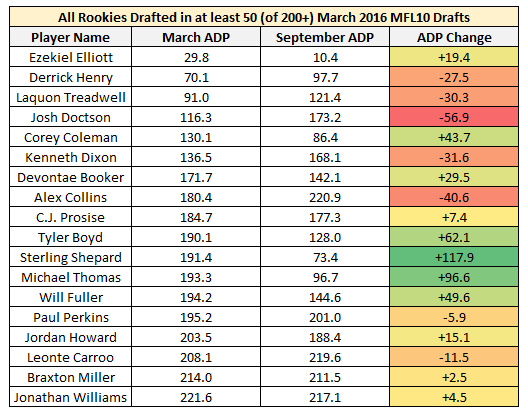 Looking at a sample of more than 200 drafts, and examining only the 18 rookies taken in at least 50 March drafts in 2016, rookies saw an average increase of 13.6 ADP spots across these two samples. Sterling Shepard provided the largest swing in ADP, jumping from an average late-Round 17 pick to going somewhere in the early seventh round. Michael Thomas, Tyler Boyd and Will Fuller all saw their stock rise by at least four rounds. Landing in an ideal situation, Ezekiel Elliott went from a third-round draft pick to 10th overall. The most significant fallers were Josh Doctson (injury-related) and Alex Collins, who both fell, on average, more than three rounds.
Quarterbacks
Drafting a quarterback early in your fantasy drafts has long been a faux pas within the fantasy community. The first drafter to take a quarterback in an expert mock is often met with emphatic guffaws and looks of incredulity, as if you had just shown up to ballroom affair in mustard-stained sweatpants and a Nickelback T-shirt. In early MFL10s, however, I love being one of the first drafters to take a quarterback. I'm trying to get my exposure in before more novices start partaking in the drafts.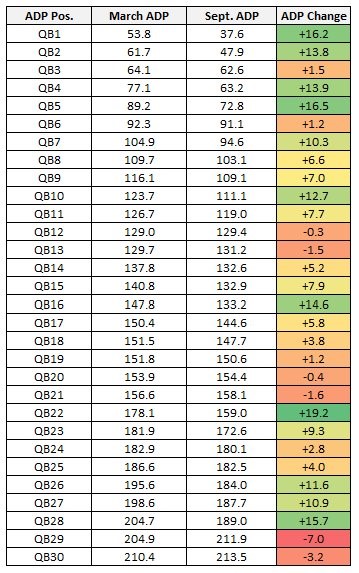 On average, the positional QB1 in both drafts saw an increase of 16 full draft spots. On average, the top 10 quarterbacks rose 10.0 full draft spots, and the top five rose by 12.4. Knowing that these players might rise by more than a full round in ADP by the end of the season, I'll happily load up now at their cheapest point, even if it means getting mocked in my mocks.
Current ADP seems to hold the trend. There is only one quarterback going in the top 50 players (Aaron Rodgers). Since I feel there is a strong tier among the top four quarterbacks, I'm typically letting someone else draft Rodgers or Andrew Luck before pulling the trigger on Tom Brady or Drew Brees somewhere in the sixth round. Brady ranked third in fantasy points per game and just added Brandin Cooks to his more-than-competent stable of pass-catchers. Brees, meanwhile, despite losing Cooks, has been the epitome of consistency over the past decade, ranking top-six in fantasy points among quarterbacks in each of the last eight seasons, and top-two in four of the last five. If I lose out on one of these two quarterbacks, I may wait another round for Russell Wilson, who I recently wrote about here.
Running backs
Looking at every player taken in at least 50 March drafts last season, running backs showed the lowest correlation in ADP from March to September among all positions. My theory here is that this is the position most sensitive to the NFL Draft. Last season it was almost certain New England or Indianapolis, were going to draft a running back highly, until they didn't, and we watched LeGarrette Blount and Frank Gore climb by more than seven and two rounds, respectively. The inverse is true as well, as Alfred Morris, Thomas Rawls and Jeremy Langford all saw their draft stocks plummet. Looking at last season's changes by position (not player) ADP, drafters soon became unenthralled by the RB2 tier come September.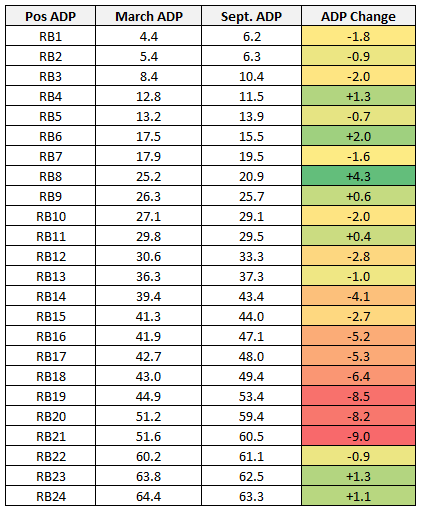 This finding has had an immediate impact on my 2017 draft strategy. Until the NFL draft, I plan on loading up on the elite running backs who are nearly guaranteed the starting job, and then waiting until later in the draft to put my money on the riskier investments.