• Justin Fields' record-breaking performance: Fields rushed for 178 yards to break the record for the most rushing yards by a quarterback in a game. He also scored four touchdowns to produce a dominant fantasy performance.
• Jeff Wilson Jr. could be the Dolphins' new lead back: Wilson was the best rusher and receiving back for Miami in Week 9 and played more in the second half.
• Odell Beckham Jr. should be back sooner rather than later: There were reports early Sunday that Beckham would be cleared to play within the next week.
Estimated reading time: 10 minutes
---
Jump to a position group:

Quarterback
With 178 rushing yards against the Dolphins in Week 9, Fields set the NFL record for rushing yards by a quarterback in a single regular-season game.
He also threw for three touchdowns and ran for another.

This was his third consecutive game as a top-five fantasy quarterback and his fifth consecutive as a top-12 fantasy quarterback.

Fields not only needs to be added in every league, but he should also stay in fantasy starting lineups every week going forward.

The Bears have very favorable matchups against the Detroit Lions coming up — one next week and the other during the week of fantasy championships.
Jones had scored the 10th-most fantasy points among quarterbacks heading into Week 9.
Before Week 9, the Giants signal-caller ranked third among quarterbacks in rushing yards at 358.

His 15 runs of 10 or more yards ranked second among players at the position.

While his passing stats aren't great, he's been solid at avoiding mistakes. His 2.5% turnover-worthy play rate is seventh-best among quarterbacks this season.

The Giants had their bye week this past week.
Mariota had a quiet game in the Week 9 loss to the Chargers but remains a fantasy option thanks to his rushing ability.
His 304 rushing yards rank seventh at the quarterback position.

He's put up four top-10 fantasy performances this year. He was the overall QB8 heading into Week 9.

The Falcons have the

second-best schedule

for quarterbacks over the rest of the season.

This schedule includes matchups against the Cardinals and Ravens in the fantasy semi-finals and finals — both teams are in the bottom eight in terms of allowing fantasy points to quarterbacks.
Pickett set career-high marks in carries (7) and rushing yards (37) in Week 8.
Pickett has thrown the ball a combined 82 times in his last two games.

He hasn't yet found much fantasy success, but he still has enough talent around him to turn it around.

He shouldn't be picked up in all leagues, but he is the best option available in deeper leagues.

The Steelers had their bye week in Week 9.
Running Back
Miami traded Chase Edmonds and added Jeff Wilson Jr. at the trade deadline. Wilson may have already taken the lead in the Dolphins' backfield.
Miami started the game with a rotation by drive, with

Raheem Mostert

taking the first and third drives and Wilson taking the second and fourth. The third drive was the team's two-minute drill.

Mostert started the fifth drive, but Wilson took his place midway through. Wilson played more snaps than Mostert on the fifth, sixth and seventh drives.

Mostert took every snap on the eighth drive when the Dolphins tried to run out the clock, but Mostert lost one yard on two carries, and they passed on third down.

Wilson took the three snaps in victory formation.

Wilson looked better as both a rusher and receiver. Both backs ran the ball nine times, with Wilson gaining 51 yards to Mostert's 26.

Wilson caught three passes for 21 yards, while Mostert didn't record a catch.

Both players scored touchdowns.

It wouldn't be surprising to see Wilson start next week. Both players will likely play significantly, regardless of who starts.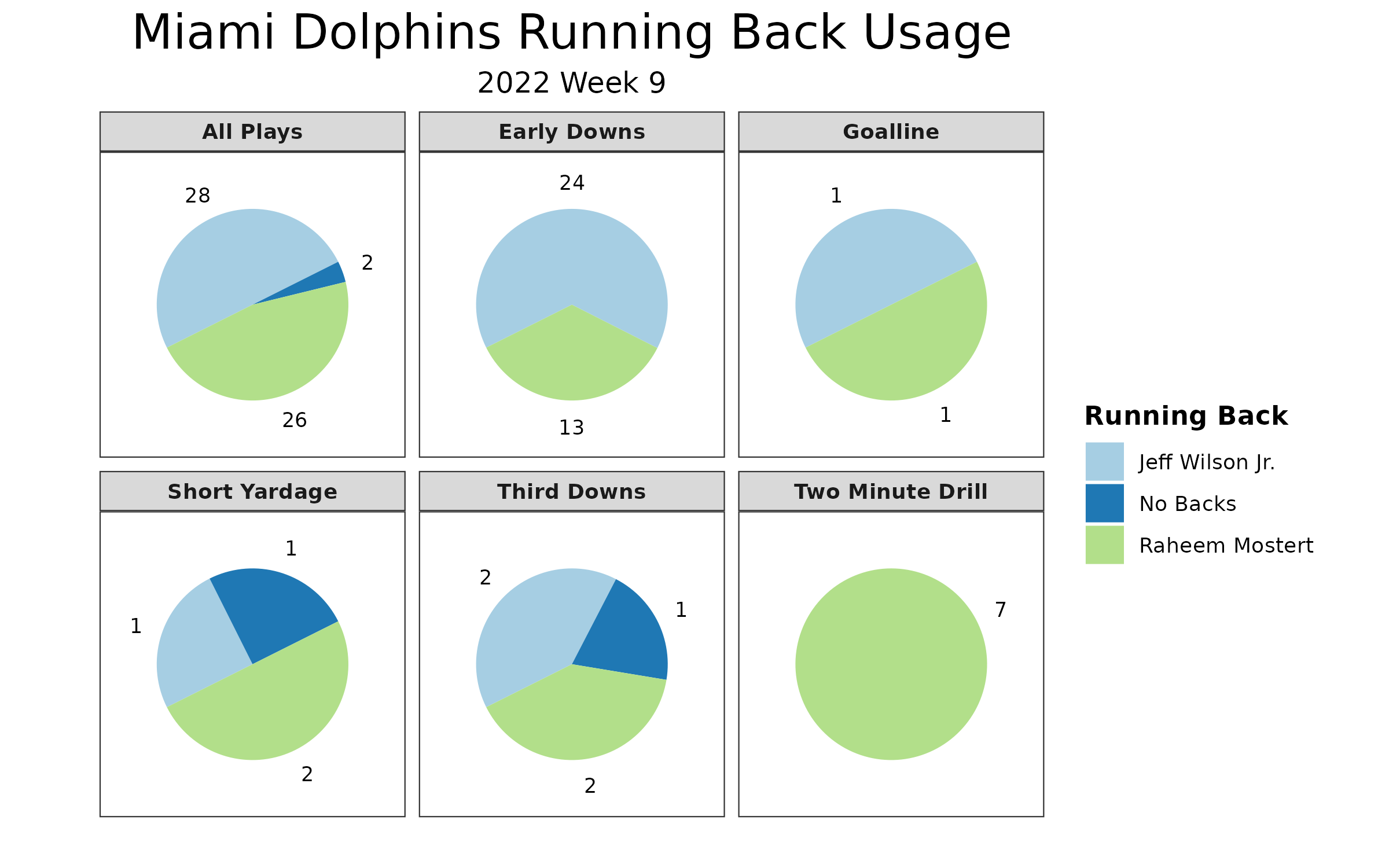 Chicago seemed to shift more toward a running back committee but seemed to use its running backs in the wrong situations against the Dolphins.
Herbert received double-digit carries the past two weeks and averaged over 5.0 yards per carry in each game.

Herbert gained 23 yards on seven carries, which wasn't great, but it's still a better yards per carry figure than

David Montgomery

gaining 36 yards on 14 carries.

Herbert took nearly half the snaps on third downs, as well as all of the snaps in two-minute drills. This resulted in zero targets.

Montgomery has consistently been a better receiver over the past two seasons.

Ideally, we would see Montgomery taking a higher percentage of the passing-down snaps and Herbert at least reaching an even amount of snaps on early downs and in short-yardage situations.

Herbert remains one of the top waiver wire options at running back. Chicago plays Detroit both next week and the fantasy championship week. Those are both games Herbert could dominate.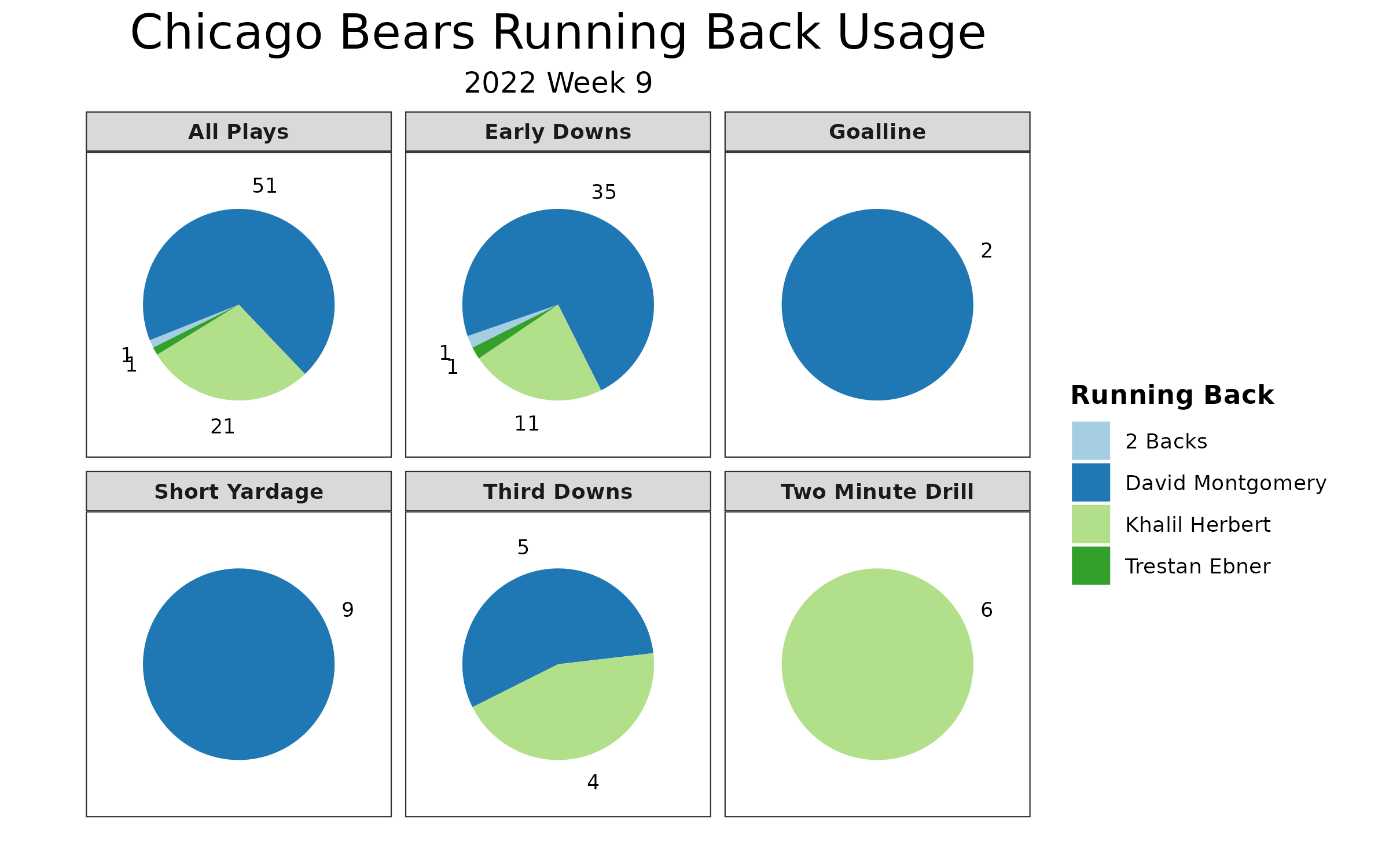 Edwards missed last week with a hamstring injury and is doubtful for Monday Night Football, but he should be the starter once he's healthy.
He has 11-plus carries and 60-plus yards in his last two games. He's the only Ravens running back to achieve both of those benchmarks in a game this season.

He finished as a top-10 fantasy running back the one week he was healthy.

The Ravens have the

third-best schedule for running backs

during Weeks 15-17. 

All three teams they face are in the bottom half of teams in terms of allowing fantasy points to running backs, and they are each allowing over 90 rushing yards per game to the position.
The Bills traded for Hines earlier in the week, but he played just four snaps on offense in Week 9.
He played two snaps in the first quarter and another two in the fourth quarter.

James Cook

remained the primary backup, but Cook played a lower percentage of offensive snaps compared to last week.

We can expect Hines to play more next week, as he will have had more time to learn the offense. The only question is if this will come at the expense of

Devin Singletary

or Cook.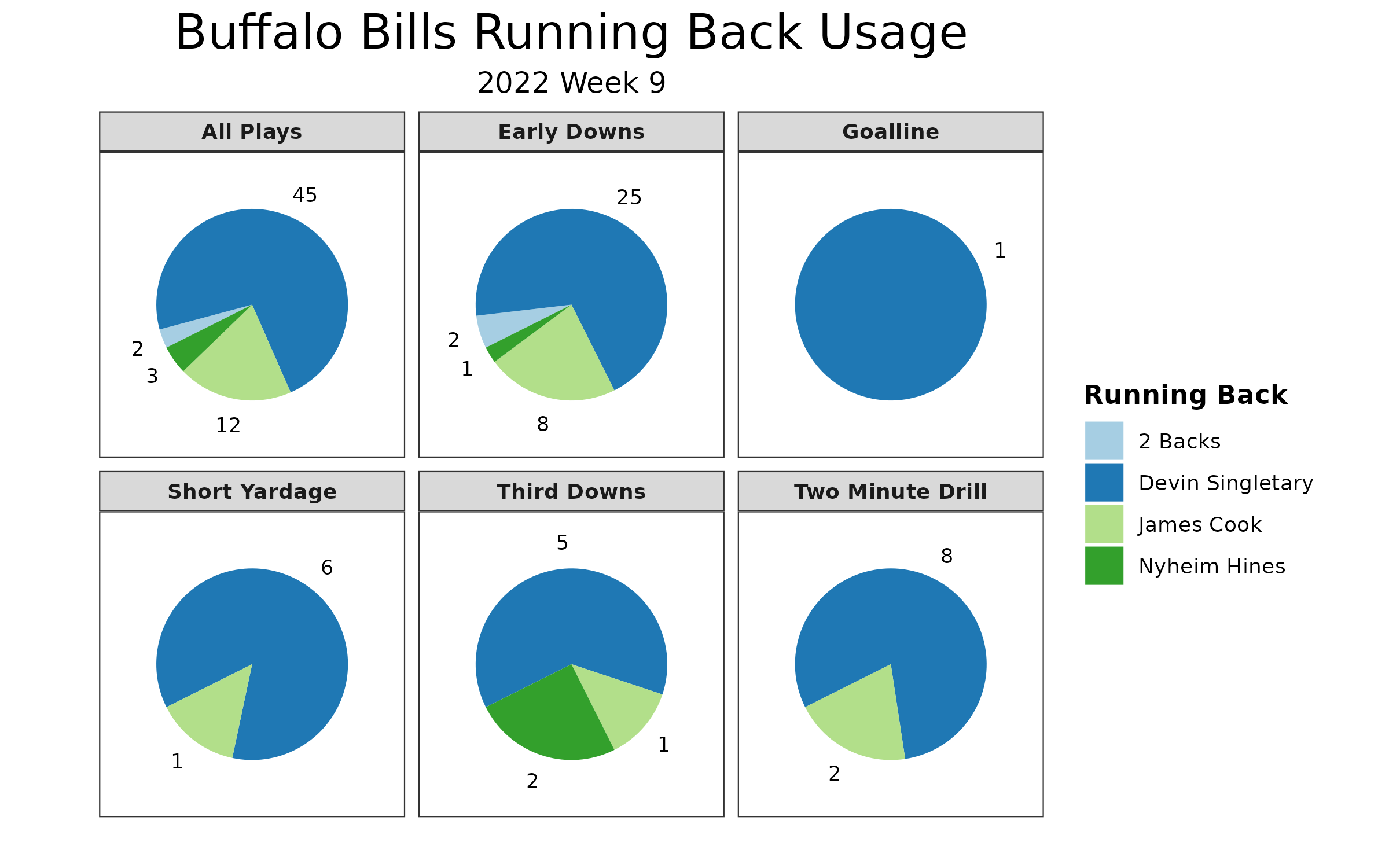 Hubbard has missed the last two games with an ankle injury but should see significant playing time when he's healthy.
He was a limited participant in practice twice last week, which is a good sign he could play next week.

Hubbard was the starter before the injury. He was taking twice as many carries as

D'Onta Foreman

and was the primary receiving back.

He gained 63 yards and a touchdown on nine carries in just over three quarters in his last game.

Foreman has played well enough that he will probably handle more carries than Hubbard, but Hubbard should still see plenty of carries and continue to be the primary receiver.

The Panthers have the

best schedule for running backs

over the rest of the season, including the best schedule during the fantasy playoffs.
Pacheco was named the starter two weeks ago and received significantly more playing time than Clyde Edwards-Helaire for the first time.
Pacheco took just a slight majority over Edwards-Helaire in Week 6 before the bye.

Kansas City completely abandoned the run game early on. Pacheco, Edwards-Helaire and

Jerick McKinnon

gained 4-5 yards each on 3-5 carries each.

McKinnon dominated snaps throughout the second half as the Chiefs were playing from behind.

Six of the Chiefs' nine remaining opponents have losing records with three or fewer wins on the season.

The game scripts in those games will be much more favorable to the Chiefs' run game, which could mean big games for Pacheco ahead.

Kansas City has been more reliant on their youngest players in those scripts, which makes the schedule better news for Pacheco than Edwards-Helaire.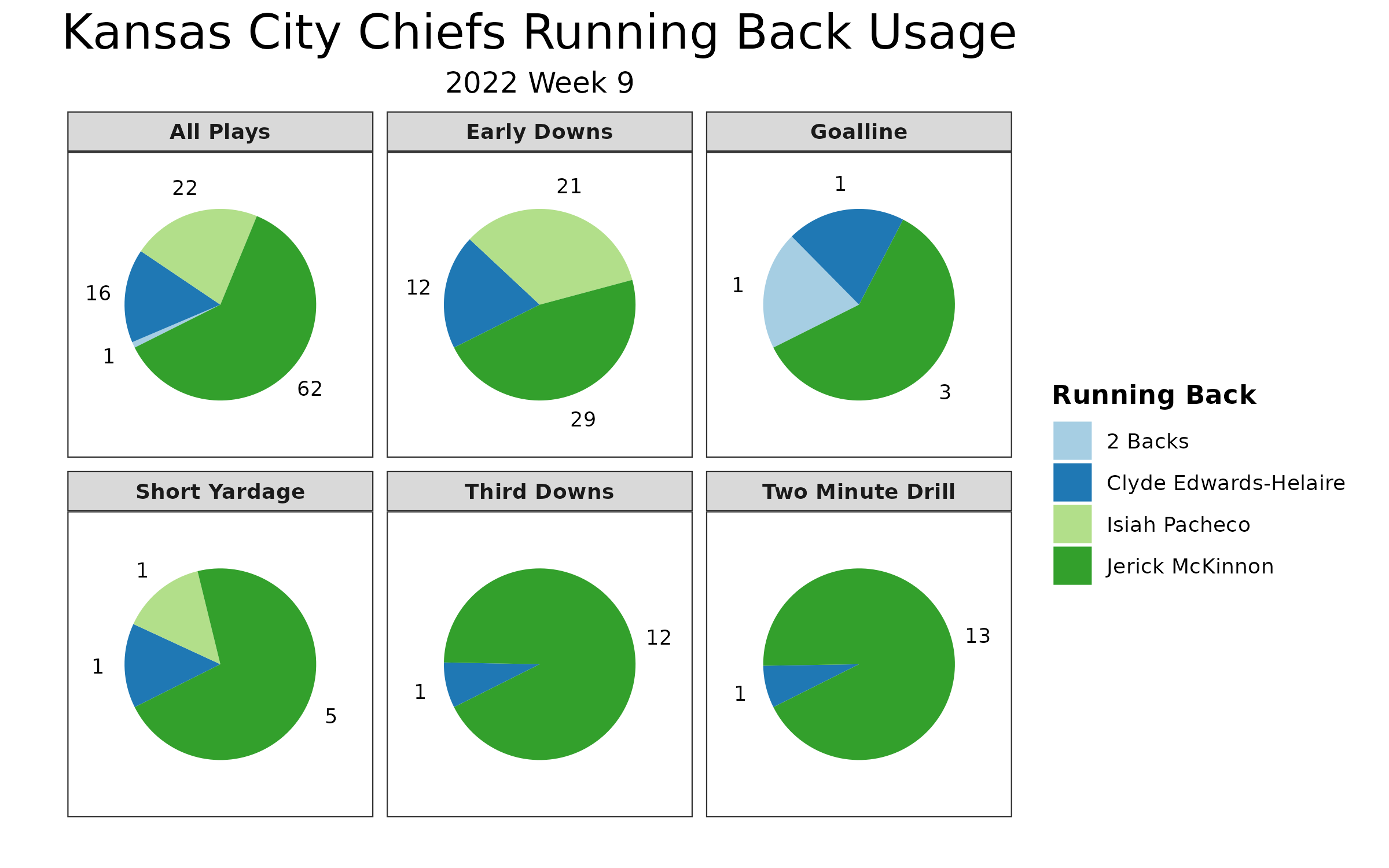 Williams returned to practice for the Rams over a week ago and could play a significant role in the offense as soon as this week.
The fifth-round rookie suffered a high-ankle sprain on the opening kickoff in Week 1.

There were reports that Williams would get playing time on offense before the injury, which meant that he was likely already ahead of Akers on the depth chart.

The Rams' depth chart was a mess in Weeks 8 and 9, with

Darrell Henderson

,

Cam Akers

,

Ronnie Rivers

and

Malcolm Brown

all playing. None brought fantasy value.

This opens the door for Williams to step in immediately and potentially develop into a clear starter.

He's the biggest unknown of the group because he's barely played this season, but he also has the largest upside outside scenarios with players suffering injuries.