Each week, PFF's fantasy football analysts post our rankings in PPR, non- PPR and 0.5 PPR formats for the league's offensive skill positions. Jon Macri and I then add our IDP rankings, making the PFF rankings pages the go-to resource for all your fantasy football decisions.
According to FantasyPros, my rankings finished as the second-most accurate among 150 analysts in the 2020 season. They came in second-best at running back and top-10 at wide receiver and tight end. Last year, my rankings finished third-highest and nabbed the top spot at running back.
With so few games this week, I'll discuss why I have one player at each position ranked ahead of another player despite a lower salary at DraftKings.
[Editor's note: Download the DraftKings Sportsbook app and use promo code PFF when you sign up to turn $1 into $100 if any QB scores a rushing or receiving touchdown this weekend! Click here to play at DraftKings Sportsbook.]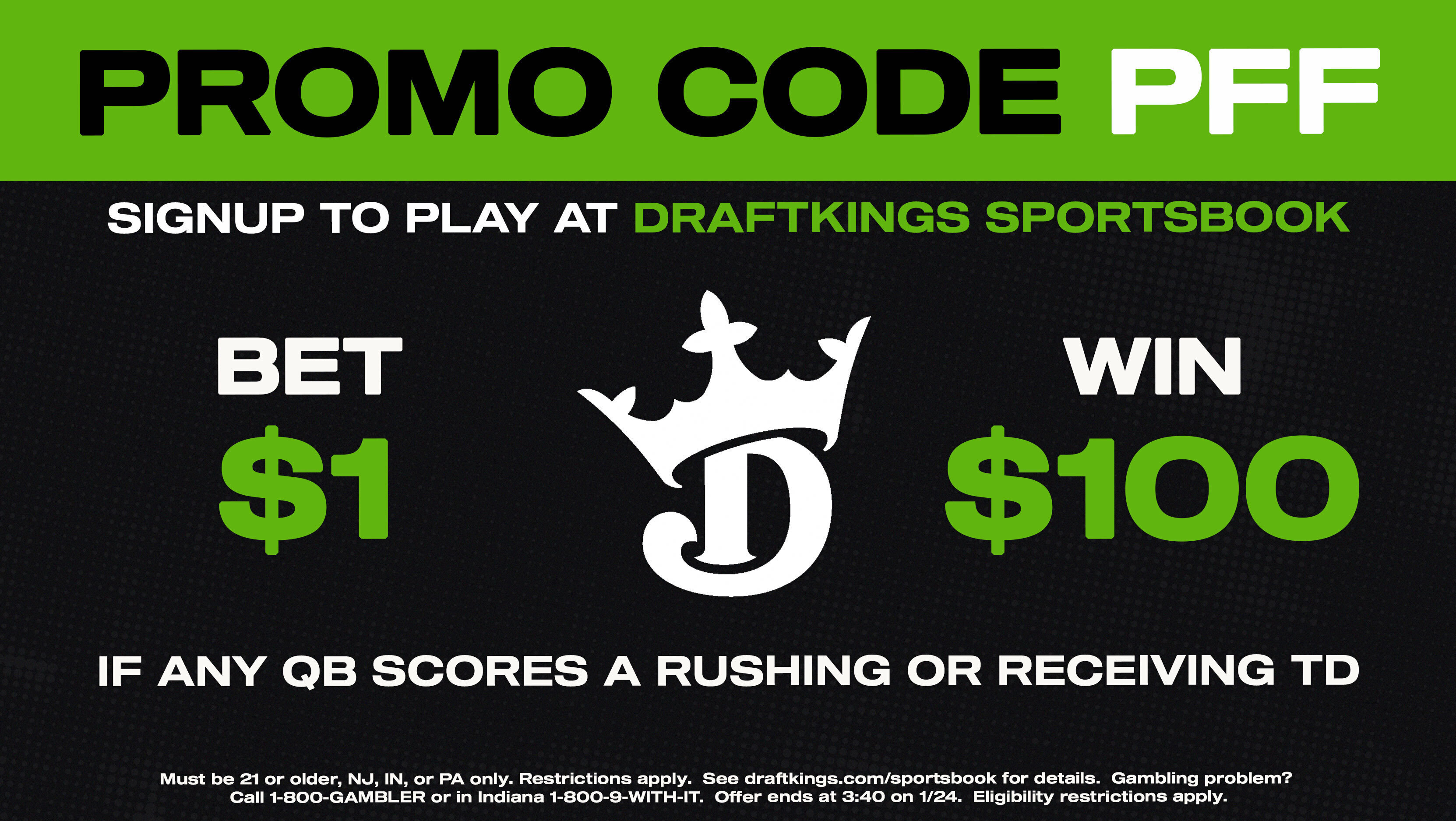 Allen has been the better fantasy performer this season, averaging more fantasy points per game and per dropback compared to Mahomes. The Kansas City defense has also given up more fantasy points to quarterbacks than Buffalo. 
That should be enough to consider Allen. Mahomes played well against Buffalo the first time around, but the Bills defense wasn't performing well over those first six weeks of the season. The Bills allowed 12 touchdowns and had two interceptions in that six-game span. They've allowed 13 touchdowns and tallied 14 interceptions in their last 12 games. 
Kansas City also has more injury concerns, including Mahomes and some of his skill players who missed the divisional round. That isn't an ideal situation heading into the conference championship game.
Singletary has an advantage this week in that he's the only running back that won't be part of a committee. T.J. Yeldon only saw two carries last week, and both occurred in garbage time. The Bills haven't committed much to the run in recent weeks, but they've also played some defenses that are strong against the run. 
Kansas City gave up the eighth-most fantasy points to running backs during the regular season. A lot of their bad games occurred early in the season, but they have allowed 247 rushing yards and three touchdowns to running backs over the last two weeks.
Edwards-Helaire is a risky play even if he's able to practice all week. Darrel Williams will play on third downs, as he's done all season, and will rotate in on early downs. Edwards-Helaire was only playing 60% of the early-down snaps over the second half of the season when he's been healthy.
CEH is unlikely to be 100% for this game, which means he could play even less than usual. Singletary ultimately should end up with more touches and has a better matchup.
Each of the four remaining teams has a top-tier wide receiver, and the Buccaneers have three great options. After that, the options are less exciting. The Packers wide receivers have a lot more upside than the Bills WRs due to their matchups.
Tampa Bay has given up a lot of yards to opponents' second-best receiving options the last three games. Tre'Quan Smith gained 85 yards last week, Cam Sims had 104 yards the week before and Russell Gage racked up 91 to end the regular season. Lazard is coming off his best game since a September injury, gaining 96 yards and a touchdown on four receptions (eight targets). Marquez Valdes-Scantling is the clear third wide receiver on the depth chart, and he also has some upside.
The Bills wide receivers after Stefon Diggs probably won't be so lucky. Fifteen of the 17 teams to face Kansas City had 14 or fewer receptions from their wide receivers, with six teams in the single digits. The two exceptions both ran more than 50 pass plays. Kansas City has given up plenty of passing yards over the season, but a lot has gone to running backs and tight ends — not as much volume to wide receivers. 
Knox is ranked ahead of Gronkowski because of recent play as well as the matchup.
The Bills tight end has caught at least two passes in each of his last seven games and has four touchdowns in his last eight games. Knox's upside is typically limited because of how often the Bills use four-wide-receiver sets. But two of the Bills top four wide receivers were limited in practice last week, and Gabriel Davis missed practice to begin this week. This should lead to fewer snaps in four-receiver sets — and more Knox.
Gronkowski, on the other hand, has seen his playing time decrease. When he's actually on the field, he's been asked to pass block more often compared to the middle of the season. The result is only a single catch over two playoff games. He's only caught three touchdowns in his last eight games. Backup Cameron Brate has done a lot more as a receiver in the playoffs.
The matchup is a huge advantage for the Bills. Kansas City has allowed an average of 83 yards to tight ends per game over the last eight weeks — and six touchdowns in that time. Green Bay has averaged 40 yards less per game in the same time frame and has only allowed five touchdowns to tight ends all season.