It may be Week 5 of the NFL season but it's only the second week of dealing with byes, which means we have a long way to go. Between that and the inevitable injuries that will hit your fantasy football team, it can be hard to find streamers that make sense. Often times there's not nearly as many IDP options to (comfortably) stream on defense than offense but fear not — this is why we're here.
Luckily, last week's streamers had some big plays. Chargers end Isaac Rochell was PFF's 13th-highest-graded pass-rusher last week, which included two quarterback hurries and a rare (for a lineman) interception. Packer Kenny Clark was PFF's second-highest-graded interior lineman and had four quarterback hurries to go along with a forced fumble and recovery. Raiders linebacker Tahir Whitehead added 12 tackles while in the secondary, Terrell Edmunds ended up playing the entire game for the Steelers where he totaled seven tackles and a fumble recovery.
So, if you've been ravaged by injuries or roster a lot of Bears or Buccaneers on your fantasy team, these streamers are for you.
Defensive line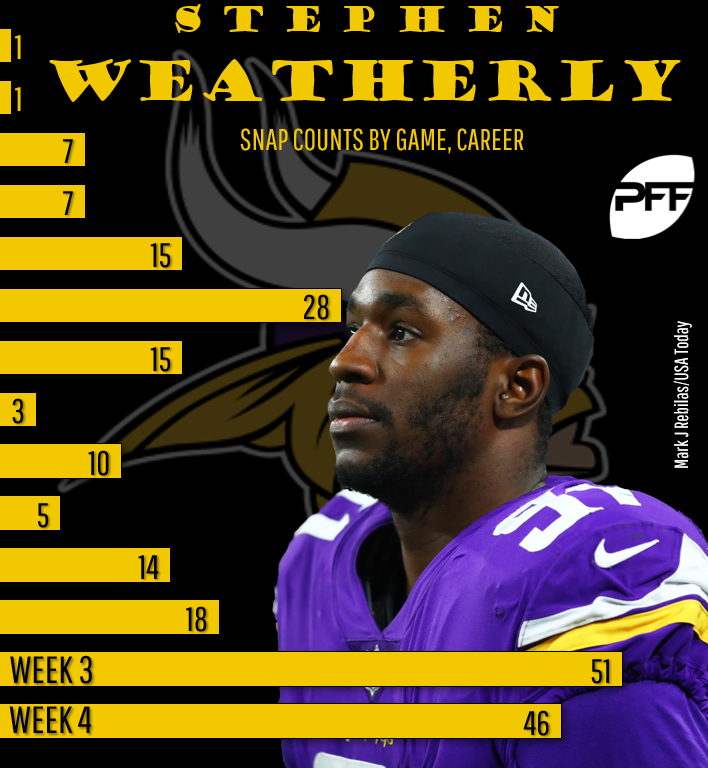 In the wake of Everson Griffen's absence, Weatherly has been the next man up, playing at least 75% of snaps in the Vikings' last two games. In that time, he's totaled a respectable seven quarterback pressures including one sack. Griffen is out again this week so Weatherly can expect another healthy dose of snaps. The Vikings opponent this week are the Eagles who are not only sixth in the league in pass attempts (meaning more pass-rush opportunities) but also tied for sixth in sacks allowed per game at 3.5, including four last week in quarterback Carson Wentz's game against the Titans.
The Vikings defensive line has a surplus of good linemen, allowing Weatherly to be overlooked and available in most leagues. But those same linemen will do a great job of drawing attention away from Weatherly, which will create good chances for him to get to the quarterback.
Readers of this series know that I love a good interior lineman as a streamer. They're rarely owned in IDP leagues because they don't tally as many sacks but the truth is they have just as many opportunities as defensive ends. Case in point is Hand, who actually leads all Lions linemen in snaps this year. As far as interior lineman go, he has a top-20 PFF grade while his 10 tackles are good for 16th and is especially good if your league awards more points for them because he's a tackle. He'll line up against the Packers this week who, not only give up 3.5 sacks per game this year, but have already given up 3.5 to interior lineman.
Linebacker
While not a middle linebacker who sees 100% of the defensive snaps for his team, nor see the kind of tackle numbers mike linebackers do, Suggs continues to make plays in his age-36 season. Through four games this season he's recorded 2.5 sacks, a forced fumble, and four passes defended, good to be an LB3/4 in most IDP leagues. This after finishing last season in the same range, fantasy scoring-wise. Suggs is able to be relevant in fantasy because of how consistent he is at making those big plays. For example, Week 1 he recorded a sack, Week 2 he defensed three passes, and Week 3 saw him record 1.5 sacks. Even last week, which would be considered a down week, Suggs recorded four tackles and a pass defended. But because he has the outside linebacker designation, he's not appreciated nearly enough.
This week should be no different when it comes to Suggs and big plays. The Browns run the second-most plays per game at 72.3 while also allowing the third-most sacks per game at four. The Browns also saw eight passes defended last week with new starter Baker Mayfield, a trend that should continue if the Browns choose to air it out more.
Secondary
Players on the Falcons defense may be dropping like flies — including Pro Bowler safety Keanu Neal — but all that just means opportunities for more obscure streamers. Enter Kazee, the 2017 fifth-rounder who saw only 163 snaps last year on defense but is now an every-down starter on the defense. Since seeing his snap count balloon in Weeks 3 and 4, Kazee has been targeted eight times, good for sixth among all safeties, and great for passes defensed chances. He also has 17 tackles over the last two weeks and has added a pick. That trend should continue against the Falcons opponent this week, the Steelers, as they average 46.5 pass attempts-per-game. That coupled with the Falcons own high-powered offense could mean a shootout in Pittsburgh and even more pass attempts for Kazee to see.
There was a time when Graham was in Buffalo that he was an IDP mainstay, totaling double-digit passes defensed and 100-plus tackles. Those days are gone as he's been a backup during his time in Philadelphia, but with a serious injury to starter Rodney McLeod, Graham will be thrust back to a starting role where he will have serious streamer appeal.
Last week was a good start. Graham played 100% of the Eagles' 71 defensive snaps, totaled nine tackles and was targeted five times, good for sixth in the league last week. This week the Eagles square off against the Vikings and their league-leading 47.2 pass attempts per game, which means plenty of opportunity for Graham. The Vikings have also allowed close to seven pass defensed per game through the first four weeks, including seven last week and 11 the week before to Pittsburgh who, coincidentally, averages only one less pass attempt per game so far. The Eagles and Vikings could also be a shootout, which means plenty of passes flying around for Graham.