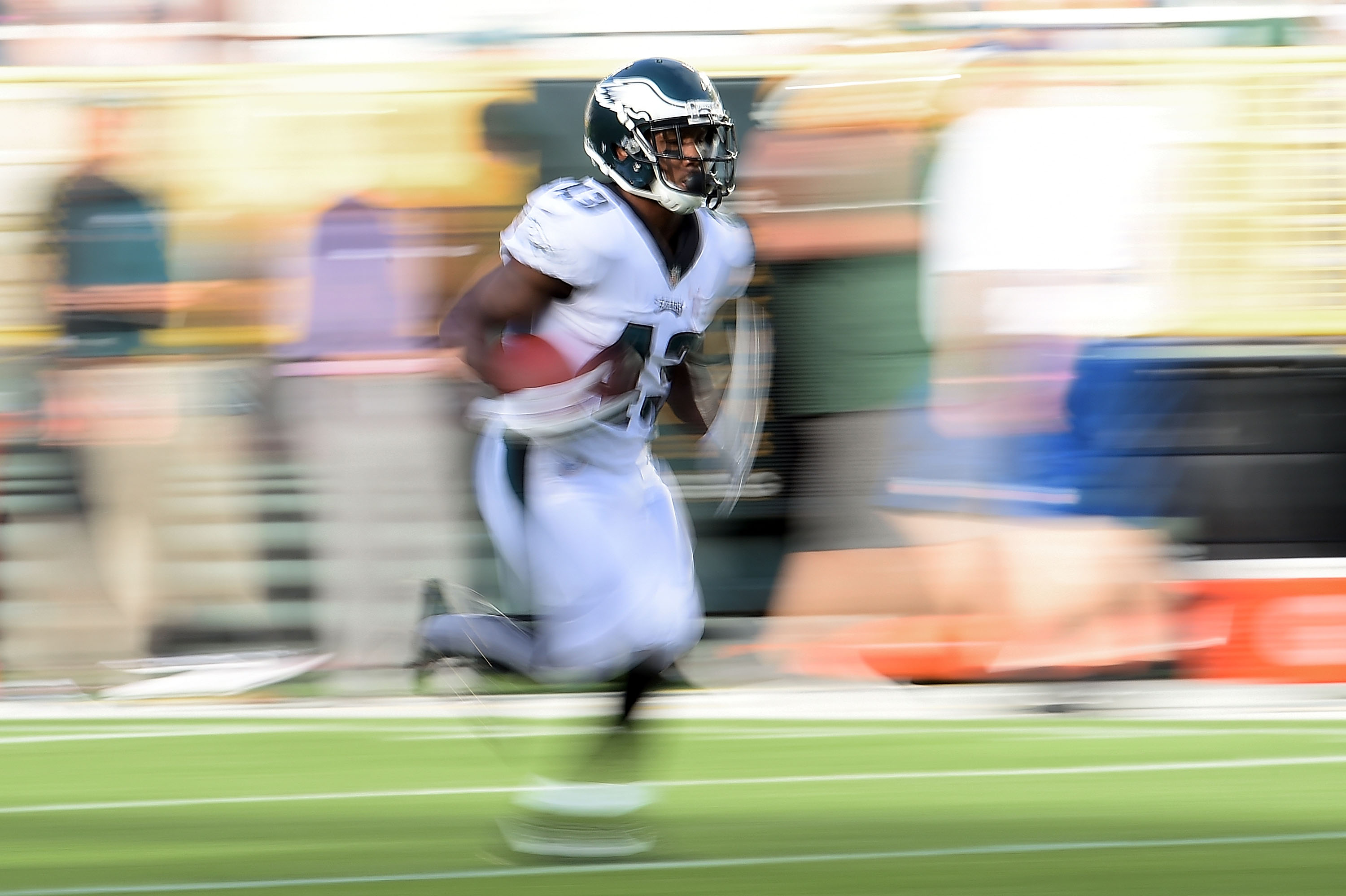 GREEN BAY, WI - AUGUST 10: Darren Sproles #43 of the Philadelphia Eagles participates in warmups prior to a preseason game against the Green Bay Packers at Lambeau Field on August 10, 2017 in Green Bay, Wisconsin. The Packers defeated the Eagles 24-9. (Photo by Stacy Revere/Getty Images)
Welcome to the Exception Report. This series is designed to examine players and their impressive seasons, games, and/or plays. It looks for the outliers and helps understand how they are doing it and if it can continue.
This week, it is another smaller receiving running back, in Darren Sproles of the Philadelphia Eagles. He was mentioned in last week's edition, but this time the focus is on the possibility that Sproles can reach 1,000 yards from scrimmage. Since 1920, there have been 46 instances of players over the age of 34 (which Sproles hit before the season) exceeding that mark. Of those, only eight were running backs (via Pro Football Reference) with Marcus Allen managing the feat three times and John Riggins reaching it twice:
| | | |
| --- | --- | --- |
| Name | Age | Season |
| Marcus Allen | 34-36 | 1994-1996 |
| John Henry Johnson | 35 | 1964 |
| John Riggins | 34-35 | 1983-1984 |
| Emmit Smith | 35 | 2004 |
| MacArthur Lane | 34 | 1976 |
How did he get here?
Sproles, unlike many on the list above, is not a traditional workhorse running back. He lacks the traditional size (5-foot-6, 181 pounds) and would be the first running back on this list to be drafted outside the second round (fourth). The combination of Sproles' abilities in the receiving game, as a runner, and a returner on special teams has allowed him to remain a contributor in his 12th year.
Since 1992, Sproles is one of only seven running backs to see 100 targets in a season more than once (via Pro Football Reference). Both of those happened during his three-year stint at New Orleans, a team known for heavily targeting the running back position. Meanwhile, Sproles has averaged 72 targets in Philadelphia over the last three years — 216 total targets, tied for third-most over that time.
On the flip side, Sproles has been an effective runner — nearly 4.9 yards per attempt in his career, with nearly 52 percent of those yards coming after contact. Unsurprisingly, he has a high percentage of carries (43 percent) coming from shotgun formations, an alignment that usually leads to a higher yards per carry. Although, in Sproles' case, he averaged 4.9 yards per carry both in shotgun and in more traditional formations with the quarterback under center.
Can he set the mark?
Sproles has only surpassed the 1,000 yards from scrimmage mark once in his career, largely a result of limited opportunities. He only has been given 100 rushes once, which was the same season (2011) he topped 1,000 yards. That means Sproles would need to make some big plays on those touches in order to reach the feat.
Through two games this season, Sproles is averaging 61.5 yards per game, which would put him 16 yards short. He's also under 10 touches per game and would only reach 152 touches at this pace, which would actually be the second-highest total of his career. Given the Eagles' lack of running back options, this makes sense.
Will he set the mark?
With Sproles as the primary receiving back for the Eagles, he should continue to be on the field. He has 84 snaps already, more than LeGarrette Blount (30) and Wendell Smallwood (30) combined. Add in the fact that the Eagles are currently third in the league in pass attempts and things start to align for Sproles. However, with the high rate of passing, Philadelphia has not committed to the run early in the season. They are bottom 10 in rush attempts, and Sproles has under 30 percent (12 of 41) of those plays.
When looking beyond the opportunities, Sproles hasn't broken the big plays yet, with a long of just 16 yards so far. Part of that is due to a lack of forced missed tackles with only one on 19 touches. Add in a yards-per-route-run average of 1.26, a dropoff from last year's 1.34 and 2015's 1.52, and Sproles may need every last snap he can get to achieve 1,000 yards from scrimmage.
While it is a small sample, Sproles is 34 years old and is showing signs of slowing down.
Confidence Level: 15%
What does this mean for fantasy?
Darren Sproles continues to be an underrated PPR asset. Last year, he finished 24th at the position despite just 865 yards from scrimmage. It was largely a result of 52 receptions, 10th among running backs in 2016. With almost a third of Sproles' points coming from the actual receptions, it becomes a little easier to predict his season while also knowing that he has upside built in.
Assuming Sproles were to repeat the catch total and touchdowns (four in 2016) but reached 1,000 yards from scrimmage, that would equal 176 points for the season, which would put him squarely into the top-20 running back conversation. Realistically, the yardage figure will be hard to hit, but Sproles should remain a good option for those struggling with running back depth or need a trade target who is being undervalued. Secure the safe floor with Sproles and hope for an uptick in yardage.