Stack Chiefs WRs with Mahomes: We can't be sure which Kansas City Chiefs receivers to stack with Patrick Mahomes, but their lower cost means throwing darts at all of them could pay off.
High-upside DFS stack for Week 1: It isn't the cheapest stack, but no combination has a higher ceiling than combining Derrick Henry with the Tennessee Titans' defense.
Estimated reading time: 10 minutes
---
This analysis of DFS main-slate stacks is a variation of the methodology used in analyses on the single-game DraftKings showdown slates. It uses the combination of current projections, historical game results and similarity algorithms to simulate an upcoming game by looking back at the most similar historical matchups. In this analysis, I'm taking the same outline and applying it instead to the DFS main slate by projecting the likelihood each team's QB-WR, RB-DST, QB-WR-TE, QB-RB-WR stacks will be the highest scoring of the slate. These are some of the most popular stack combinations employed in DFS strategy.
The numbers below are harnessing the unexpected connections and reactions between players that have actually happened over the past several years and thereby points to under/overvalued stacks that won't be identified through traditional projections and logical deduction.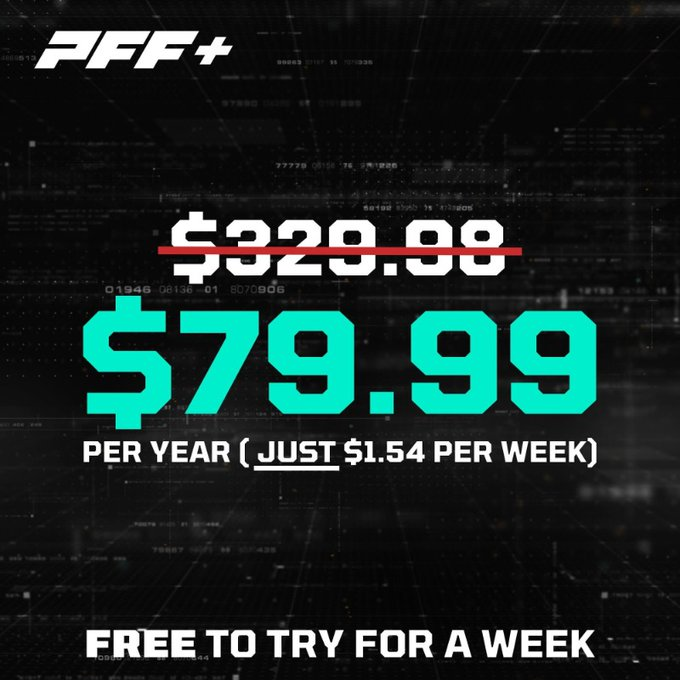 ---
QUARTERBACK/WIDE RECEIVER STACK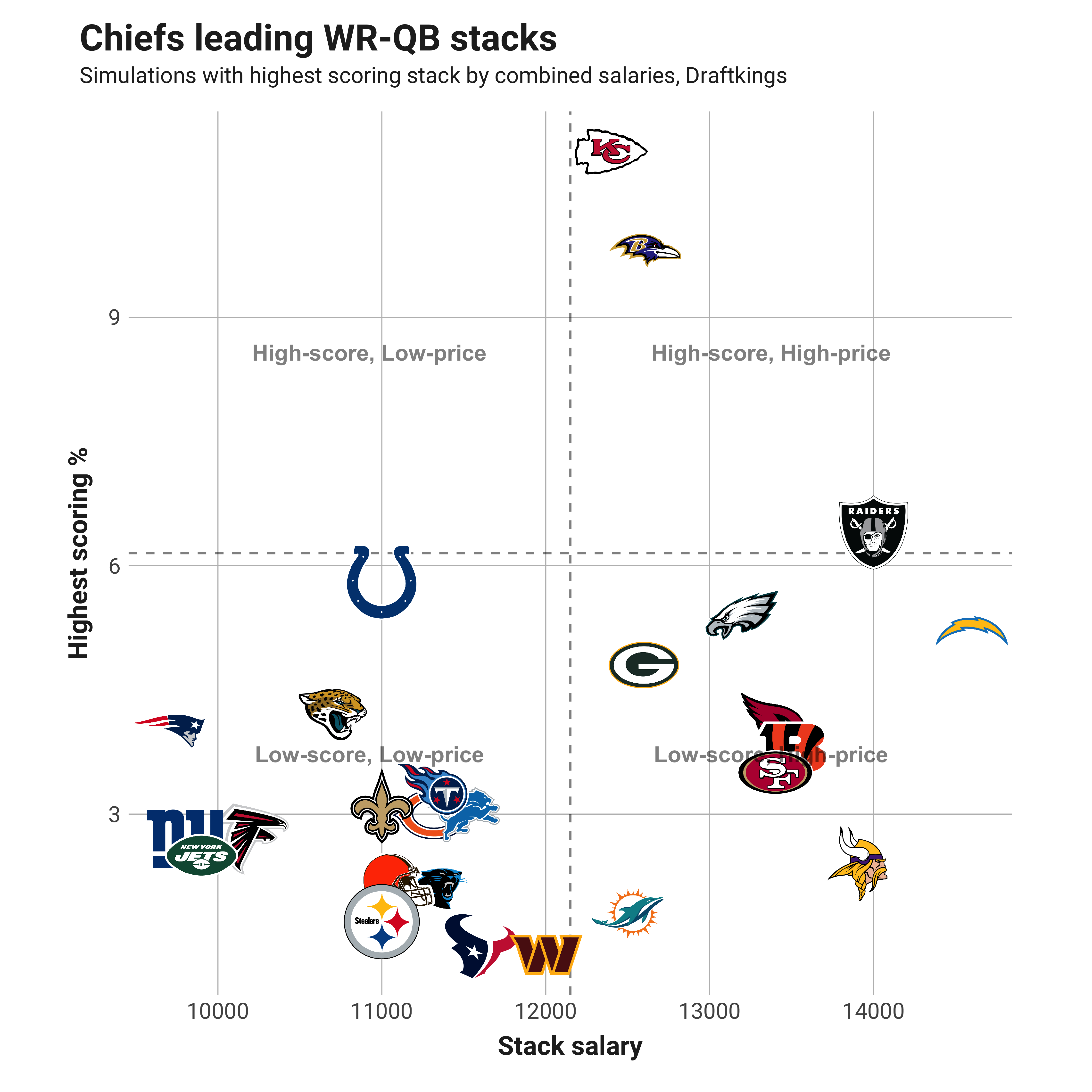 | | | | | | | | | |
| --- | --- | --- | --- | --- | --- | --- | --- | --- |
| Team | Opponent | Highest % | Player | Pos | DK Fpts | DK Salary | FD Fpts | FD Salary |
| KC | ARZ | 11.0 | Patrick Mahomes | QB | 25.2 | 7,700 | 23.4 | 8,700 |
| KC | ARZ | 11.0 | Marquez Valdes-Scantling | WR | 13.0 | 4,700 | 10.7 | 5,500 |
| BLT | NYJ | 9.8 | Lamar Jackson | QB | 23.1 | 7,300 | 21.7 | 8,500 |
| BLT | NYJ | 9.8 | Rashod Bateman | WR | 12.1 | 5,300 | 9.6 | 6,100 |
| LV | LAC | 6.4 | Derek Carr | QB | 20.2 | 5,900 | 18.6 | 7,400 |
| LV | LAC | 6.4 | Davante Adams | WR | 19.1 | 8,100 | 14.8 | 8,500 |
| IND | HST | 5.8 | Matt Ryan | QB | 19.9 | 5,500 | 18.6 | 6,900 |
| IND | HST | 5.8 | Michael Pittman Jr. | WR | 15.6 | 5,500 | 12.4 | 7,200 |
| PHI | DET | 5.4 | Jalen Hurts | QB | 24.7 | 6,800 | 23.1 | 8,000 |
| PHI | DET | 5.4 | A.J. Brown | WR | 15.5 | 6,400 | 12.5 | 7,100 |
| LAC | LV | 5.2 | Justin Herbert | QB | 23.5 | 7,600 | 21.9 | 8,400 |
| LAC | LV | 5.2 | Keenan Allen | WR | 15.5 | 7,000 | 12.0 | 7,400 |
| GB | MIN | 4.8 | Aaron Rodgers | QB | 23.3 | 7,000 | 21.8 | 7,800 |
| GB | MIN | 4.8 | Allen Lazard | WR | 12.4 | 5,600 | 10.1 | 6,300 |
| JAX | WAS | 4.2 | Trevor Lawrence | QB | 17.3 | 5,600 | 16.1 | 7,000 |
| JAX | WAS | 4.2 | Christian Kirk | WR | 12.2 | 5,100 | 9.6 | 5,800 |
| ARZ | KC | 4.1 | Kyler Murray | QB | 22.2 | 7,200 | 20.9 | 8,200 |
| ARZ | KC | 4.1 | Marquise Brown | WR | 14.2 | 6,200 | 11.2 | 6,900 |
| NE | MIA | 4.0 | Mac Jones | QB | 17.2 | 5,400 | 16.1 | 6,600 |
| NE | MIA | 4.0 | Jakobi Meyers | WR | 11.4 | 4,300 | 8.9 | 5,500 |
| CIN | PIT | 3.8 | Joe Burrow | QB | 22.4 | 6,400 | 20.7 | 7,700 |
| CIN | PIT | 3.8 | Ja'Marr Chase | WR | 19.7 | 7,100 | 15.7 | 8,200 |
| SF | CHI | 3.5 | Trey Lance | QB | 21.0 | 6,000 | 19.8 | 7,500 |
| SF | CHI | 3.5 | Deebo Samuel | WR | 14.9 | 7,400 | 12.3 | 8,400 |
| TEN | NYG | 3.3 | Ryan Tannehill | QB | 19.1 | 5,700 | 18.2 | 7,100 |
| TEN | NYG | 3.3 | Robert Woods | WR | 11.2 | 5,600 | 8.7 | 5,600 |
| NO | ATL | 3.1 | Jameis Winston | QB | 15.7 | 5,300 | 14.8 | 6,700 |
| NO | ATL | 3.1 | Michael Thomas | WR | 11.7 | 5,700 | 9.2 | 6,200 |
| CHI | SF | 3.0 | Justin Fields | QB | 16.2 | 5,600 | 15.1 | 6,900 |
| CHI | SF | 3.0 | Darnell Mooney | WR | 10.3 | 5,700 | 8.2 | 6,200 |
| DET | PHI | 3.0 | Jared Goff | QB | 16.3 | 5,400 | 15.2 | 6,800 |
| DET | PHI | 3.0 | Amon-Ra St. Brown | WR | 12.7 | 6,100 | 9.8 | 6,500 |
| ATL | NO | 2.7 | Marcus Mariota | QB | 13.2 | 5,200 | 12.6 | 6,500 |
| ATL | NO | 2.7 | Drake London | WR | 11.9 | 5,000 | 9.3 | 5,500 |
| NYG | TEN | 2.7 | Daniel Jones | QB | 19.0 | 5,000 | 17.7 | 7,100 |
| NYG | TEN | 2.7 | Kenny Golladay | WR | 12.4 | 4,800 | 10.1 | 5,600 |
| NYJ | BLT | 2.5 | Joe Flacco | QB | 0.3 | 4,800 | 0.3 | 6,200 |
| NYJ | BLT | 2.5 | Elijah Moore | WR | 11.6 | 5,100 | 9.3 | 6,000 |
| MIN | GB | 2.4 | Kirk Cousins | QB | 18.9 | 6,100 | 17.4 | 7,300 |
| MIN | GB | 2.4 | Justin Jefferson | WR | 21.1 | 7,800 | 16.4 | 8,100 |
| CLV | CAR | 2.2 | Jacoby Brissett | QB | 17.6 | 5,200 | 16.5 | 6,300 |
| CLV | CAR | 2.2 | Amari Cooper | WR | 11.6 | 5,900 | 9.2 | 6,400 |
| CAR | CLV | 2.1 | Baker Mayfield | QB | 14.9 | 5,300 | 14.0 | 6,600 |
| CAR | CLV | 2.1 | D.J. Moore | WR | 14.5 | 6,000 | 11.4 | 6,400 |
| MIA | NE | 1.8 | Tua Tagovailoa | QB | 18.8 | 5,700 | 17.5 | 7,000 |
| MIA | NE | 1.8 | Tyreek Hill | WR | 17.0 | 6,800 | 13.6 | 7,700 |
| PIT | CIN | 1.7 | Mitchell Trubisky | QB | 11.0 | 5,000 | 10.6 | 6,400 |
| PIT | CIN | 1.7 | Diontae Johnson | WR | 10.7 | 6,000 | 8.3 | 6,700 |
| HST | IND | 1.4 | Davis Mills | QB | 17.9 | 5,300 | 16.5 | 6,500 |
| HST | IND | 1.4 | Brandin Cooks | WR | 14.5 | 6,300 | 11.4 | 6,600 |
| WAS | JAX | 1.3 | Carson Wentz | QB | 18.6 | 5,500 | 17.4 | 6,800 |
| WAS | JAX | 1.3 | Terry McLaurin | WR | 14.3 | 6,500 | 11.3 | 7,000 |
---
RB/DST